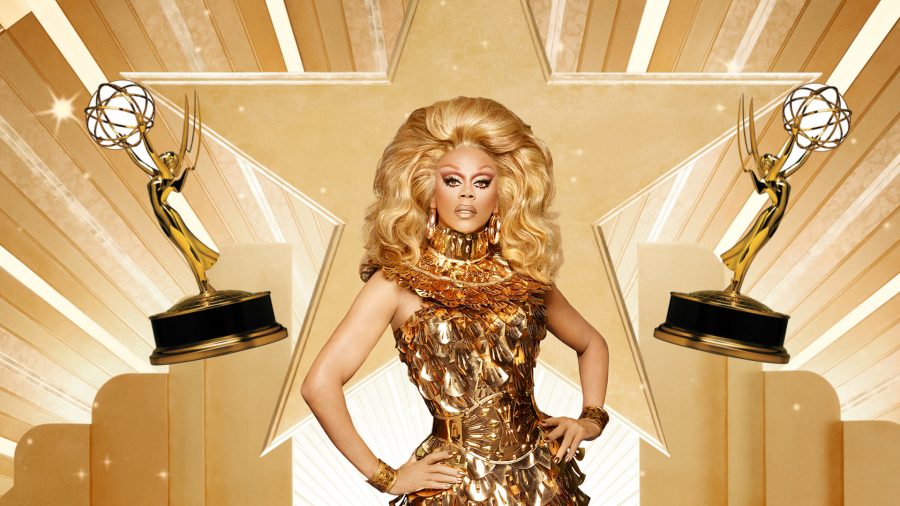 Within the past few years, drag has been spreading like wildfire and has received the attention and validation that it so rightfully deserves. From winning Emmy Awards to making the cover of Entertainment Weekly, "Rupaul" Andre Charles has broken down barriers for queer entertainers in today's mainstream media with the success of his reality competition shows Rupaul's Drag Race and Rupaul's Drag Race All Stars.
On the show drag queens compete in various challenges in order to win a cash prize of $100,000, a year supply of Anastasia Beverly Hills Cosmetics and the coveted title of being America's Next Drag Superstar! (Think America's Next Top Model, but they are men who sometimes have to sew their own garments, act in a few skits, write some of those skits, learn/create a choreographed dance number, sing and or rap a few bars, wear at least four to six layers of makeup, tuck their genitals back, throw a garment on with some heels, lay down a wig, and finally strut down the main stage "strut down the catwalk", while being critiqued by a panel of judges).
Easy, right? Oh yeah! And the two queens with the lowest critiques from the judges must go head to head and LIPSYNC FOR THEIR LIVES!
However, over the years the drag scene has developed a sort of language, DRAGinese if you will, (This is not an actual term; I just cleverly/ cringingly coined in the moment). To outsiders, the terminology could be confusing to the ear and if you want to take a binge on the Drag Race craze or be able to hold a conversation with a 6'7 drag queen, then this DRAGtionary is for you!
So hurry up! Read! Learn! And converse, so you can catch up on this season's Rupaul's Drag Race All Stars 3, aired Thursdays on Vh1 and Rupaul's Drag Race season 10, debuting this spring!
Beat:(v) The application of applying makeup to the face that leave flawless results; coined by the motion one does when dabbing makeup on with a sponge or brush
 "Mama that face looks beat!"
Boots: (int) equivalent to an exclamation.
"Miss thang did not come to play tonight, BOOTS, boots the house down!"  
Busted: (adj) to appear as unpolished, tacky, unkempt and overall, DO NOT BE LABELED, COME INTO PROXIMITY OR BE ASSOCIATED WITH THIS CATEGORY.
"DON'T LOOK BUSTED!"
Clock: (v) to point something out
(v) To unapologetically call out someone's flaws
" Joseph Harvey was clocked for his bad grammar skills."
C.U.N.T: An acronym of the traits that America's next drag superstar must embody. (Charisma, Uniqueness, Nerve, and Talent)
" Tracey Martel has the C.U.N.T of what it takes to win the competition."
Eleganza: (adj) A heightened amount of excellence and elegance.
"I am absolutely gagging on your Eleganza!"
Fishy/Fish: (adj) A queen who visually resembles a cisgendered woman. (Fish also derives from the apparent yet misconception scent of a woman's vagina)
" Gia was serving fresh tilapia fishy realness."
For the Gods: (adv) A play on the phrase "fit for the gods", an exclamation;a term to describe someone's excellence .
"Her body was snatched for the gods!"
Gagged, Gagging (Gag): an exclamation, a reaction resulted by shock (Think shook)
" Ms. Campbell's runway look had the judges gagging"
Glamazon:(n) A hybrid of the terms Glamorous and Amazon; a tall and glamorous individual who carries an excessive amount of confidence, pose and attitude. (Also a song by her majesty Rupaul, BUY OR STREAM GLAMAZON ON ITUNES, APPLE MUSIC, SPOTIFY AND AMAZON MUSIC!)
"She's like a female phenomenon,
She's a GLAMAZON,
Female phenomenon
A GLAMAZON nah nah nah."
-Rupaul Andre Charles
House Down: a great deal; an exclamation often used with the term "BOOTS".
Hunty: A term of endearment; a hybrid between the words "honey" and "cunt".
" Don't hate me cuz I'm god's favorite, Hunty." – Victoria Harvey
Judy: A good friend
" When I was arrested for assaulting the cashier at the McDonalds, after she told be the ice-cream machine was broken, my good Judy was there to bail me out." (We all have that Judy.)
Kai Kai:(v) The act when drag queens engaging in sex, while still in full drag.
(n) Drag queens having sex with each other.
"Id pay a lot of money to see Tracy Martel and Katya Zamodjdksdjfbsd-kova Kai kai." – Everyone who watches the shows"UNHhhh/ The Trixie and Katya Show" on YouTube or Vice land.
Ki Ki:(n) A get together where gossip can take place along with small talk and heartfelt conversations.
" The rest of you will ki ki and enjoy an Absolut cocktail in the Interior Illusions Lounge."
Library: The event when drag queens get together and read each other. (see Read)
"In the Great Tradition of Paris is Burning, Bring out your Library Cards, cause its about to get shady up in hurr!"
Mug: The face.
" Aquaria's mug has influenced the technique and artistry of drag."
Polished: used to describe a queen who is well put together, flawless, cohesive, refined and overall perfect.
"Valentina is quite polished for bring such a young queen."
Read: an art form of insults, particularly to call out one's flaws. (See SHADE)
"When Sharon Needles told Jiggly Caliente that she was such a fat slut and after sex she smoked hams, that was a iconic read."
Realness: to appear as authentic or realistic towards a look/energy.
"That girl was serving Walmart shopper on a spree with state funded realness."
Sashay: to leave or exit.
"Alaska thunderfuck 5000, sashay away."
Serve: displaying or presenting oneself a specific way
"Last Friday, I served broke college student on payday realness."
Shade: derived from reading, a somewhat hurtful way to call out one's imperfections
"I don't tell you you're ugly but
I don't have to tell you
because you KNOW you're ugly.
 And that's shade."
-Ms. Dorian Corey
Shantya: To stay, to come forth.
"Katya Zamokjdosiaskjdasudh- kova, Shantaya you stay"
Sick'ning: to be on point, stunning, awesome and fierce.
"Come on season 6, let's get sick'ning!" – Laganja Estranja
Snatched: a combination of gagging and sick'ning that SNATCHES the breath out of oneself.
" Wigs were snatched, during the 2016 election…"
T (Tee/Tea):(n) The truth, referring to gossip and essential facts.
*Kim possible ringtone, "What's the tea wade?"
Tuck: the process when a queen tapes back his genitals to create a flat surface /to pose the illusion of having a woman's vagina.
"Her tuck was so tight, it was like the audience was on an Easter egg hunt."