"Families Belong Together" Immigration March Draws Thousands to DTLA
This march drew thousands of people to the streets of Downtown Los Angeles at 11 a.m. on Sunday, June 30 in the name of keeping families together.
There were loud drums and great excitement at 10:30 a.m. on both ends of the grass patch that is bordered by Broadway, First Street, and Spring Street.
People were excited and crowding the area leaving no spot of grass unoccupied.
Shouting, chanting, and drumming were constant.
"What do we want?"
"Justice!"
"Up, up, with immigration."
"Down, down, with deportation."
Even the drummers would put their sticks in the air at times to match the crowd rising and lowering their hands and signs to the chant.
"The people, united, will never be divided."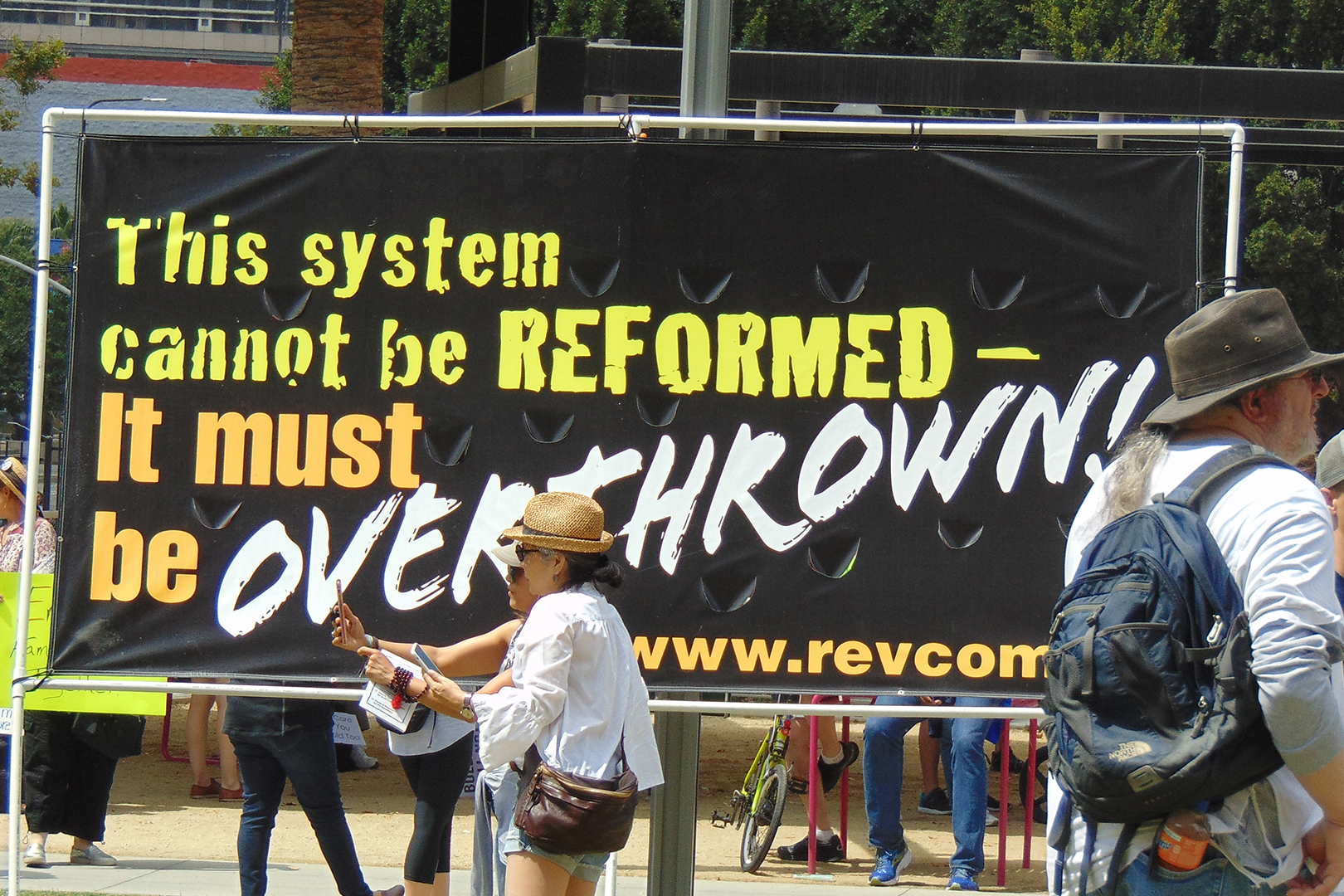 At 11 a.m. and the first speaker took to the stage followed by a prayer to the creator.
"Creator, help us to battle these people."
Then the first celebrity, Jimmy "Taboo" Gomez from the Black Eyed Peas took the stage.
"I'm going to be here standing with you guys, marching," he said. "[The] Power of the people shall be stronger than the people in power."
He then played "Where is the Love?" while speaking to the audience.
"Human rights should not have a border," he added to his speech.
A speaker who only went by the name "Melody" followed.
"[I'm] undocumented, unapologetic, unafraid," she said with passion.
She came here to reunite with her mom at 9, who left her as a baby so she could have a better life, but "Melody" has had anxiety since she was 7.
She cried every day, and said she cannot imagine cages.
Another speaker, "Paul" talked about a man who was sent to the adult prison system at 17, and the same day he was released he was deported.
He called the story bittersweet, before revealing that story was his story.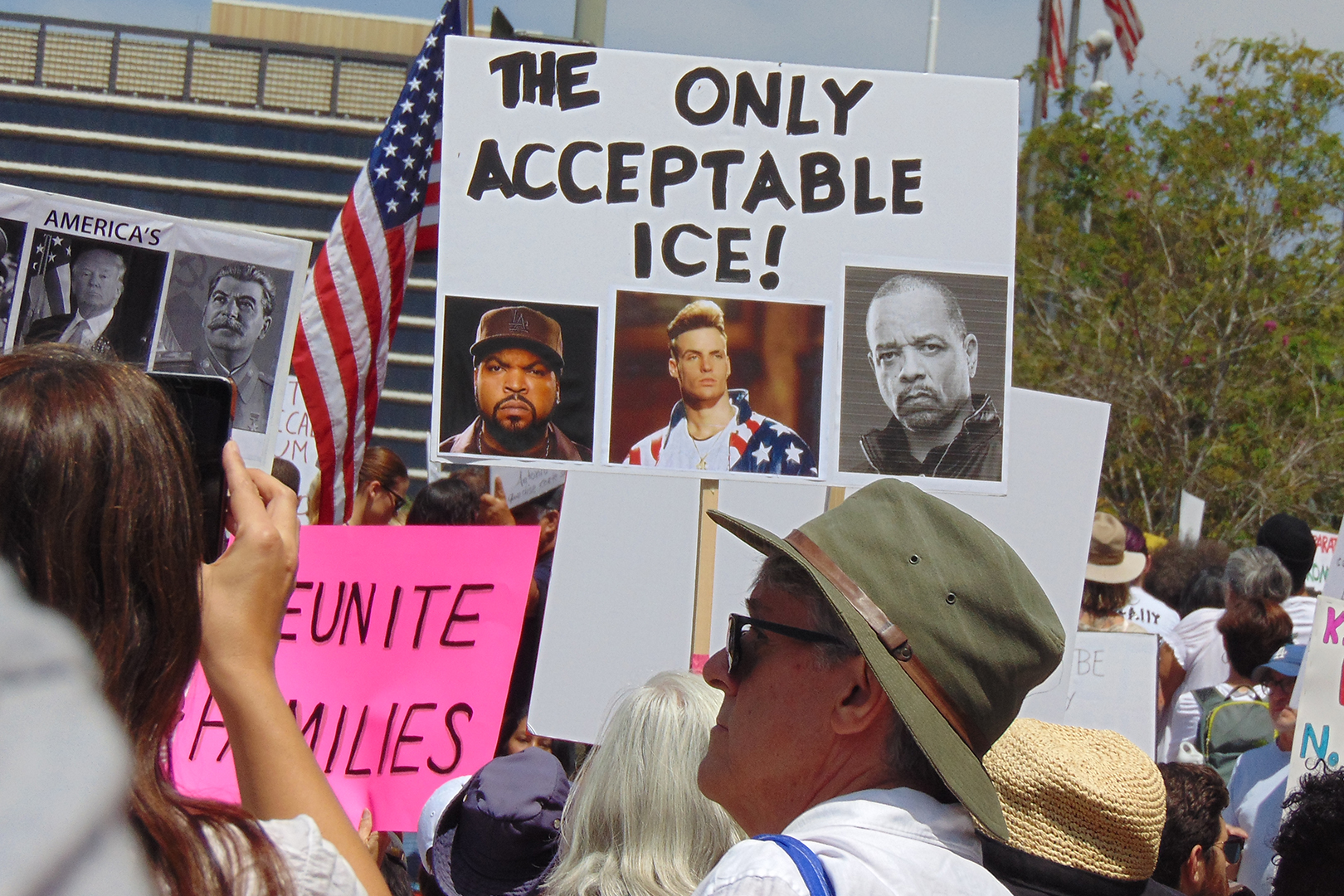 Los Angeles Mayor Eric Garcetti also made an appearance.
He started by saying "we are strong" which the audience chanted while he continued, before realizing it was not intended to be a chant.
Garcetti followed this strong start up by saying, "[it is] time for president Trump to do his job."
The irony of this statement would become apparent in a later speaker's message that every elected official is complicit unless they fought against these policies. The speaker would also call out Garcetti.
Garcetti said he wanted to send the message that "we care and so should you" to the White House. He called the Department of Homeland Security liars regarding not being able to find families in calling their statement "BS" and ended with one last statement.
"If you don't [do your job], we'll find somebody who does," Garcetti said.
Model Chrissy Teigen then addressed the crowd with her family.
Tiegen explained she was proud to be the daughter of an immigrant and that she was "really proud to be here."
"We are here and we are not going away," Teigen said before giving the microphone to her songwriting husband, John Legend.
Legend sang "What's Going On" live as the crowd sang along.
He explained that when he wrote that song, it was to spread love and that he was here to spread love.
"[I'm] so happy to be here with my family," Legend said before telling the crowd how people should treat others humanely.
Then Legend debuted his new song "Preach" which has a rather ironic refrain of "I can't just preach."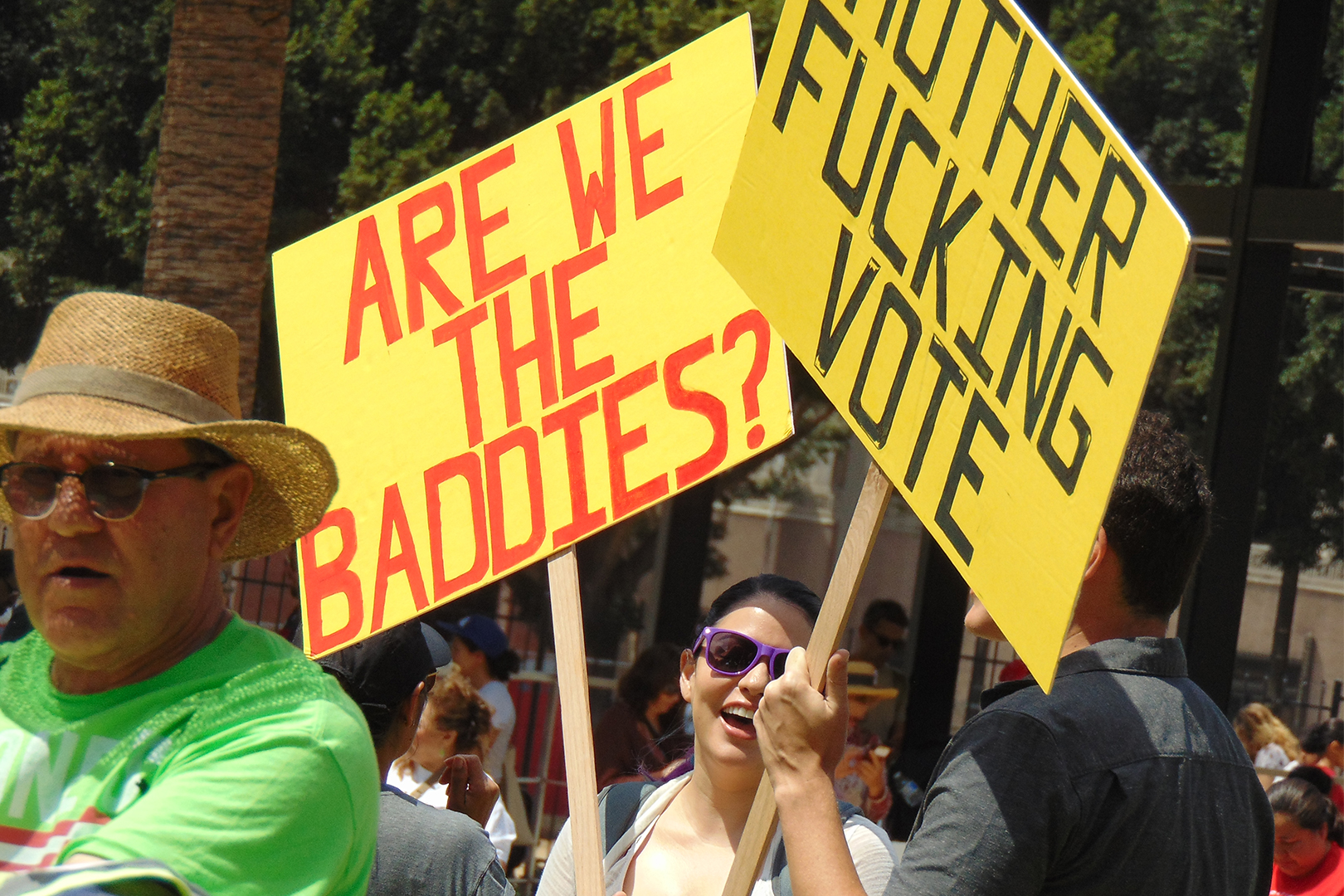 After several other speakers, United States Senator and former Attorney General of California, Kamala Harris, took to the stage.
"We are all in this together," Harris said. She called this a time when people must look in the mirror and ask who they are.
"We are better than this," she chanted and repeated after bringing up other issues.
"We will speak truth to power [and] we will keep fighting because we are better than this," Harris said to conclude her speech.
After more speeches was Maxine Waters, who represents the 43rd congressional district in California.
"We're not afraid of you [Trump]. You should be ashamed," Waters said to the crowd. "[I'm] gonna be in these streets until children are reconnected."
More speeches separated her from Lt. Gov. Gavin Newsom, who is running for governor.
"The world looks to us," Newsom said. "We rise and fall together."
He closed by saying the "future happens here first in California" and that the "future is inside of us."
Then more speakers took to the stage and people began to leave.
A once packed area emptied out. Only half remained past this three hour and 30 minute mark for the full four hours of speeches.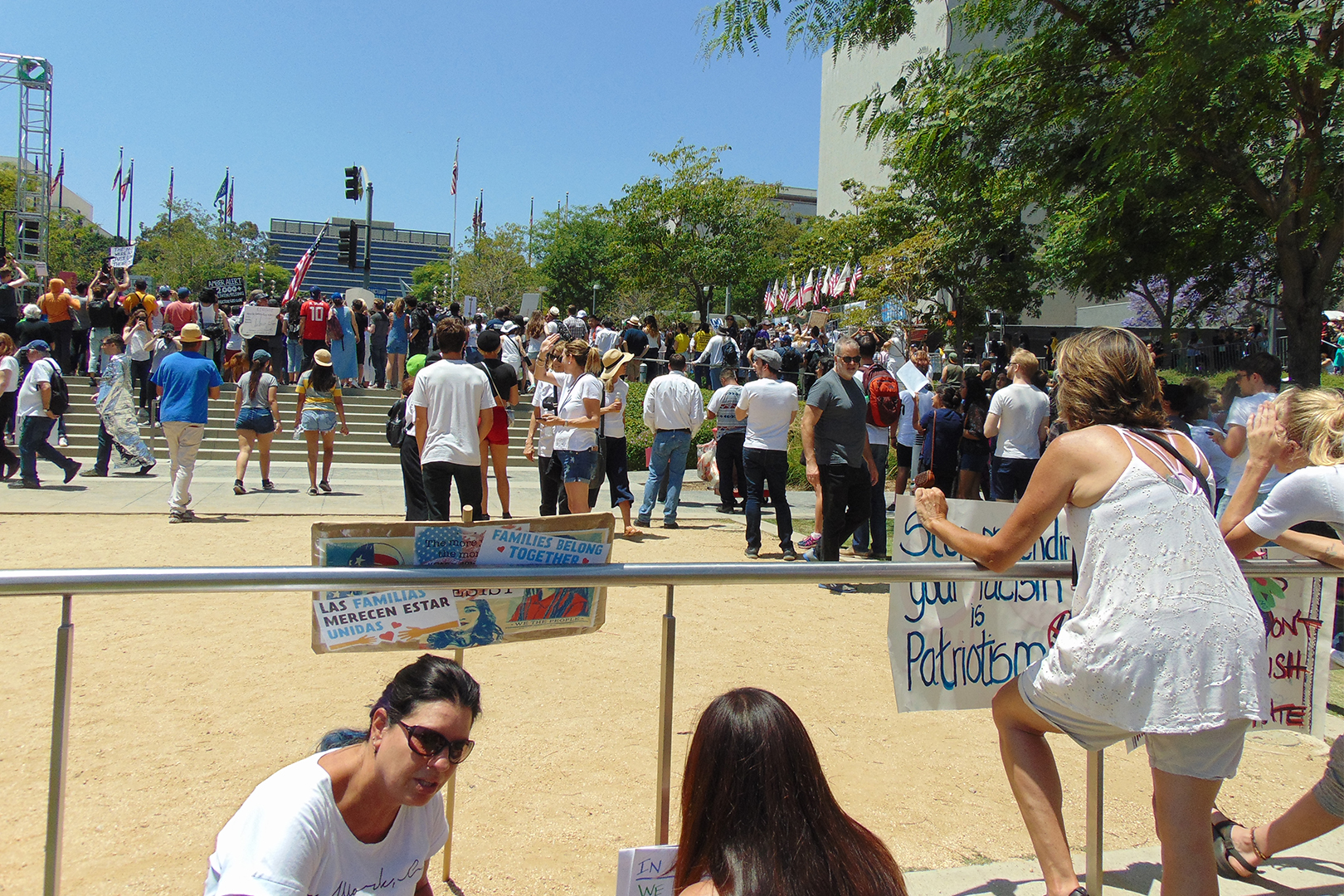 "It's all about the speaker and not the cause," one member of the crowd said about the event. They then said those in charge need to plan it better, because of how long the speeches turned out to be.
One group even shouted "March!" around this time. Dissatisfied with the lack of marching and so much speaking, they marched on their own as others had.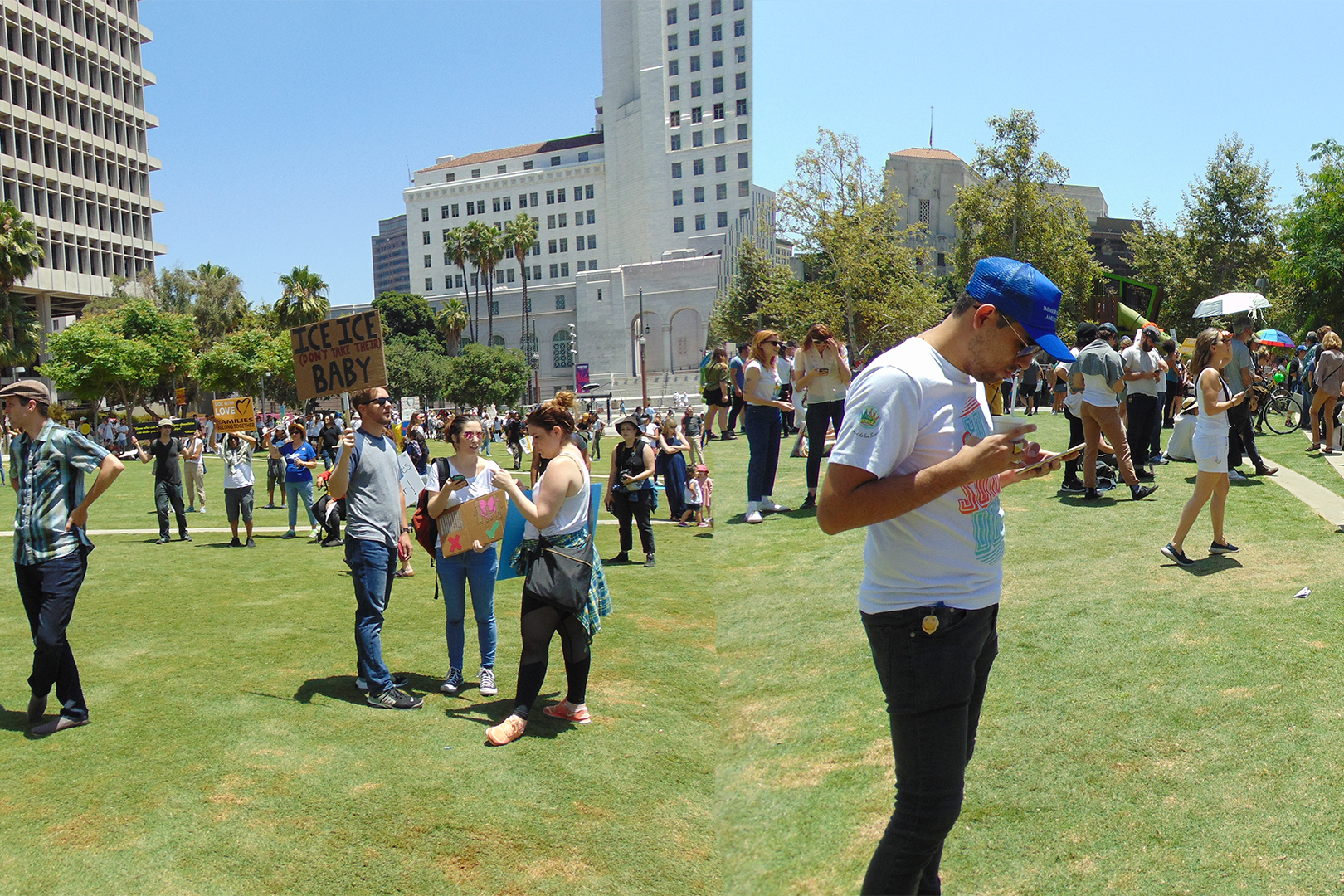 Their best attempt to rekindle interest was to introduce actress and singer Cher to the stage.
She opened by saying, "We wouldn't be here if he [Trump] had compassion."
Cher would go on to describe a time she lived through when women were treated as lesser by bringing up a personal experience.
She had to see her mother through glass because her father signed her up for a Catholic school and left to New York. Her mother would need his presence to prove she was married and related to her.
Since they would not let her in, Cher watched through glass as her mother would try and meet her.
After the personal anecdote she called the current situation a "problem of humanity," and despite saying it "seems no one is listening to anyone anymore" she encouraged the effort to get children back in their parent's arms.
Following Cher were more speakers. By the time the speeches ended and chants were to start up for the march the crowd appeared confused.
Several segments split off on their own march. They would get lost and/or give up on the effort.
Others tried to form a main group to march to Alameda Street and Aliso Street close to the on and off ramps.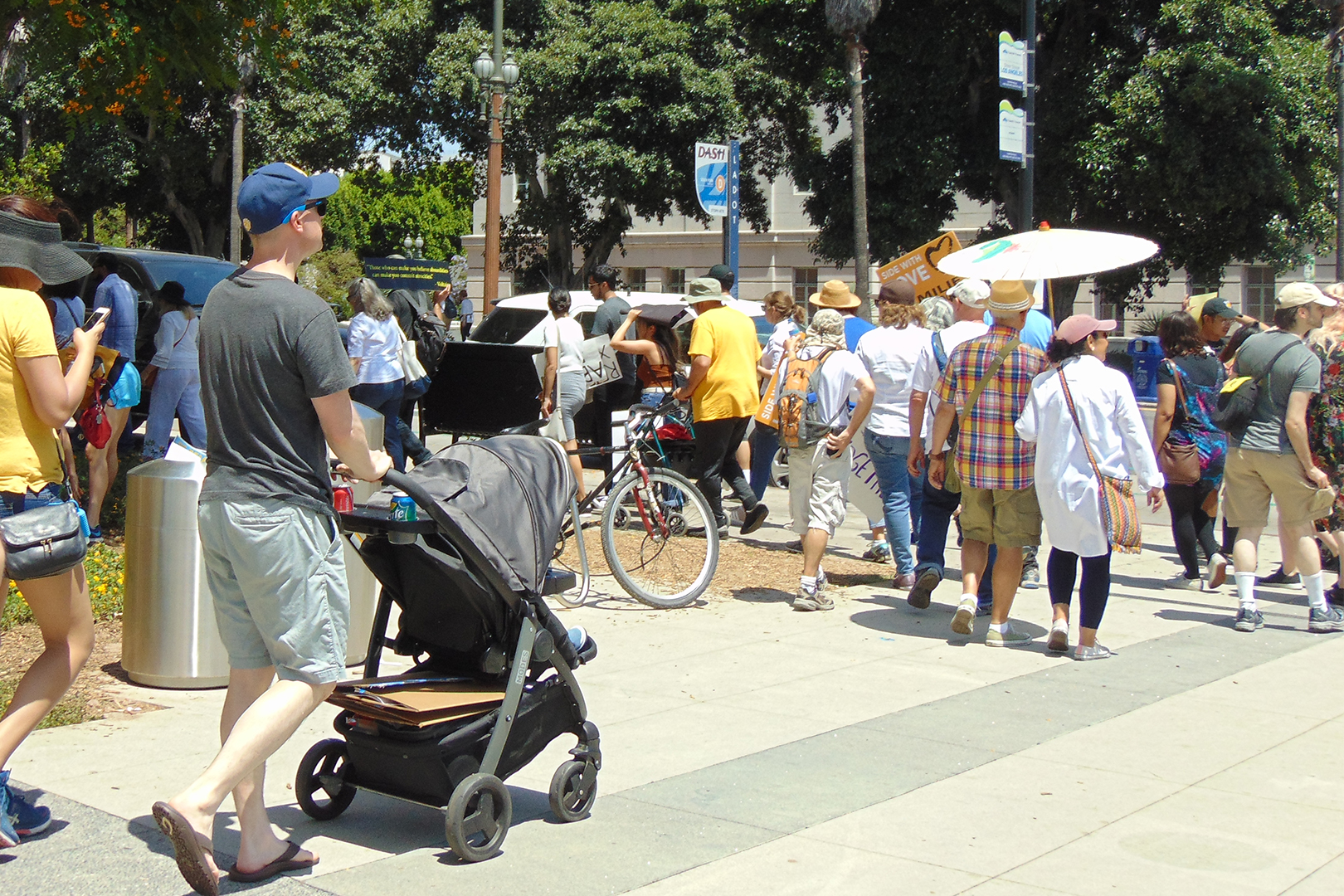 While it was  disorganized a large group of people managed to make it to the destination, and protesting chants were made outside a government building.
A second group also made it to the scene, albeit on their own. They made waves with their rhetoric, and they eventually dominated the chanting when they reached the building.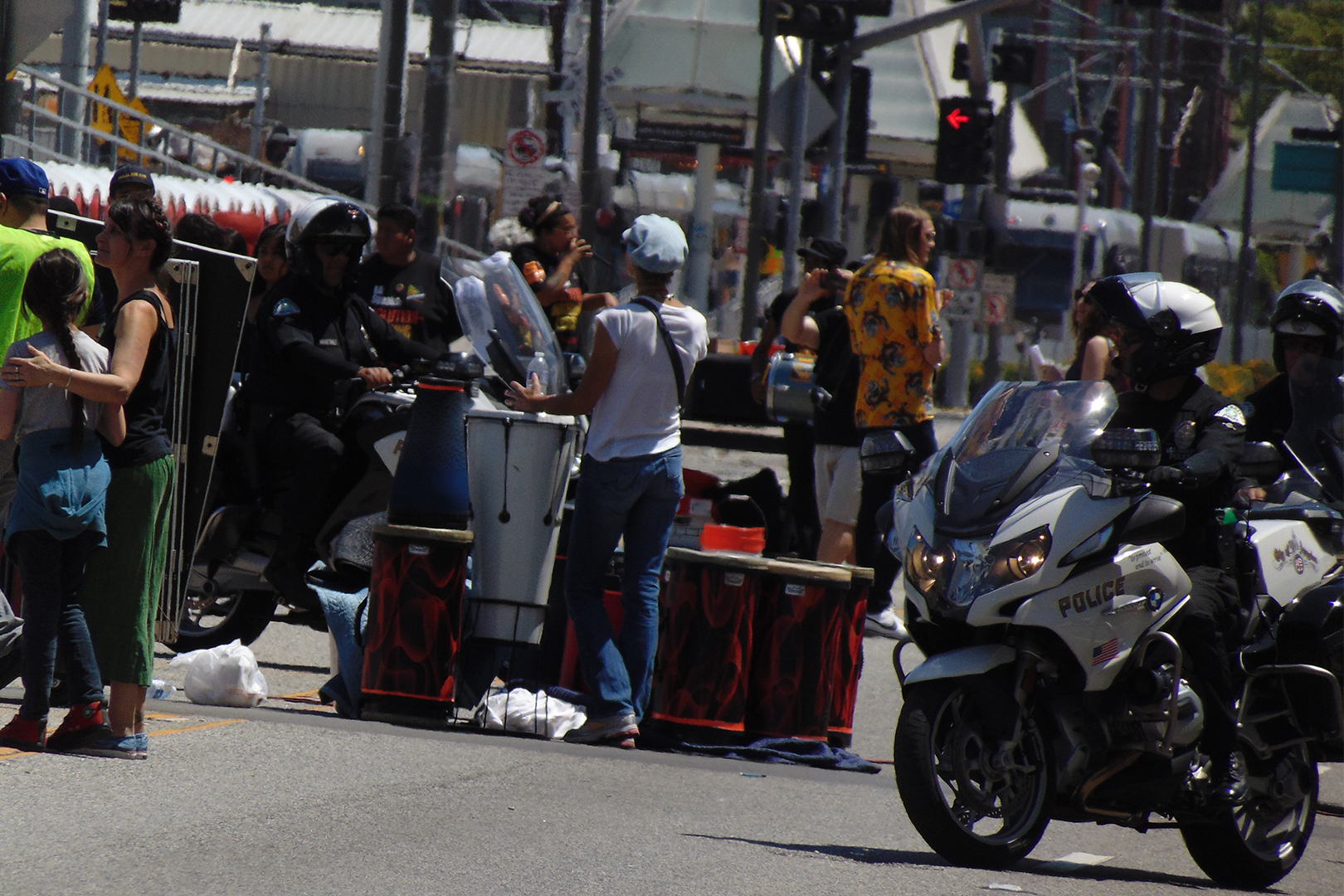 "The system is outrageous, it puts our kids in cages," this group chanted.
"We need a revolution."
"Break the chains."
"Break all the chains."
They chanted as they joined the main group, and the main group cheered them on.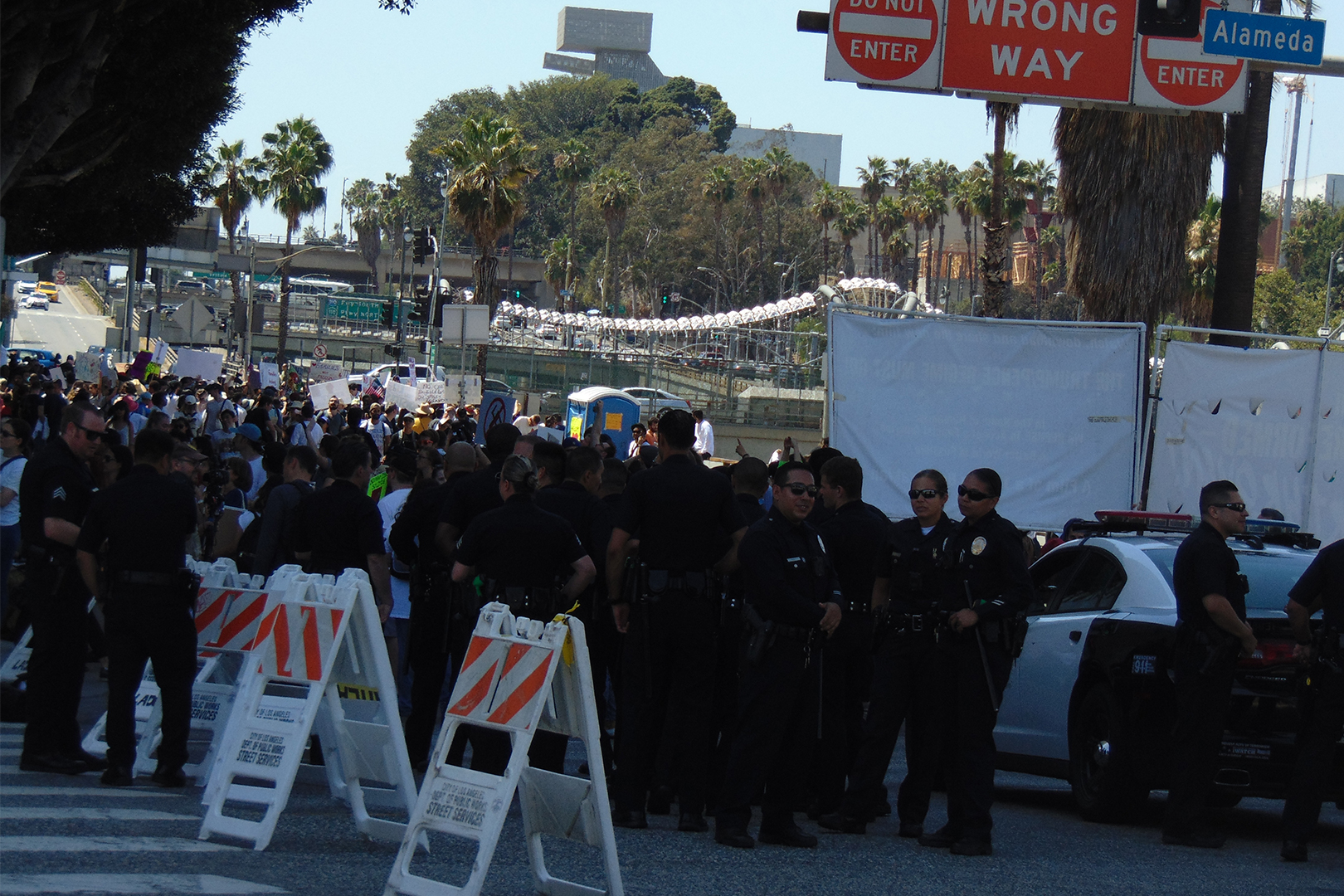 The police would ask for demonstrators and protesters to voluntarily leave, but it ended in a stalemate.
Leave a Comment
About the Writer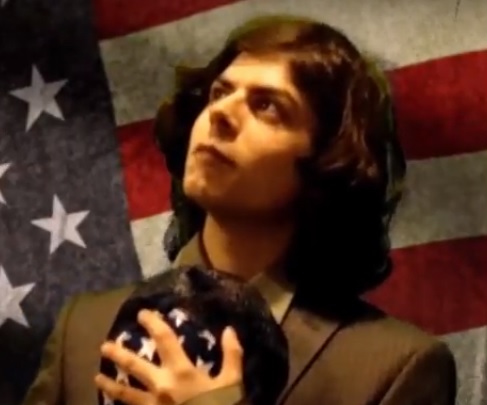 Joshua Sanchez
Joshua Sanchez is the former Editor in Chief and News Editor of SAC.Media. He was previously the managing editor of LAHS' student newspaper,
The Conqueror
. A portfolio of his reporting work can be found at
jdjoshsan.wordpress.com.