In a 3-2 vote, the West Covina City Council passed the city's budget on Thursday, Aug. 2.
The special meeting would have two other instances of the 3-2 vote, one regarding adding a new tax to the ballot and another regarding the fire department.
Council member Mike Spence and Mayor Pro Tem Tony Wu were the two nos in all three cases.
"I sit on this council and I don't trust us with more money."
Spence's jab best explained why the two voted against the budget, the proposed new tax measure, and the fire department's proposal.
The budget, one of four items from the previous special meeting held over to this one, met the same opposition it had before.
Only this time, council member Corey Warshaw voted for its adoption and the budget passed.
Wu's 10 percent pay cut was followed by every department except for planning and fire.
Fire would have a later presentation and item of their own, while planning is understaffed already.
The structural deficit change was now $6,049,640.
Still there was the issue of backfilling vacancies, a problem that had persisted for years.
Spence said he did not understand why these vacancies were being done this way, and was under the impression that vacancies were costed off at zero.
City manager, Chris Freeland, kept saying moving forward this would not be the case as it was one of the cost cutting measures being taken.
As Spence asked why it was even started in the first place Freeland said that it might have been an attempt to create savings.
Freeland then asked Police Chief Marc Taylor to answer the question, and Taylor said there was $1.2 million in savings, with enough cut to handle overtime shortage but not enough to hire new.
Spence then asked the public and council be provided with numbers every month, so that department heads were held accountable.
He would later motion on this idea,of numbers for overtime to be provided monthly. Council member Corey Warshaw suggested it should be quarterly because he said it would be wasting council's time.
In the audience, John Shewmaker said that "payroll can be weekly" but Warshaw had none of it.
He was the only one to vote against Spence's motion that passed 4-1.
In other discussions of the budget, Spence asked what the $78,502 Orangewood Elementary daycare figure meant.
Silent jeopardy music ensued as the city staff members searched for the answer.
Eventually they decided on saying it was an "expenditure adjustment" and clarifying it as a "reduction in expenses" meaning that the daycare was profitable.
They explained that it was now combined with Wescove Elementary daycare program, an underperforming daycare.
Shewmaker said "how do you not know that" to the staff's delayed response to Spence's question.
Spence was more concerned about budget tack-ons than staff sloth when he asked why certain items were not discussed separately before being inserted into the budget.
He then said he would not vote for the proposal.
Wu followed up on Spence's points with his own, agreeing that he still cannot approve this budget.
Wu said nothing about his issues has been addressed and that the council and staff need to think outside the box.
He continued to advocate replacing overtime with new hires as he had in the last meeting and brought up that a lot of police officers are going to retire soon.
He also said that consultant fees and costs need to be reduced and implied an intern could do some of the things they hire consultants for.
Warshaw then said "you're wrong on that" and said he has not seen a plan from Wu. He further said Wy did not provide evidence and that interns could not do what their financial consultant, Judy Lancaster did.
Wu then offered a rebuttal that he is business oriented and that the city should run like a company, saying it needs to be efficient.
He pointed out an example where a consultant was not needed and asked how long will it take to pay for a bathroom that is expensed at $600,000.
He ended by saying bureaucracy will continue and not to just follow the numbers.
The audience then clapped for him.
Council member James Toma said that you cannot hire your way out of a a deficit and that "officers on patrol for overtime is a waste."
Then Warshaw and Wu continued a back and forth.
Warshaw said they are not allowed to hire nonunion workers, to which Wu said that even with union workers a bathroom should not cost $600,000.
Then it ended at a 3-2 vote.
Fire Chief Larry Whithorn then gave a presentation about the status of the fire department, and explained that 94 percent of their expenses were personnel, with a 5 percent non-discretionary fund budget, and a 1 percent discretionary fund budget.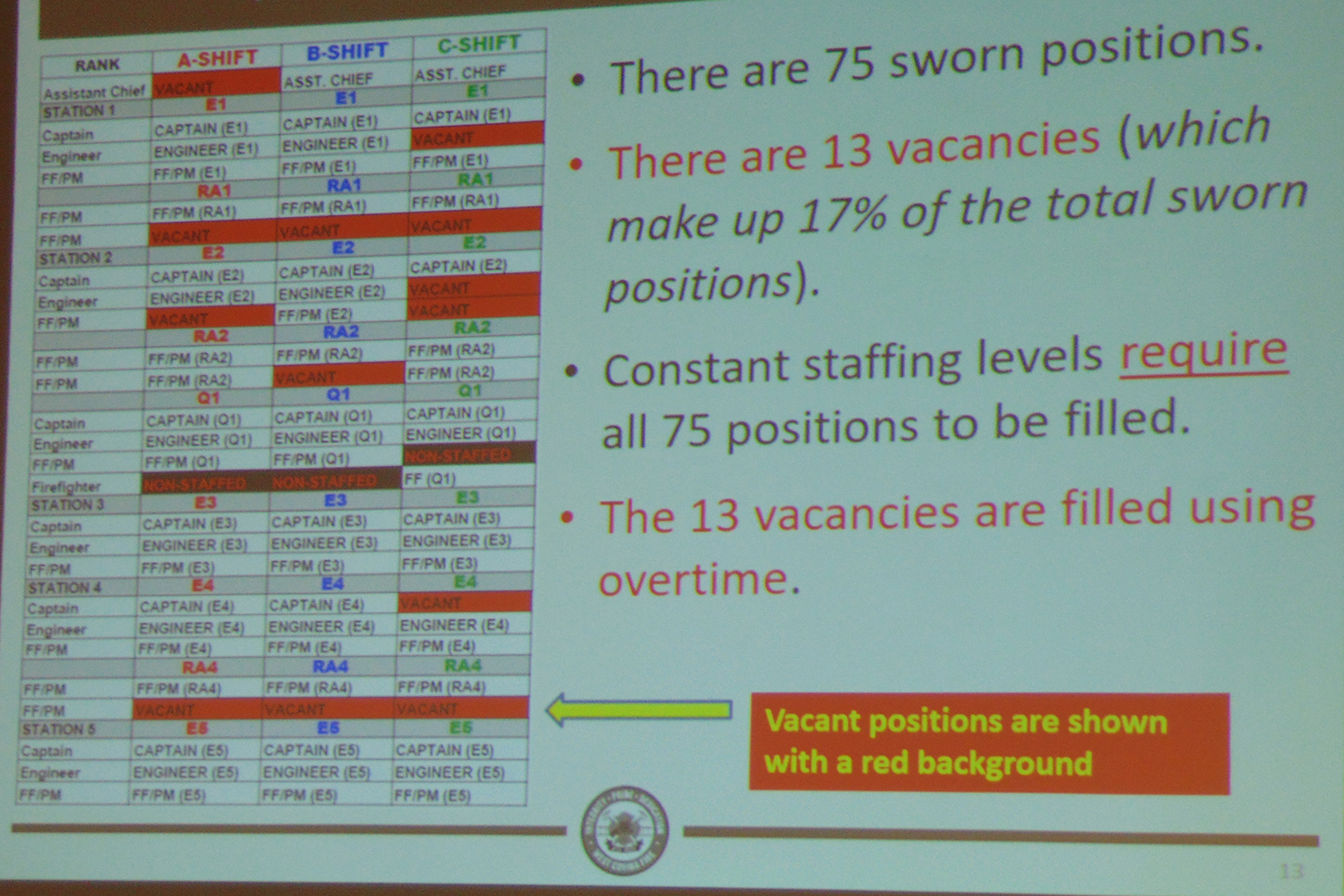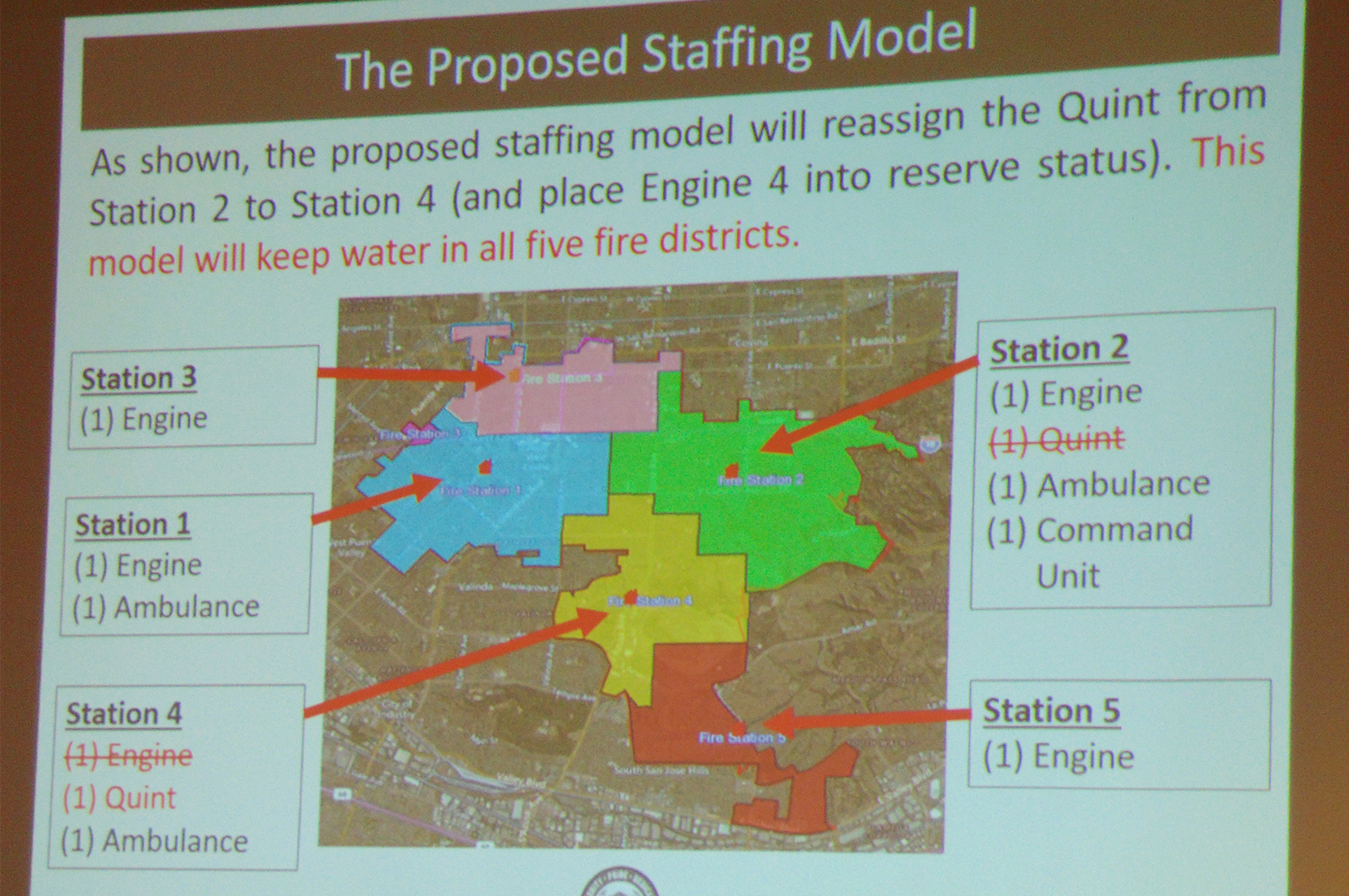 Spence asked about the pending negotiations to which the city attorney, Kimberly Hall Barlow, said she did not want to bring up around the public.
Wu and Spence then voted no, but the item regarding the city's "Last, Best and Final Offer to the West Covina Firefighter's Association" passed 3-2.
A public safety special tax measure was a confusing item from the last meeting.
The city attorney had caused confusion by saying the special tax would need a majority vote, which could be a 3-2.
Spence and Wu both questioned that last meeting by asking why four votes were not needed.
They were under the impression that it needed four votes to pass, but the city attorney said at the last meeting that she was not asked how many votes were needed beforehand, and that she never offered opinion on it.
Shewmaker said to that at the last meeting, "but you give opinions on everything else."
The whole confusion arose because she said a special tax only needs 3/5, but a transactional use tax takes four votes.
For this council meeting she acknowledged she did not phrase it well enough prior and said that this was in fact a transactional use tax.
She then said it was technically not a sales tax, but is considered one.
Wu had to badger her several times to get a straight answer of whether four or three votes were needed.
It was four, but she gave a long winded response.
Warshaw, who was for the tax, said that some of the council does not want people to decide, and repeated "let the people decide."
Toma then repeated Warshaw's sentiment by saying he wants the people to choose so that he is not asked the question "why didn't you give us the option?"
The special tax would be spent on public safety, which is 80 percent of the budget, and the issue Toma said most of the council ran on.
He then said he would "like to know what waste is" and that "I ran on increasing the number of officers in the city" before closing by saying things have been politicized.
The curious thing there is he had said "officers on patrol for overtime is a waste" before when telling Wu that hiring more people would not reduce the deficit.
These contradicting statements only further Wu's idea of hiring more individuals to reduce the cost of overtime, unless Toma is acknowledging that he only ran on the issue of increasing the number of officers.
Wu asked why every disagreement is being tied to the election, and then reminded Toma he still had two years. Toma, however, will be up for reelection in November along with Spence and Warshaw..
Wu then asked how Warshaw would use the money and said he had no plan and suggested making the city more business friendly and building a hotel near the freeway.
The audience clapped after Wu's argument for a plan so that taxpayer money is not wasted.
Spence did not notice Toma's contradiction during the meeting, but said he was being disingenuous because he supported a tax in 2014, and that supporting this tax was not as difficult for him to get behind.
He then said putting this item up for a vote knowing it will fail, is more political and received a small scattered applause.
Warshaw continued the there's no plan feud with Wu and said no one is coming to West Covina, while Wu said "they're coming."
Toma, after more back and forth said businesses want stability and that they do not want to be in a city that's failing.
Wu's response was to have everybody pitch in and not a tax raise.
Warshaw said he would spend the money on getting 114 people and an ambulance, but Spence countered this saying there would then be a new tax in three years.
Spence then said there are lots of issues that people do not get to choose and Warshaw's "let the people decide" is not honest.
The motion failed at 3-2, needing four votes to pass.
Another 3-2 vote brought back a new parcel tax in its place, where Wu asked for a plan.
Mayor Lloyd Johnson said that if this was brought back a detailed plan was needed down to the detail.
Chris Freeland said they could only present a rough idea with the $9 million, and he wide variety of potential things to spend it on within public safety.
To that Wu replied, "Chris you can do it" and he laughed with Spence afterward.
Item 8 passed like the consent calendar, there was little to no discussion after three hours of dialogue.
The arguments in favor of ballot measure were approved in a 3-1-1 vote.
The next special West Covina City Council meeting to discuss the new tax will be on Thursday, Aug. 9.
The next regularly scheduled West Covina City Council meeting is on Tuesday, Aug. 21.
(The regularly scheduled Aug. 7 city council meeting was cancelled on the July 3 agenda in favor of the National Night Out, a police awareness event held on the first Tuesday of August.)