After a lengthy wait for the board to hold a town hall on the Wedgeworth project, local community leaders created their own joint town hall in a La Puente resident's home on Sept. 2.
The purpose of the meeting was quite simple: Hacienda Heights residents need La Puente to strengthen their voice, and La Puente residents need Hacienda Heights to help address their needs.
They joined to air out issues with the Hacienda La Puente Unified School District and how the district has approached the Wedgeworth project.
Wedgeworth Elementary School, which was originally built as a temporary school and consists of mostly portable buildings, is set to be remodeled into a permanent school and changed from a school that serves students from kindergarten to fifth grade into a school that serves students from kindergarten until the eighth grade.
This new building is set to cost more than the district would gain in the sale of past properties for residential housing units, something that was already controversial with local Hacienda Heights residents.
Also of concern is that the district wants to sell land adjacent to the school for more housing, which would take away the Hacienda Heights Highlander, an adjacent sports complex that hosts the Hacienda Heights Little League on its fields.
Should this land be sold, the little league no longer has a place to practice as other parks in the area are in various conditions and are not designed for a baseball field.
The town hall was the first one located in La Puente on the issue, and it brought out several local officials including La Puente council member Dan Holloway, Supervisor Janice Hahn's field representative Lauren Yokomizo, and former HLPUSD board member Rudy Chavarria.
They also discussed what led up to this project and the effort to recall HLPUSD President Martin Medrano, and Vice President Anthony Duarte alongside board members Gino Kwok and Joseph Chang.
De La Torre has not been mentioned by this recall effort because he has voted against the Wedgeworth development.
Politically, Duarte and Kwok were reelected in 2018 alongside newcomer Jeffrey De La Torre, while Medrano and Kwok are up for election in 2020. Additionally, Chavarria lost his bid to return to the board in 2018, and Holloway is up for election in 2020.
La Puente resident and local community leader Manuel Maldonado first introduced to the group some history about the founding of the district in 1970, when it merged the existing Hudson Elementary School District with the La Puente Union High School District.
He also spoke of before Chavarria got on the board, and when Chavarria spoke, he addressed that he was part of the initiative to make Wedgeworth a school in 2008 when someone came before the board and offered that it be built for $6 million at no cost to the district without expanding it to the eighth grade.
The price tag is now around $50 million with the district footing the bill, and Chavarria joined in resident concerns on the project.
Maldonado also added that La Puente has had no representation in the district since its formation and mentioned that in the past it took Hacienda Heights residents to stop something in La Puente from being changed by the board.
After Maldonado said this, Hacienda Heights community leader Fernando Solis said that he wished he had Maldonado's breadth of knowledge on the history of the district and that it was important that the two communities bridge together.
Solis added that the board knows how to pit the two communities against each other and that the plan is to look forward instead of at past injustices to both communities. Had they focused on the past, he said that La Puente has twice the amount of things to complain about and does not have the voting power that Hacienda Heights has.
Holloway also addressed the issue of representation and said that should La Puente residents want to take it further, they would have a good case to sue and make HLPUSD use district or region-based elections for board members. He further added that the city of La Puente should follow the model that cities like West Covina have as well, because most council members are from downtown La Puente instead of being spread out throughout the city.
In regards to representation, several in attendance directed questions and concerns at Supervisor Hahn's field deputy.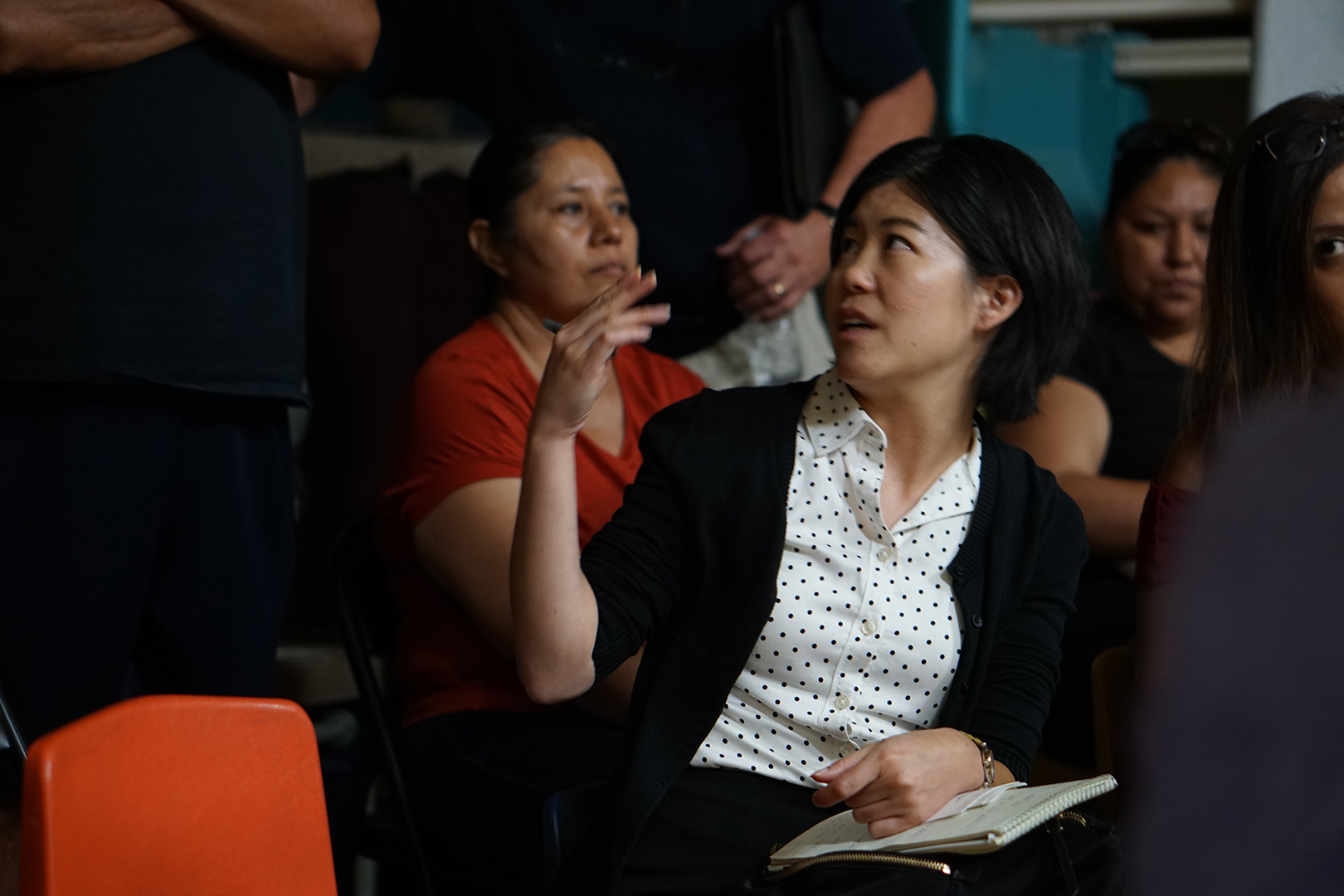 Yokomizo explained that she knew it was a big issue in the community and outlined steps the office has taken to address concerns. She first brought up the issue of field displacement and the situation the district and county faces in the potential relocating fields.
When Solis brought up his past allegation that the board hides agenda items from the public by the way in which the agendas are written and another resident said that the future town halls on Wedgeworth were not advertised well, Yokomizo said she completely agreed that there needs to be more outreach to try and develop communication with the residents.
"Regarding the communication, we did reach out to the school district as well as Lee Andrews and asked for good outreach in regards to communicating about the project," Yokomizo said. "We asked for them to respond to you."
She then talked about the office's suggestion to the Lee Andrews Group and the district that they put advertising for the upcoming meeting on their banner so that it would be publicized better as well.
"They told us they would do that," Yokomizo added. "We completely understand the frustration and that's not something that we like hearing either."
While some residents are frustrated at the lack of action from outside entities, resident Vince Haan explained that he and several residents have asked similar questions to Yokomizo.
"She [Yokomizo] explained it very very clearly," Haan said. "She [Supervisor Hahn] is absolutely limited as to what she can influence and entice and encourage the school board to do."
This was met with several residents suggesting ways that Hahn could get involved, either by writing a letter or calling other officials to add pressure to the district.
Yokomizo then addressed what the supervisor has done, but she nor Haan clarified the exact limits on what the supervisor can do and whether or not the supervisor could or would do any of the things residents suggested.
Since the supervisor can only do so much, community leader and Highlander baseball board member Christine Salazar then brought up the recall effort as the main way residents can take action.
Salazar along with fellow community organizer Gabriela Navar broke down how many people are needed to recall the board members.
Of the 55,000 voters in the region, 15 percent of them need to sign within a 160-day window for a total of around 8,250. Due to numerous issues with signature gathering, Navar suggested they will shoot for 12,000 signatures in order to ensure it hits the ballot.
There is a time crunch to start the recall and get the board members served because a recall can only be within a certain time frame before the next election.
The next informational sessions on the Wedgeworth project, which are a key component to the recall effort, are at Wedgeworth Elementary School on Sept. 14 from 10 a.m. to 11:30 a.m. and on Sept. 18 from 6:30 p.m. to 8 p.m.