Politics are Crossing the Line in Animal Crossing: New Horizons
Have politics gone too far?
For many people video games are an escape from reality. They are venues to be free and do as they please, especially during this pandemic when things aren't always so positive. One of the games that offers such great freedom is Animal Crossing: New Horizons, but it has been drifting away from that dream world as of late.
As of Sept. 1, the Biden-Harris campaign launched yard signs on Animal Crossing: New Horizons and it has received mixed reactions amongst players.
Heather Dodd, 44, a disabled veteran who plays Animal Crossing, was surprised when she found out the Biden campaign had found its way into the game and said it would not sway her opinion when it comes to the November election.
"SAY WHAT? Dear God no. That is ridiculous," she said. "SHOULD NOT HAPPEN! Games are a way to get away and escape the madness [in real life]. You start putting politics in there it will drain the fun and relaxation of a game being a retreat."
Lux Montes, 25, a student at San Francisco State University, said Animal Crossing was an escape from the grim reality of the modern world. They said it was a safe and cute game, where worries can melt away and it should not be used as an advertising platform.
"It definitely makes the games less appealing," Montes said. "It's insidious to target young audiences in spaces where they have traditionally been left to their own devices, whether it's politics or corporate sponsorship." They said that the idea was invasive, pushing advertisements further into people's lives, and that it was harmful to the children who play the game.
Montes said that they don't want a candidate that panders to them in the video games they play. "I want a candidate that I feel really goes to bat for me."
Some believe instead of promoting in a game, Joe Biden should act more realistically on helping the public. Like Twitter users @MisterTreehead and @Bugleague shared.
@JoeBiden how about instead of making an Animal Crossing yard sign to get the millennial vote, why don't you do something effective like forgive their student loans?

— Bag of Soup (@MisterTreehead) September 4, 2020
Instead of animal crossing signs or whatever, if you promised free healthcare during a pandemic which has killed hundreds of thousands of people, LOTS of people would come to vote in order to not die! Just a thought @JoeBiden

— frackis (@bugleague) September 4, 2020
Some welcome the idea, such as Twitter users @jacobemberisle and @terry_estep.
I'm registered & ready to vote for @joebiden and @kamalaharris 🙂 #dumptrump #AnimalCrossing #ACNH #NintendoSwitch pic.twitter.com/0d2xNrwmBO

— Jacob (@jacobemberisle) September 4, 2020
My villagers would vote for Biden if they could.#AnimalCrossing #ACNH #FireTrump pic.twitter.com/IUwhQAB5b8

— Terry Estep 🏳️‍🌈 (@terry_estep) September 1, 2020
There have also been counter-signs made that would support the Trump-Pence campaign like Twitter user @DioTheRoadRoler Tweeted.
As a counter to the biden/harris animal crossing signs, I present you the Trump/Pence 2020 sign that I created pic.twitter.com/AND8UEx4xa

— FukLiberals69 (@DioTheRoadRoler) September 1, 2020
It is not the first time politics has entered Animal Crossing. On Apr. 9, Hong Kong activist Joshua Wong tweeted pro-democracy messages and images from the game, which later led to China banning sales of the game.
This is what we do in #AnimalCrossing… maybe it's why these people are so anxious to go back to the game!! pic.twitter.com/vVeaGq54lv

— Joshua Wong 黃之鋒 😷 (@joshuawongcf) April 10, 2020
According to Nintendo's fiscal year report, over 22 million units had sold since its release in March. Along with free updates on holidays and seasonal contents, Animal Crossing has become one of the most popular games of the year.
With a rise in politicians and activists seeing this game as an outlet to promote themselves and their ideas, it has yet to be seen what these tactics will yield in the November election.
Leave a Comment
About the Contributor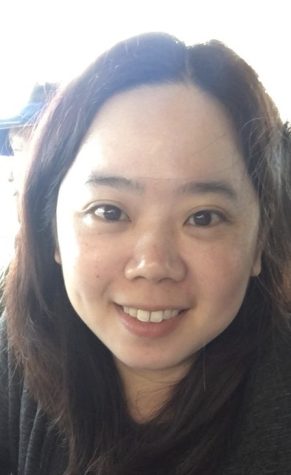 Christie Yeung, Managing Editor
Christie Yeung is Managing Editor and former features and gaming/tech editor of SAC.Media. She falls somewhere between a nerdie or a foodie, or is both. She likes to spend her spare time playing video games, listening to music, and watching funny videos on Youtube. She has a sweet tooth and has no immunity against anything with Nutella on or in it.