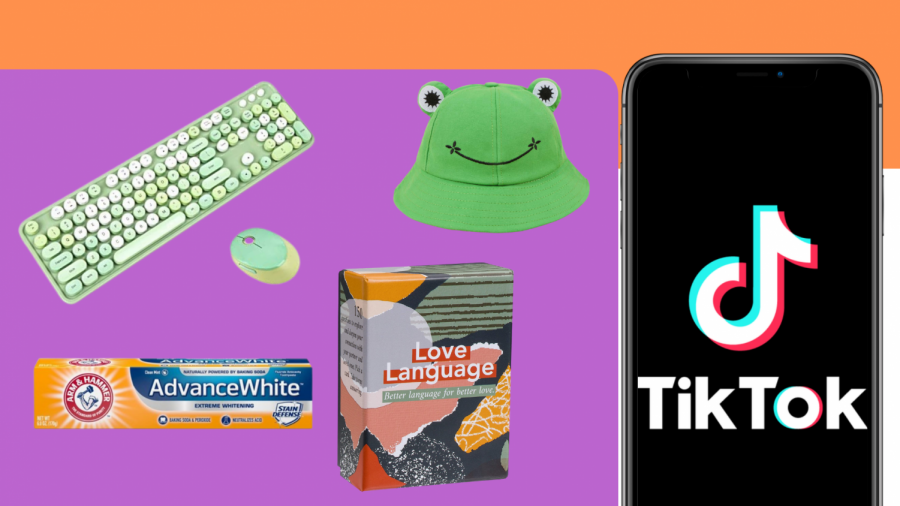 TikTok has made me realize there are lots of useless things that I absolutely need. Did I really need a small portable microphone that connects to my phone, so I can record my cat eating treats as some form of ASMR? Yes. My "For You" page has officially turned into an Amazon advertisement page. I know many of us are victims of buying very hyped products online and when they arrive they are just…mediocre. Well, I'm here to tell what is worth your money and what isn't. Here are my reviews of hyped TikTok products I've purchased.
Hair Shampoo Brush
4/10
Personally, this didn't do very much for me. After using this product a couple of times, I didn't notice a difference in how clean my hair looked or felt. It works well as a scalp massager though!
Rechargeable Electric Candle Lighter
8/10
I absolutely adore candles and have so many of them around my house and bedroom. This lighter has made it so easy to light them up. Plus, it's better for the environment!
"Invest In Vinyl" Clear Plastic Protective LP Outer Sleeves
10/10
If you're on VinylTok, you would know how important it is to have these plastic sleeves to protect your vinyl from wear and tear. One of my hobbies is to collect vinyl, especially vintage ones. These sleeves prevent my vinyl from getting scratched and keep the covers looking brand new! I would definitely invest in these if you're a vinyl collector.
Love Language: Card Game
8/10
This description of the game did not lie when it said you would understand your loved ones better. I played this with my family and whew! We did learn some new things about one another. Although playing with my family was fun, I would recommend playing with friends or your significant other because some of these questions get pretty personal with your sex life.
UBOTIE Colorful Computer Wireless Keyboard
10/10
I swear this keyboard is the reason I got a 4.0 last semester. Hearing the clicks of the keys while I complete my assignments is just so rewarding. The green keyboard is the one that was all over TikTok (it still is) and is the one that I bought. I absolutely adore her! It looks so pretty sitting on my desk just waiting to be used again. This keyboard is the only reason I get my assignments done.
Carpool Karaoke Bluetooth Microphone
5/10
If you're a karaoke fiend, this product definitely isn't for you. This was one of those products that I wish I loved as much as everyone else, but it just isn't. I got this product when it was on sale for $32, but it is usually $63. The sound quality is so bad for the price and it sometimes has problems connecting to my Bluetooth. One of the positive things about this is that I can now karaoke some Taylor Swift while driving down PCH with my besties (when it is safe to do so of course), even if the sound quality isn't the best.
Unisex Packable Bucket Frog Bucket Hat
9/10
It's a frog bucket hat. Of course it is worth the money.
ARM & HAMMER Advanced White Extreme Whitening Toothpaste
8/10
The toothpaste did do its job of making my teeth whiter, but beware! Do not use this as an everyday product. It is more of a once a week toothpaste. Just the other six days a week use a regular toothpaste, so your gums don't decay and make your teeth fall out. I'm just kidding, I doubt that would actually happen….right?
6 Pieces Floral Elastic Hair Scarf Headband
6/10
I have a fat head, so I was already ready to accept the fact that this purchase might be a flop. It wasn't though! These headbands do fall on the smaller side, but they're really cute and can cover up your hair on a bad hair day.
I think I just have to accept the fact that not every product recommended on TikTok is going to change my life as much as I want it to. Will I continue to purchase the products on my For You page? Hell yeah.