Vchos Serves Salvadoran Food With an LA Twist
In the past, we've relied on food trucks at concert venues, fair parking lots or music festivals; but in a time where indoor dining has been restricted, we can still rely on these roaming restaurants to give us our fix for some feel-good food.
The VCHOS food truck puts a modern latin twist on Salvadorian cuisine. While Salvadorian food isn't too hard to find locally, it is the youth-geared food truck that makes the experience different. Most places will only give you more traditional dishes with classic pupusa plates, thick tortillas or specialty platanos. However, VCHOS caters to the local Los Angeles crowd by serving gluten-free tortillas, vegan custard, dairy-free pupusas and gourmet street tacos.
The food truck circles weekly between areas in Downtown LA and North Hollywood but also comes more locally each week stopping at Chino, Whittier, Covina and Eastvale. I came to try their food at their usual spot in Eastvale where the truck was tucked away in a quiet parking lot between a local school and a park. This location was a bit hard to find but was worth it because the secluded spot off the main street made for a safe feeling environment to chow down and is easy to find a spot for you and your family to sit and eat if desired. Additionally, most food truck locations require you to make a bit of a trek from where you parked– if there is even parking at all. I was pleasantly surprised when I was able to park only a few spaces away from the truck.
I decided to order a classic pupusas plate with chicken, cheese and spinach filling as well as their dairy-free option pupusa with pork and beans. Though there were not many people ordering, the food came out quickly and I even saw a handful of people stop by to pick up their online orders while waiting for mine.
The first thing I noticed when eating the freshly made pupusas was that they are not nearly as greasy as pupusas from other places. When eating Salvadorian food, it is expected to get a little messy and eat with your hands so I was happy to chow down without leaving a giant mess or feeling completely full and bloated after, like eating comfort food so often does to you.
The pupusas were very doughy, which I personally prefer. The bread-roll-like consistency made for a really filling meal. The cheese filled pupusa was loaded for a perfect cheese pull and had great flavor but the pork and bean filled pupusa tasted bland on its own. The meat did not have much flavor but luckily, the curtido and mild house salsa balanced out the lack of flavor.
Though a little pricey, higher costs are expected from a food truck and I would definitely return to try more of their pupusa combinations. A food truck like this one is a great way to eat while avoiding the crowds and gives you a glimmer of the days that used to be; walking from food truck to food truck, eating quickly and messily to get to the next foodie spot. Until big events like that can return, I will continue to go to independent and more local food truck spots like these.
Leave a Comment
About the Contributor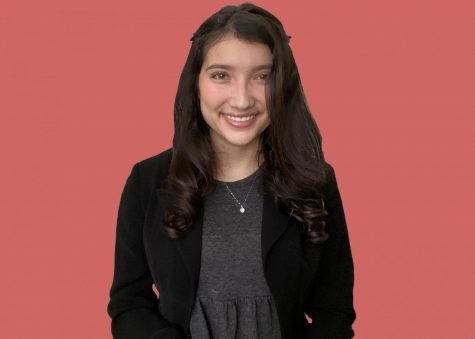 Kristen Sanchez, Features Editor
Kristen Sanchez is the Features Editor for SAC.Media. She also works as part of the the public relations and social media team for the Mt. SAC journalism program and its student publications.