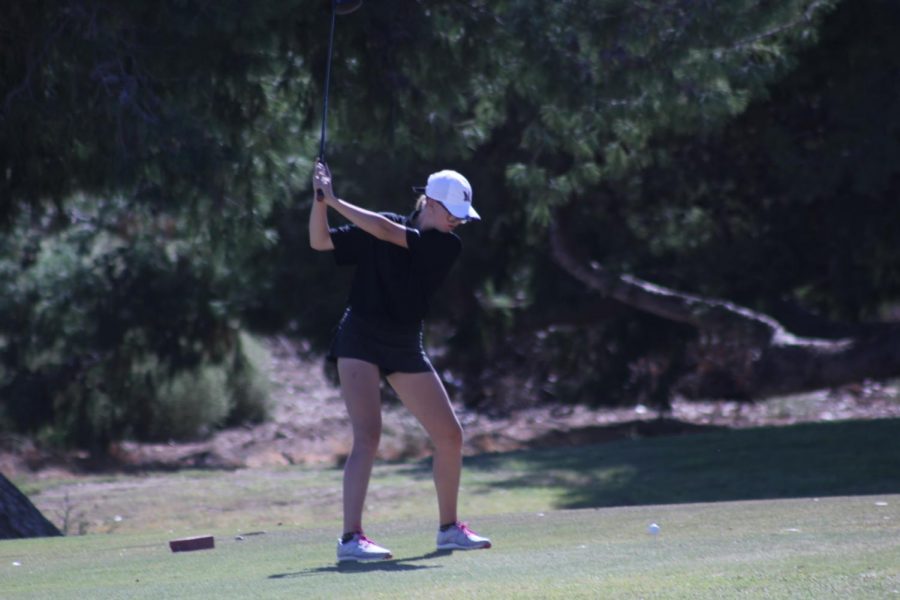 Diego Renteria
The Mt. SAC Women's Golf Team competed in the seventh round of the Orange Empire Conference tour on Oct. 20 at the El Prado Golf Course in Chino Hills, CA.
The Mounties would be facing the likes of Saddleback College, College of the Desert, and Orange Coast College among others. Saddleback College was undefeated this season entering the seventh round, and the Mounties were going up against some tough competition.
Katerina Cervantes was the first one to tee off for the Mounties. It was a big day for Cervantes, she was competing for the CCCAA State Championship and celebrating her birthday.
"It's great, but I try not to think about it that much when I am out here," Cervantes said about her big day.
Cervantes would play a good game with a pair of nice drives on the sixth and ninth holes and a clean putt on the difficult seventh hole. Cervantes would shoot an 83 for the Mounties, the best score of the team.
As the match continued, the next members of the Mounties golf team took on the difficult course.
Payton Dawson would be next up for Mt. SAC. She would start out strong on the first couple of holes of the course, yet she would have some trouble with the more difficult holes. The tricky and unforgiving seventh hole led to Dawson not getting a good drive and would force her to chip her way onto the green.
The seventh hole would continue to claim the days of many golfers, as its particular location made it tough. The start of the seventh course is on the edge of a hilltop and the actual hole would be diagonally across about 50 yards away on another hill. It is an especially tricky shot because of the little to no room for error.
Emilia Hickman and Jule Gutierrez would be the last set of golfers for the Mounties. Hickman would be paired up against golfers from Mt. San Jacinto and Orange Coast College, while Gutierrez would face golfers from Cuyamaca and Fullerton College. The pair would find some difficulty with the unforgiving course, but ultimately both played respectable games for the Mounties.
In the end, the final scores for the Mounties would be Cervantes (83), Dawson (96), Hickman (107), and Gutierrez (104). The Mounties would finish in fourth as a team with a total score of 390, while Saddleback College would continue their dominance by taking the top spot of the match with a final score of 329.
The Mounties played a good game and have three more meets to look forward to in order to turn their season around. The Mt. SAC Women's Golf Team will play again on Oct. 27 at the Arroyo Trabuco Golf Club.