Local High School Students Unite To Protest Against Gun Violence
On Friday, April 20, students across the United States walked out of class and left school to honor those who have been affected by gun violence.
This day marks 19 years since the school shooting at Columbine High School in Littleton, Colorado in 1999. Two male students dressed in trench coats entered their high school campus and began shooting. 13 people were killed and 20 were injured.
Students have said "Enough is Enough" following the most recent school shooting in Parkland, Florida on Feb., 14, 2018. Nikolas Cruz entered his former high school, Marjory Stoneman Douglas, and killed 15 students and two teachers. Cruz also injured 14 other students.
Since the school shooting in Parkland, there have been two national demonstrations. The first was #NationalWalkoutDay which was held on March 14, exactly one month after the shooting in Parkland. The second demonstration was "March For Our Lives"  and was held on Saturday, March 27.
Local high schools including Etiwanda, Rancho Cucamonga, and Los Osos worked together over the last two months to organize a walkout for the #NationalSchoolWalkout. Students across the country wore orange while they participated in the walkout.
Emma González is a survivor from the school shooting at Marjory Stoneman Douglas High School and participated in the walkout. González tweeted a photo of herself and explained why students wear orange.
Dr. Tran said that the tax bill needs to be repealed in order to put America back on track to giving everyone an equal opportunity pic.twitter.com/Ew3cqrbCVB

— Cory T. Jaynes (@CT_Jaynes) April 13, 2018
Students left their campus around 10:30 a.m. and began their walk to Central Park. The group organized the meeting location as Central Park which is located in Rancho Cucamonga.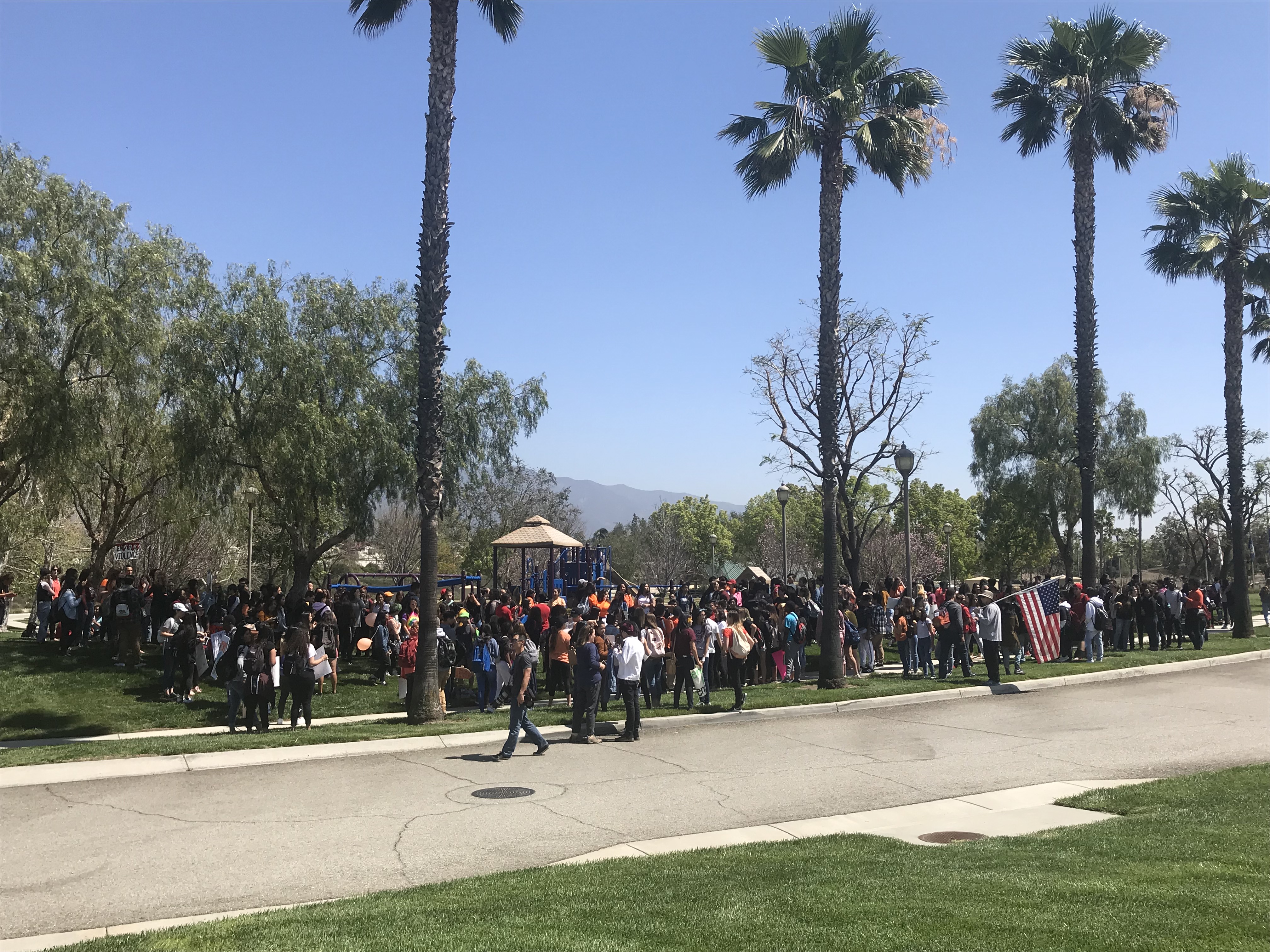 From there, the students gathered together and began their march to City Hall at 11:40 a.m.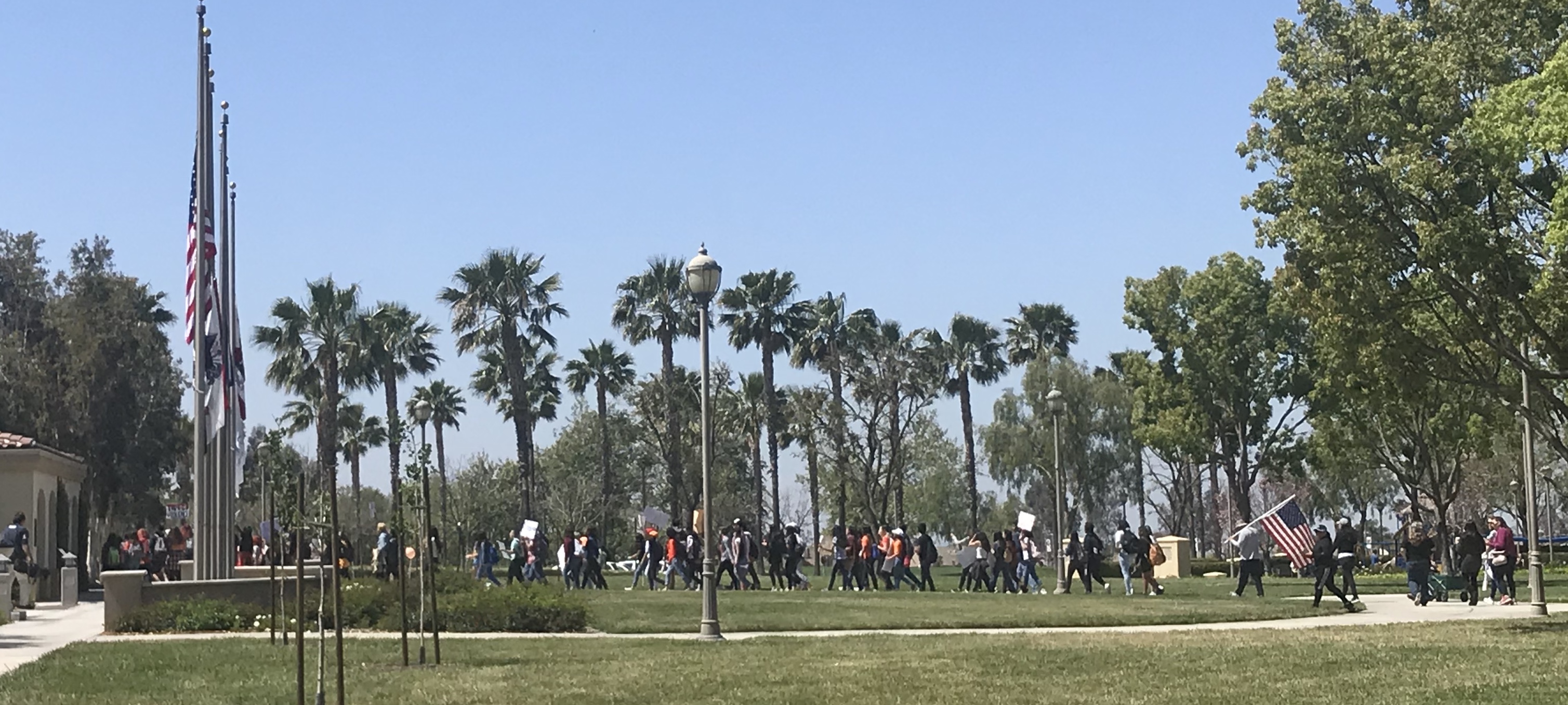 As students took the street of Rancho Cucamonga, drivers began to honk their horns in support.
Students from schools in the Inland Empire participating in #NationalSchoolWalkout by walking to City Hall pic.twitter.com/NJq73SQDsl

— miranda (@miranda_virgen) April 20, 2018
Students arrived at Rancho Cucamonga's City Hall at 12:30 p.m. where they were greeted with refreshments and support from local members of Congress.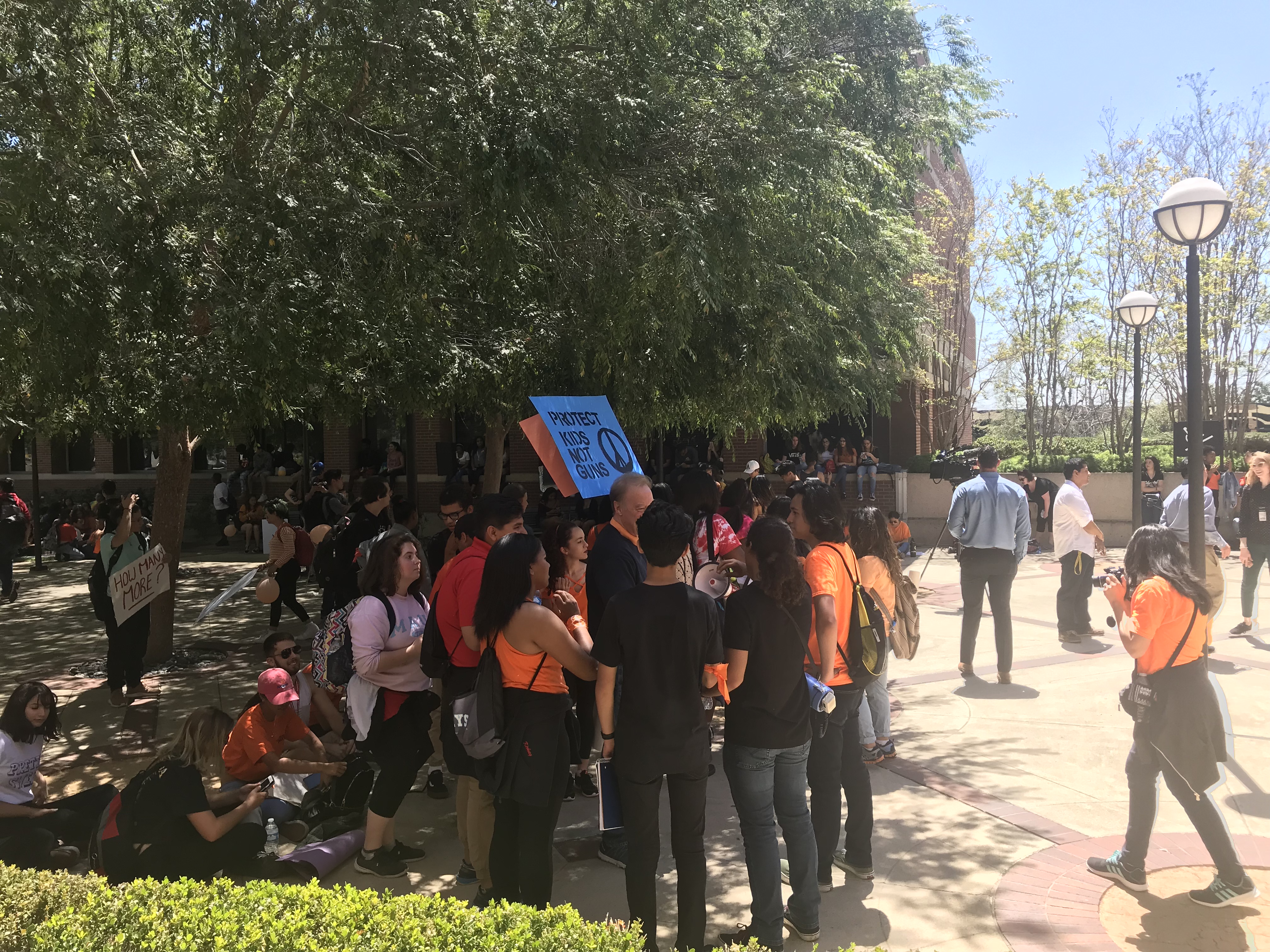 The students had 17 minutes of silence, one minute to honor each victim that was killed at Marjory Stoneman Douglas. The students then welcomed Congressman Pete Aguilar who represents District 31. District 31 includes portions of Upland, Rancho Cucamonga, Fontana, Rialto, San Bernardino, Colton, Grand Terrance, Loma Linda, and Redlands. Aguilar addressed the crowd to share his support for their actions.
"These events are not shocking for your generation," Aguilar said. "You have grown up with a countless number of tragedies."
Aguilar continued by listing numerous shooting incidents that have taken place in the United States throughout the years. He said that older generations have failed future generations by not offering solutions.
"You have stood up. You have stood out," Aguilar said. "More importantly, you've stood together to make your voices heard." Aguilar added that he stands with the students and encouraged them to know that their voices were being heard.
I'm so proud of the students in our community who stood up and spoke out today to make their voices heard in the fight to #EndGunViolence. Congress has a lot to learn from these young leaders. pic.twitter.com/90cUMha1CC

— Rep. Pete Aguilar (@RepPeteAguilar) April 20, 2018
Assemblymember Eloise Gomez Reyes is a representative of District 47 and also addressed the crowd. Assembly District 47 is comprised of the communities of Colton, Fontana, Grand Terrace, Rialto, San Bernardino, and the unincorporated communities of Bloomington and Muscoy.
"You have been great leaders," Reyes said. She added that it is important for the students to continue their efforts and make their voices heard. Reyes said that since 1999, almost 187,000 students attending 193 schools have experienced a shooting on campus during school hours. Reyes concluded her address by telling the crowd how much she supports the students and the efforts to make a change.
While the speakers were talking, students began to register to vote. The group of students from the three high schools encouraged the students to sign up.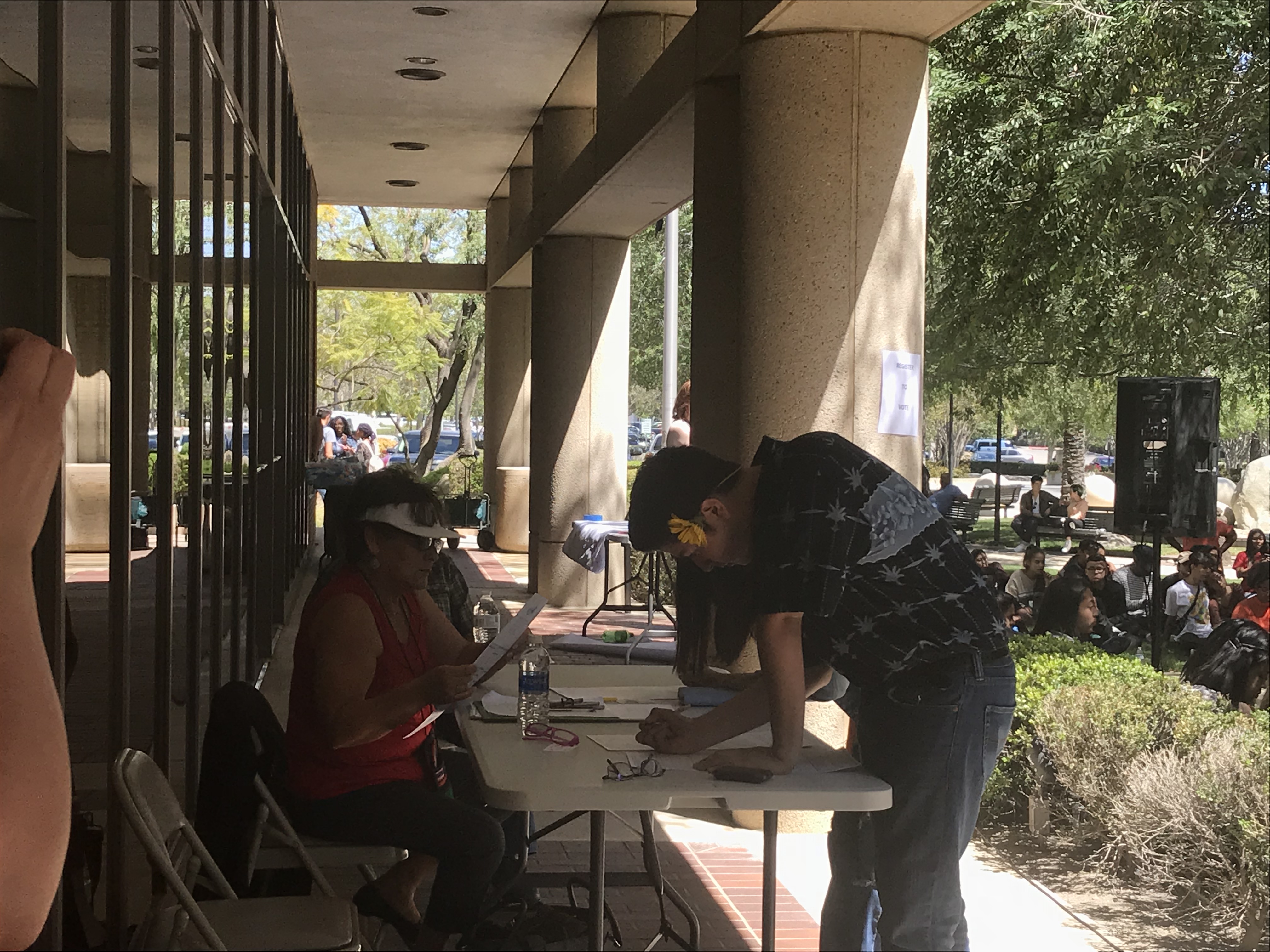 Students began to address their peers and Lauren Mayzum, a freshman at Etiwanda High School, said what she wanted her high school experience to be like.
"I want the ability to go to school without the fear of a gun being present on campus," Mayzum said. She promised the crowd that she would continue to speak out until there is a change happens. Mayzum highlighted that there are young adults in the United States who have dealt with gun violence in schools for their entire lives.
Mayzum added that 43 of the 50 states have had a school shooting and said that soon every state will have their own story to tell unless action is taken. She said that this motivates her generation to keep fighting to stop the violence. She concluded by encouraging her fellow students to take a stand and act now.
The official website for #NationalSchoolWalkout encourages students to continue the movement they have created. They ask that they visit their "What's Next" page to see if their community would want to host a meeting on Saturday, May 18  to talk about gun violence and the impact it has on their community.
For more information please visit the #NationalSchoolWalkout website.
Leave a Comment
About the Writer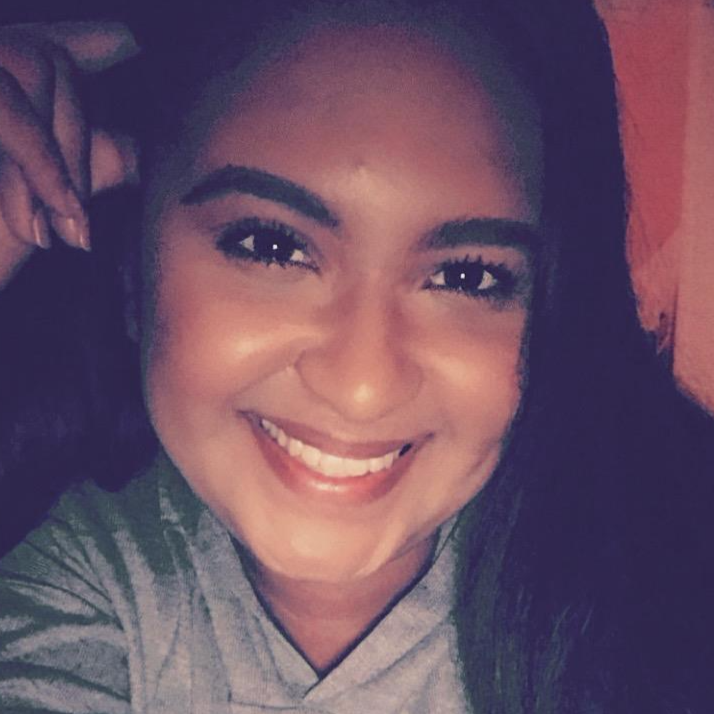 Miranda Virgen, Author
Miranda Virgen is the news editor of SAC.Media and hopes to transfer to USC. She likes to attend live concerts and entertainment events.