Coachella Not Beychella
On Friday, April 20 the second weekend of Coachella Valley Music and Arts Festival kicked off in Indio, California. This annual two weekend event takes place every second and third weekend of April where under the California sun festival goers can checkout out their favourite artist, new artists, eat, drink, roll and layout on the field. For Coachella 2018 Headliners included The Weeknd, Beyoncé and Eminem along with returning and first time performers.
As temperatures ranged from 90 degrees to 101 degrees all weekend, many festival goers pre-gamed in the parking lot, avoiding the $11 cost of a beer once inside.  Periodically hiding their drinks from security, some sipped as others chugged their drinks before making the walk under the sun, through the dusty paths and several checkpoints to the entrance of Coachella.
Meanwhile at the campsite, rows of vehicles can be seen, each site set up in their own unique way. Some campers just had a tent while some had picnic tents, air mattresses, beer pong tables, cases of water, beer, alcohol and drugs all while security conducted scheduled patrols through the campsite.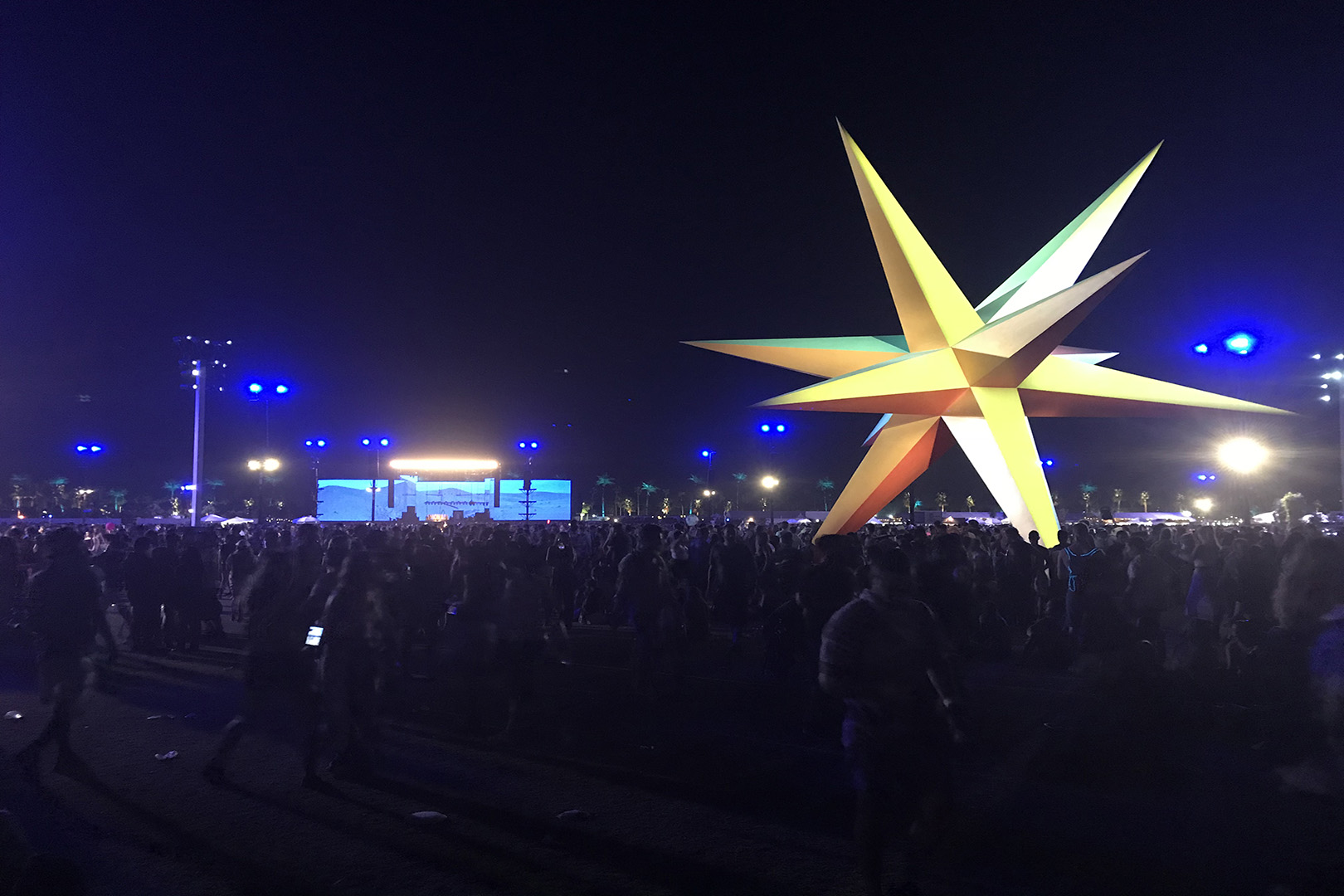 Throughout the whole weekend there was no shortage of private security and multiple law enforcement from different agencies. Near campsite green there was Moreno Valley Police, a Bearcat with a Sheriff in full tactical uniform wearing a ski mask to hide his face, and several undercover officer dressed in shorts wearing hooded sweaters and masks covering their face as their law enforcement badge hangs from their neck.
Once through the gate the long lines to buy merchandise was as expected. As many window shopped, others impatiently waited in line to buy anything that said Coachella on it and I couldn't help but overhear a conversation between two people next to me. For this one male, he was all about having a good time and said that his Coachella crew is "Chill, no drama," he said to a young lady in front of him who he doesn't know. As I laughed out loud, I thought to myself, "people actually say that."
With The Weeknd, Beyoncé and Eminem headlining the Coachella stage there was a list of artists to see, food to eat and alcohol to consume. As Los Angeles Azules, a Mexican Cumbia band, took the Coachella stage, people ran from all directions of the field towards the stage where they were meet with cheers and screams from the crowd.
For The Neighbourhood, they weren't met with the same excitement by fans as Los Angeles Azules on the Coachella stage later that day when fans were met with hostility by lead singer Jesse Rutherford when halfway into their set Rutherford became angry with the crowd and wanted to know why he even bothers doing this and thinks about not performing anymore.
As the day progressed and the sun began to set on Coachella, Kygo had surprise guest Ariana Grande and Miguel perform. Prior to ending his performance Kygo closed out his show with a tribute to DJ Avicii, who passed away that day, having the monitors on stage with videos of Avicii while his single "Without You," plays.
For it's first day of weekend two there was no shortage of excitement from the Coachella stage for artist, SZA, who had Khalid and Isaiah Rashad.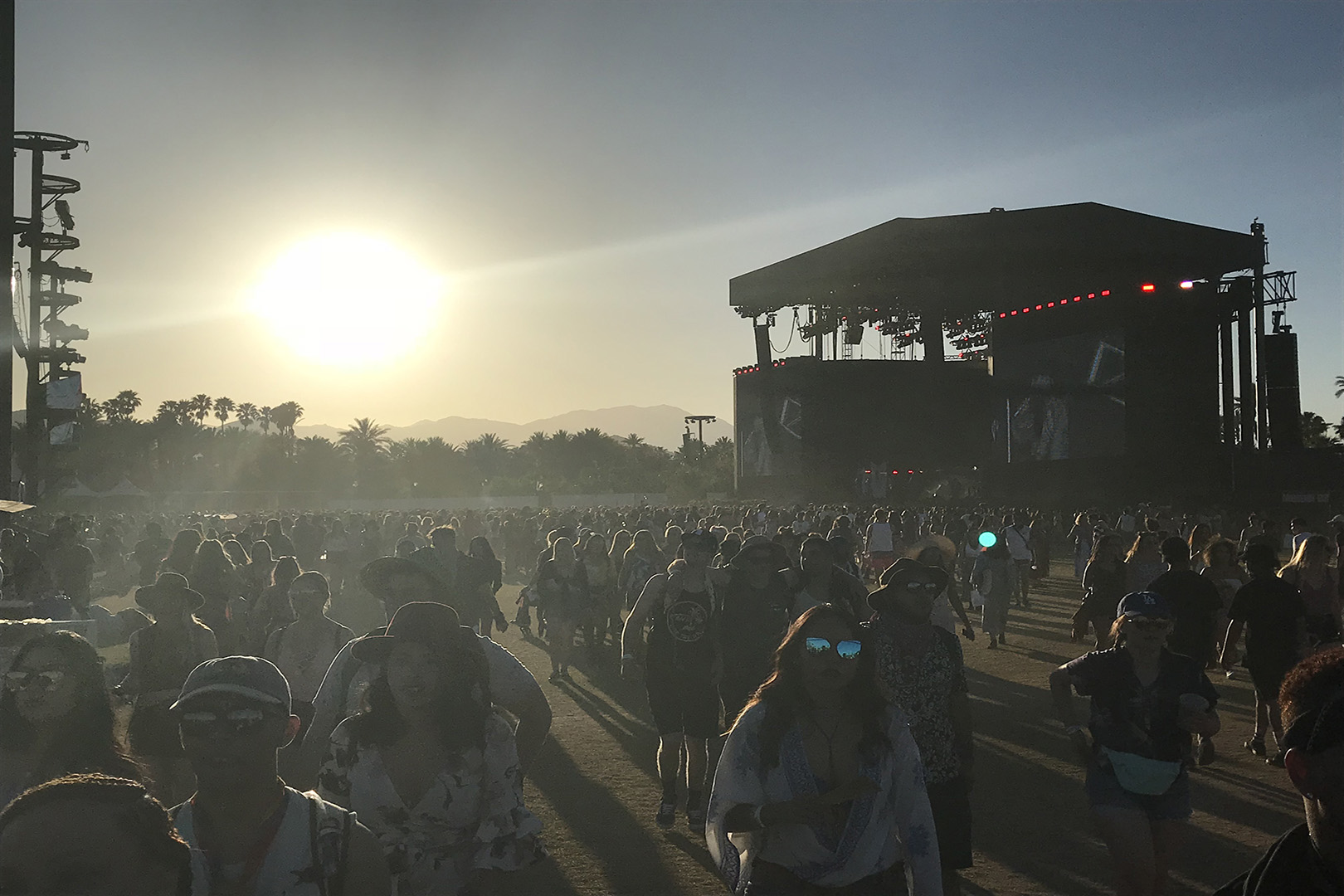 For the weekend festival there was no absence of drugs. At some point throughout the weekend I decided to find shade anywhere from the heat. Seated against a fence surrounding speakers, two young men who looked like teens reached into their backpack began to roll blunts when a festival attendee walking by offered $5 for a blunt wrap changing his mind and offered $25 for them to roll a blunt for him.
As two security officers approached the young males, they informed them that although California allows recreational use of marijuana, its not allowed here. The two officers then conduct a search and take them both into custody, as for the other guy he was short $30.
People, being no stranger to drugs and hearing one guy next to me say to a friend "wanna roll," as they passed small plastic bags between each other, ingesting MDMA while others asked specifically for certain pills and for some doing lines of coke at their campsite before heading to the festival was all they needed, but as security made their way through the crowd some were caught smoking weed, having their pre rolls and blunts taken away only to pull out another from their backpack and purses.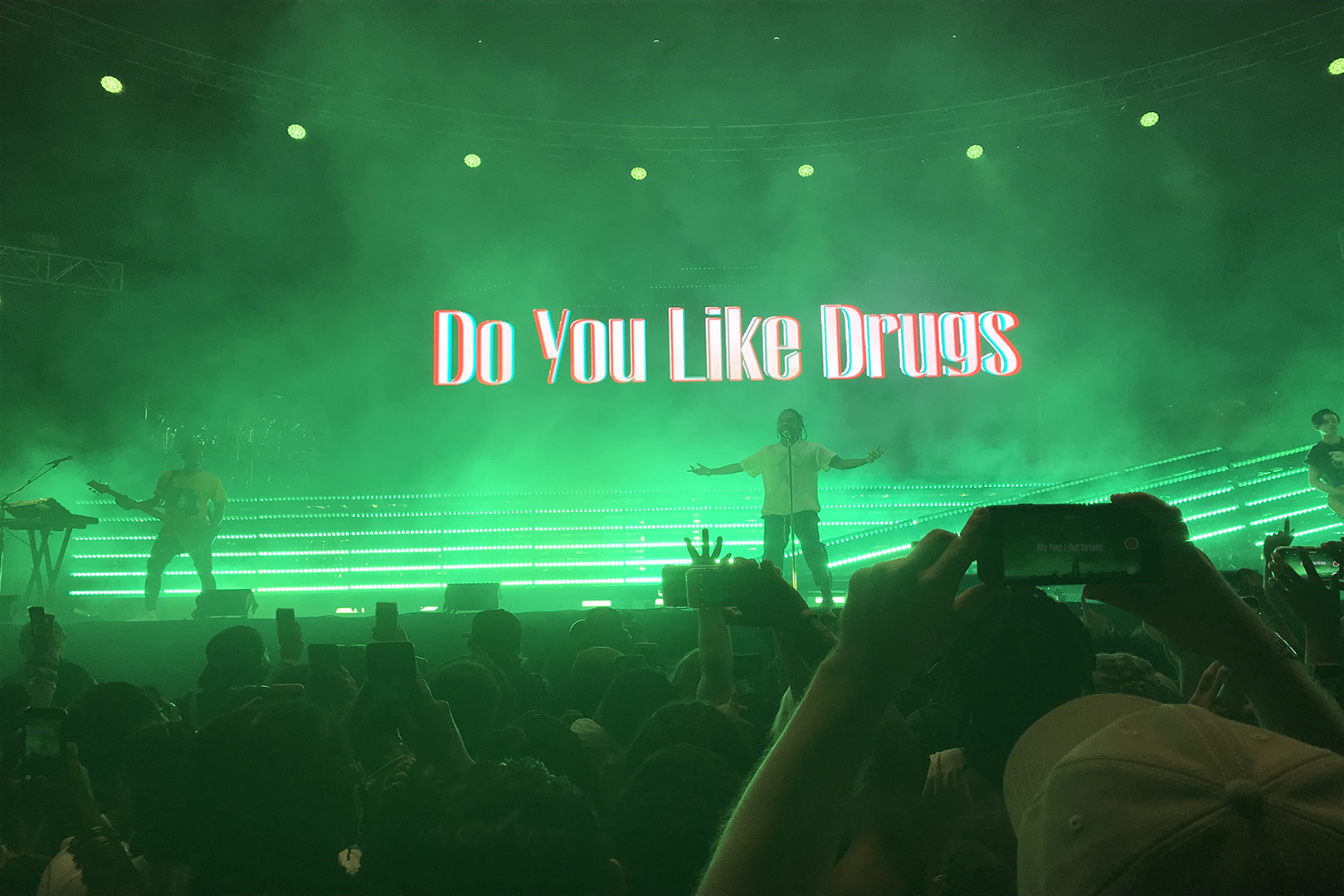 Miguel during his performance on Sunday night asks the crowd "Who's rolling?"
Having partied a little too hard, several people were escorted by friends or medical technicians. As for one male in the Sahara tent, he was sitting on the floor with his head in his lap surrounded by laughing friends while another friend fanned him and another sprayed water on him, later standing him up and dragging him away still laughing.
With the sun beginning to set on Coachella and the dust began to rise, the temperature dropped and the clouds rolled in. During their performance at the Sahara tent, Louis The Child's gave a tribute to Avicii, giving him credit for being the reason why they became DJs followed by Blackbear's moment of silence for Avicii during his set.
A large crowd gathered on the Sahara tent ready to see the Texas native, Post Malone take the stage. Once on stage and chugging beers one after another while holding a cigarette in one hand he played song after song when during his set two of his guitars malfunctioned, referring to his Coachella appearance as "The Post Malone shit show," and brought Pharrell on stage for the meantime. Between songs Malone would give a brief intro on what was going on in his life relating it to his song. Closing the Sahara tent for the night Malone stepped off stage and greet fans.
The end of day two closed with Beyoncé's performance. Navigating the crowd to maybe catch Beyoncé's performance at the Coachella stage, the only place I can catch a seat to see beyonce was near the ferris wheel near the exit, to avoid the post Beyoncé traffic I decided to call it a night.
Sunday was the hottest day, with temperatures peaking at 101 degrees. With Eminem headlining that night many opted to stay out of the heat during the day. As people packed into the Absolut OpenHouse and Heinken House to cool off and drink, many endured the heat and stayed outdoors. Cards B's performance at the Coachella stage got the large crowd going as she twerked on stage being pregnant and all, even bringing out SZA during her performance.
Watching Vance Joy, he was met with cheers and praise while at the Coachella stage, even laughing off his mistake for missing a cord on his guitar stopping in mid performance and starting over again.
For Hawthorne, California native, Cuco, this was his first time ever attending Coachella both as a performer and visitor. With a full attendance at the Sonora tent, Cuco was more than excited to excite the crowd, asking them to "Get lit as fuck." As he continued to perform, Cuco began to continuously drop the mic, apologizing later to the crowd for stepping on his cord.
Before Miguel's performance began at the Outdoor Theatre fans, so called "fans" rushed the stage trying to get as close as they could. For two 18 year olds they kept repeating how they were going to marry him.
Curious, I began to ask them what they thought about Miguel, they didn't know much and rolled their eyes when I mentioned he is half Mexican and that his father is from Michoacan, Mexico when the couple next to me turned and ask if they seen "Coco", because he sang "Remember Me." Both these girls didn't know Miguel had sang that song for "Coco."
Miguel taking the stage a few minutes late the crowd erupted with screams from all directions. Despite putting on a performance, he did stop and introduce himself, thanking his dad for coming to the United States from Michoacan, Mexico and later asking the ladies to show some titties.
When Miguel's set concluded and as I walked towards the Sahara tent to catch Migos perform, I couldn't get anywhere near the tent. With the crowded extending to the ferris wheel for both the Migos and Eminem's headlining performance it was difficult to navigate through the crowd as people were both standing and sitting on the dark.
As the Coachella 2018 Annual Music Arts and Festival came to an end, there was something for everyone to enjoy while here in the desert. Even for those who came just to see the The Weeknd, Beyoncé and Eminem there was an unlimited choice of other artists to see. For the weekend partiers it was now time to end their three day trip and head back home, knowing that many more will be back to next year's festival.
Leave a Comment