5 Free Places to Go to in DTLA
Low on dough? DTLA has plenty of free fun options to explore
I love exploring downtown Los Angeles DTLA. As it has evolved or gentrified, journalists often weigh the pros and cons that are coming with change. A question is often posed: "Is DTLA becoming a playground for the rich?" The answer is simple: yes and no.
Yes of course DTLA is a playground for the rich. All cities are. If you are rich by United States' standards, then you have the freedom to choose any city you like to serve as your playground. If you want to drop a bunch of dough downtown, it is easy to do.
My preferred method to get downtown is on the Metrolink San Bernardino Line or Metro Gold Line. I obviously don't know the income of the other passengers, but I am fairly confident my fellow rail riders are not rich. I can assure you that I am not. Regardless of limited funds, I never struggle to find low cost activities downtown.
DTLA welcomes you whether you're wealthy or not. If your wallet is light, there are plenty of free and inexpensive options for entertainment, food and drink.
Here are five free, world class attractions for you to check out on your next downtown adventure.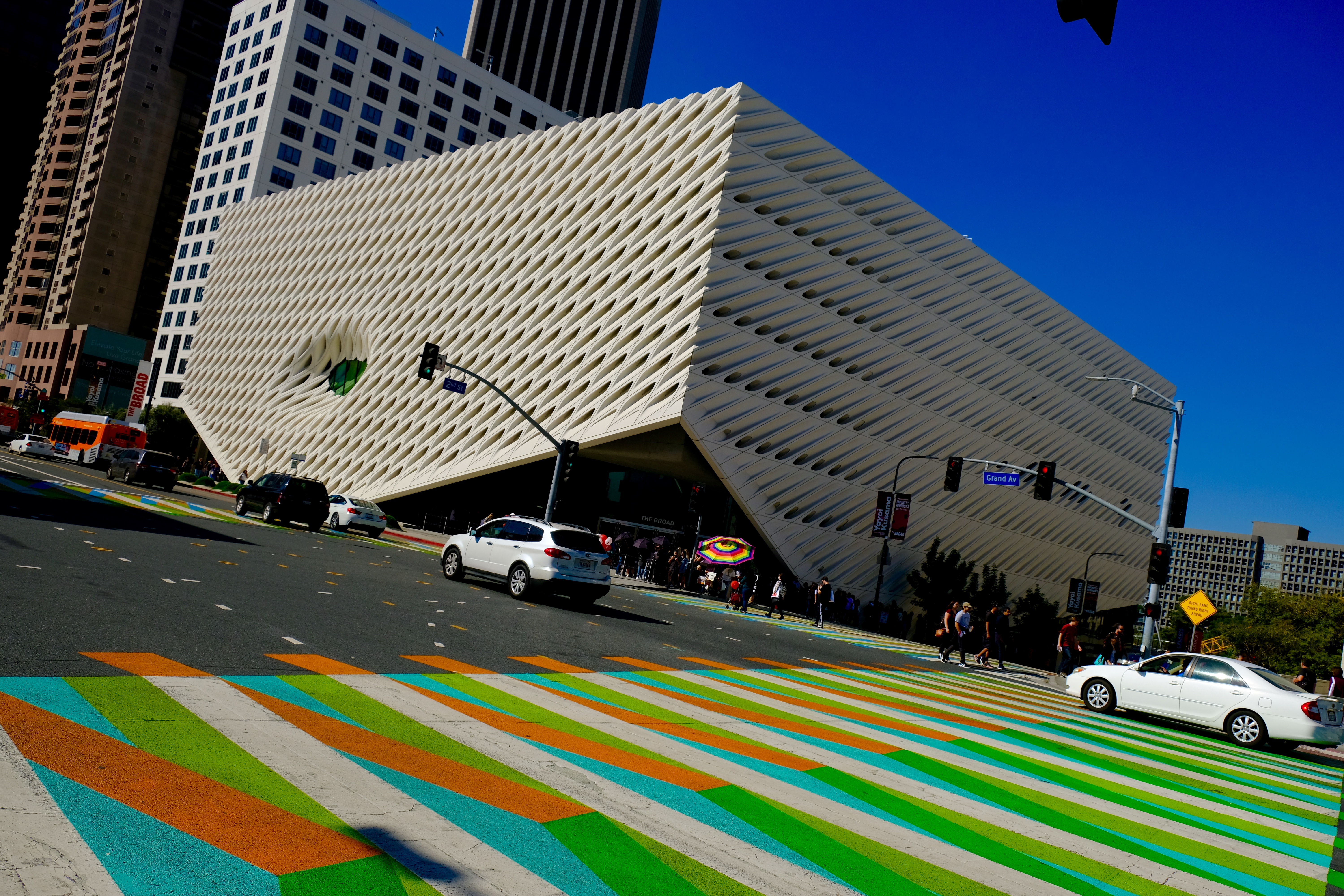 1. The Broad Museum
The Broad occasionally has special exhibitions that requires paid admission, but general admission is always free. Even though it's free, it does not mean it will be easy to gain entry. The museum is also extremely popular. The standby line is often an hour or more, but with some planning, you can avoid the standby line by reserving an entry time online.
Regardless of you get in, fans of modern and postmodern art will find lots to enjoy. Even if you don't have much art knowledge or expertise, it's super fun museum. Even the elevator and escalator rides are rad. The layout is fairly compact, so you can see everything in view without getting exhausted.
The collection includes many works that reflect pop culture, which makes them extremely accessible. People seem to love posting Instagram shots in front of Jeff Koons' "Tulips" and "Balloon Dog (Blue)." Robert Therrien's "Under the Table," consisting of oversized table and chairs, is also a favorite photo op.
A personal favorite of mine is the enormous, otherworldly Takashi Murakami mural, "In The Land of The Dead, Stepping on The Tail of a Rainbow," Which is alive with color and intertwined with fantastical creatures and supernatural beings.
The collection also includes easily recognizable works by Andy Warhol, Roy Lichtenstein and Keith Haring. The Broad is closed on Mondays.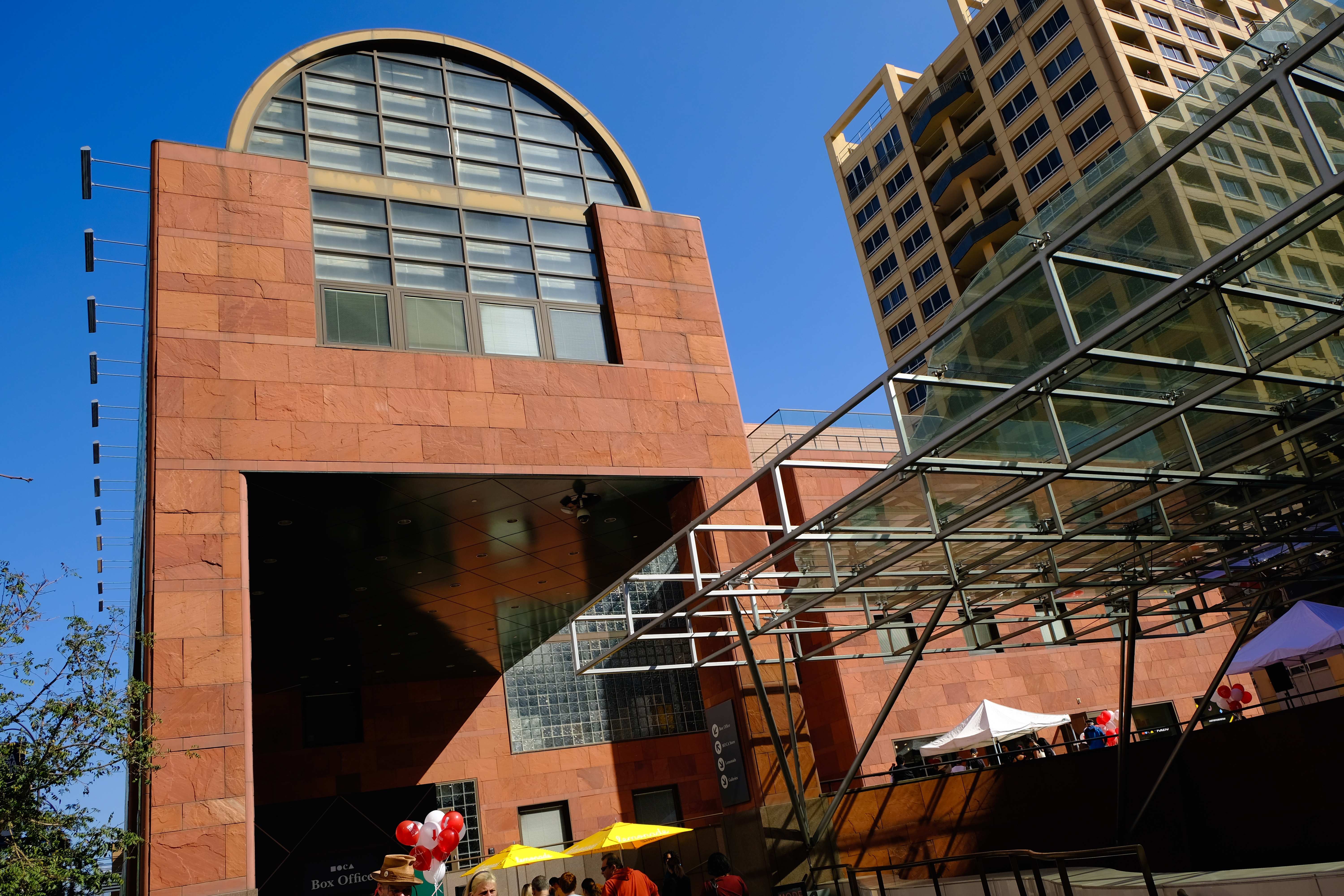 2. The Museum of Contemporary Art
The Museum of Contemporary Art, MOCA, is not free all of the time, but admission is free every Thursday from 5pm to 8pm. The museum has two locations. The main museum, MOCA Grand, is directly across from the Broad. The Geffen Contemporary is in Little Tokyo at North Alameda Street just north of East First Street.
While MOCA does not have the same social media sex appeal as the Broad, their collections have many similarities. The layout at the Grand location is fairly compact and can easily be covered by the casual viewer in an hour or less. Art enthusiasts may want to work through more slowly.
The Geffen is used for special engagements, so it's not always open. Check their website before heading over, and to see if it's open and to determine if the show on view appeals to your sensibilities.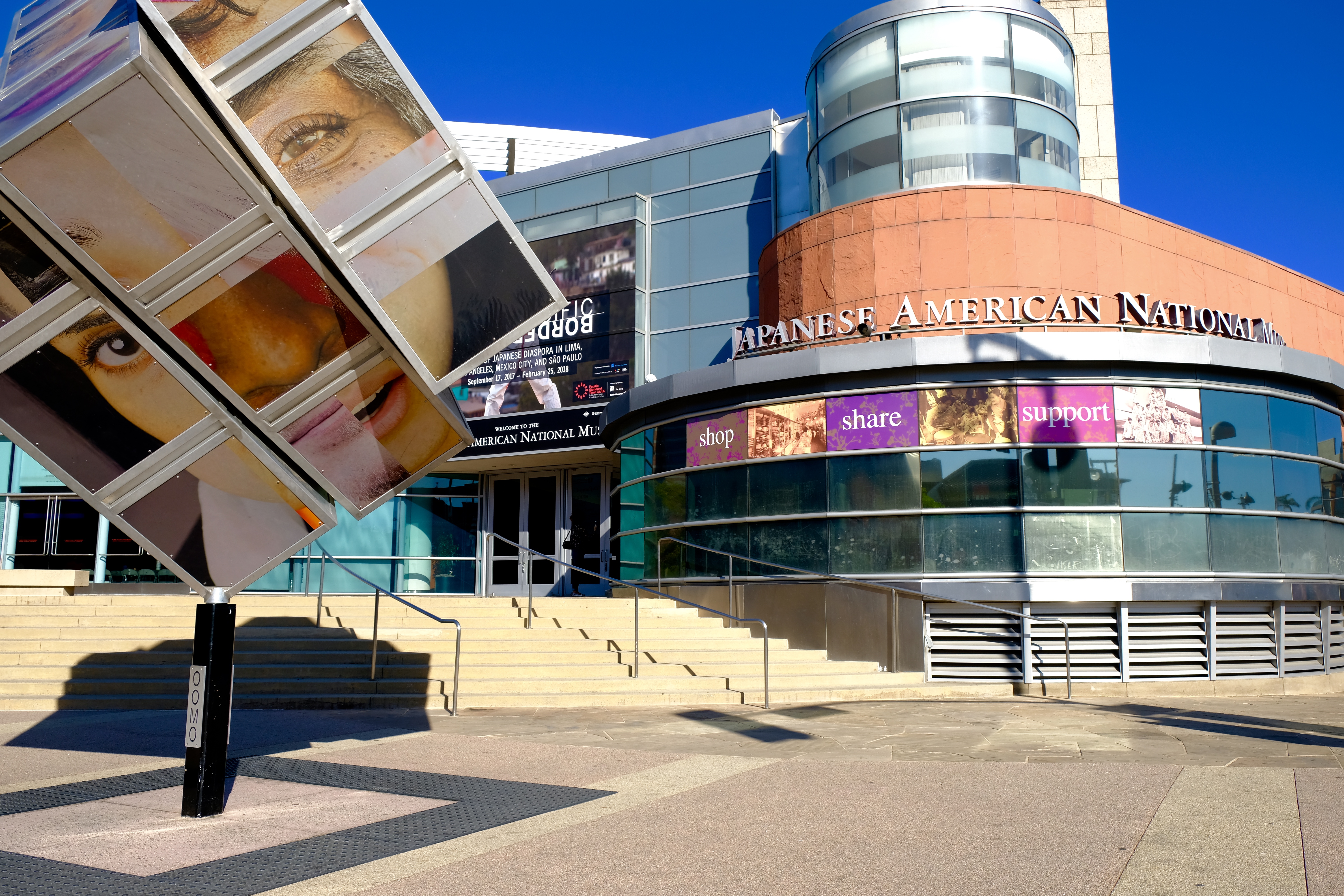 3. The Japanese American National Museum
Like MOCA, admission to The Japanese American National Museum, JANM, is free every Thursday from 5pm to 8pm, and it's free all day every third Thursday of the month. On Saturday, Nov. 11, the museum is also offering a free family day from 11am to 4pm.
Through Feb. 25, 2018, "Transpacific Borderlands: The Art of Japanese Diaspora in Lima, Los Angeles, Mexico City, and São Paulo" will be on view. This special exhibition is part of the Pacific Standard Time; LA/LA Latin American and Latino Art in LA series of shows currently taking place at museums across southern California.
One of the ongoing exhibitions is "Common Ground: The Heart of Community," a multimedia exhibition that tells the story of Japanese Americans interned during World War II. In light of some the xenophobic rhetoric that is being thrown around in political discourse today, this show is shockingly timely.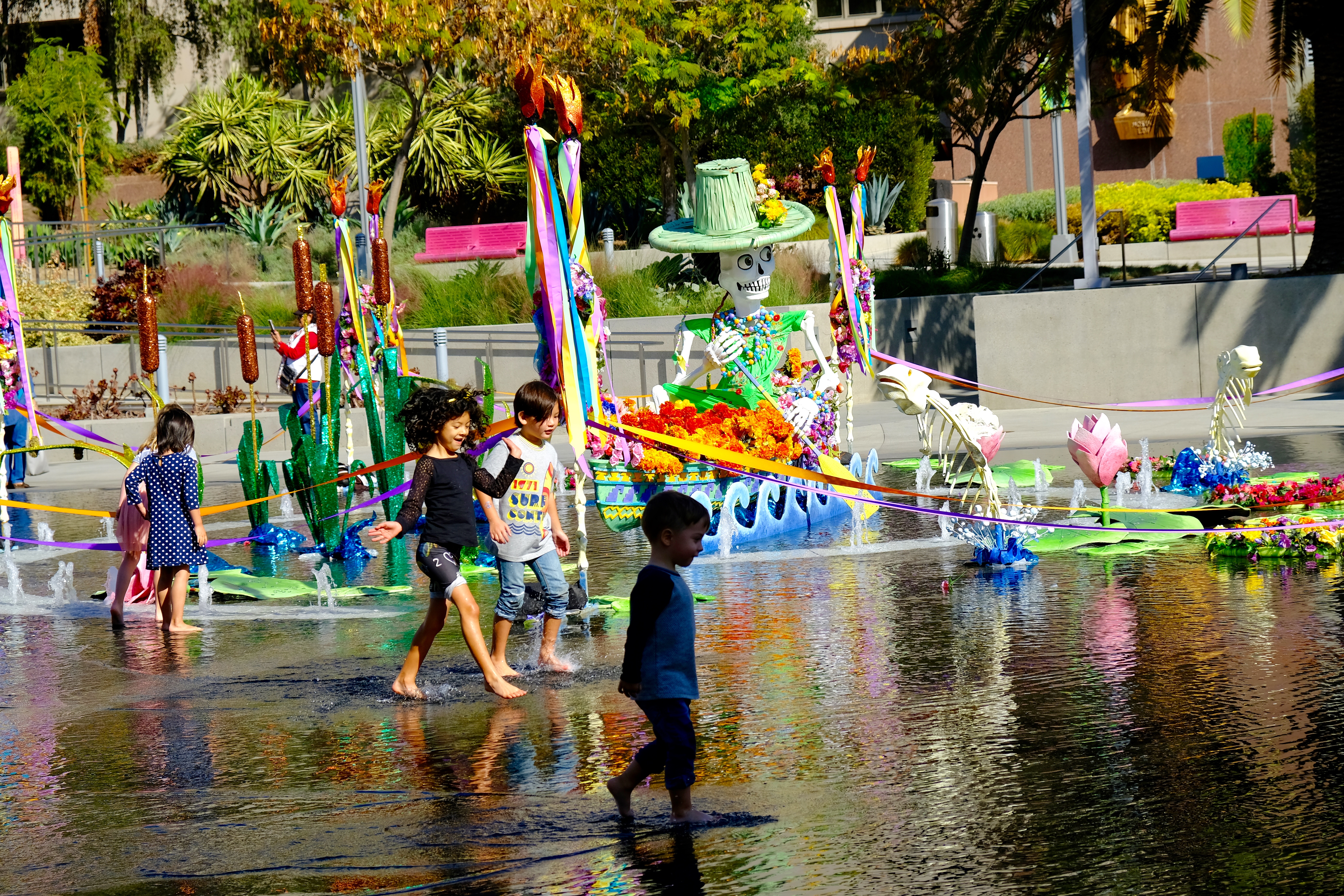 4. Grand Park
While Downtown Los Angeles has quickly transformed into a world class destination for dining and art, and its shopping scene is rising quickly, it is still short on open green space.
Grand Park provides addresses this need, providing spots to chill outdoors alone and an open gathering spot for a range of community events and celebrations. Many of the special events held in the park are free. There are large art installations, attractive landscaping, seating and lawns for picnicking. The park is always free to enjoy when no event is taking place.
'Grand Park Lights up the Holidays," holiday light display begins Nov. 26. The annual New Year's Eve party is another popular celebration.
Check their events calendar for regular free music, dance and cultural events. Recent special events in the park included an art show and altar display in honor of Dia de los Muertos, and internationally acclaimed D.J., the Gaslamp Killer has performed free over the past year, including at the i3 Arts Fest in June.
Kids also love splashing through the fountain year round, and rhe view of City Hall from the top of the park is a winner.
While not free, food trucks often set up nearby. There's a Starbucks and clean, well maintained public restrooms within the park.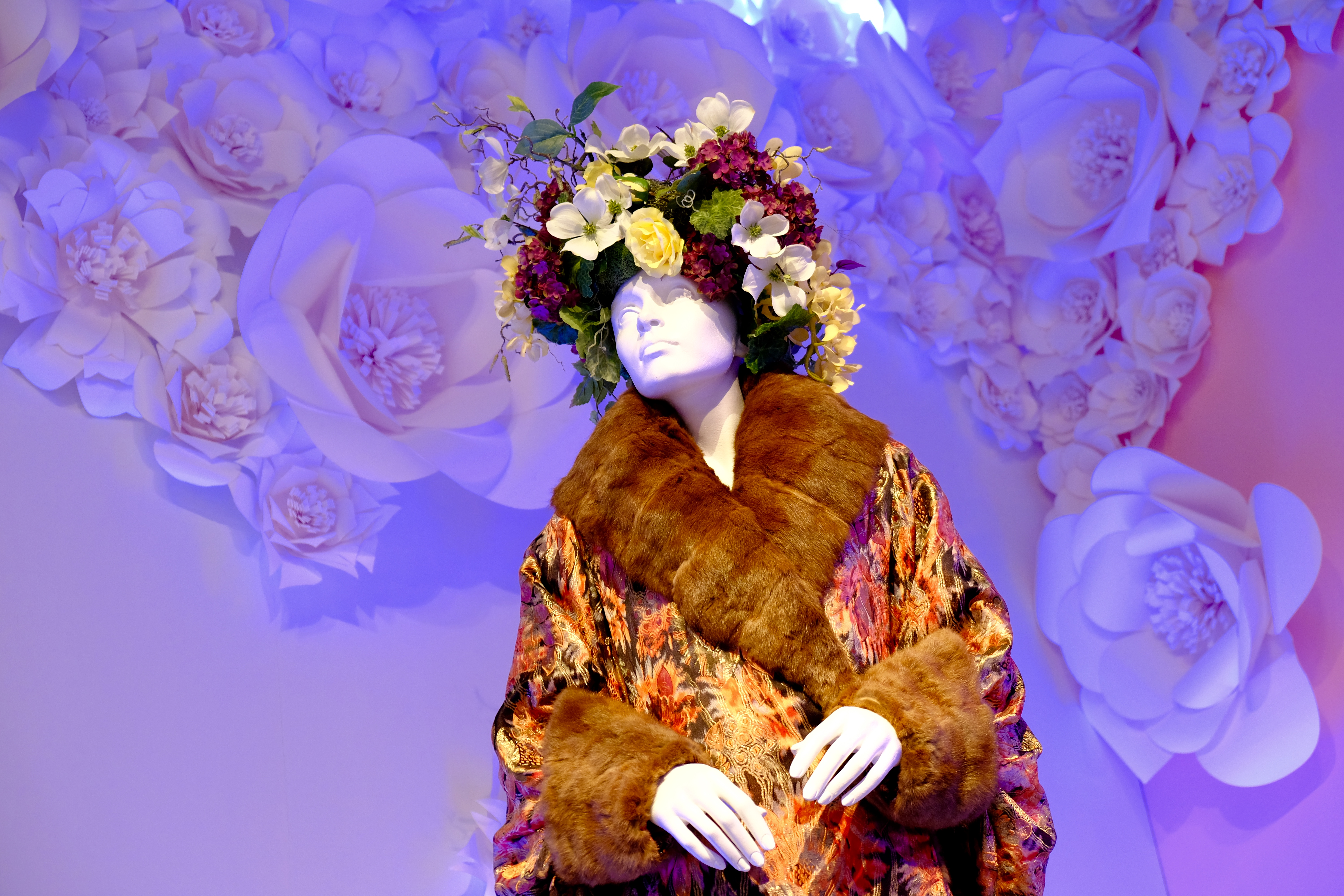 5. Fashion Institute of Design & Merchandising Museum & Galleries
The Museum & Galleries at FIDM in the South Park neighborhood, may be an esoteric, specialized free exhibition, but it is no less impressive. Those with a taste and appreciation for fashion design and fans of Project Runway should not miss stopping here.
Interesting items are available for sale in the museum shop, and extreme bargains can be had at the scholarship store on the northeast corner of the campus. The Grand Hope Park, which is adjacent to the campus just outside the museum, is also a nice place to relax and get off your feet for a while.
Plus One – Pershing Square
In the spirit of the holiday season, here's one more free spot to check out, Pershing Square. The square is a little weird from a design perspective. There's a lot of concrete, and it's kind of walled off from the neighborhood. There are plans to overhaul the park to make it more inviting and user friendly. You can view the proposal finalists here.
In the meantime, Pershing Square hosts many cool, free events and public art installations. The summertime free concert series is especially appealing. During the holiday season, the square gets a dose of holiday lights, and from Nov. 16 through Jan. 15, the Holiday Ice Rink will be in operation.
Since the election, Pershing Square has also been a popular gathering spot for protests and counter protests. Attend one sometime to take advantage of your right to assembly and free speech.
Some people find the square and the surrounding area to be a little sketchy. Coming up from the Metro station, as I often do, mixing stench of urine and pot smoke wafts through the air. The area also almost always has a few people crashing in the square. Personally, the edginess does overtake the positives of the area, some people are not going to dig it here.
Leave a Comment
About the Writer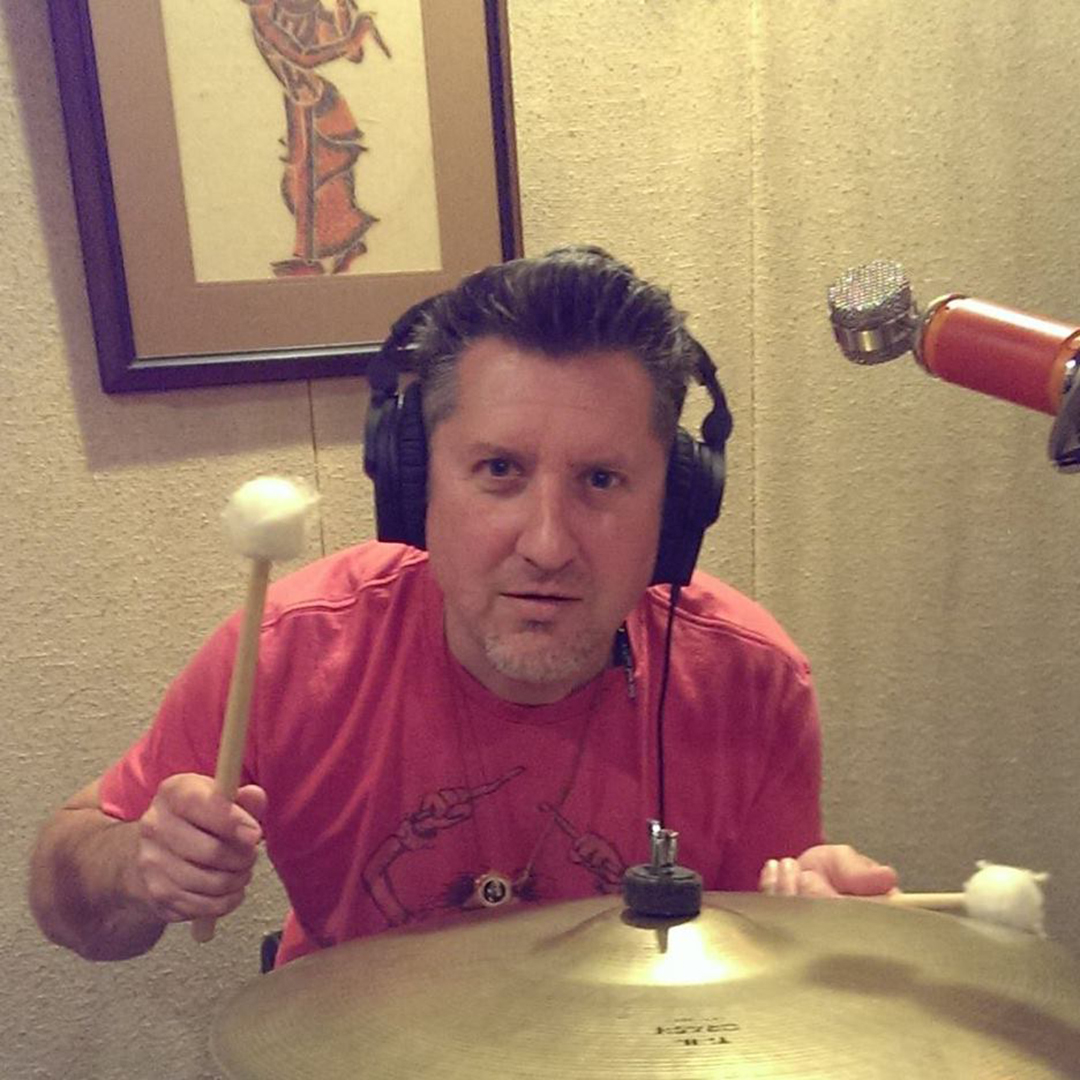 Doug de Wet, Author
Doug de Wet is the former features editor of SAC.Media and a collector of words, ideas, sounds, flavors, and forms. He is suffering from existential dread, extreme self reflexivity, and the questioning of grand narratives. He is now attending Cal State Fullerton.