After decimating their opponents with a sweep in round one, Mt. SAC Softball made quick work of College of the Canyons at home, taking game one 5-4 on Friday, May 11, and dominating game two with an 8-0 win in six innings on Saturday, May 12.
Coming off a sweep of their own over Cerritos College, the visitors seemed poised and ready to take on a Mounties team with whom they split a season series in April.
Game one featured a matchup between Canyons' Joy Veloz and Mt. SAC's own South Coast Conference Pitcher of the Year Briana Wheeler.
In the opening inning, the Mounties seemingly came out with some nerves, allowing Canyons to take the early 1-0 lead off of an error.
After a strong second inning from Wheeler, the struggles continued in the third.
Rena Edwards smashed a triple to right field and Danielle Chatman was walked before advancing to second. This set up Jordan Vallejo to knock a two-run base hit, bringing home Edwards and Chatman to put Canyons up 3-0.
Despite the early deficit, the tables turned in the bottom of the fourth with a blast of a home run from Carissa Felix to finally get the Mounties on the board.
"I was ready for it, I saw it and then I just tried to crush it. I went out there thinking that I wanted to get the rally going," Felix said on her critical home run. "I knew it was my turn to step up and just to be a leader out there and try to get my team up because they were feeling … at a lost hope, and I needed to do that for them."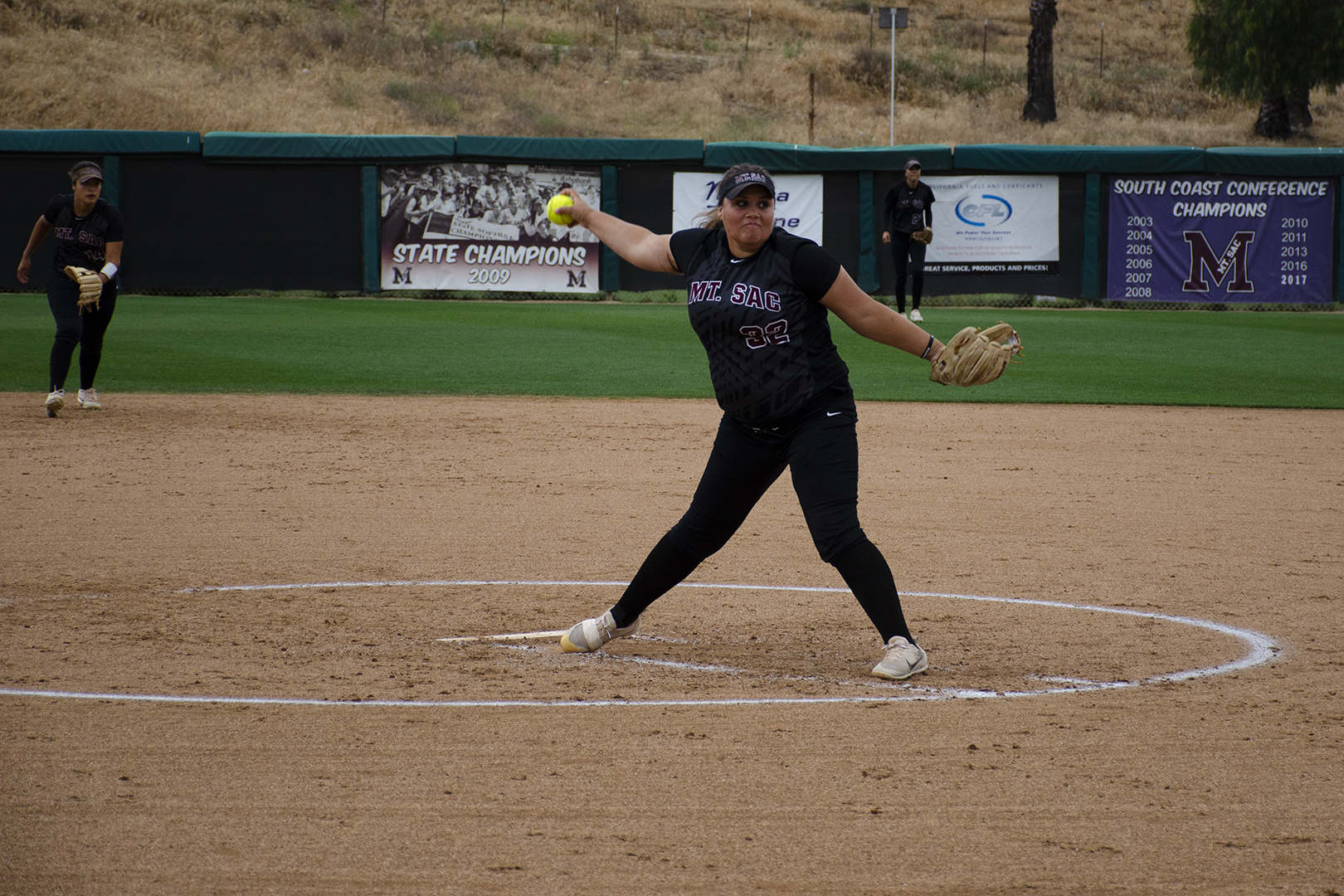 That solo home run certainly raised Mt. SAC's hopes up as it snowballed into a massive comeback for the South Coast Conference Champions.
Following the run, Caitlyn Felina singled before advancing to second after Ciara Granado was walked. From there, Michelle Banales loaded the bases after being hit by a pitch, setting up Michelle Santiago to hit a two-run single and tie the game, 3-3.
A costly error by a rattled Canyons team allowed Amanda Esquivel to reach first, as Nikki Soto, in as a pinch runner for Santiago, and Banales scored to steal the lead from Canyons, up 5-3
However, the visitors weren't ready to lose game one without a fight as Sienna Vannoy hit a home run of her own in the sixth, cutting the deficit to 5-4.
Unfazed, Wheeler really turned it on, easily striking out the next two batters while Mt. SAC's defense handled a pop-up fly for the third and final out of the inning.
In the bottom of the seventh, Wheeler took it upon herself to close things out for good, striking out the first two batters swinging before a ground out to shortstop secured the game one victory.
Wheeler's stunning performance ended with 10 strikeouts for the night and positioned the Mounties to carry the momentum over into the second game.
"We kind of just need to go out there and start right off the bat. Tomorrow we need to give them those punches first and since we've seen them already today, we're gonna come out and try to kick their butts," Felix said on the team's mindset going into game two.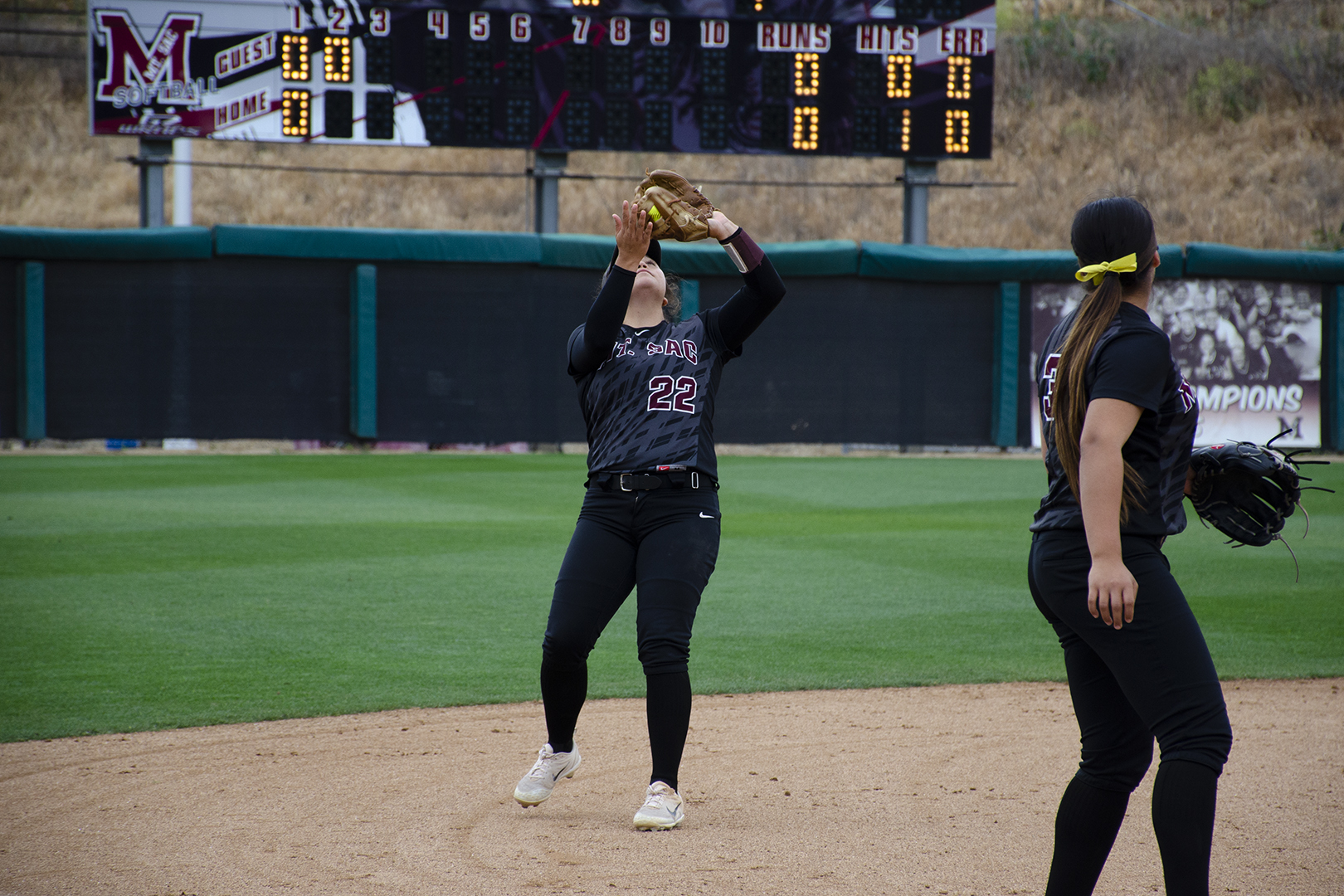 Wheeler and Veloz picked things right up in their rematch, pitching to a scoreless standstill until the Mounties finally broke through in the fourth inning.
Banales kicked things off with a solo home run the reverberated around the softball diamond.
With two outs, Candace Haliburton singled and advanced to second on an error. This set up Vicky Gutierrez to smash a two-run homer over the stunned Canyons team.
Esquivel then singled to right field, before Adriana Ramirez hit a massive double to bring home the fourth run of the inning.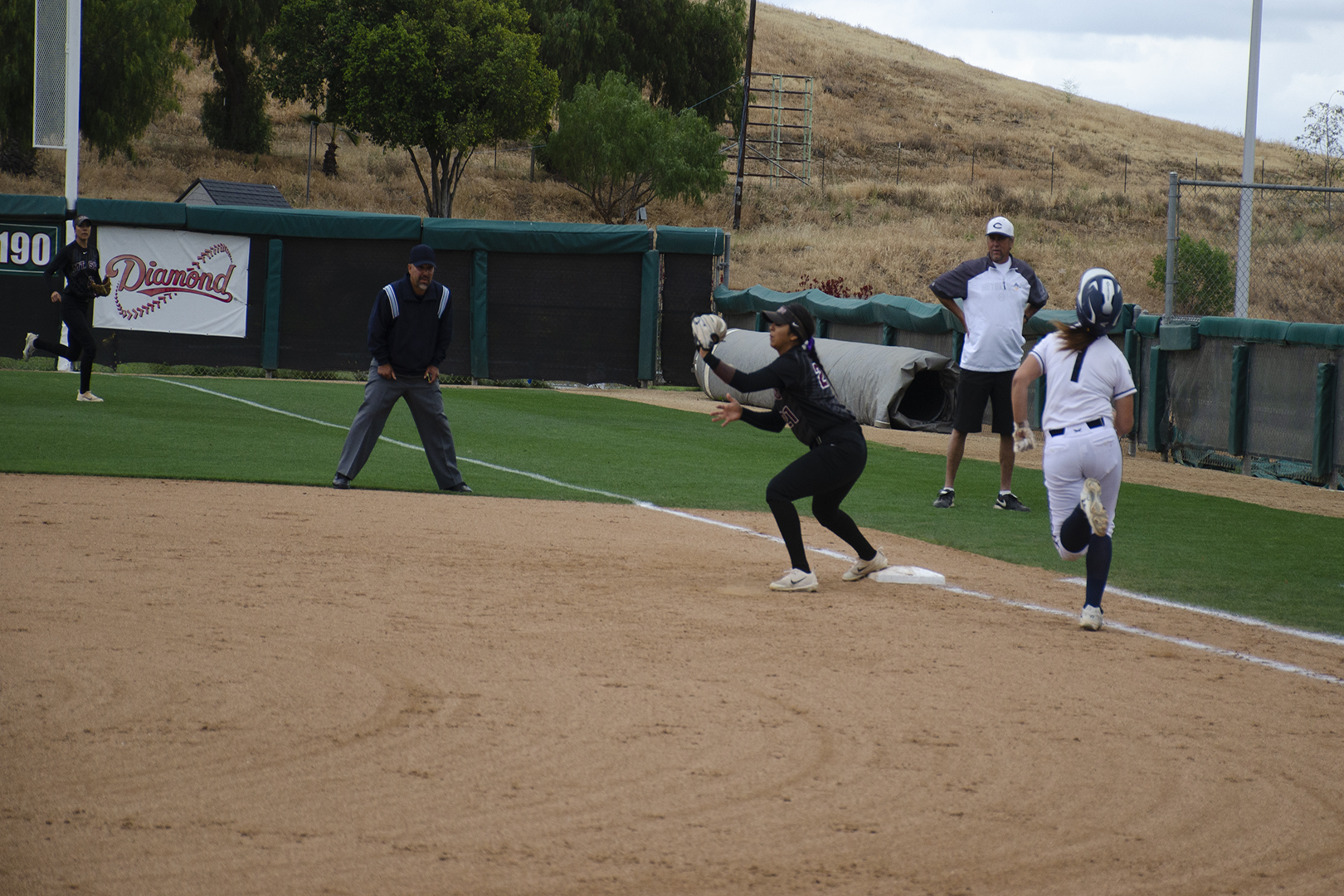 The Mounties continued their outstanding performance defensively as well with three quick outs in the fifth.
In sixth inning, Mt. SAC endured two quick outs of their own until Esquivel doubled to right field. From there, Ramirez singled to centerfield to bring in a run.
Ramirez reached home off a huge triple from Felix to put the Mounties up 6-0 and Canyons in dire need of some defensive help to avoid elimination.
However, their collapse became eminent when Felina was struck by a pitch, sending her to first before stealing second on Granado's at-bat.
With runners at third and second, Granado launched a single to centerfield, scoring in two runs to put the Mounties up 8-0 in an inning for the ages.
Unable to produce much offense, Canyons' fate was sealed with game two ending via mercy rule, completing another sweep for the Mounties as they advanced to the State Championships for the 12th time in 15 years.
"We're going to state. So proud of my team and how much fight we have," Mounties pitcher Jessica Olvera said reflecting on the season after the decisive end to the series.
Mt. SAC will host the California Community College Athletic Association State Championships with eight teams set to square off in a tournament to decide the state champion.
The Mounties will take on Ohlone College from Fremont, California in the opening game on Thursday, May 17, with first pitch at 11 a.m.
With an opportunity for the Mounties to win the State Championship at home, the stakes couldn't be higher.