Every week there's something cool happening in the world of nerds. Here's a few interesting things that happened this week.
Video Games
With just a few weeks left before E3, there are a number of rumors flying around about what may be showcased and from whom during the expo. In a break from tradition, however, Sony has invited gamers to join them here, or on their Twitch, YouTube, and Facebook channels to mainly talk about four games. Already sporting a great line-up this year with Far Cry 5, Monster Hunter: World, and of course God of War, I'm super excited to view their upcoming panel, as they will be showing Ghost of Tsushima, Marvel's Spider-Man (and it's been a while since we've had a good Spider-Man game), Death Stranding (mysteriously designed by Kojima himself and featuring the talented Norman Reedus), and probably the one I'm most excited for, The Last of Us Part II. Below is the date and time so be sure to check it out!
Earlier this week it was revealed that Nintendo had bought up domains for pokemonletsgopikachu.com and pokemonletsgoeevee.com, foreshadowing new Pokémon games for their Switch console. That news was nothing compared to the major leak that was revealed early on Thursday (17). Images were posted online of what Nintendo would supposedly be showcasing at this year's E3. This included not only the games we knew about, but also games that we had no idea were in the works. The list includes: Crash Bandicoot N-Sane Trilogy, Dragon Ball FighterZ, Fallout 3 Anniversary (say what?), FIFA 19, Fire Emblem Memories, Fortnite, F-Zero SX, Metroid Prime: Renegade, NBA 2K19, Octopath Traveller, Pokemon Lets GO! Pikachu and Eevee Editions, Punch Out!! Become the Champion, Splatoon 2 Octo Expansion, Star Fox Lylat System, Super Smash Bros, Wolfenstein II: The New Colossus, and Yoshi's Flipping Island! Phew that took a while to type. Which ones are you super excited for?
Keeping this party going, Nintendo announced earlier this week the return of their NESClassic Edition to retail stores! Jampacked with 30 preinstalled games, the classic console comes with an HDMI cable, AC adapter, and one classic NES controller. Currently completely overpriced on Amazon.com, the NESClassic Edition will be sold at MSRP of $59.99. The consoles hit the shelf on June 29, and are expected to stay available at least til the end of the year. Although given Nintendo's track record with these beautiful consoles, I'd get mine sooner rather than later.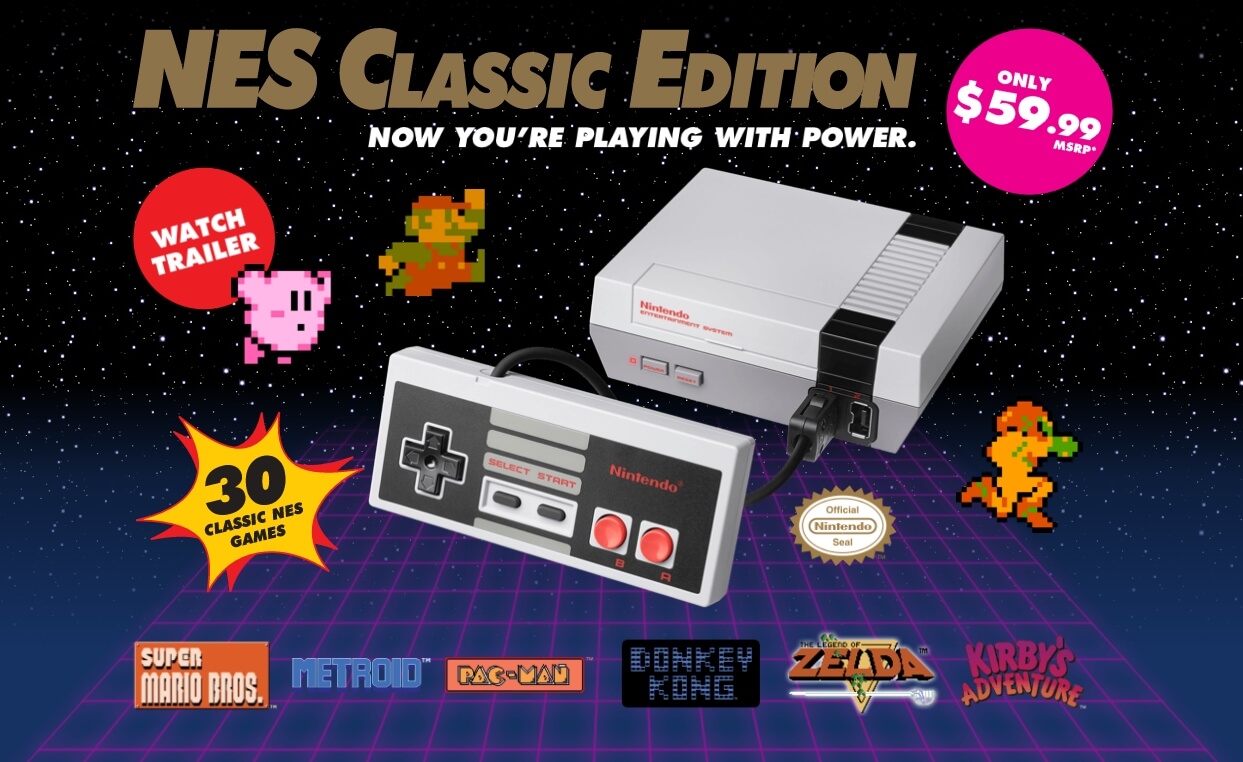 Blizzard's Overwatch released a beautiful skin, Pink Mercy, for players to buy. Priced at $10 USD, the skin is only available on PC, PS4 and Xbox One, but only for real money. While usually I'd have a problem with this, as I enjoy unlocking things in game by playing the game, this skin is priced as such for a great cause. Overwatch teamed up with the Breast Cancer Research Foundation in an effort to raise money through this charity event. 100 percent of proceeds go towards finding the cure to end breast cancer. On top of the skin, people can buy limited edition shirts here to support the cause. The charity ends on the 21. And thanks to the communities' generosity, they've almost reached the $10 million goal they've set out for themselves!
.@SACSidelines That's right Mounties!! @MtSAC_Baseball wins 3-2 #Fresnobound #Sacdawgnation #letsgetit @MtSAC_athletics pic.twitter.com/wbxvr2jbFc

— Danielle Cervantes (@_dcervantes) May 20, 2018
In an effort to stay relevant, Black Ops IIII (that's not a Roman numeral mistake) has decided to say to hell with single player campaign mode, and hello PUBG and Fortnite BR clone. Dubbed "Blackout," Black Ops will be trying their hand at the battle royal game mode that has millions of players hooked. Only time will tell how they will fair against the already established games of the same genre. The PC version of the game will be available exclusively through the Battle.net (Blizzard) client. Check out this short clip showcasing the new game mode below:
Leaked a few days (May 14) before their official reveal (May 17), Microsoft has been working on a new controller designed specifically to help people with disabilities game more efficiently. Named the Xbox Adaptive Controller, the hardware is highly programmable, sports two huge buttons, and is designed with the feedback of the disabled gaming community. Set to be sold later this year, the controller will be priced at $99.99 and is designed to compliment existing and new products, like colorful, plus-sized buttons. Plus, it's just such a beautiful piece of hardware, check it out yourself: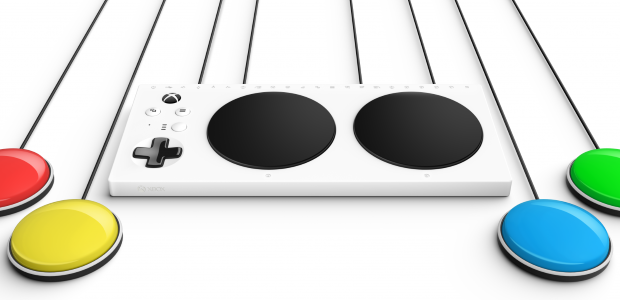 Anime, Comics, Movies, and More!
Masako Nozawa, the voice actress to many animes of our youth, has been awarded with a lifetime achievement award. Although she has voiced characters in over 200 hundred animes, she is most notably known for her work in voicing Goku of the Dragon Ball series. Japan's Foundation for Promoting Sound Growth of Children and the Child Welfare Foundation has concluded that it's safe to say Nozawa has had an impact in many children through her work.
野沢雅子師匠が、厚生労働大臣賞特別賞を受賞致しました!!
おめでとうございます✨🎉 pic.twitter.com/LZONaGAlXR

— 劇団ムーンライト🌙🌠 (@g_moonlight) May 8, 2018
On May 12, Stan Lee posted a tweet saying that "Today was the first day I ever did a tweet myself. Before today, my account was done by others. I still do not have control of my Facebook. Someone else is doing it, NOT me." This was only the beginning. Following this announcement, Lee has filed a lawsuit of 1 billion dollars against POW! Entertainment for fraudulent use of his name and image. Apparently, the company that Lee helped found tricked him into signing the right to use his name and image exclusively, while leading Lee to believe he was agreeing to something else. But worst of all, in addition to all of this, Lee's wife of 65 years, Joan, has passed away quietly at the age of 95. We love you Stan, we hope you get through all of this okay. And we'll do our best to get your those messages of your Mars and Jupiter fans.
I've been scanning my fan mail on Twitter. Love the fact that my fans come from all over the earth, but I'm still waiting to hear from Mars and Jupiter.
Excelsior! pic.twitter.com/SdWPg0Hu5B

— stan lee (@TheRealStanLee) May 18, 2018
More sad news, bare with me. Margot Kidder, best known for her portrayal of Lois Lane, badass reporter and Superman's main love interest, has died at age 69. Kidder, who in later years became the public face for those who suffer from bipolar disorder, rose to fame in 1978 when acting along side Christopher Reed. According to her manager, Kidder died peacefully in her sleep, may she rest in peace.
Don't worry we'll end on some good notes. Nvidia is rumored to release their new founder edition graphic cards as early as July. If this holds true, third party cards can be expected to be released as early as August or September. It is yet unknown if they'll be called either the 11 or 20 series, but these new cards are rumored to be even more powerful than the current 1080 ti. So unless absolutely necessary, if you're looking to upgrade, I'd recommend you wait til these new bad boys are out. If you can't wait, prices for current graphic cards are dropping, so you can be VR ready with a 1060 3gb for as low as $229 (and that price is expected to drop a bit lower).

Finally, great news. I know you're probably sick of hearing about it, but we've won the battle with the Senate on net neutrality with a vote of 52 to 47. Now it's time to take the matter to the House of Representatives. Take action by calling your representatives to let them know you support net neutrality. And on the off chance you don't support it, you should take action as well, as this is all of our say, and you have every right to stand and fight for your side. Find who your House representative is here, and take the fight in your hands. Together, we can make a change.