After Mt. SAC Baseball's stunning performance in game one, the South Coast Conference Champions swept the visiting Santa Barbara City College Vaqueros in a slugfest at Mazmanian Field with a 15-10 win on Saturday, May 5.
The Mounties were coming off a dominant 7-3 win in the opening game of the best-of-three series and looked to carry over that momentum from the opening inning of game two. However, in the top of the first inning the Mounties offense struggled against a stingy Vaqueros defense.
South Coast Conference MVP Elijah Greene reached first base on an intentional walk, but was later picked off. Santa Barbara City's Brett Vansant retired the rest of the order.
Following a scoreless first, outfielder Nic Sandoval doubled to centerfield, clearing all the bases and bringing home Elijah Zaragoza, Dino Miranda and Chris Sandberg.
With the Mounties up 3-0, Vaqueros outfielder Nicholas Trifiletti singled and advanced to second on an error, which opened up Elijah Hodges to score the first run for the visitors. Trifiletti later scored on a sacrifice fly to bring Santa Barbara City within one.
The Vaqueros kept building on their own momentum, pressing on Mt. SAC's defense to score a run in the third and fourth inning for their first lead of the game, 4-3.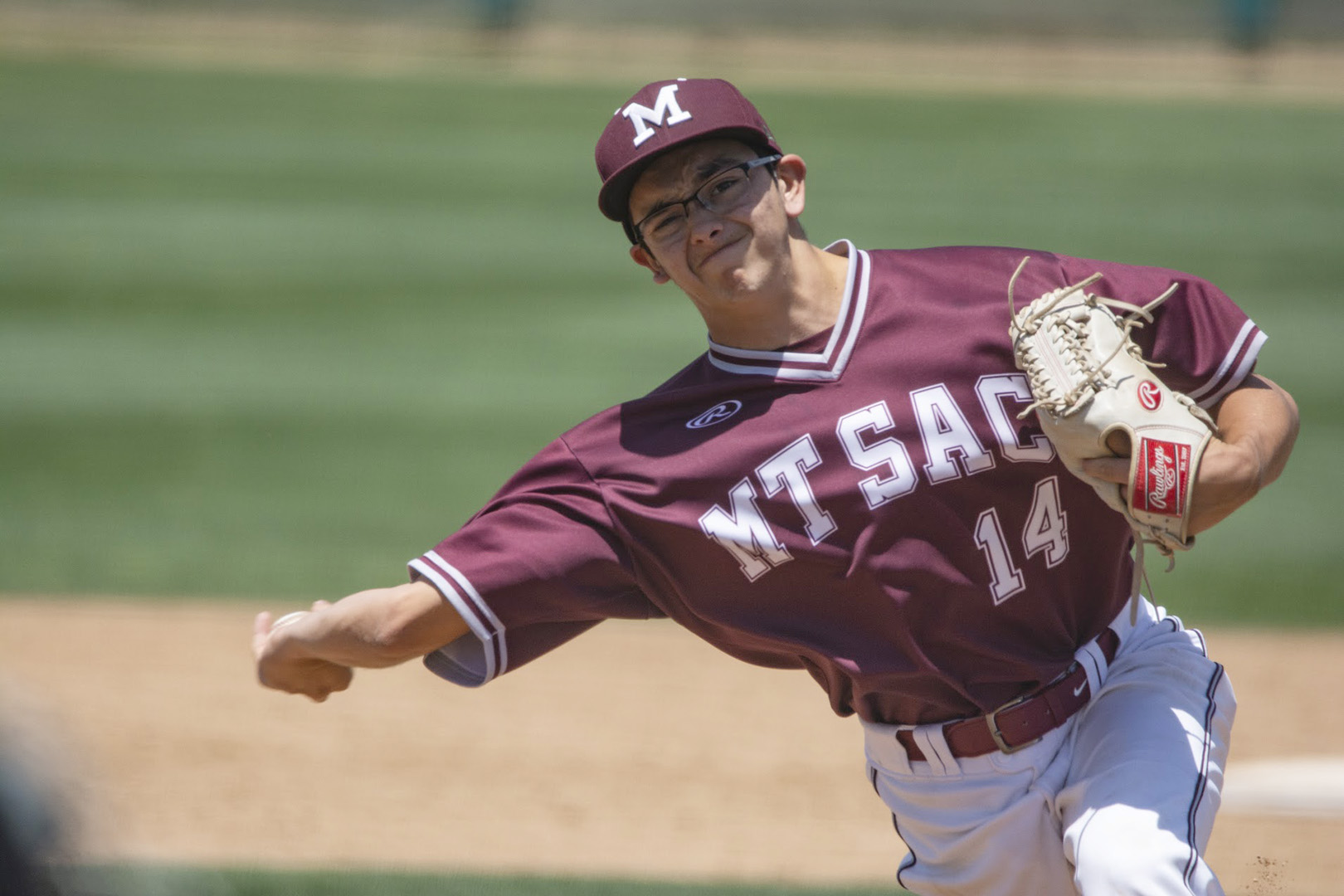 After four scoreless innings from the Mounties, Sandoval found his opening to retake the lead and ignite Mazmanian Field with a two-run homer.
"I was just looking to not do too much, just stay with our approach. I got the pitch that I was looking for and I was able to capitalize on it," Sandoval said on hitting his first home run of the season.
In the bottom of the seventh, Santa Barbara City answered back when Nicholas Prainito scored off a single from Trifiletti.
With the game tied 5-5, Mt. SAC affirmed their position as one of the top seeds in the tournament by blindsiding the visitors with eight runs in an eighth inning for the ages.
Outfielder Quinn Cotter started it off with a double down the left field line to bring two runs in, which Anthony Walters matched up on a two-run single towards left field for a 9-5 Mt. SAC lead.
"I just saw it was a good pitch. It was up something I could drive and I got it," Walters said on his effective at-bat in the inning.
The routing continued with a huge triple from Zaragoza to score Derek Zavala. Sandoval then singled to centerfield to bring Zaragoza home and Greene tripled towards left field to score Sandoval.
Greene ultimately reached home on a sacrifice fly by Brandon Bradshaw and when the smoke cleared, the South Coast Conference Champions had taken a 13-5 lead.
"I was just trying to stay strong and keep it going, not to end my day there, but keep helping my team with the lead," Sandoval said.
"Santa Barbara kept fighting back so I knew we had to get some more runs on the board to capitalize."
Despite the outstanding performance from the Mounties at-bat in the inning, Santa Barbara City reminded Mt. SAC this was playoff baseball and facing elimination, the Vaqueros weren't going down without a fight.
Santa Barbara City outfielder Reinhard Lautz homered towards centerfield in the bottom of the eighth. From there, the rally heated up as the visitors loaded up the bases and scored off an error by the Mounties.
Hodges then flied out to centerfield to bring Jake Holton home, and Patrick Caulfield hit a two-run single to cut into Mt. SAC's lead, 13-10. The Mounties finally put a stop to the five-run inning for the visitors and headed into the ninth with an opportunity to finish them off.
Sandoval wasted little time to do just that, bringing Justin Mchale home on a sacrifice fly. Greene followed suit, hitting a single towards centerfield for Cotter to score.
With a five-run lead heading into the bottom of the ninth and the brooms out ready for a sweep, Zach Bromstead locked it down on the mound and ended the Vaqueros' 2018 playoff run.
.@SAConScene statement from LAPD on today's incident. pic.twitter.com/eD8aMuiP2N

— Hernandez Coke (@HernandezCoke1) May 8, 2018
"I'm really proud of them. They're a pretty resilient group and they just showed a ton of heart," Mounties head coach John Knott said after the game.
The Mounties improved to a 31-11 record overall and advance to the next round of the tournament where they'll face a 30-13 Glendale College team fresh off their decisive game three win over Pasadena City.
Game one will take place on Friday, May 11 at Mazmanian Field with first pitch at 2 p.m. while game two is set for a noon start time on Saturday, May 12.
"We're playing to win; win one at a time, one pitch at a time," Knott said.