Baseball Prospect Proudly Carves His Legacy as a Mountie
In 2018, Mt. SAC Baseball embarked on a mission to dominate the South Coast Conference and punch their ticket to the state championships for the first time in over 50 years.
With a batting average at .428, recording 89 hits, 55 runs, eight home runs, 46 RBI and six stolen bases, it's safe to say Elijah Greene played a pivotal role in the success of the Mounties. He was the only player on the roster who had not missed a single game this year.
Congratulations @mtsacaquatics 2018 SCC Conference Champions #championshipcupcakes #sweettreats pic.twitter.com/nFFmHpOiCl

— Mountie Nation (@MtSAC_athletics) April 30, 2018
Greene's passion for the game is unmistakable and the journey to develop his talents, along with that trademark drive of his, began with the help of influential members of his family when he was just 4 years old.
"I always had a passion for it because my dad played when he was younger. I have a cousin named Ron Washington. He was the main one who wanted me to play. I just always had a love for the game. It was a true love at first sight," Greene said.
If you were wondering, that is indeed the same Ron Washington that is the current third base coach for the Atlanta Braves. However, for the uninitiated, Washington was also the former manager of the Texas Rangers, taking that team to two straight World Series appearances in 2010 and 2011.
Greene was basically born with baseball in his blood and a family that not only supported his dream but pushed him onward to break past his challenges. Greene recalled that Washington would tell him, "You have to go about your business and be ready for a grind."
Baseball is truly a grind where talent alone is no guarantee for success without a strong work ethic.
Whenever his father, Glenn Greene, would come home from work, he would work with him and his brother for two hours. It was a daily workout and bonding moment for the three of them. As his father cemented within him, "If you want to go far in baseball you have to outwork your opponent."
5:30 weights tomorrow #sdsu2020

— elijahg (@elijahec2) July 15, 2016
However, in life opponents and challenges come in all shapes and sizes. Perhaps Greene's toughest challenge was being forced to take a step back and change course on a journey where the future of his baseball career was on the line.
Greene was a solid two-way player at Chino Hills High School. His talents as both a hitter and pitcher enabled him to be signed to San Diego State University. With an opportunity of a lifetime in place, Greene thought he would be able to showcase his skills on the batter's box while supplementing the pitching staff. When he arrived on the team, the rug was seemingly pulled out from under him, as he was assigned to pitch exclusively.
"They told me just to pitch. In the beginning I started out well and at the end of the day it just didn't work out," he said.
Greene needed a different opportunity, one that would enable him to focus on his strengths and harden them. Fate guided him to the home of the Mounties, ready to carve out a new legacy as solely a hitter. That change of course resulted in Greene leading Mt. SAC to its best record since the 2013 regular season.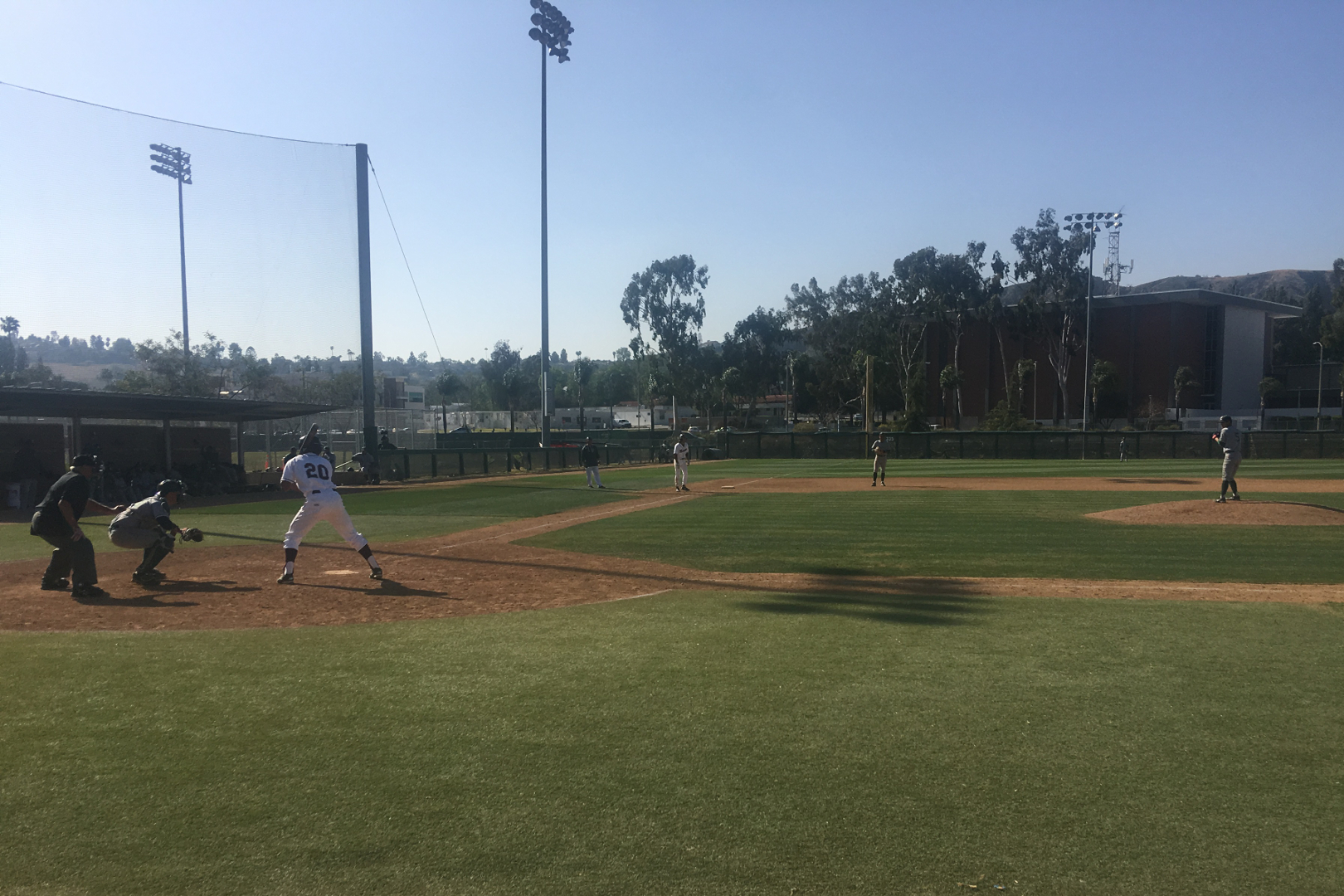 "I didn't know I was going to put up numbers like this just because the last year and a half I was a pitcher and I just didn't expect as much success as I have now. It's just a true testament to my hard work with my brother and my dad," he said.
"We knew we were getting a good athlete. It's an incredible story how he was a pitcher at San Diego State. We thought he was going to hit and this would be a development year for him. We thought it was going to be hard for him to develop but it just came to him so fast," head coach John Knott said.
Greene and the Mounties ultimately had an outstanding run in the playoffs, from a sweep in the best-of-3 series Southern California tournament opener against Santa Barbara City College to a berth in the California Community College Athletic Association State Championships that was over 50 years in the making.
After the culmination of a historic season and being one of three Mounties to receive All-State Baseball Team honors, Greene still has his eyes set on the future. He plans on continuing his baseball journey and hopes to return to playing Division I college baseball at a top university, eventually making his way to the pros. Greene aspires to be like, if not better than, those sweet-swinging lefties like Robinson Canó of the Mariners, or Carlos González of the Rockies; both of whom he looks up to.
However, if there is one thing to bank on for 2019 with the way Elijah Greene and the rest of the Mounties performed this year, it's that Mt. SAC Baseball will be a force to be reckoned with.
Leave a Comment