Protest Stopped On Fourth of July
In light of the administration's policies regarding immigration and the patriotic holiday event, one protester climbed the Statue of Liberty on Independence Day in protest.
The protest was met with police involvement and Liberty Island was evacuated while 16 officers from the New York City Police Department's Emergency Service Unit handled the situation.
Statue Cruises representative Rafael Abreu said they had to turn away as many as 3,000 people because of the incident.
Statue Cruises was unable to provide trips to the Statue of Liberty and Ellis Island while the rescue took place, losing out on a chunk of the 22,000 visitors that typically visit on summer days, not to mention the increased tourism from the holiday.
One Atlanta tourist, Tiana Smith, was told to turn back while walking toward the statue.
"We got towards the ferry to ride back and we saw the SWAT team get off, and the police officers came with their harness and the helicopters, so we were like, yeah, we just need to go," Smith said.
The unit involved has been trained to perform rescues in dangerous situations, but some argue this situation did not warrant the team's involvement.
The officers were sent after Staten Island resident, Therese Patricia Okoumou, 44, who was born and educated in the Democratic Republic of Congo.
She lived in New York for at least 10 years, and has been an active member of Rise and Resist, the group that planned an unrelated protest on the same day, for about five months.
Rise and Resist, disavowed her law breaking stunt and claim they did not know she was going to elevate her protest according to the NY Daily News.
CNN reported this differently than the NY Daily News, stating that the group supported Okoumou and that members are "working to secure the best legal representation" for her.
Jay Walker, an organizer and board member of the group provided more information.
"No one in the group knew this was going to happen," Walker said. "We don't know if she did it on the spur of the moment or if she had been planning it beforehand."
About 40 members of the group unfurled a banner reading "Abolish I.C.E." from the pedestal and up to seven demonstrators involved were arrested.
Okoumou remained at about 100 feet above ground while in a four hour stalemate with police. Eventually, two officers climbed up the base and led her to a ladder where they climbed down about 25 feet to an observation point. She was then taken into custody.
She allegedly climbed the statue in protest of the family separations at the border. Families have been separated at the border following the Trump administration's "zero tolerance" policy, that prosecutes the adults and eventually rehouses the children.
Police believe the arrested individuals boosted her to the base, according to New York Police Lt. Michael McGuinness.
Yet Walker said that "none of us know how she got up there."
Okoumou was arrested and charged with federal trespassing and disorderly conduct, among other charges.
This is not her first protest. The personal trainer and physical therapist was also arrested in August 2017 on similar charges.
Her arrest in 2017 was for trespassing, obstruction of government administration and misdemeanor assault.
Those were not for scaling a statue, but were related to a demonstration on Varick Street against the state Department of Labor.
Okoumou carried a protest placard and covered her mouth with tape. Refusing to leave the building or enter an ambulance she kicked her feet and flailed her arms on the ground.
She was then charged with misdemeanor assault after one of the cops was hit during her flailing.
Okoumou also fought personal social justice battles.
In 2003 she filed a wrongful-termination lawsuit against Safe Horizons, a battered women's home. Okoumou, as a staffer, was fired and her boss said she was rude to other staffers and clients at the shelter.
Her lawyer withdrew and she represented herself unsuccessfully for the rest of the case.
In 2007, Okoumou filed a human rights complaint against a group home in Staten Island for racial discrimination. It was unsuccessful.
In 2009, she won a racial discrimination lawsuit against County Recovery, a Staten Island towing company to the amount of $1,500.
On Thursday, July 5, Okoumou will be arraigned in Manhattan Federal Court for her statue protest.
Leave a Comment
About the Writer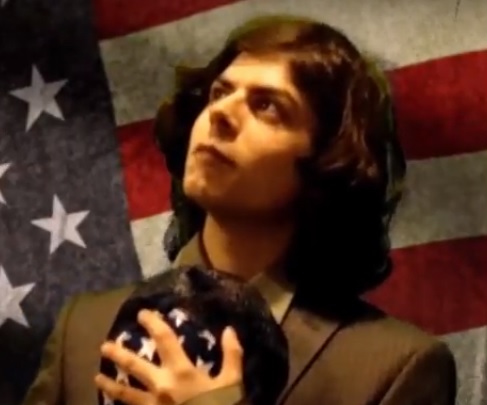 Joshua Sanchez
Joshua Sanchez is the former Editor in Chief and News Editor of SAC.Media. He was previously the managing editor of LAHS' student newspaper,
The Conqueror
. A portfolio of his reporting work can be found at
jdjoshsan.wordpress.com.