The West Covina City Council met for its regularly scheduled meeting on Tuesday, July 17, in the city council chambers to celebrate their sister city Fengtai, and recognize three Volunteers of the Year.
The council was flooded with forty children, their teachers, school officials, and about 16 disgruntled maintenance workers wearing their orange work shirts.
The council welcomed and recognized the Fengtai No. 2 Middle School of Fengtai District, Beijing.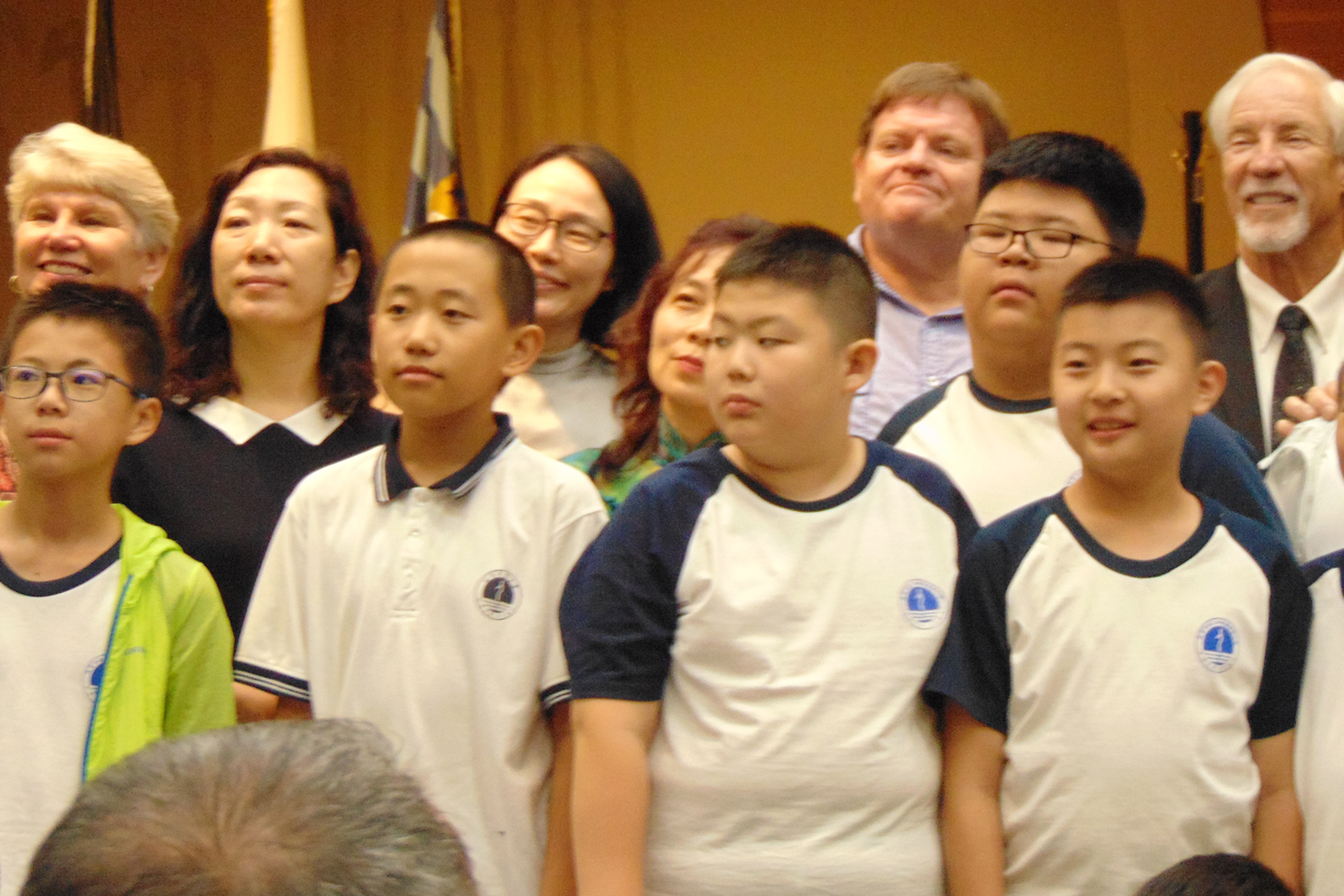 After giving awards to South Hills Academy, Fengtai No. 2 MIddle School, and those involved in the sister city initiative, the city of West Covina recognized three more individuals.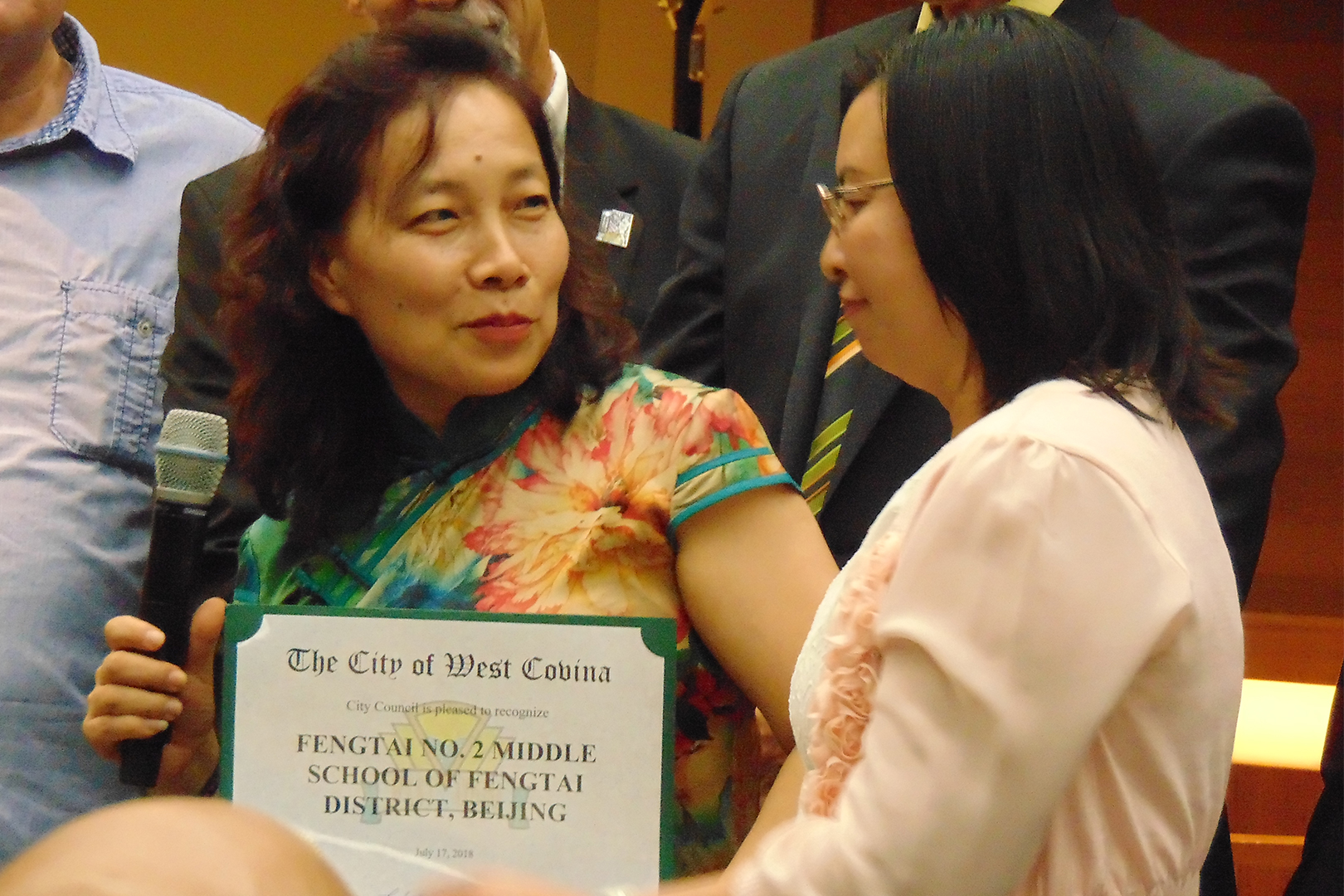 Karl Urlie, Ruby Fournier, and Danielle Warmer were all recognized as Volunteers of the Year. Urlie and Fournier spoke of being surprised, while Warner said she does what she does to give back the experience she had with Pacific Coast Little League.
Oral Communications slammed the council for their decisions as per usual, but there was an extra poignancy with 16 of the 21 maintenance workers that were laid off showing up in the back rows of the council meeting.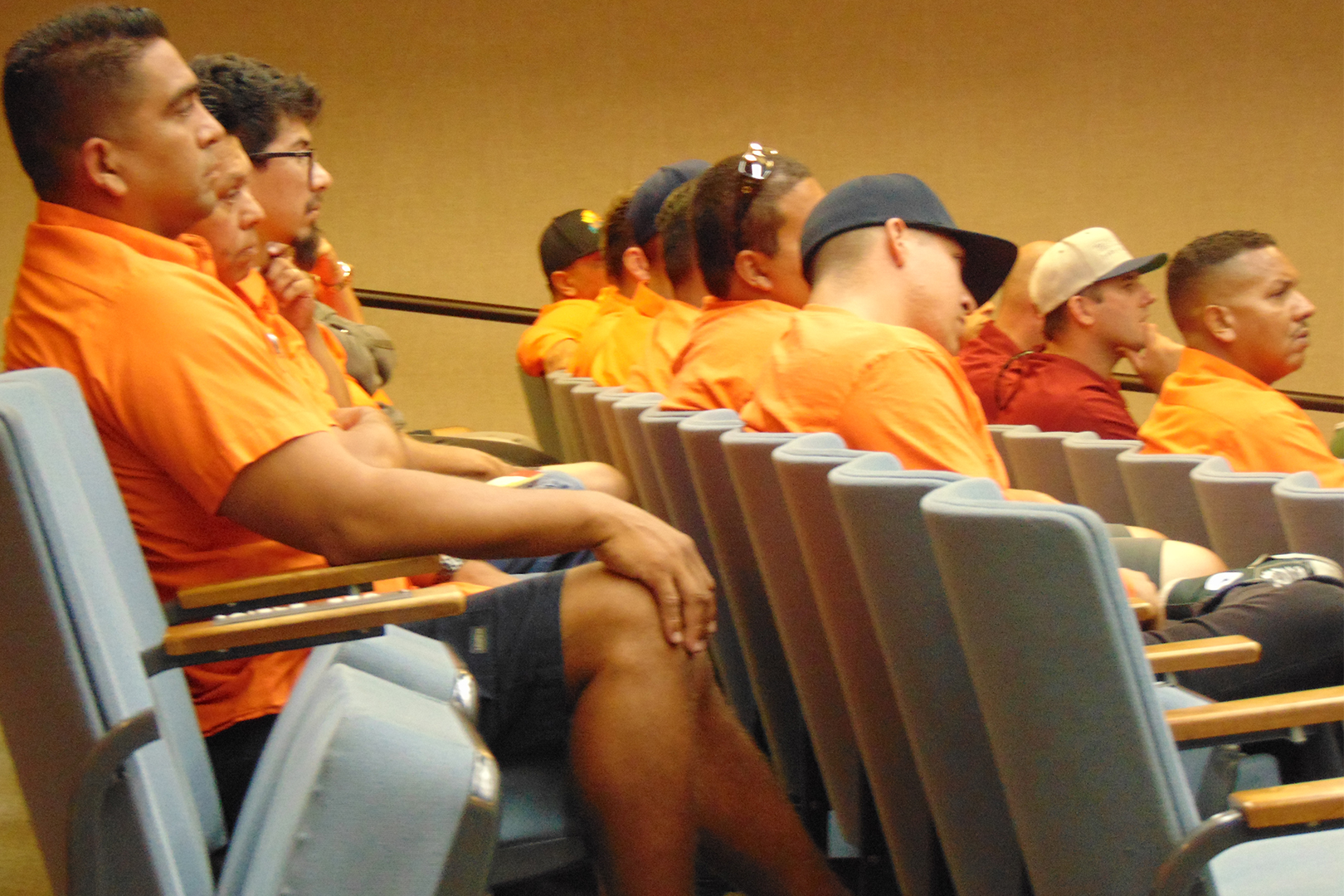 From the consent calendar, only three items were removed. Item 6, which regarded a sponsorship request from EDI Media, was passed unanimously, but Wu made sure to mention the city seal/logo must be visible during the cultural theater event.
Item 10 regarded the bike sharing program that some speakers complained about in the oral communications. One equated the entire proposal to Marxism in a lengthy rant.
Mayor Lloyd Johnson asked for the bike sharing program item to be ejected, and spearheaded the motion.
There was discussion on how bikes have been scattered around in other cities, how few people use them in this city, how the bikes would be made useless by their suggested location, and how much trouble the bikes would be compared to their worth.
In a 3-2 vote, the motion to eject passed with only council members James Toma and Corey Warshaw voting against removing it.
Item 11 regarding a city hall improvement was already completed, but Mayor Pro Tem Tony Wu spoke against the item without realizing the job had been completed. He was against it because of the budget deficit, and voted no in the roll call vote out of principle.
Item 11 still passed 4-1.
The rest of the meeting would exemplify what Toma said during one of the presentations, "We're not experts, so it's going to take a constant education."
After the first public hearing item was presented, a constant barrage of questions ensued.
To cut down on an hour of questions and clarifications, public hearing item 14 passed 5-0 with the exception of the sixth point in the code.
The code refers to the city's downtown plan, and the sixth point regarded parking spaces.
The sixth point would have allowed new buildings or original buildings that renovated over 50 percent.of their structure to only need to follow 0.65 parking requirement of the Municipal Code's parking standards.
Council member Mike Spence said that this initiative encouraged building more at the expense of parking and older buildings that do not renovate over half of their property in more or less words.
Spence led the initiative, motioning the code be passed without six. That passed 5-0.
Spence also motioned to send it back to be looked at, which passed at 4-1 with Toma as the only vote against the motion.
Item 15 regarding citywide lighting and maintenance passed 5-0 to adopt a resolution confirming and adopting the report presented.
The Community Services Department's Homeless Plan, Item 16, passed unanimously after an hour and a half of questions.
Assistant City Manager and Community Services Director, Nikole Bresciani fielded most questions herself.
Bresciani gave all of the facts and figures, without asking the council to budget money towards the cause now, due to the budget issues.
She explained that there were 270 homeless individuals recorded this year, up from 158 in 2017. She also broke down that 71 percent of them had spent over a year without a home, 33 percent of them have ridden in an ambulance recently and that 30 percent have resorted to crime.
She further said that only 10 percent of them resolved their own situations and cited examples, one of which being an individual who refused help until they reached their breaking point.
Bresciani would more or less go on to say that with this initiative and other cities' help the homeless would either reach their breaking point, or would find themselves unable to be left alone.
She defended the $100,000 need for a case manager despite only knowing of four West Covina residents that were in the pilot program last year.
Eventually she emerged successful, with the item passing 5-0.
The council returned to closed session after voting 5-0 to write a letter taking a formal position supporting HR 113, the Piqui Resolution.
The Piqui resolution is an initiative to make child protection a priority. Around 44 other children were killed by their parents following the Piqui incident, and the resolution aims to limit that.
The next special West Covina City Council meeting is on Thursday, July 26.
The next regularly scheduled West Covina City Council meeting is on Tuesday, Aug. 21.
(The Aug. 7 meeting was cancelled in the July 3 council meeting in favor of the National Night Out, a police awareness event held on the first Tuesday of August.)