Two Women Killed on Separate Cases Over The Weekend
Two women were killed this weekend. One was a Trader Joe's store manager in a Los Angeles store, and the other was an infrequent Bay Area Rapid Transit BART passenger at an Oakland station.
A 27-year-old man, now identified as John Cowell, brutally stabbed Nia Wilson, 18, and Letifah Wilson, 26, at the MacArthur BART Station around 9:45 p.m. on Sunday, July 22.
The man had been at large for nearly 21 hours, but was intercepted at the Pleasant Hill BART Station, thanks to public tips.
Oakland Mayor, Libby Schnaaf, released a statement that said she was relieved an anonymous BART rider's tip led to the arrest and issued her condolences to the victims.
Although a rider's tips were instrumental, one resident knew more about the man.
Neighbor Carol Kincaid said Cowell was "just always kind of a problem" and had known him since he was a child.
He had a record, a restraining order was filed against him in 2016 by Kaiser Medical in Richmond for threatening to kill an employee. He was also sentenced to prison for robbery. He served two years and was released on parole four months ago.
Police still have no motive.
"We haven't connected him to any type of radical group or white supremacist group or anything like that," BART Police Chief Carlos Rojas said about Cowell.
His actions resulted in a death and critical injuries.
Nia Wilson was killed in the stabbing, while her sister Letifah Wilson barely survived.
"Missed the artery, thank God, missed the veins, it's pretty deep," Wilson said about her own injuries.
She now has stitches in her neck and has said she was hit on the head during the incident.
Her focus is not her own pain.
"I want justice for my sister," Wilson said.
The family rarely took BART, and family members had not seen Nia in six months. They were heading home from a family function when Cowell attacked.
"All of a sudden we transfer just to get blindsided by a maniac, for what I don't know," Wilson said. "I looked back and he was wiping off his knife and stood at the stairs and just looked. From then on I was caring for my sister."
Nia Wilson yelled her sister's name as one of her final words.
"She's just yelling my name, 'Tifah, Tifah, Tifah,' snd I said, 'I got you baby, I got you,'" Letifah Wilson said.
Nia Wilson's family nickname was PG, short for pretty girl.
Family tells me BART stabbing victim Nia Wilson's nickname was PG for pretty girl pic.twitter.com/ORZVS8vm5g

— Melanie Woodrow (@MelanieWoodrow) July 23, 2018
Family members said she loved spending time doing her makeup, and that she wanted to have her own makeup line.
They also said she wanted to have a dance studio, and be a lawyer or do something in criminal justice.
Now Wilson will see to it that her sister's criminal is put to justice.
~***~
A man shot his 78-year-old grandmother, stole her car, and then crashed into a telephone pole outside a Trader Joe's at 3:30 p.m. following a police pursuit on Saturday, July 21 in Los Angeles.
The situation went from bad to worse as the 28-year-old man, now identified as Gene Evin Atkins, fired a handgun at police and fled inside the store.
Reports are unclear as to who shot Melyda Corado, 27, the manager of the Trader Joe's. It is also not known whether she was inside or outside the store when she was shot.
All that is known is she died in the gunfire between the officers and Atkins.
Her brother, Albert Corado first said his sister worked at the store and that the family could not contact her. He later confirmed that she was the victim.
"I'm sad to say she didn't make it," his said in a final tweet. "My baby sister. My world."
"She was the person I loved most in the world," Corado said.
Booking records show Atkins was booked on Sunday, July 22 on suspicion of murder, and was being held on $2 million bail.
Atkins was shot in the arm, and was held in custody at the L.A. County USC Medical Center.
Trader Joe's issued a statement late Saturday.
"Our hearts are broken over what happened today. This has been an incredible trauma, and our thoughts are with our Crew Members and customers," the statement said.
Officials say the violence began in South L.A. at around 1:30 p.m. over a family dispute.
Mayor Eric Garcetti said the suspect shot his grandmother at least seven times in the 1600 block of East 32nd Street.
Los Angeles Police Chief Michel Moore said the woman was taken to a local hospital in grave condition, underwent surgery, and remained in critical condition.
The destructive and tragic consequences one person can inflict are at the forefront of our minds tonight, as is the valor & dedication of our men & women who strived to protect so many innocent people-Our thoughts, prayers & hearts are with all effected by this senseless incident pic.twitter.com/NFXrM52tm3

— Chief Michel Moore (@LAPDChiefMoore) July 22, 2018
After shooting her, Atkins took his grandmother's car, a 2015 four-door Toyota Camry, and fled with an injured girlfriend.
When police picked up the vehicle with their LoJack locator, they attempted to stop Atkins. He led them to Silver Lake and crashed once he reached the 2700 block of Hyperion Avenue, he crashed in front of the store.
More than 40 people were in the store when he entered.
Everyone inside scrambled for cover. Some escaped through a rear window, and police carried several children away from the building.
#Breaking: Now watching people climb out the window at Trader Joe's in #Silverlake. Heartbreaking. #cbsla @cbsla pic.twitter.com/s1BXwGcJZ3

— Peter Daut (@CBSLAPeter) July 21, 2018
Atkin's suspected girlfriend was described as a 20-year-old, and she was taken to the hospital in fair condition.
Police amassed outside the store, with snipers on the rooftop of the nearby Say Cheese cheese shop.
At 5:30 p.m. three people left the store hands in the air. They were reportedly either released hostages or shoppers who escaped the gunman.
LAPD went into a citywide tactical alert as the standoff unfolded.
Atkins surrendered at 6:30 p.m., walking out of the store with a group of hostages. SWAT officers surrounded him and took him into custody.
The suspect at #SilverLake #TraderJoes is in #LAPD custody. Thank you to @LAPDHQ and all of our first responders for their bravery and swift action to resolve this incident.

— Mayor Eric Garcetti (@MayorOfLA) July 22, 2018
Atkin's cousin, Charleo Egland, 28, said she did not know what prompted him to shoot their grandmother, but did say her grandmother did not want his girlfriend in the house.
Egland said she had seen a gun under one of Atkin's pillows before, and said a family dispute erupted.
Egland said that at one point the 78-year-old grandmother went outside to bring her daughter, Atkin's aunt, a glass of water.
"He [Atkins] went in his room and grabbed a gun and shot her," Egland said.
She also said the grandmother was "holding her own" and that Atkins called his family from the Trader Joe's to find out how his grandmother was.
Margaret Stewart, a fire department spokesperson, said paramedics treated 10 people at the scene including the suspect, his girlfriend, and the woman who died.
A 12-year-old boy, a 41-year-old woman, a 70-year-old woman, and an 81-year-old woman were all hospitalized with minor injuries and listed in fair condition, she said.
Leave a Comment
About the Writer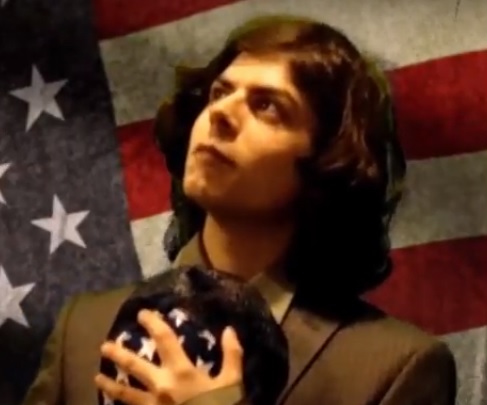 Joshua Sanchez
Joshua Sanchez is the former Editor in Chief and News Editor of SAC.Media. He was previously the managing editor of LAHS' student newspaper,
The Conqueror
. A portfolio of his reporting work can be found at
jdjoshsan.wordpress.com.