#MeToo Where Are You
Update: Aug. 24, 9:50 a.m.:
The Daily Mail reported that Jeff Leach, 36, said on a podcast that he was sent an unsolicited topless video and other photos by Argento.
"That girl sent me pictures of her [topless chest] on Snapchat when I was with my girlfriend," Leach said.
"She knew I was with my girlfriend and we were friends, and she sends me this video with her [chest] out, like: 'Hey Jeff.' And I just replied: 'You can't send me that [stuff].'"
Leach's comments are on the June 1 Legion of Skanks podcast Episode 364- Memorial Balls – Jeff Leach at the one hour 10 minute mark.
(Strong language warning, the brackets in these quotes replace cruder terms.)
Leach also said Argento was aware he had a girlfriend, and that the actress was recently divorced from Michele Civetta, the man who she had a son with.
"I think of the irony of someone complaining about unwanted sexual attention and then doing the exact same thing," Leach added.
"She was like, 'I do it to my all my friends they know its not sexual,' and I was like, 'You know if my girlfriend saw it she wouldn't like this [stuff].'"
He clarified that he was not questioning the legitimacy of her claims, but rather questioning why she is one of the main faces of the movement.
"I'm not saying she hasn't been assaulted or hurt by bad people but maybe [she and Rose McGowan] are not the best spokespeople for it," Leach said.
The podcast was released a week before Anthony Bourdain died on June 8.
*****
Update: Aug. 22, 4:50 p.m.:
Two statements have been released, and TMZ has provided evidence to Bennett's claims.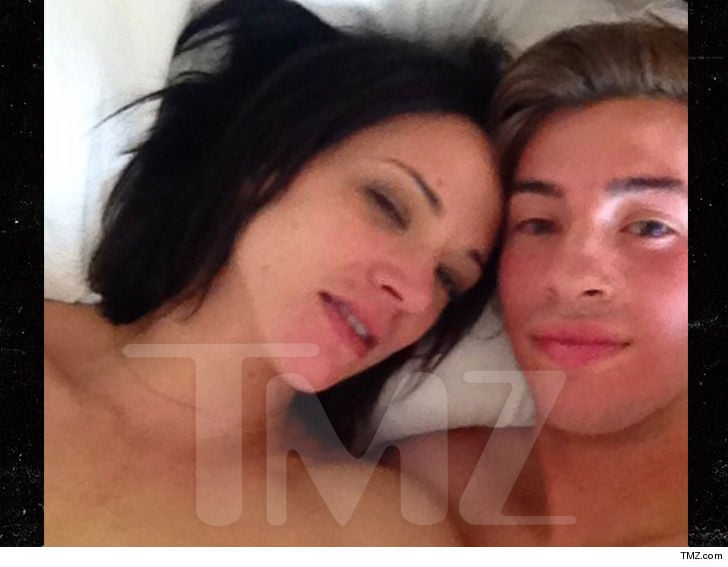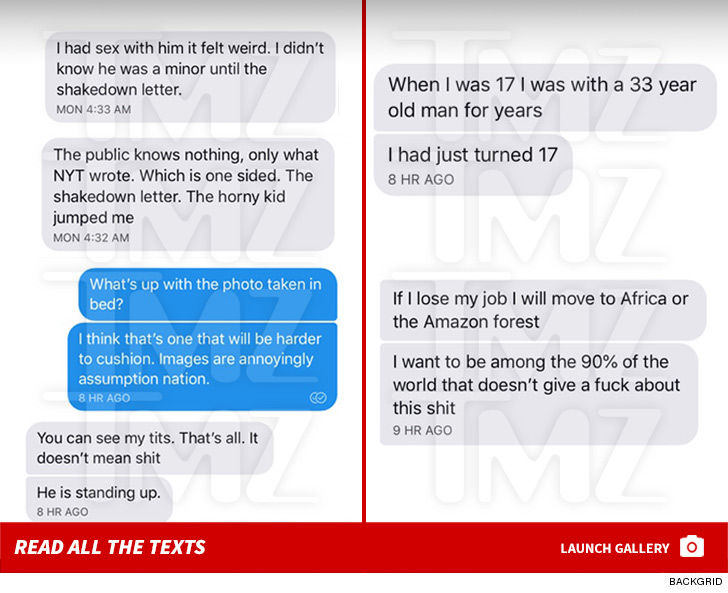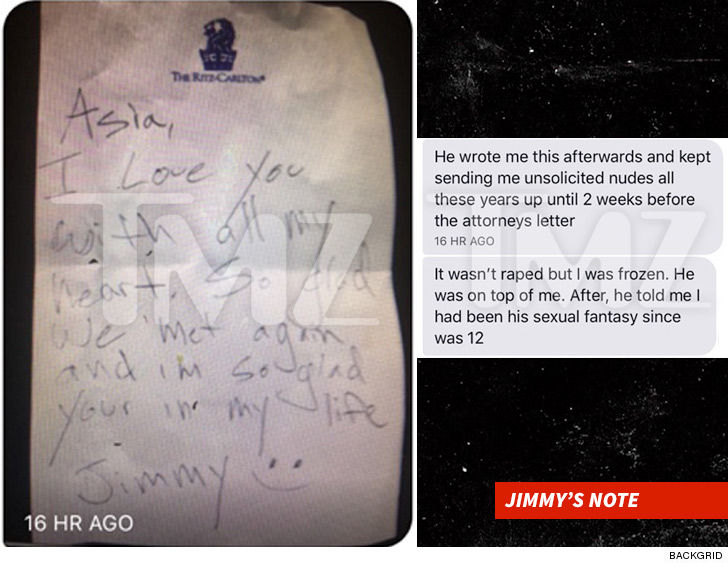 Bennett released a statement on Wednesday, Aug. 22. He said he did not come forward before because he was ashamed and afraid, and that his trauma resurfaced when she came out as a victim.
"Many brave women and men have spoken out about their own experiences during the #metoo movement, and I appreciate the bravery that it took for each and every one of them to take such a stand. I did not initially speak out about my story because I chose to handle it in private with the person who wronged me. My trauma resurfaced as she came out as a victim herself. I have not made a public statement in the past days and hours because I was ashamed and afraid to be part of the public narrative. I was underage when the event took place, and I tried to seek justice in a way that made sense to me at the time because I was not ready to deal with the ramifications of my story becoming public. At the time I believed there was still a stigma to being in the situation as a male in our society. I didn't think that people would understand the event that took place from the eyes of a teenage boy. I have had to overcome many adversities in my life, and this is another that I will deal with, in time. I would like to move past this event in my life, and today I choose to move forward, no longer in silence."
***
Argento released a statement denying the accusations on Tuesday, Aug. 21. She accuses Bennett of having a financial motive, and said the $380,000 settlement was an idea her boyfriend, the late Anthony Bourdain, acted on.
"I strongly deny and oppose the contents of the New York Times article dated 20 August 2018, as circulated also in national and international news.
I am deeply shocked and hurt by having read news that is absolutely false. I have never had any sexual relationship with Bennett.
I was linked to him during several years by friendship only, which ended when, subsequent to my exposure in the Weinstein case, Bennett — who was then undergoing severe economic problems and who had previously undertaken legal actions against his own family requesting millions in damages — unexpectedly made an exorbitant request of money from me. Bennett knew my boyfriend, Anthony Bourdain, was a man of great perceived wealth and had his own reputation as a beloved public figure to protect.
Antony [sic] insisted the matter be handled privately and this was also what Bennett wanted. Anthony was afraid of the possible negative publicity that such person, whom he considered dangerous, could have brought upon us. We decided to deal compassionately with Bennett's demand for help and give it to him. Anthony personally undertook to help Bennett economically, upon the condition that we would no longer suffer any further intrusions in our life.
This is, therefore, the umpteenth development of a sequence of events that brings me great sadness and that constitutes a long-standing persecution. I have therefore no other choice but to oppose such false allegations and will assume in the short term all necessary initiatives for my protection before all competent venues."
*****
Asia Argento, 42, one of the most vocal individuals rallying against sexual misconduct in Hollywood and beyond, was recently accused of doing the same thing she accused Harvey Weinstein of doing.
In a real life horror that is scarier than the Italian horror films her father, Dario Argento, produced, Argento broke the law with her act, by having sex with a child star, Jimmy Bennett who was 17 at the time and is now 22.
The two had a "mother-son" relationship, and they checked into the Bates Motel, otherwise known as the Ritz-Carlton in Marina del Ray, California, on May 9, 2013.
Argento said she was anxious for their reunion in a post on Instagram and Bennett replied he was almost there.
I also think genuinely investing time into smash ill learn about fighting styles i couldnt learn in other fgc games. I mainly am curious in the height of play of smash

— Echo Fox | SonicFox (@SonicFox5000) June 17, 2018
Bennett has an eye condition that prevents him from driving, so he arrived at the hotel with a family member.
Bennett's account of that day's events has Argento asking the family member to leave so that the two could be alone.
She reportedly gave him alcohol to drink and showed him a series of notes she had written to him on hotel stationery.
The account has him seduced in almost Mrs. Robinson fashion by the smoking Argento.
She kisses him, and pushes him back onto the bed. She then reportedly removed his pants and performed oral copulation on the minor.
After that, she climbed on top of him and the two had more relations, according to his account.
She then asked him to take several photos while calling this day one of the happiest and referring to Bennett as her son and her love.
Other photos included in the notice of intent show Argento and Bennet in bed with unclothed torsos, but only one of the photos shows both of their faces.
The two had lunch together later, and then Bennett headed back home to his parents in Orange County. In his claim he began to feel "extremely confused, mortified, and disgusted" on the ride home.
Yet he sent Argento a Twitter message on June 8. 2013 that said "MIss you momma!!!!" and included a photo of an engraved bracelet she gave him to commemorate a movie.
This tweet cannot be referenced because his Twitter account has recently been shut down.
He also confronted his mother and stepfather about a trust that some of his earnings had been deposited to later that month.
Bennett said his parents had barred him from the family's house and kept his possessions, and took $1.5 million of his earnings. He also said he was broke and two months behind on his rent at this time.
He filed a lawsuit in the Orange County Superior court in October 2014, and the case was settled with undisclosed terms in December 2014.
In an agreement between Argento and Bennett, she agreed to pay him $380,000 over a year and a half with an upfront payment of $200,0000 in April 2018.
Argento's attorney lawyer described the money as "helping Bennett."
"We hope nothing like this ever happen to you again," Goldberg wrote according to the Times. "You are a powerful and inspiring creator, and it is a miserable condition of life that you live among individuals who've preyed on both your strengths and your weaknesses."
The two were not allowed to use a nondisclosure agreement with the allegations made due to California law. Bennett can tell people what had happened, but he cannot sue for them or post a certain selfie of the two lying in bed on May 9, 2013.
Bennett forfeited the copyright to the image as part of the settlement.
This agreement makes it so that Bennett is not allowed to bother Argento for more money, disparage, or sue as long as Argento complies with her obligations.
The intent to sue, sent in November to Richard Hofstetter, a lawyer for Argento and Bourdain, asking for $3.5 million in damages for the intentional infliction of emotional distress, assault, battery, and lost wages.
Bennett reportedly made more than $2.7 million in the five years before the 2013 meeting with Argento, but his income has dropped to a $60,000 average a year.
He attributes the loss in income to trauma that followed the encounter.
Gordon Sattro, Bennett's attorney, said that Bennett's "feelings about that day were brought to the forefront recently when Argento took the spotlight as one of the many victims of Harvey Weinstein."
It is not known if they have spoken since the payment, but Argento added a "Like" to a moody portrait Bennett had posted to his Instagram account on July 17.
The account has since been scrubbed of lots of its content.
This is not the first interaction between the two stars, they first met in 2004 when Bennet was 7, and Argento was 28 for Argento's screenplay, The Heart is Deceitful Above All Things where he played her literal son.
It is unknown what happens next between the two, but the notice of intent was settled.
Argento settled this notice of intent to sue at 42, with Bennet who is now 22 after she publicly accused Harvey Weinstein in October 2017.
While Bennett was 17 and Argento was 37 at the time of the incident in 2013, Argento's 1997 incident with Weinstein happened when she was 21 and Weinstein was 45.
The instances are similar, with the allegation being that the older individual had oral copulation with the younger one.
Argento's case is illegal as Bennett was below the age of consent in California at the time.
Weinstein's case is illegal too, but it is harder to prove one person's word against another's.
Argento told Ronan Farrow that she was not willing in 1997, and said "No, no, no" at the time.
"It's twisted. A big fat man wanting to eat you. It's a scary fairy tale," she added.
She also said she had consensual relations with Weinstein for the next five years fearing her career would be ruined if she did not comply.
Yet a decade later she did not think about how her alleged actions would be perceived by Bennett.
She also said a speech at the Cannes Film Festival's Closing Ceremony, and tweeted her speech on May 19 of this year.
This is the speech I wrote and spoke out loud tonight at Cannes. For all the brave women who came forward denouncing their predators, and for all the brave women who will come forward in the future. We got the power #metoo pic.twitter.com/ttJN1pNFxR

— Asia Argento (@AsiaArgento) May 19, 2018
"In 1997, I was raped by Harvey Weinstein here at Cannes," Argento said. " I was 21 years old. This festival was his hunting ground."
"Even tonight sitting among you there are those who still have to be held accountable for their conduct against women, for behavior that does not belong in this industry, does not belong in any industry or workplace. You know who you are, but most importantly, we know who you are and we're not going to allow you to get away with it any longer," Argento added.
The irony was not lost at Argento, fellow #MeToo movement spokesperson, Rose McGowan is caught in her own hypocrisy.
She tweeted that she's known Argento, and then later tweeted to "be gentle" to her, because no one knows the truth of the situation.
I got to know Asia Argento ten months ago. Our commonality is the shared pain of being assaulted by Harvey Weinstein. My heart is broken. I will continue my work on behalf of victims everywhere.

— rose mcgowan (@rosemcgowan) August 20, 2018
That is a message that people could get behind if she, like Argento, were not so outspoken about men being held accountable, and silent about women being held accountable.
The tweet was also later removed as the truth of the situation was discovered.
She said rapists are liars on July 13 referencing an article with Weinstein, despite saying the truth of Argento's situation is unknown on Aug. 20.
Rapists are liars https://t.co/A2l3U1Wp4h

— rose mcgowan (@rosemcgowan) July 13, 2018
Her silence regarding Argento is a complete 180 from her tweet last year on Nov. 16 where she said people were spineless if they did not denounce predators and believe survivors.
She said to her #ROSEARMY that anyone not doing this was a moral coward, and is currently not denouncing Argento and is advocating for people to instead "be gentle" to her, despite only knowing Argento for ten months.
It's quite simple, all who have worked with known predators should do 3 simple things. 1) Believe survivors 2) Apologize for putting your careers and wallets before what was right. 3) Grab a spine and denounce. If you do not do these things you are still moral cowards. #ROSEARMY

— rose mcgowan (@rosemcgowan) November 17, 2017
Her latest tweet on the situation at this time states that she is not defending Argento, despite the evidence to the contrary.
Oh for fuck's sake I'm not defending

— rose mcgowan (@rosemcgowan) August 21, 2018
This is not the only time the #ROSEARMY leader has guarded her friends from her own words, and Cody Gore pointed out her failure to denounce Victor Salva in his article.
One tweet cited a 2011 interview with Advocate Magazine where she said the convicted sex offender did not relate to women very well.
When the interviewer said he did not relate well because he was a convicted sex offender, she said, "Yeah, I still don't really understand the whole story or history there and I'd rather not, because it's not really my business. But he's an incredibly sweet and gentle man, lovely to his crew, and a very hard worker."
Okay, sooooo…I guess it's your turn? Because there's this… pic.twitter.com/pkTp4ckrBN

— Mike (@dragondiaper) November 17, 2017
That tweet surfaced because of the recent hypocrisy, but several people are questioning the movement itself, and others are using these instances as the reason why the movement is so critical.
Sources used include articles from: The Guardian, Vanity Fair, The New York Times, People, Variety, TMZ, The Daily Mail, and Medium.
Leave a Comment
About the Writer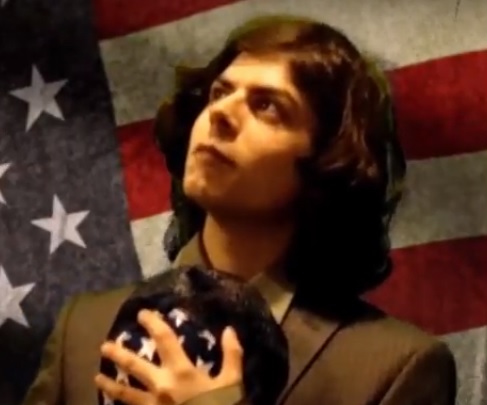 Joshua Sanchez
Joshua Sanchez is the former Editor in Chief and News Editor of SAC.Media. He was previously the managing editor of LAHS' student newspaper,
The Conqueror
. A portfolio of his reporting work can be found at
jdjoshsan.wordpress.com.