Holy Fire's Blaze History
Update: Aug. 30, 3:50 p.m.:
The Holy Fire is at 93 percent containment, with 23,136 acres affected.
A flare-up on Monday, Aug. 27 broke the recent full containment of the fire on Sunday, Aug. 26.
Discover pieces of The Legend of #Zelda's world in Sanctuary. @Diablo III: Eternal Collection on #NintendoSwitch includes an exclusive transmogrification set that will let heroes sport Ganondorf's iconic armour and other unique items. #DiabloSwitch pic.twitter.com/NJN3bbHrBH

— Nintendo of Europe (@NintendoEurope) August 16, 2018
*****
Authorities say Forrest Gordon Clark, 51, started the fire around the Cleveland National Forest area that is now known as the Holy Fire.
The "Holy" part of the name comes from where the fire originated, the Holy Jim Canyon area.
"This shouldn't be called the Holy Jim Fire, it should be called the Holy Hell Fire," Orange County Fire Authority Todd Sitzer said in regards to the name.
The Holy Jim Canyon is bordered by the Trabuco Canyon, and the Trabuco Canyon is also an Orange County community located in the Cleveland National Forest.
Both canyons have their own road, and the fire's origin is close to where the roads intersect to become the Trabuco Canyon Road.
On Monday, Aug. 6, authorities say Clark intentionally ignited the blaze in that area around 1:30 p.m.
Clark denies this, but was questioned and arrested Tuesday, Aug. 7 after being found in his Cabin 14 home around 10:15 a.m.
Clark has been charged with two counts of felony arson, one count of felony threat to terrorise, and one count of misdemeanor arrest, according to Cleveland National Forest officials.
In his first court appearance on Friday, Aug. 10, the charges were read as aggravated arson, arson of inhabited property, arson of forest, criminal threats, resisting and deterring an executive officer, and arson burning multiple structures.
These charges could carry a maximum sentence of life in prison, but he is currently being held at the Orange County Intake Release Center on a bail of $1 million.
He was scheduled to be arraigned on Thursday, Aug. 9, but it was delayed when he refused to leave his cell. It was further postponed until Friday. Aug 17.
When the bail was ordered to remain at $1 million, Clark shouted he could easily afford it.
"I can handle a million right now easily," Clark said, wearing one of the jail's orange jumpsuits.
Clark was not always this confident, initially refusing to face the judge, afraid of showing his face in fear of "retaliation."
At one point he covered his face with his hair.
Clark's attorney was unsuccessful in having Clark's presence waived, and a commissioner ordered Clark to appear.
Prior to the fire, Clark allegedly sent threatening emails to a volunteer fire chief. Reports vary as to what he actually said in the emails.
Some outlets say he wrote "this place will burn" and others reported him as saying "this place is going to burn just like you planned."
The Holy Jim Volunteer Fire Chief, Michael Milligan said he had known Clark for decades, and had long warned that he posed a danger to the community.
"He has issues," Milligan said. "I hope they get him."
Milligan also has a cabin in the area and said every resident in the canyon is afraid of him, and said Clark had a longstanding feud with his neighbors.
In the past, Clark has said he could read minds, and said that Milligan runs drugs. At one point he removed his camouflage underwear on Tuesday, Aug. 7.
Clark's Facebook page pictures the man with a snake. It also indicates he attended Orangewood Academy, is religious or shares religious imagery, rants about neighbors, and references marijuana.
It also has pictures of Clark's face in which he says he has skin cancer.
Clark was placed on psychiatric hold last month, but the reason why has not been reported.
That might not be his first time, as a man with the same name and birthdate was held at a treatment center for mental illness involuntarily in 1996.
In 2012, Mary Masayo Clark, who is believed to be the man who started the fire's mother, filed a restraining order against her son, a Forrest Clark, whose birthdate is the same as the man who was arrested.
Mary Clark said he demanded money from her several times and wrote in court documents that "there is no peace in my home when he is here."
Despite his past, Clark denies the charges.
He spoke to one OnScene stringer photographer outside his cabin and insisted he had nothing to do with the fire.
"They took me away last time for no [expletive] reason, I told them that I'd been vandalized," Clark said.
Orange County Fire Authority's Shane Sherwood said no witnesses have said they saw Clark start the fire, but the area of origin is around his cabin.
In his first court appearance on Friday, Aug. 10, Clark made the loud outburst that he could afford the $1 million bail and gave his opinion on the charges against him by saying "that's a lie" and "correct" to certain charges.
Just a short clip of one of Forrest Gordon Clark's outbursts during his first appearance before a judge today. He's accused of starting the #HolyFire. @ABC7 pic.twitter.com/wBxKnUVQpr

— Greg Lee (@abc7greg) August 10, 2018
His outbursts were nothing unusual to Jeffrey Kirk of the Orange County District Attorney's Office.
"I wasn't really surprised with anything we saw. I think it's just par for the course," Kirk said.
~*****~
Regardless of the suspected arsonist's history, the blaze has been burning for a week.
*****
On Wednesday, Aug. 8, reports had the Holy Fire burning more than 6,200 acres, with more than 600 firefighters assigned.
Two firefighters were also treated for heat-related injuries.
*****
As of Friday, Aug. 10, the fire was at 10 percent containment. At 1:30 p.m. 3,000 structures were moderately threatened, and 12 had officially burned.
By Friday evening, the fire was an estimated 19,107 acres.
*****
On Saturday, Aug. 11, containment was at 29 percent, and there were 21,473 acres burned in the morning.
Throughout the day the containment raised, and when a total of 22,158 acres were burned by the evening, the containment was at 36 percent.
There were 1,511 firefighters at this time, including those on 141 engines, 18 helicopters, 12 airplanes, 23 bulldozers, 12 water tenders and 34 hand crews.
Evacuations were lifted near Lake Elsinore, but it is unclear how many people returned home of the estimated 21,000.
Neighborhoods of Horsethief Canyon, McVickers, Rice Canyon, and Machad had evacuation orders lifted. Voluntary evacuations were no longer in place for the Shoreline community either.
Road Closures remained in place including Mountain Street at Avocado Way, De Palma Road at Horsethief Canyon Road, and Temescal Canyon Road at Campbell Ranch Road.
School will start a week later on Monday, Aug. 20, for students at 23 campuses in the Corona-Norco Unified School District.
*****
On Sunday, Aug. 12, the fire was at 22,714 acres. In the morning it was at 41 percent contained, but by the evening it was 51 percent contained.
At this point six firefighters have been injured, and the fire has destroyed 14 structures and damaged 10.
The homes were mostly in Holy Jim Canyon, a cluster of structures and cabins above Rancho Santa Margarita.
There is now an estimated 3,698 evacuated homes that affect an estimated 11,120 people. This number is down from the previous 21,000 figure.
Evacuations have now been lifted on the Sycamore Creek neighborhood, and the Lake Elsinore community of Riverside.
*****
On Monday, Aug. 13, containment was at 52 percent in the morning and 59 percent by the evening. The fire gained 272 acres during the day, ending at 22,986 acres.
Evacuations are no longer in place for homes beyond the pavement in Rice Canyon at Avocado and Mountain.
Highway 74, the Ortega Highway, was closed to through traffic on this day as the fire was being dealt with.
*****
On Tuesday, Aug. 14, containment was at 64 percent with 22,986 acres burned or burning.
With a 5 percent increase and no added acreage, full containment is anticipated by Aug. 21.
Evacuations have been lifted for El Cariso Village and Rancho Capistrano, and Highway 74 reopened.
Mandatory evacuations remain for the Mystic Oaks community, and voluntary evacuations are still in place for the community of Trilogy.
*****
On Wednesday, Aug. 15 the fire was still contained to 22.986 acres, and was at 72 percent containment.
Voluntary evacuations have been lifted for Temescal Valley's Trilogy community, and Animal Services will no longer transport pets to Temescal Canyon High School from this point on.
*****
As of Thursday, Aug. 16, the fire is still contained to 22,986 acres and is now at 78 percent containment.
By the end of the day it was at 83 percent containment.
*****
On Aug 18, the fire reached 91 percent containment; on Aug. 20, the fire was at 93 percent containment; on Aug 24, the fire was at 95 percent containment.
The Holy Fire reached 100 percent containment on Aug. 26.
The next day, Monday, Aug. 27, a flare-up occurred, charring 150 acres.
As of Aug. 28, the new flames are at 10 percent, and the Holy Fire is at 94 percent containment overall.
Our latest maps show both the new spot fire (10% containment) and the previous #HolyFire burn area. It is currently 93% contained in its entirety. The new 100% expected containment date is September 2nd, which may change. pic.twitter.com/jjrlR2TAnl

— Cleveland NF (@ClevelandNF) August 28, 2018
Updated Aug. 30 at 3:50 p.m.
*****
According to InciWeb – Incident Information System, the fire is expected to be contained at midnight on Friday, Aug. 17.
For more information, check out these sources: 1, 2, 3, 4, 5, and 6.
Leave a Comment
About the Writer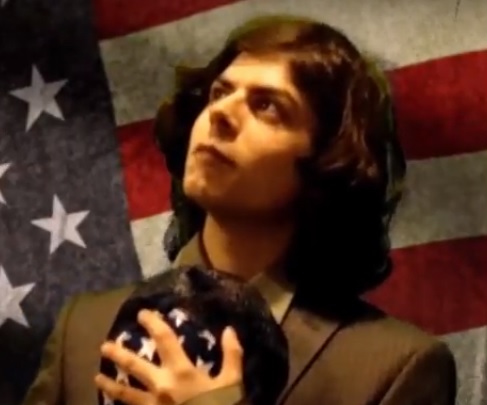 Joshua Sanchez
Joshua Sanchez is the former Editor in Chief and News Editor of SAC.Media. He was previously the managing editor of LAHS' student newspaper,
The Conqueror
. A portfolio of his reporting work can be found at
jdjoshsan.wordpress.com.