Memorials and Movements
Throughout the country on March 14, students, teachers and administrators were encouraged to walk out of their classes at 10:00 a.m. in remembrance of the 17 lives lost in the Parkland Shooting at Marjory Stoneman Douglas High School in Florida. The walkouts were organized through the Women's March network and called for legislation to limit the accessibility to guns and decrease mass shootings.
Throughout eastern Los Angeles County, many high school students participated in walkouts and moments of silence on their school campus. However, many of the campuses would not let the public onto their campus leaving protestors standing outside as well.
Walnut High School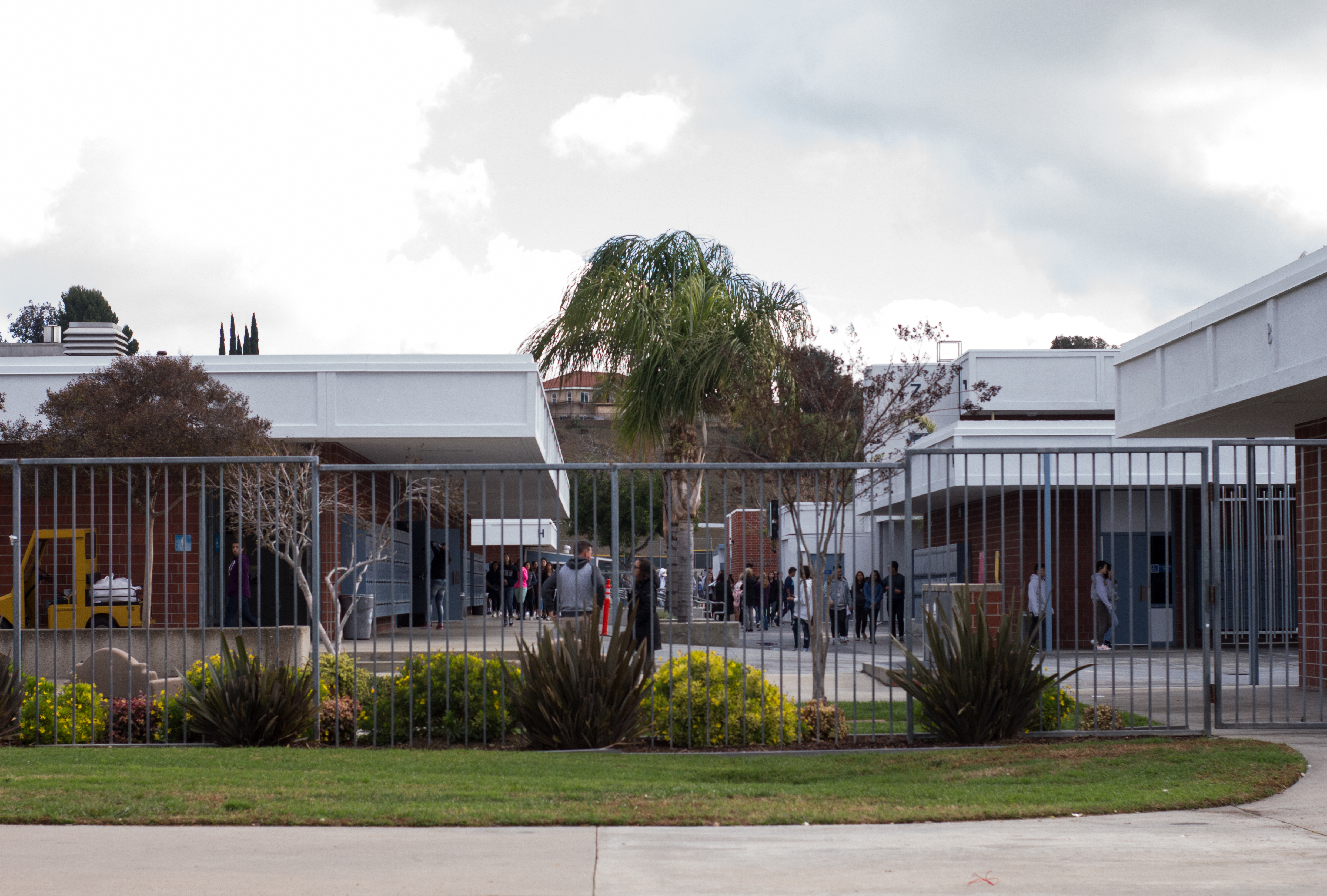 At Walnut High School, the principal's secretary, Monique Estrada, said that the school was not participating in the walkout or encouraging students to partake in the walkout. Rather the school recognizes the students' rights to participate and set aside a safe space to allow them to express themselves.
Trump LIED to you!
How many times did
you hear him say
"Mexico is gonna
pay for the WALL! 💯%!"
Now he's asking US to
pay for it!
Why don't we#HaveAVote
Let Americans decide
if WE wanna pay for
HIS WALL
We don't NEED a Wall!
You know what we need?#TRUTH
👇OR👇 YOU guys can pay! pic.twitter.com/YuGUi7fWyF

— Valerie Martin (@WILLDYE4U) April 2, 2018
Covina High School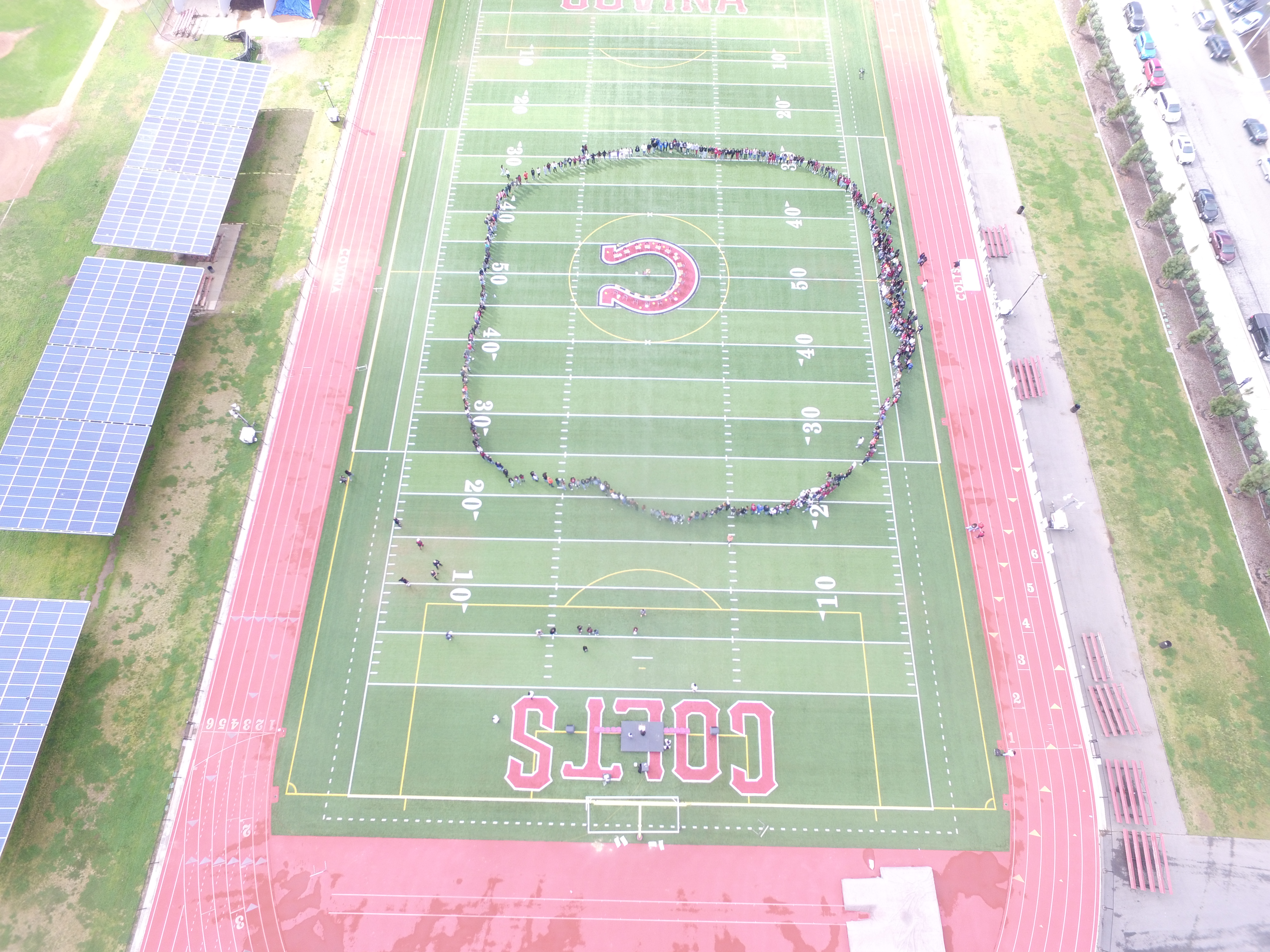 At Covina High School, students participated in a walk around the school's track and held a moment of silence. While the public was not allowed on campus, Covina's Mayor Jorge Marquez took part in the event and live streamed it on Facebook.
In the school's press release of the walkout quotes from students were shared with the public.
"Today we stand together, united, in arm and arm. Together we can make a difference. We can change the pattern of negativity by conveying love, respect and kindness. Together we believe in hope, we believe in love, we believe in change. Let's be kind, let's be hopeful, let's be the change we want to see!"
.@SAConScene students are walking out at Covina High School but they aren't letting press on campus #Covina pic.twitter.com/sHzaR6o09M

— Joliana Frausto (@jolianaaaa) March 14, 2018
.@SAConScene Leticia, 45, is a parent who came to Covina High School but was not let on campus #Covina pic.twitter.com/bQ79jzNmvc

— Joliana Frausto (@jolianaaaa) March 14, 2018
Diamond Bar High School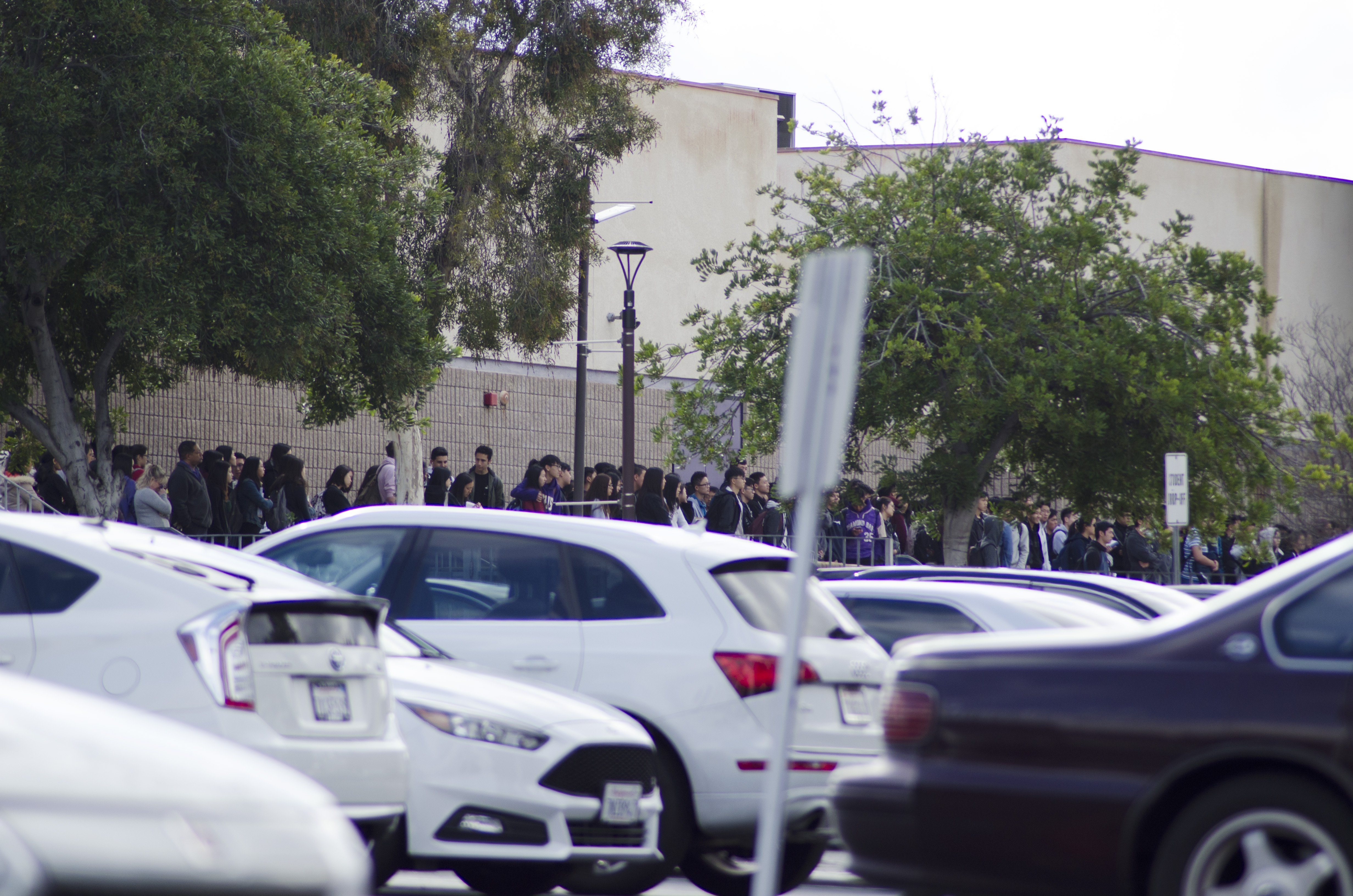 Diamond Bar High School had students gathered outside the gymnasium building at 10 a.m. for 17 minutes of silence for those who died in the shooting in Florida at Marjory Stoneman Douglas High School. Standing in front of the school gates were the Principal and school official who did not want to comment on the student walkout. However, the administration said they neither encouraged or discouraged the students who wanted to participate in the event. Diamond Bar High School is a closed campus so during the moment of silence there were no visitors or reporters allowed. However, Patrick Ngo, a Diamond Bar resident and father of two students -a Diamond Bar High School student who is in his second year and an incoming freshman- stood in front of the gates to pick up his son and told reporters he supports the students in whatever makes them feel comfortable. He also made a statement on what he would say to Donald Trump: "Protect our future." Although there has been panic and worry around the nation regarding gun control and safety, Ngo said, "Believe me, everyone over here is safe."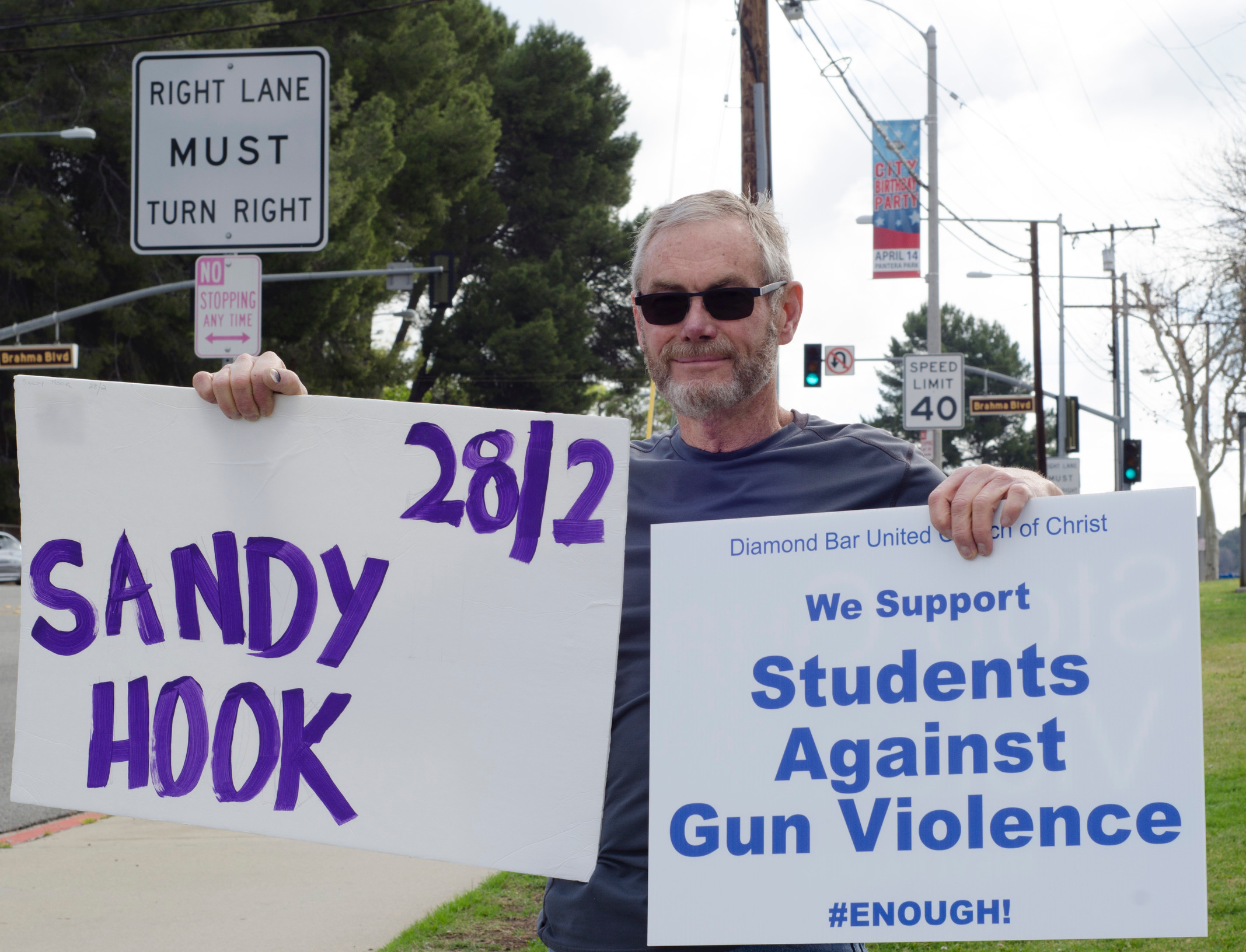 On the corner of Fern Hollow and Brea Canyon Road were four protesters, two of which are teachers and the other two, local residents. One of the male residents, who only gave his first name as Gary, said he was at the Community United Church of Christ from 7-9:30 a.m. because the church gave out signs to the public to go out and protest. He said he was disappointed with the turnout of only four protesters. According to Gary, the other male resident did not want to comment because he works for a company that makes gun safes.
"There is no practical reason to have semi-automatics or automatics if you are not going to hunt with them." Gary had words for Donald Trump."I do not know if I would have enough discipline to keep myself from spitting on him or kicking him in the balls."
After the 17 minutes of silence, students went back into their classrooms and the teachers left to go back to class.
.@SAConScene Diamond Bar HS parent Patrick Ngo, stated no 18/19yr old or anyone for that matter should own a military style weapon. #NationalWalkoutDay California

— lauren scheer (@LaurenScheer) March 14, 2018
Ontario High School
At Ontario High School the Associated Student Body organized a "walk-up" campaign, encouraging students to talk to 14 students and three teachers and administrators in memory of the Parkland shooting victims. However, the public was also not allowed on campus during the event.
.@SAConScene #NationalWalkoutDay Ontario High School students in Ontario participated in school sponsored 'walk up' initiative & discussion forum. Students were challenged to walk up and talk to 14 students & 3 adults in remembrance of the 17 Parkland, Florida shooting victims.

— John (@john1athan) March 14, 2018
Don Antonio Lugo High School
At Don Antonio Lugo students were allowed to walk out onto campus while any students who walked off of campus would risk being truant and juniors and seniors would risk losing prom and other privileges.
.@SAConScene #NationalWalkoutDay Don Antonio Lugo High School students in Chino held 10 a.m. walkout within campus, followed by 17 minutes of silence. Per administration, students leaving campus risked being truant, juniors & seniors risked losing prom and other privileges.

— John (@john1athan) March 14, 2018
Update: March 20, 5:40 p.m.
West Covina High School
Whittier Christian High School
Walnut High School
Leave a Comment