Patriotism, Protests, and Punches
Two years after Kaepernick initially kneeled, they still think he is being anti-military and anti-American by taking a knee during the National Anthem. Where was the outrage when Ray Rice punched and kicked his fiancee in an elevator, or when Tyreek Hill punched and choked his pregnant girlfriend?
While scrolling through Instagram stories of people I follow, someone shared this Facebook post that resonated with me: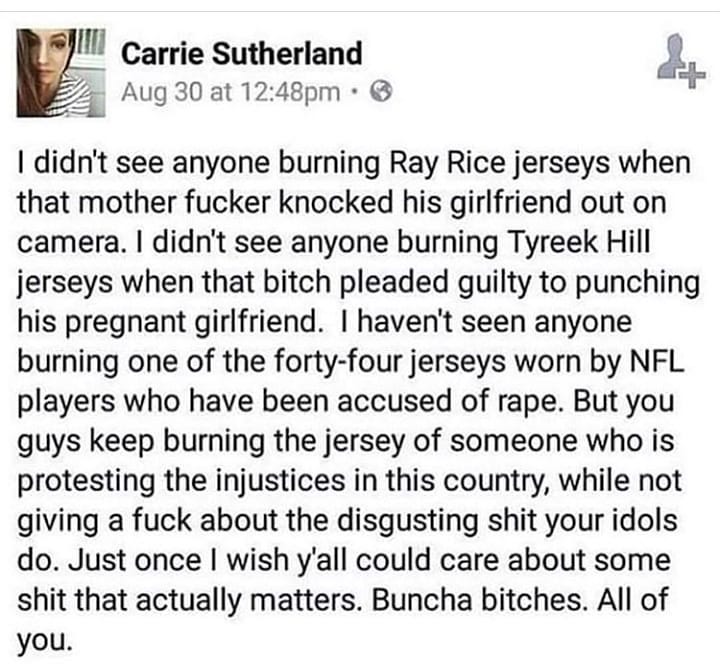 PRESS RELEASE: Arrests made in connection with August bar fight in Covina https://t.co/puvey1WGfU

— Covina PD (@covinapd) September 21, 2018
The actual disgrace is the outrage over what others perceive as anti-patriotism, when what Kaepernick is actually protesting peacefully are the issues people of color face. There is outrage when peaceful protest is taking place but no outrage when athletes are abusing women.
I related to this because as an abuse victim, I had numerous reasons why I stayed and a type of security was one of them. As was the case with the women in this Huffington Post piece, many survivors stayed in their abusive relationships for various reasons.
No one was prioritizing the needs of survivors when all of these police reports and accusations were coming out. No one was burning brands of cleats these abusers were wearing on their feet.
I put it to my Instagram followers this way when I initially shared Sutherland's post: It shouldn't have to be this way since everyone should care about women being beaten, anyway… For those of you who support abusers in the spotlight, what if these women who were punched, strangled, slapped were your daughter, mother, sister? Would you have burned your precious official NFL gear? Would you have stopped buying tickets to their games?
And for those of you who support abusers in the spotlight and call yourselves my friends, what if that would have been me?
The @nfl made multi-million dollar donations to DV organizations, such as the National Domestic Violence Hotline (of which at the time I was a Board Member) after TMZ posted a video then Baltimore Ravens star Ray Rice punching his fiancee, Janay Palmer /1 https://t.co/yRaznzec3r

— Sil Lai Abrams (@Sil_Lai) September 10, 2018
I mean NFL is more serious about pot than it is about domestic violence

— Mitch Fish (@Fish91Mitch) September 13, 2018
Only 7 games more for domestic violence than a trace of PEDs. Good league https://t.co/j7n38XE2wh

— Pete Blackburn (@PeteBlackburn) September 12, 2018
Again, there is no basis whatsoever to assume that police are more law abiding than general population. Stats actually show police have higher rates of domestic violence relative to general population. No justification for police using lethal force or being above law

— Bree Newsome (@BreeNewsome) September 10, 2018
Bottom line: This feigned patriotism and anger over the flag and calling Kaepernick disrespectful is disgusting to someone like me who lived what the players partners lived. They didn't feel the punches that myself and the partners and these players did. They weren't smothered and choked almost to death like us. This is why I am disheartened that people care more about patriotism than battered women.
My Brothers @kstills and @ithinkisee12 continue to show their unwavering strength by fighting for the oppressed! They have not backed down, even when attacked and intimidated. Their courage will move the world forward!

"Love is at the root of our resistance!"✊🏾 pic.twitter.com/2kSsX4s7EU

— Colin Kaepernick (@Kaepernick7) September 9, 2018
Leave a Comment
About the Writer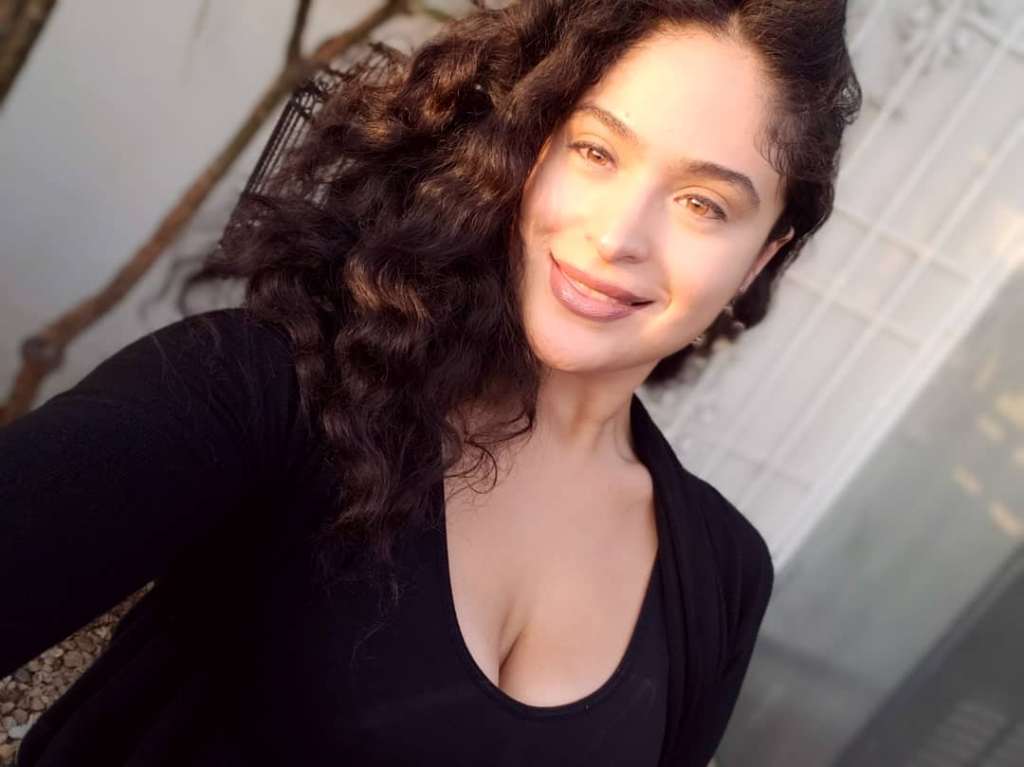 Brigette Lugo, Sports Editor
Brigette Lugo is the sports editor of SAC.Media. She is majoring in Spanish multimedia and her favorite things are The Smiths, family, and telling everyone she's Nicaraguan and Panamanian.