Football Upset By Chaffey Panthers
Mounties Football were stunned in week three visiting the Chaffey College Panthers on Saturday, Sept. 15, with a 13-0 loss under the scenic setting at Grigsby Field.
Mt. SAC was coming off a massive victory in a week two slugfest over Long Beach City College on Sept. 8, where they vanquished the Vikings 43-36 at Covina District Field.
That game was highlighted by an outstanding performance from the Mounties on special teams defense, securing a first quarter safety on a blocked punt. The Mt. SAC defense also held Vikings quarterback Drake Peabody to a 16-36 passing night with four interceptions.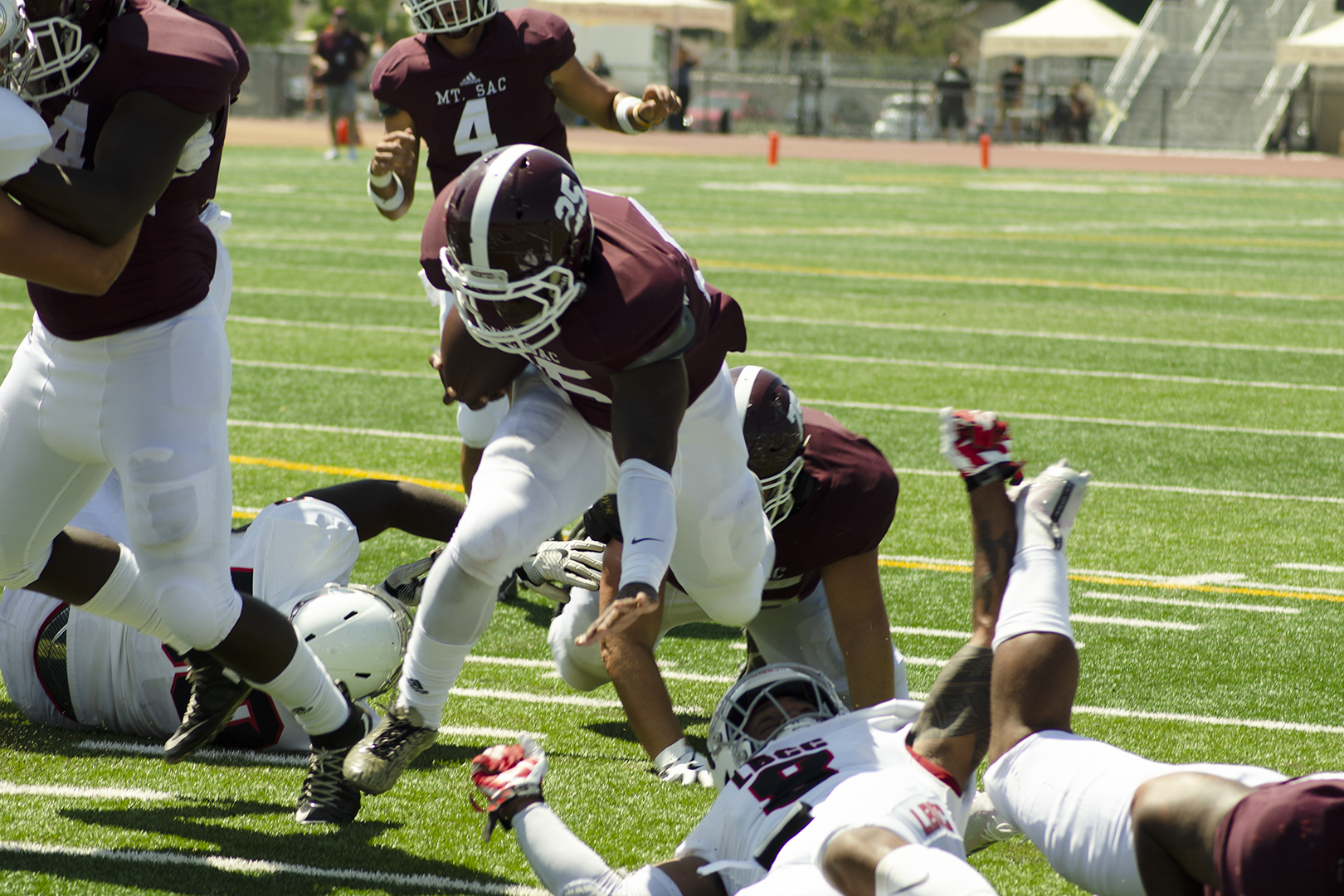 Perhaps the biggest highlight from that night could have been Mounties quarterback Steven Nava's game, including the game winning 41-yard pass to Jacob Hennie with a minute and 36 seconds to go.
"We're a bunch of dogs out here. We're going to come out, play four quarters of football and this one was a shootout," Hennie said after the week two victory.
"Guys stepped up when we needed to make plays. We had the lead and then we gave it back. [Hennie] stepped up like he did in the first game, made a huge play, and put us ahead," Mounties head coach Bob Jastrab said on the team's performance against Long Beach.
PRESS RELEASE: Arrests made in connection with August bar fight in Covina https://t.co/puvey1WGfU

— Covina PD (@covinapd) September 21, 2018
However, with the page turned to week three's matchup at Chaffey, it became glaringly obvious the Mounties lacked that same prowess in the areas that earned them the win over the Vikings.
After the Panthers culminated a 12-play, 86-yard drive with seven points to strike first late in the opening quarter, the Mounties found themselves in third-and-9 on Chaffey's 10-yard line.
Keshon Flemings, starting at quarterback for the Mounties in the first half, looked for Austin Griffin in the subsequent play, but the pass went incomplete and forced a field goal attempt from Gabriel Dunkle.
Coming into the game 3-4 in field goals on the last two games combined, Dunkle missed from 27 yards and Mt. SAC was forced back on defense empty handed.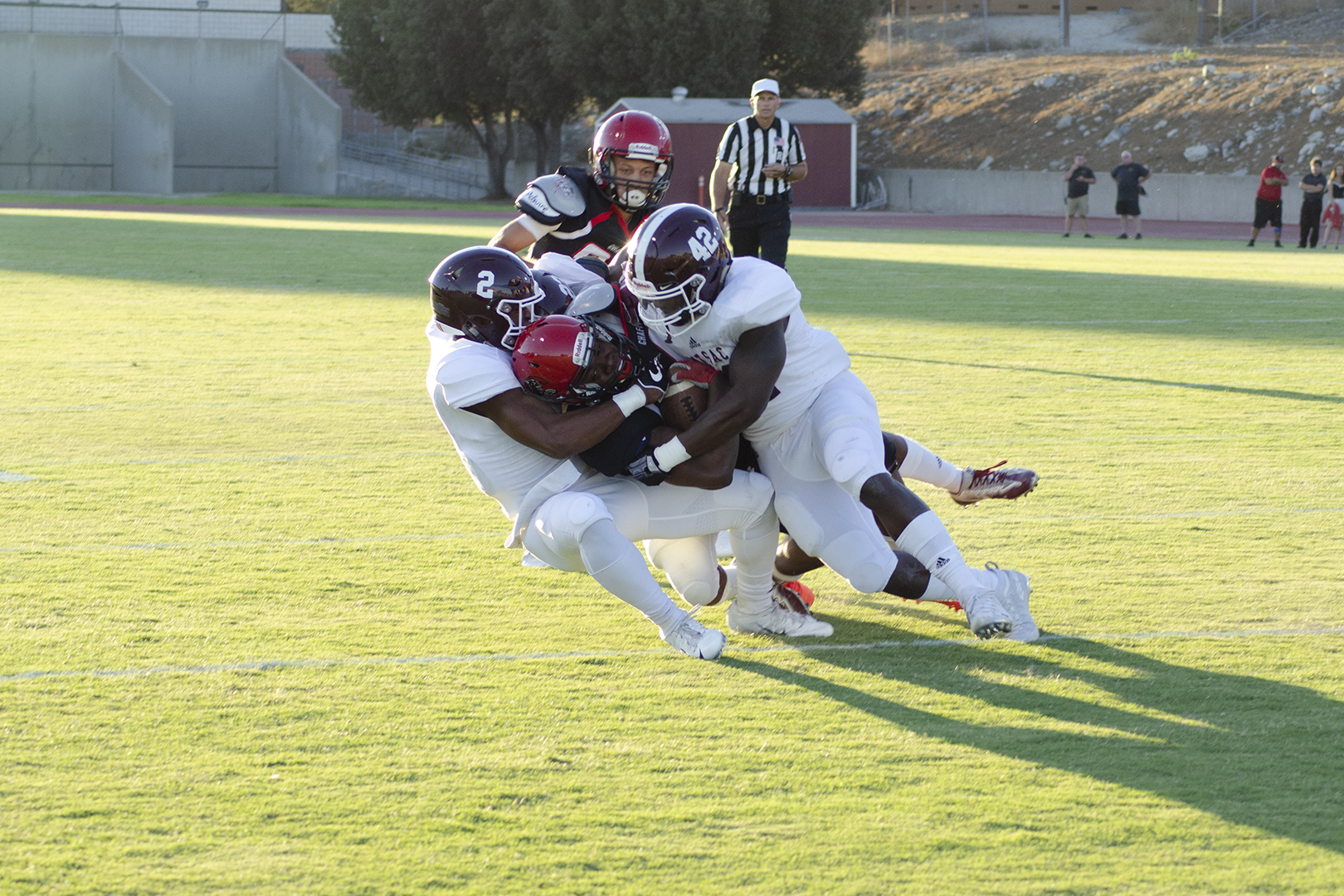 Yet the Mounties showed some resilience following the scoreless drive, forcing the Panthers to a quick three-and-out, and blocking Chaffey's punt for a first-and-goal on the 9-yard line.
However, the Panthers defense seemingly became too high of a brick wall for the Mounties to overcome and forced another field goal attempt that ended with Dunkle missing from 20 yards.
After a deflating first half, freshman quarterback Dylan Flenniken spearheaded Mt. SAC's offense in the third, but only managed to go 5-10 on the night for 36 passing yards.
Chaffey quarterback Caleb Arreola ended his night going 13-18 with a 166-yard passing game after a 73-yard completion to Javian Lofton-Wilson for the Panthers' second touchdown in the third quarter.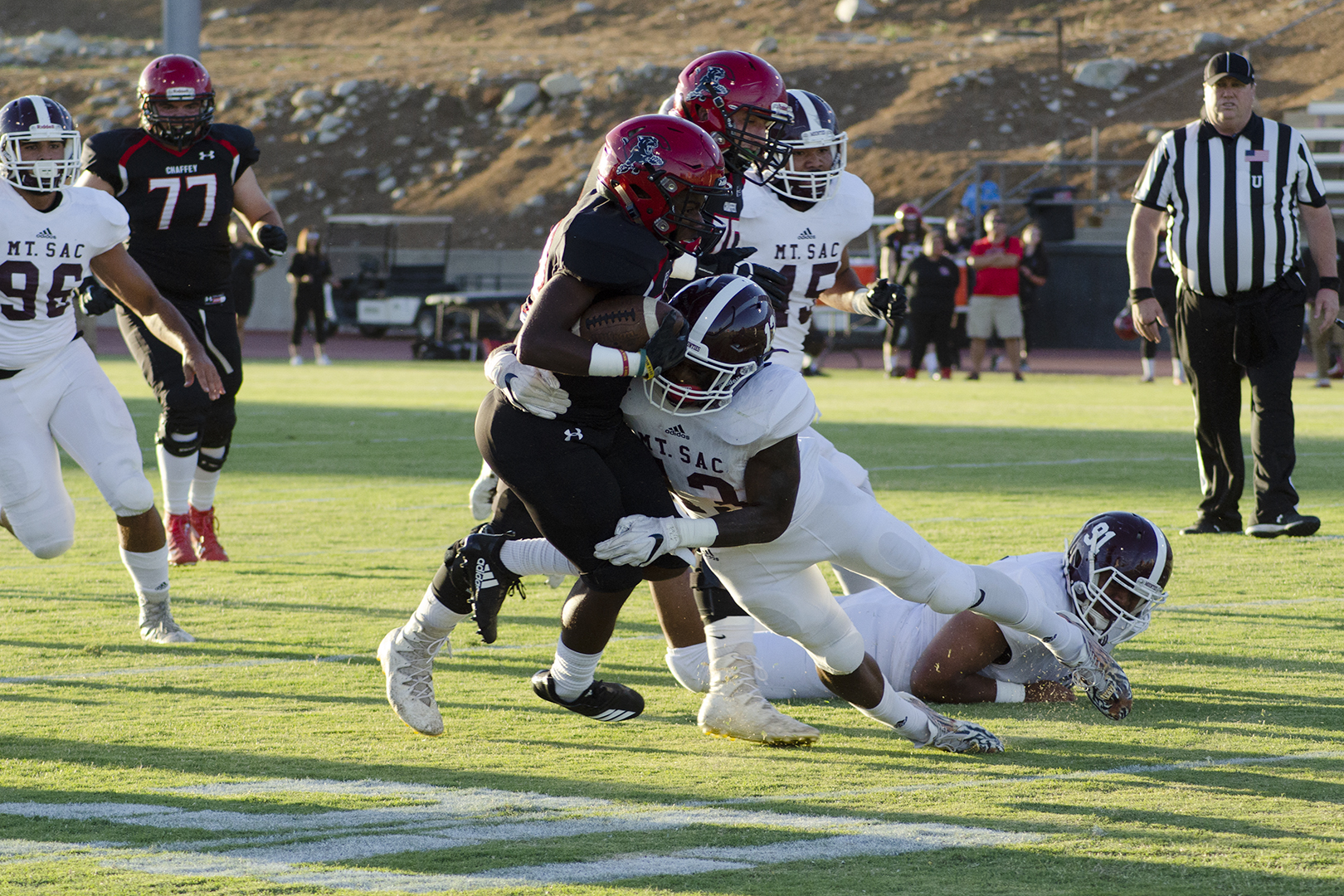 The Mounties successfully blocked the extra point and held Chaffey to a 13-0 lead, while Nava stepped in to take over at quarterback.
Despite Nava's short 138-yard passing game, the Mounites were unable to mount a comeback this time and dropped to 2-1 with the loss.
The team may have also been marred by a tough injury to the right foot of defensive back D'Ondre Robinson, who was forced to leave the game but not without leaving his mark on that massive blocked punt in the first half.
"I knew I had to make a play. I was just trying to make a statement and get our team going," Robinson said after the game.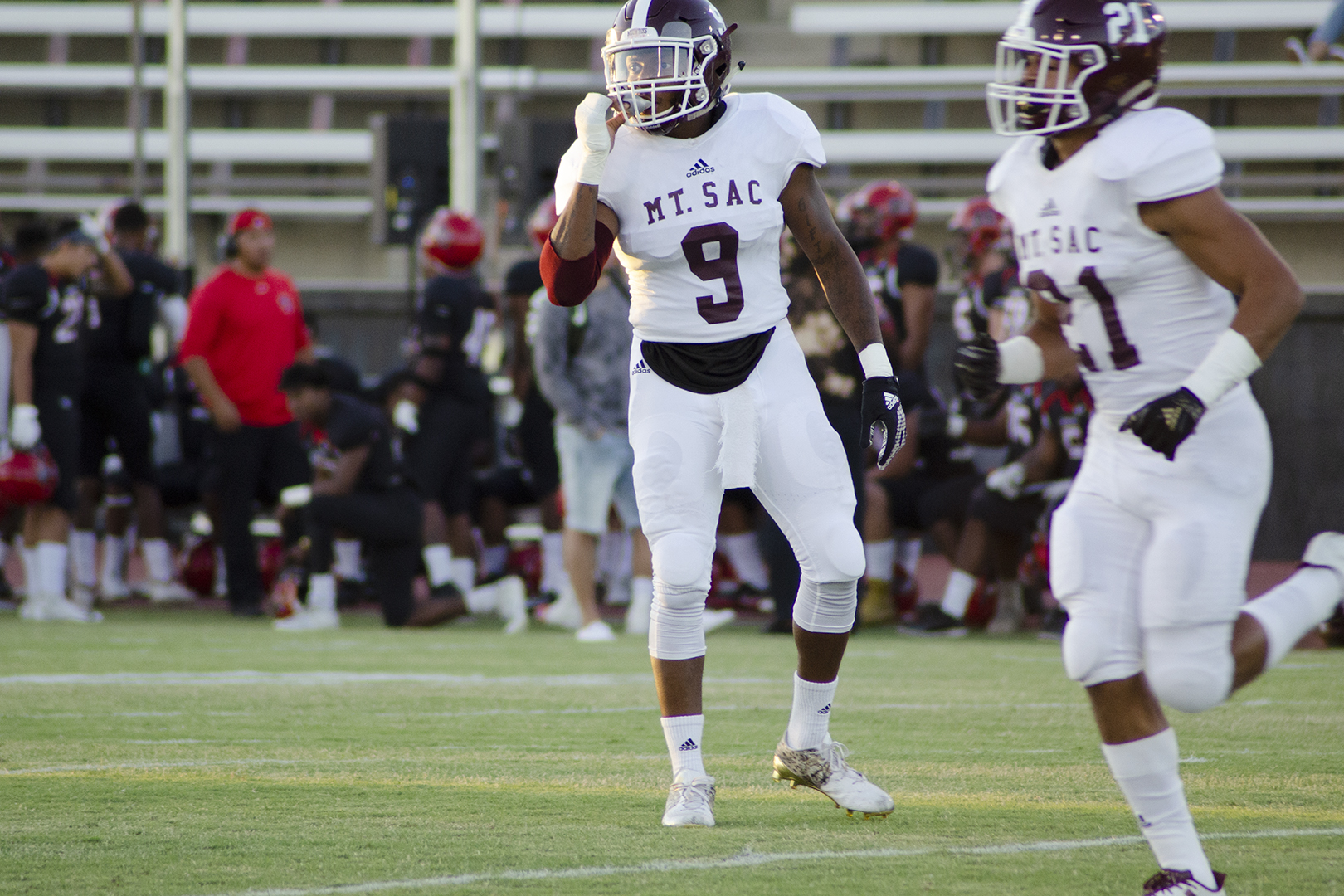 Though Robinson's condition is pending medical review, his resolve to return to the field remains the same.
"I just have to bounce back and you know there's always another day, so that's how I'm looking at it right now," Robinson said.
"I have to go to the hospital and get an X-ray, make sure [it's] nothing too crazy. If it's something else, we're going to deal with it however we'll deal with it."
"[D'Ondre] is my cousin, he's my family … when he went down, it's like I went down with him. I know he's always going to stay strong," Mounties linebacker Sanu Baraka said after the game.
Mt. SAC Football will have to turn the page quickly heading into week four, where a clash against the visiting East Los Angeles College Huskies awaits them on Saturday, Sept. 22. at Covina District Field.
The Huskies are also 2-1 coming off their 55-0 routing of Compton in week three, but the Mounties remain the better team on paper.
Mt. SAC will look to bounce back against a Huskies team in disarray at the quarterback position and prone to multiple penalties.
"Play our hearts and clear our minds; we have to do what we have to do and try to make plays next week" Baraka said on the team's mindset going forward.
Kickoff against East Los Angeles is set for 6 p.m.
Leave a Comment
About the Writer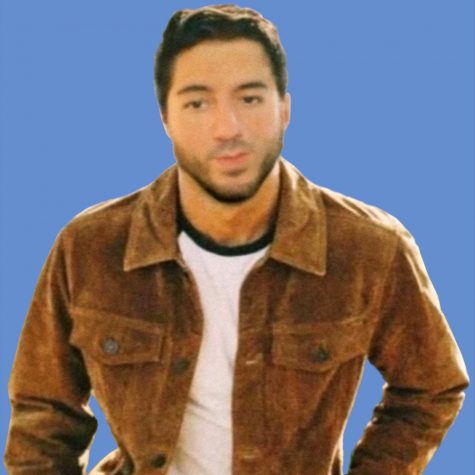 John Athan, Sports Editor
John Athan is the Sports Editor for SAC Media and SAC Sidelines. He is a journalist, multimedia producer, writer and voice talent from Greater Los Angeles. His passion for storytelling is only matched by his love for tacos. He is also a free press and community advocate with a background in social and behavioral sciences.