Three Arrested In Covina Bar Assault Thanks Public Help
The "see something, say something" mantra of the police helped officers in Covina make arrests on Thursday, Sept. 20.
Members of the public saw the Covina police department's tweets that included surveillance footage and gave the police tips.
It should bother people that the left is going out of their way to convince us to believe three women accusing Brett Kavanaugh of inappropriateness— without any concrete evidence.

— Richard Armande Mills (RAM) (@RAMRANTS) September 26, 2018
Thanks in part to the public, officers arrested Elizabeth Franco, 40, Angel Franco, 23, and Vidal Larios, 40. The two Francos are from Baldwin Park, and Larios is from Glendale.
They were arrested in connection to an assault at Clancy's Sports Bar on Friday, Aug. 17. On that date a man was assaulted in the bathroom of the 961 N. Azusa Ave. establishment.
The 45-year-old victim from Rancho Cucamonga was struck on the head with a beer mug. This attack left the victim's skull fractured.
His attacker followed him into the bathroom at around 11:54 p.m. to strike the man, but authorities said that patrons were unaware of this attack or of any argument before it.
The victim and his attacker had even had a conversation over pool before the attack.
His attacker is described as a Latino in his 40s, with a mustache, at 5 feet 6 inches tall and 180 pounds.
There is speculation as to whether this conversation regarded politics or a woman, but Covina Police Sgt. Ray Marquez said that "nobody in the bar said there was an argument."
The victim was found unconscious by his brother, and the beer mug was found on the floor outside the restroom. .
The woman in question followed the attacker to the restroom, and left with the attacker when he left the restroom.
Police arrested the two suspects in the video, and a third person who was inside the bar at the time of the crime. All three were booker, but Larios was additionally held on a parole violation.
PRESS RELEASE: Arrests made in connection with August bar fight in Covina https://t.co/puvey1WGfU

— Covina PD (@covinapd) September 21, 2018
Although suspects were arrested, anyone with more information relevant to the case should call Covina Police Detective Ivan Ostarcevic at (626)-384-5620, or leave an anonymous tip with Crime Stoppers at 1-(800)-222-TIPS.
Referenced articles include Eric Licas and Ruby Gonzales' pieces for the Tribune, the ABC7 staff article, and the press release given by the Covina police. The reference incident with the police is labeled as number 18-23973.
Leave a Comment
About the Writer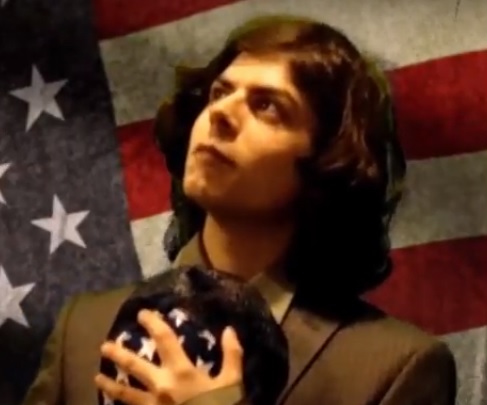 Joshua Sanchez
Joshua Sanchez is the former Editor in Chief and News Editor of SAC.Media. He was previously the managing editor of LAHS' student newspaper,
The Conqueror
. A portfolio of his reporting work can be found at
jdjoshsan.wordpress.com.