Man Takes Picture of Female Student Under Bathroom Stall in Building 17
UPDATE Oct 5, 7:19 a.m.: The student chose to disclose her identity and permitted SAC.Media to publish her name. Nataly Guzman, 29, communications major, is a student at Mt. SAC.
Guzman told SAC.Media about how she reported the incident to both Kelly and Branch. "I did recap the incident twice, obviously, since there was a huge time gap between talking to the two," Guzman said, referring to the two hour gap between when the Walnut/Diamond Bar Sheriff Office was contacted and the time Branch arrived.
"I was also letting friends and other people know what had happened, so I had a consistent state of mind throughout the two hours. Even when I was chasing the individual, I was screaming to the bystanders that I was passing, 'He was taking pictures of me in the bathroom,' and 'Where did he go?'" I firmly remember using male pronouns. I personally use gender-neutral pronouns on a regular basis, but in this situation I am certain from my observations that this individual was male-appearing," Guzman said, reiterating to SAC.Media that she consistently and repetitively told both Kelly and Branch that the perpetrator who photographed her under the bathroom stall was a male.
Update Oct. 4,10:00 a.m. There is a conflict between the statement given by the student to Officer Kelly and what was in the public safety report. The description released on the Mt. SAC Marketing and Communication department website states the student said the suspect was "male of female." Officer Kelly returned our phone call at 7:11 p.m. on Oct 3. We were transferred to Sergeant Robert Toyer and left a voicemail. Our call was returned at 7:30 p.m. that night.
Sergeant Robert Toyer told SAC.Media that he spoke to Branch. Branch said the student told him it was a male suspect in her statement.
"Kelly reiterated to me that the young lady told him that she didn't know if it was male or female. Between time talked to Kelly and Branch she might have changed her story," Toyer staid.
Toyer added that what she told Kelly was one thing and Branch assured Toyer that after speaking with Branch, "in his report he said it was a male, according to young lady."
"I don't have control over what the press put out or whatever, if they saw police report," Toyer said, referring to Marketing and Communications, who works as the public relations representation of Mt. SAC, not part of the student media. All I have control of is whether or not Officer Kelly was told to him or not.
When Deputy Branch interviewed the young lady, he interviewed her separately than Kelly did."
Sergeant Toyer told SAC.Media that he spoke to Branch. Branch said the the student told him it was a male suspect.
SAC.Media asked Director of Marketing and Communication Department at Mt. SAC Uyen Mai why the department published in the schoolwide email that the suspect was "someone" and on their website, the warning described the suspect as "male or female." She said they received the information from the police report.
"Public safety isn't disagreeing with her. They are providing a description to bring in as many witnesses as they can. Public safety wanted the description to only include what they believe could be verified. It provides opportunity for witnesses to come forward using the description they had," Mai said.
Update Oct 3. 1:10 p.m.: Correction: Anthony Kelly was referred to as Public Safety Supervisor. Kelly was a supervisor but is currently an officer for Mt. SAC Public Safety.
Correction: The reference to the gender of the perpetrator reported by the female student and released Mt. SAC Marketing and Communications was referred to in this article as "false." The reference is "conflicting."
UPDATE Oct. 3: SAC.Media first contacted public safety at 10:50 a.m. on Oct. 2. A campus safety employee told the reporter that the newsroom would be contacted when an officer was available. At 1:10 p.m. the same day, SAC.Media made a second attempt to speak with Public Safety supervisor Anthony Kelly through the main public safety phone number. They were told he would be on campus at 9:30 p.m. At 2:40 p.m. a voicemail was left for Kelly, inquiring about the conflicting description of the perpetrator's gender and why a false description was released. The call was not immediately returned.
**************
UPDATE: Oct. 2, 3:40 p.m. – The student spoke with SAC.Media today to add details to her account. The student recalled that she observed the door being held open by a trash can. "The one thing I noticed was the bathroom door was propped opened before I went in with a trash can. I thought that was weird for a fleeting moment, but I also had to pee so I went in. I was watching a movie in class and knew I had to go before," the student said.
She said that all the other times when she had passed by it the restroom door was ordinary and unnoticeable.
"I remember at other times, it's closed. It's an easy bathroom to miss. This time, it wasn't easy to miss because it was open. That's my biggest observation. You'd think someone would be cleaning. No one had cleaned it. It was a mess."
The student said she had brought the observation about the door to the attention of Kelly. The student said she became "miffed" at that response from Officer Kelly.
"I told this to Kelly," she said. "He said something like, 'regardless if it was propped open or not, easy for someone to just to go in because you just push.'"
She responded to him and said, "If someone was trying to escape, it could be easier and make all of the difference to have it open. Are all restrooms always supposed to be closed? Should we be aware and alerted that it's propped open? The men's restroom wasn't propped open. I think I mentioned this to the sheriff but no one seemed to worry about that."
The female student was also concerned about the notice that was released by the Mt. SAC Office of Marketing and Communication this morning. She said there were two instances where the release conflicted with the statement she gave the officers. One of the descriptions was of the suspect's hair.
"I did not say it was shoulder length. I said it was long enough to see it flapping in the wind. I remember because the sheriff  [Branch] was bald and Kelly had cropped hair. It was not as short as the sheriff's hair, but not shoulder length and long enough to flap in the wind."
The student told SAC.Media how she contacted public safety after the incident.
She said, "I pushed one of the blue light posts near the design building, north of building 26. Three other females were there with me. Public safety responded within about three minutes. I was very upset. I had just ran and ran uphill. I was visibly upset. I was winded and crying."
When the officer arrived at the blue post, Kelly drove the student back down between building 26 and 17 until the sheriffs arrived.
The student went to gather her things from her classroom and notify her professor of what had happened, and returned to the public safety vehicle.
The student said the Walnut/Diamond Bar officer arrived two hours later.
The student returned to Kelly's vehicle. She said he gave her what public safety refers to as "tips." The student said that Kelly told her, "Next time use the buddy system, use a public escort."
The student said, "I don't need a campus escort to walk me to the restroom. I was mad."
The student recalled the small amount of students that were in class that night. She also thought about the comments Kelly had made afterward.
"There were only seven in the class in total at that time of night in class. On our break, one female student was eating and the other lounging. I could ask another female to accompany me, but this shouldn't be the only way to prevent this," she said.
The student said when giving the report to Branch, he looked around and asked Kelly, "There is no surveillance in the pathway from the restroom, is there?"
The student said that where she works, the company prides themselves on safety awareness and consistency and she is now looking at her safety differently due to the incident. She said she is "very hyper aware of my surroundings."
She added, "Where I work, they are big on safety and being aware of our surroundings. I'm struggling being "on" as a happy go lucky employee there, knowing there could be anything and anyone that could do anything they choose."
The student said she feels traumatized by the incident.
"I was very traumatized. Up until yesterday, I could say I was never harassed."
UPDATE: – Oct. 2, 2018, 10:20 a.m
On the evening of Oct. 1, SAC.Media broke the story of an incident where a perpetrator took a photo of a female student under a bathroom stall.
SAC.Media spoke directly to the female student at 9:30 p.m last night. She described details of what transpired during and after the incident. The story was published at 10:28 p.m.
The student disclosed to SAC. Media that the notice released to the campus by the Mt. SAC Office of Marketing and Communication "Newsroom," reported incorrect information.
According to the student, she reiterated to both the Mt. SAC Public Safety supervisor, Anthony Kelly, and Los Angeles County Sheriff Deputy Ian Branch who arrived on scene at 10:15 p.m., that the perpetrator was a male.
The email sent to students' portals also has a conflicting description of what was published by the Marketing and Communication department. In the email, it reads, "The student described the fleeing suspect as someone about 5-feet-5-inches to 5-feet-8-inches tall with a medium build…"
In the release on the Newsroom website, the sentence reads, "The student described the fleeing suspect as possibly male or female…"
The female confirmed today to SAC.Media: "I repeatedly told the responding security officer and to the sheriff department officer. I constantly used male pronouns."
**************
A female student was using the restroom in building 17 around 8 p.m. on Oct. 1 when a man entered the bathroom and took pictures of her with his phone positioned under the stall she was using.
The female student said, "I feel disgusted and violated and unsafe to even use a restroom at school anymore."
The student was on break from her 7 to 10:10 p.m. class. She left the stall and chased the male out of the bathroom to parking lot G and saw him drive away in a pearl white sports car.
She described the male as having a medium build and average height, possibly between 5 foot 5 inches and 5 foot 8 inches.
She added that he had medium length hair, long enough that she saw his hair flapping in the wind, and saw him wearing a T-shirt and dark pants.
The phone the male used was possibly a Samsung Galaxy in an OtterBox case with a colorful sticker on it.
She also reported that a woman heard her screaming about what the male perpetrator had done to her, and ran with her to try and identify him.
She added that a male witness said he "saw the guy take off that way."
Three other female students also saw the perpetrator's car take off and stayed with her until Mt. SAC Public Safety arrived.
The Walnut Sheriff's Department was called, but arrived two hours later at 10:15 p.m.
This is an ongoing story. Check back for updates.
Leave a Comment
About the Writer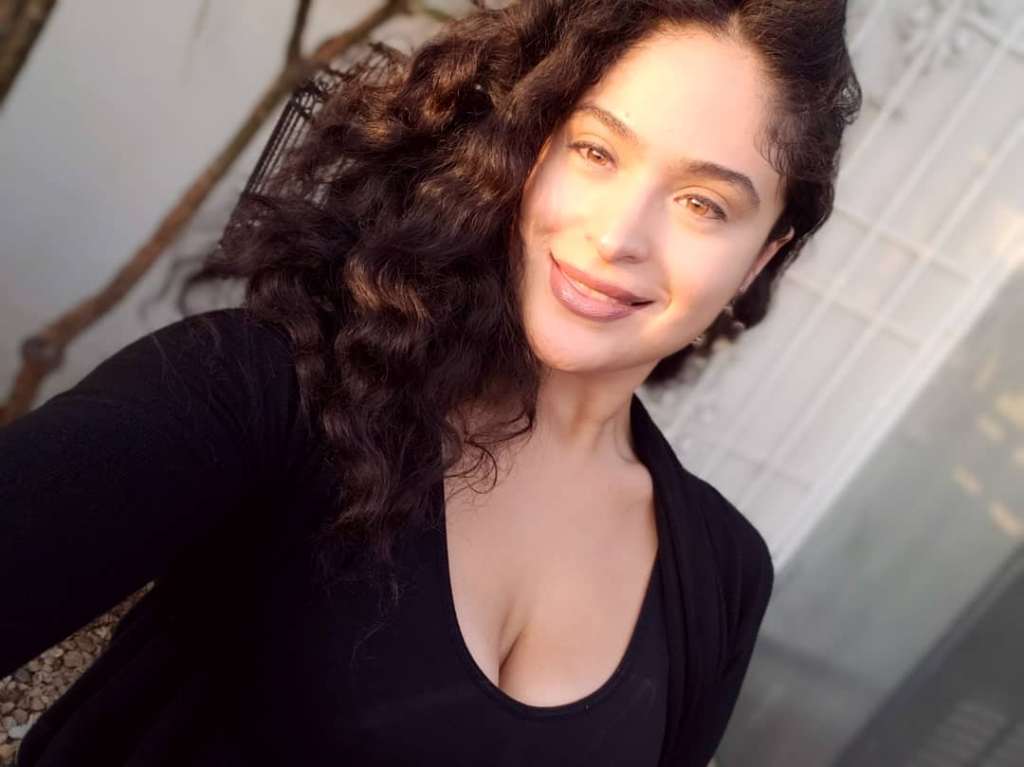 Brigette Lugo, Sports Editor
Brigette Lugo is the sports editor of SAC.Media. She is majoring in Spanish multimedia and her favorite things are The Smiths, family, and telling everyone she's Nicaraguan and Panamanian.