The Jolly Life: Rivalry Renewed
There were 30 teams that fought hard for 162 games this season and eight have emerged at the top of the pack. That means postseason baseball is finally here, and this year we are blessed with something that we have not been able to see since 2004. One of the greatest rivalries in all of professional sports will be renewed in the American League Division Series when the New York Yankees face the Boston Red Sox.
"Sierra Burgess Is a Loser" has made me very uncomfortable. Alot of people are saying it's not a big deal the whole kiss scene, and many other aspects of the movie. This kiss scene is a big deal because they stripped his consent away from him. Consent is important in both genders

— Lorhena V-Lopez ☾ (@LorhenaVLopez) September 13, 2018
An entire story can be written on conflicts and fights between these two teams, but I am going to focus on team stats and a few players from each team. I will list who I believe will be key to their respective teams success in this series. Whether you are a bettor or a fantasy player, this comparison should be of use to you.
Hardest HRs in the MLB postseason since Statcast's intro in 2015
1. Stanton: 117.4 mph, tonight
2. Judge: 116.1 mph, also tonight#Yankees pic.twitter.com/O5EutuGhhC

— David Adler (@_dadler) October 4, 2018
When it comes to offensive team stats, the Red Sox seem to have a clear advantage. They locked down the best record in the majors this season at 108-54 and came in first in many team categories. It doesn't matter that much, however, since the Yankees came in a close second in a few of those categories. New York also lead the majors in home runs. There was a record amount of home runs hit in last years postseason which leads me to consider this stat a little bit more than normal. That means Boston really only holds a batting average and number of hits advantage over New York.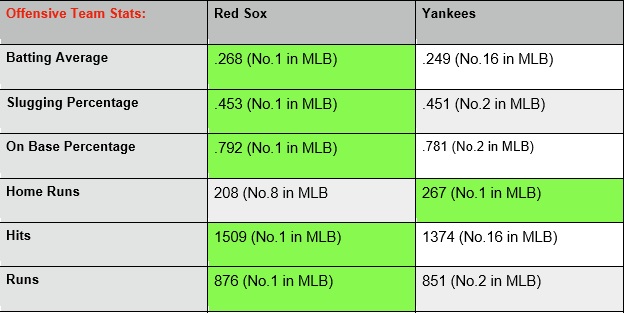 The winner of our 50th Player of the Year award is @mookiebetts of #RedSox Picked 1st on 12 of 15 ballots of blue-ribbon committee of longtime baseball observers – writers, broadcasters, former players and executives. No other player had more than one 1st place vote. #APImages pic.twitter.com/B8YifbdZRW

— Baseball Digest (@BaseballDigest) October 4, 2018
Mookie Betts and J.D. Martinez have vaulted the Red Sox stats up to the top with their performances this year. Martinez also became the only Red Sox player since David Ortiz to hit 40+ home runs in their first season with the team. In the following charts against some other Red Sox and Yankees players you can see they really stand out with the best stats of the groups. This makes me think that the Boston bats will get the job done against the Yankees.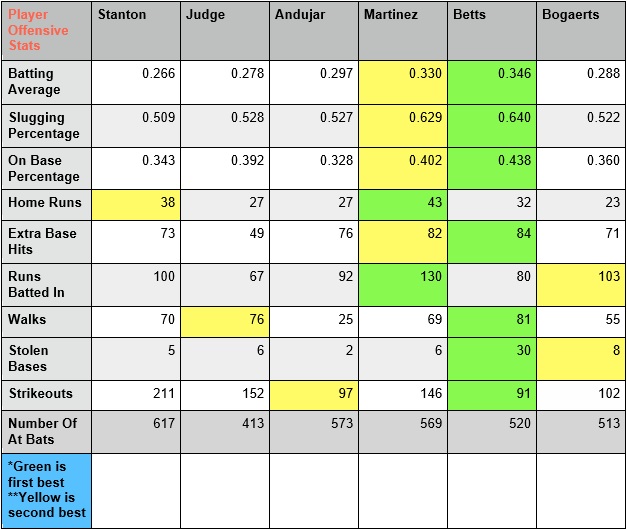 These charts also reveal the lack of consistency in Giancarlo Stantons game. His first season with New York has been anything but what they had hoped for. He still hit a good amount of home runs, but had the second highest number of strikeouts with 211. His batting average and slugging percentages just were not what they were last year and not what was expected in pinstripes. This by no means takes away from the damage that he can do at the plate. He is a powerful and dangerous hitter no matter
what in my book.
"If I take the mound I expect to win. I don't care what I have on a given day…. I expect to win."
-Game 1 #RedSox starter Chris Sale pic.twitter.com/zPpeAdsjOf

— Tom Caron (@TomCaron) October 4, 2018
Starting pitching seems to be a good match up. New York just used Luis Severino in the AL wild card game against Oakland on Oct. 3, so he will not be available until late in the series if needed. Looking at team starter stats, the teams have almost equal starting pitching. I think it will come down to who is having a good day or a bad day on the mound, and whose offense gets hot. Post season ball is all about the team picking up steam. You can see some of the predicted starter stats in the following chart to see the similarities and how Chris Sale shines above the pack.
Relief pitching is a major concern to many Red Sox fans. Bostons bullpen has been
extremely unreliable and brings concern going into the postseason against a team like
New York. Even though Boston's bullpen has given up three fewer homers than New
York's bullpen, they still have a worse ERA and batting average against them than the
Yankees. Boston's bullpen holds a 3.72 ERA and .235 batting average against. Those
go against the Yankees 3.38 ERA and .221 batting average against them.
Game calling will be difficult this series. There are many players that will be important to
their teams success. Other players to watch would include: Andrew Benintendi, Ian
Kinsler, Mitch Moreland, Aaron Hicks, Brett Gardener, Andrew McCutchen, and that's
not including pitching. There is no shortage of talent here.
14 years later, #TheRivalry and October collide again. pic.twitter.com/C4a8Ox0Ext

— MLB (@MLB) October 4, 2018
Tensions will be high no matter what ball park these games are played in. A lot of
emotion will be shown from the players and fans alike as this rivalry goes beyond the
field and into the stands and fan base. There will be plenty of action to see since these
games are normally over three hours long.
Ill take the team with the best record in baseball and home field advantage here. They
also have some of the hottest hitters in the league this season. I would argue the AL
MVP in Rookie Betts as well. I know that the Red Sox have struggled against the
Yankees and the Yankees are mending themselves from injury, but I have watched the
Red Sox play a lot of fun baseball this season. This may seem insignificant to some
analysts, but I have noticed that teams who are having the most fun on the field seem to
be the team who is winning. I know I am biased being a Red Sox fan, but I keep my bias
away from my money. Keep an eye on the lines for each individual game as there may
be some lucrative ones. Live betting will be a major benefit in this series as well for the
over/under bettors.
Tweet me @travisjepeway for any questions on these games this series and for
recommendations on individual game lines and live lines. Live betting is where most of
my money is made and I plan to make some money this series. Good luck!
The Jolly Life Recommends: Series – Boston Red Sox Moneyline (-150)
Leave a Comment
About the Writer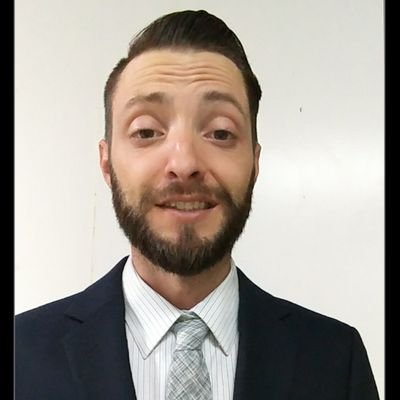 Travis Jepeway, Author
Travis Jepeway is a sports columnist and senior staff writer for SAC.Media. He is a student at Mt. San Antonio College studying journalism.