Pass Go, Collect $750 Million
Measure GO has passed with 100 percent precincts reporting with 78,943 votes. "No" votes totaled 50,859.
Measure GO is a $750 million dollar bond that will cost property owners $25 for every $100,000 in assessed value. The bond is for repairs and improvements to facilities. These include upgrading classrooms, repairing utility lines, repairing walls, removing asbestos, improving safety and access, and expanding programs. The final fiscal year that the tax is estimated to be collected is 2057-58. Educational and Facilities Master Plan includes details. Find the project list here.
President and CEO of Mt. SAC Dr. Bill Scroggins was pleased with the passage of Measure GO. He said he felt, "elated, and added that "Measure GO is an important piece for the next 15 year future of the college to be able to modernize the college's buildings and to be able to meet the educational needs of the community. Very grateful to the voters that they saw the values in the proposal," Scroggins said.
When it comes to the opposing side of Measure GO, Scroggins said he respected their voices when it came to the vote.
"The opportunity to express themselves through the ballot box is an important element of our democracy, so I think across the spectrum, voters spoke about what they expected the nation, the state, the region to look like and they were supportive of the vision we had for the future of Mt. SAC as a total electorate."
Scroggins added that regardless, he hopes the opposition is on board to help GO move forward.
"As it would be in any democracy, when the people have spoken, we come together to carry out the will of the people and I expect the community to be similarly involved in helping us going forward, regardless of the opinion on the matter. That they'll be involved in helping it be implemented effectively."
Scroggins said he believes that taxation is a means that the constitution gives to the people to provide for the common good.
"I support the ability for the people to oppose taxes on themselves; That's how we make this happen," he said. "I think my responsibility as the leader of the institution is to make the case that this is a good investment for our state and our region and I think the voters have agreed with that."
The student center was proposed on the previous Measures R and RR and has yet to have been built and was included in GO's plan. Scroggins said that the student center included in GO is underway:
"The student center architectural design and planning is already under way. The architectural costs are being paid for with measure RR so one of the promises of Measure RR, which was dependent a lot on having state money, was to build that center. So we're using money from measure RR to have a leap forward with the student center so we were able to share that with the student leadership here."
He said that students were in involved with the design.
"We have a design book that many students were involved in the design of the facility so it's nice to be able to have the construction money from measure GO to compliment the design money from measure RR," Scroggins said.
According to Scroggins, the oversight committee will be appointed by the Board of Trustees and the way they are chosen falls into the requirements of Proposition 39.
Scroggins said there's a  host of protections in Proposition 39. He explained:
"There's a citizens oversight committee that's handled this with each bond going forward. The board will be appointing members to that citizens oversight committee. The citizens oversight committee receives annual board of trustees financial audits and compliance audits to ensure the money is accounted for and used within the scope of what was authorized by the voters."
He added the process has not changed and was used under previous measure. "It's the same process that has been in place for the last two bonds, and will continue the same degree of compliance and transparency as we provided previously… As we did before, we will be sure that the rules of the citizens appointed will follow the guidelines with the requirements in proposition 39. There's an application process that will be opened again and there's an opportunity for anyone who's a resident of the district to be appointed."
Shadiyah Omar, president of Associated Students, said she was ecstatic about Measure GO passing and said AS work will continue to make sure GO meets its fruition.
"All of our hard work has been now taken to the poll and voted on for a strong yes. Sixty percent voted yes, so we're really excited to see the Master Facility plan take its initiatives and we're not gonna stop there," Omar said.
Omar added, "We're going to make sure we advocate on its fruition and that all members are on the same page. We are very excited as an institution. As an organization, we were the largest donors for measure GO so we are really happy. We dedicated the entire first semester on getting people to register to vote."
Some residents in the surrounding communities were just as elated at the passage of Measure GO.
Joseph Tessier, an IT Administrator for the WIC program said about Measure GO passing, "Giving a little to help improve our local educational institutions is never a bad idea. I'm all for what helps the greater community as a whole. Education is a priority."
Another supporter and West Covina resident Eric Becker said, "This is a measure that ensures that Mt. Sac will have the funding to modernize facilities and continue to provide a quality education to a student population that rivals that of major universities now and in the future. Yes, it is another bite out of the financial apple for the community. But the long-term benefit is a top-notch community college producing top-notch leaders for decades to come."
Some residents like Adriana Ibarra Padilla and Ana Montane-Munoz are cautioning Mt. SAC to do right by the community and the campus.
"Based on the history of bonds, please be responsible with it and make this happen, Padilla said. "We will be looking into the board and making sure the money is going to where this is supposed to. Trust me. People get sick of helping."
Montane-Munoz was cautious as well.
"I hope that the mismanagement that occurred last time does not happen again," Monatane-Munoz said. "The citizens have spoken in your favor. I hope you do right by them this time."
Some faculty members also voiced their disapproval.
"Mt. SAC certainly needs a regular infusion of voter-approved bond funds to meet infrastructure needs. Measure GO, however, is not that bond, and this administration and Board of Trustees cannot be reasonably trusted to use $750 million of residents' funding to meet those college needs," Longtime English Professor and Art History Adjunct Professor Thomas Edson said.
Some residents of the districts that were eligible to vote on the measure were not happy with the result.
Sue Oldham Augino, a West Covina resident, said that Mt. SAC has to stop depending on bonds because taxpayers cannot afford it. She explained:
"I have six bonds on my taxes right now that will follow this address for 35 years. Between taxes and bonds it's becoming unsustainable to live in California. Idiots keep passing them so until you stop feeding the cats they will always come. I already give $244.88 to Unified Schools and $150.95 to community college every year. I don't have a choice when to stop paying them."
Oldham Augino added, "Mt. SAC Academic Census for 2017-2018 is 29,960. That's a lot of votes and yes they did register and vote on campus. Seems unfair for sure."
Sarah Beth McHargue Love, is a financial analyst that specializes in pharmacy and the founding member of West Covina Insider Facebook page, a page available for West Covina residents to "express ideas and post information about current issues involving the city of West Covina as well current events." She initially shared on the page that Yes on GO Facebook page was deleting comments from people who opposed the measure. The news story SAC.Media wrote that was shared on Yes on GO by news editor Joshua Sanchez, was also deleted.
McHargue Love shared her thoughts on GO and previous measures as well. "This is the third bond they have passed since 2001. They have squandered the money every single time. This is a huge bond."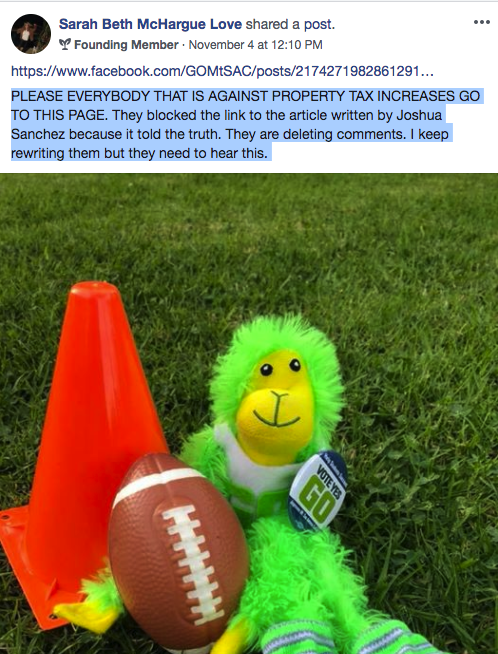 Steve Bennett, an administrator for West Covina Insider, said about comments being deleted on the Measure GO page, "The campaign blocked and deleted people and comments who opposed the bond. Pretty sleazy tactic and proves the reason why people don't trust the election and debate process."
The website GoMtSAC.org, built for support and information on the measure, states a group called "Friends Of Mt. SAC" organized the page and, "Major funding provided by the Mt. San Antonio College Foundation and the Associated Students of Mt. San Antonio College." Friends of Mt. SAC also ran he Facebook page Yes on Measure GO.
SAC.Media called the phone number listed on Yes on GO Facebook page today. The phone number connected to Denise Lindholm, field director for Yes on Measure GO. Lindholm said that she had no information on who is behind the group "Friends of Mt. SAC." Lindholm added that "Friends of Mt. SAC" is the same group and name that was used for Measure R and RR support. She suggested SAC.Media contact the college president or the campaign director for Yes on Go.
In an email sent to Director of Marketing and Communication Uyen Mai and Director of Public Affairs Jill Dolan about any details on "Friends of Mt. SAC," Mai responded, "Friends to Improve Mt. SAC is an outside organization that helped support the college. You'll need to work with that organization to get all your questions answered," and referred SAC.Media to the email [email protected] SAC.Media  contacted the email listed on the Facebook page, [email protected] on Thursday and have yet to receive a response.
SAC.Media also left a voicemail for Director of Public Affairs Jill Dolan on Thursday morning. The call has not yet been responded to.
Leave a Comment
About the Writer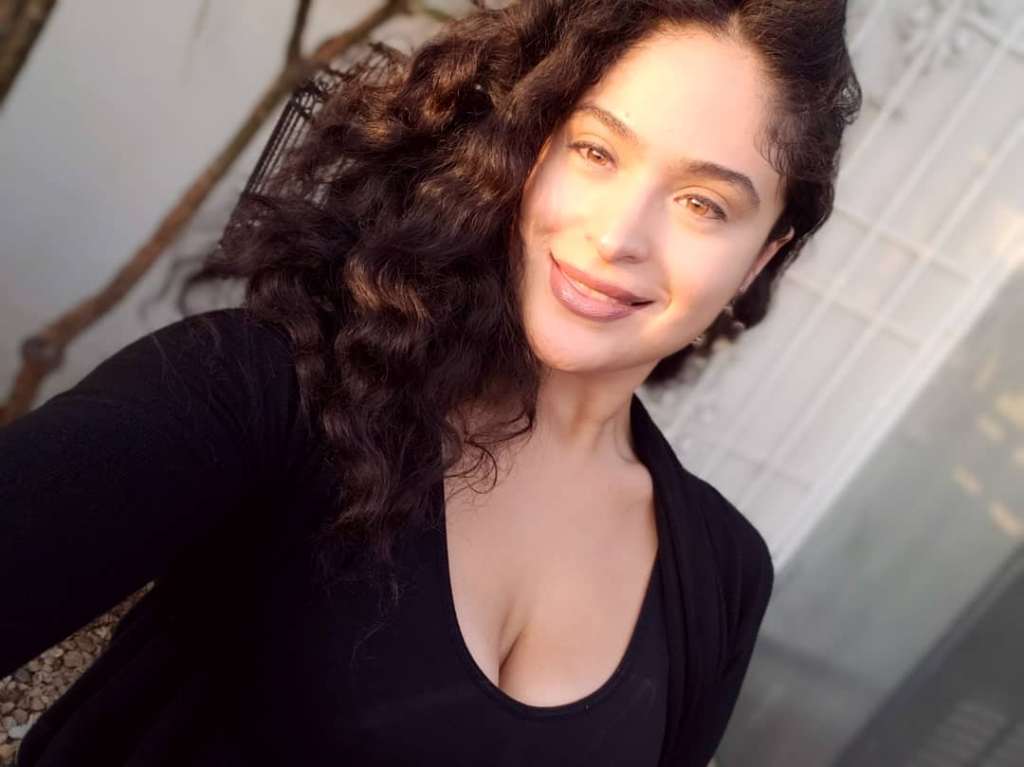 Brigette Lugo, Sports Editor
Brigette Lugo is the sports editor of SAC.Media. She is majoring in Spanish multimedia and her favorite things are The Smiths, family, and telling everyone she's Nicaraguan and Panamanian.