Cultural Identification Marked With Ink
With a single needle dipped in burnt paper in water poked on the skin of a Mexicano inmate marks the everlasting style of Chicano style tattoos. Mexican Americans preserved their culture by marking their identity through black and gray tattoos. At the Museum of Latin American Art, the exhibition called Ink: Stories on Skin displays multiple histories of several different local tattoo influences of Long Beach, the Pike Amusement Park district, the US Navy and LA Chicano culture and tattoo art.
Focusing on one of the influences, Chicano style tattoos have made a worldwide impact on tattoo art. Stories behind the tattoos have been passed down to generations to come about the struggle and strife Mexicans have faced while coming to America, all while keeping their identity. Through videos, photos, flash art, and commentary, this exhibit shows how tattoo art began.
Despite being segregated by Anglo-Americans in the early 20th century in higher education and improvement of socio-economy, Chicano style tattoos have a significant influence on tattoo art till this day. Mexican Americans stood their ground and wore their roots and culture on their chest popularizing tattoos alongside sailors during WWII. Chicanos created a trend of intricate styled portraits of cartoon characters, lifestyle portraits, and Old English writing that have been adopted by many other cultures. They permanently sent a message to Americans that their people were here to stay for a better life through tattooing their values of religious beliefs, neighborhoods they came from, and pride of their roots.
Brown, Proud, and Mexican
The Mexican-American community is shown through photos where they develop their own style. Since the 1940s during the Zoot Suit era of Pachuco and Pachucas, they would tattoo their skin to solidify their culture. They also developed a specific style of wearing flashy suits despite their impoverished upbringing. In the 1970s, the cholo and chola subculture continued to express their struggle in poverty, the working class, and gang violence with creased pants, white tank top undershirts, and bandanas around their heads. The "joint" styled tattoos were gratified by these communities. The exhibit hangs photos of multiple cholo gang members being tattooed in one room, symbolizing the initiation of gang affiliation. Nonetheless, their stories were told time and time again as the evolution of tattooing became a representation of who they were.
The Idea Behind the Tattoo
The first art display in the exhibit is a cut out painting of a tattoo gun hung above six Loteria cards inside of dripped-like cut outs. The art piece is called "Drops of Life" and was made with oil paint on wood by Mat Hurtado in 2017. The different Loteria cards have a brain, a hand with the female symbol in the palm, a Phantom of the Opera mask, a Grim Reaper skeleton, a gunshot, and a person dressed as half woman and half man. Each drop represents one of six participant's stories in the "Our Stories" section in the exhibit where participants were chosen to be tattooed live on video from six expert tattoo artist. Each person dealt with their own struggles including death, gender differences, and violence that fueled the significance of their individual tattoos done by these artists.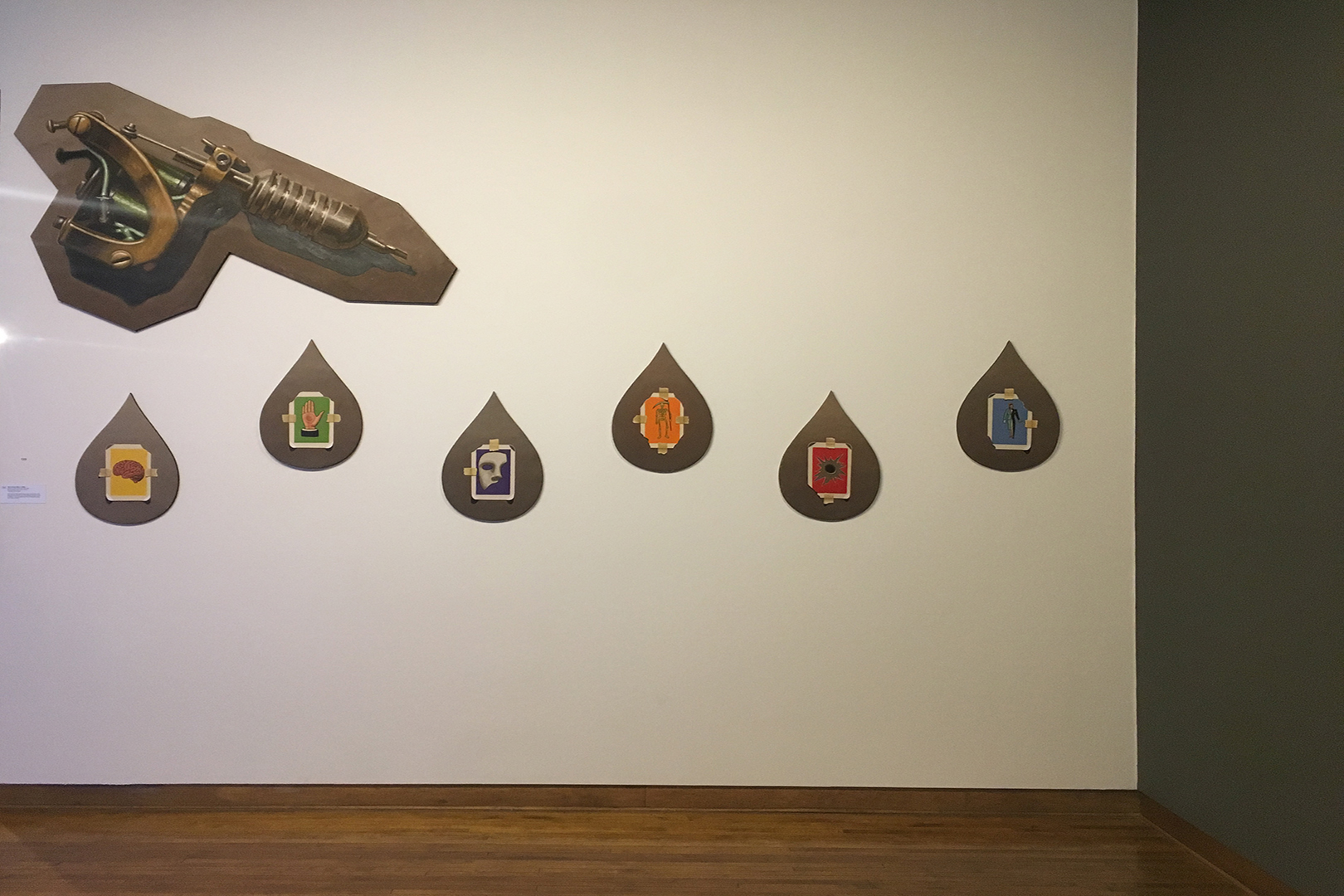 Walls filled with Culture
Wall-to-wall of an entire room is filled with the classic Chicano tattoo artwork done by over 40 different tattoo artists. Just as they are displayed in a tattoo parlor, the different tattoos are shown and numbered to identify and credit the artist who created them. The captivating black and gray artwork memorializes common Chicano art pieces such as unclothed curvy women with Mexicana features, a cartoon duck leaning against a Whittier Blvd. street poll, and the infamous smile now, cry later drama masks.
Jailhouse Blues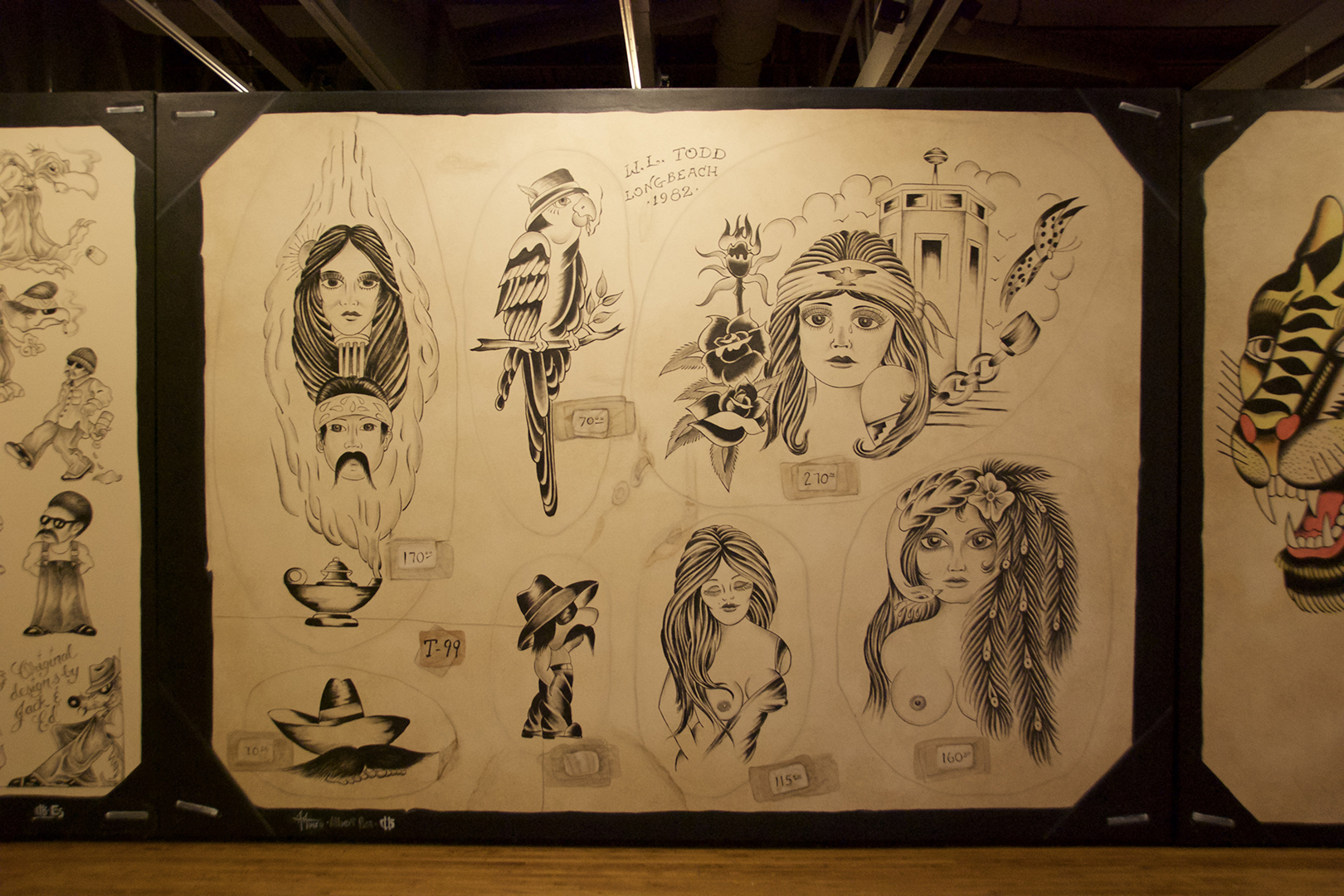 In the earlier stages of tattooing, the development of Chicano style tattoo art was created by prisoners. Since they had so much time on their hands, this time gave them the opportunity to create and express their identity through tattoo art representing their family ties, religious beliefs, gang culture, and loyalty. Prisoners were stripped of their clothes, belongings, and everything they loved to be stuck in a cell.
"The people incarcerated created their own symbols and when they came out of prison people on the streets of LA started seeing it and they were amazed because this style of tattooing was very realistic," Carlos Ortega, the museum exhibition curator of collections said.
The intricate designs of Aztec Gods with detailed armor and Old English lettering of their neighborhood gang would be blasted on their stomach, representing their initiation to this gang forever.
Up until the 1960s, tattoos were hand poked. Once cassette players were invented, it made it possible to use the electric motor to create a hand made battery-powered tattoo machine. Different styled tattoo guns are shown causing a gut retching feeling of dread from the small untrustworthy old styled gun.
Because tattoos were not allowed in prison, they used products around their cells and would trade tattoos for goods. The black and grey styled tattoo went from prison, to the streets of East Los Angeles and eventually made its way to mainstream tattoo artist. Through the looking glass of the exhibit, prisoners' tupperware is on display that was designed with a needle dipped in shoe polish. With just time, creativity and pride of their people, these prisoners made detailed artwork that lasted longer than the amount of time they spent in prison overall.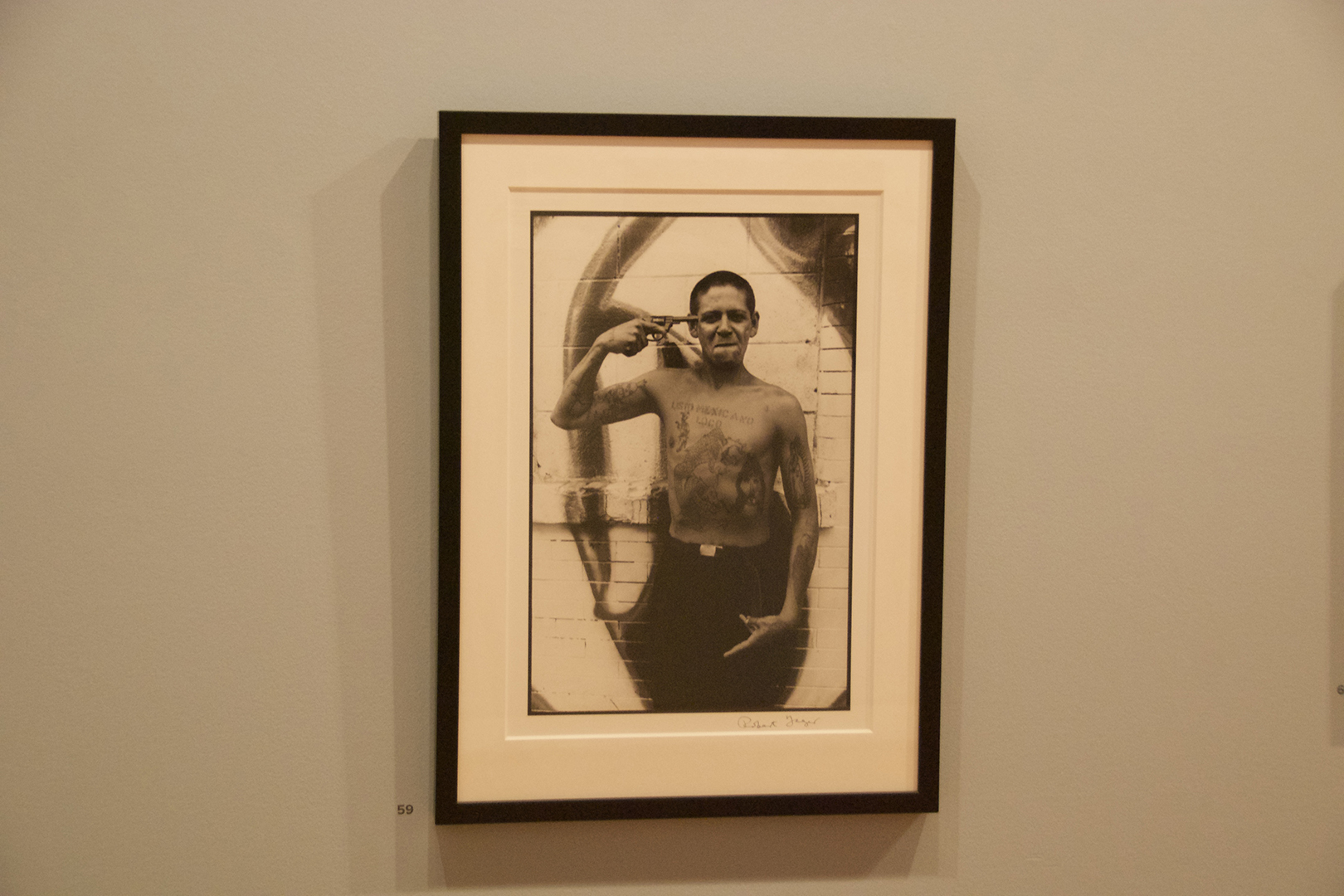 The exhibition will be going on through February 2019. The hours are from Wednesday through Sunday from 11 a.m.- 5 p.m. and Thursday has extended hours until 9 p.m.
Leave a Comment
About the Writer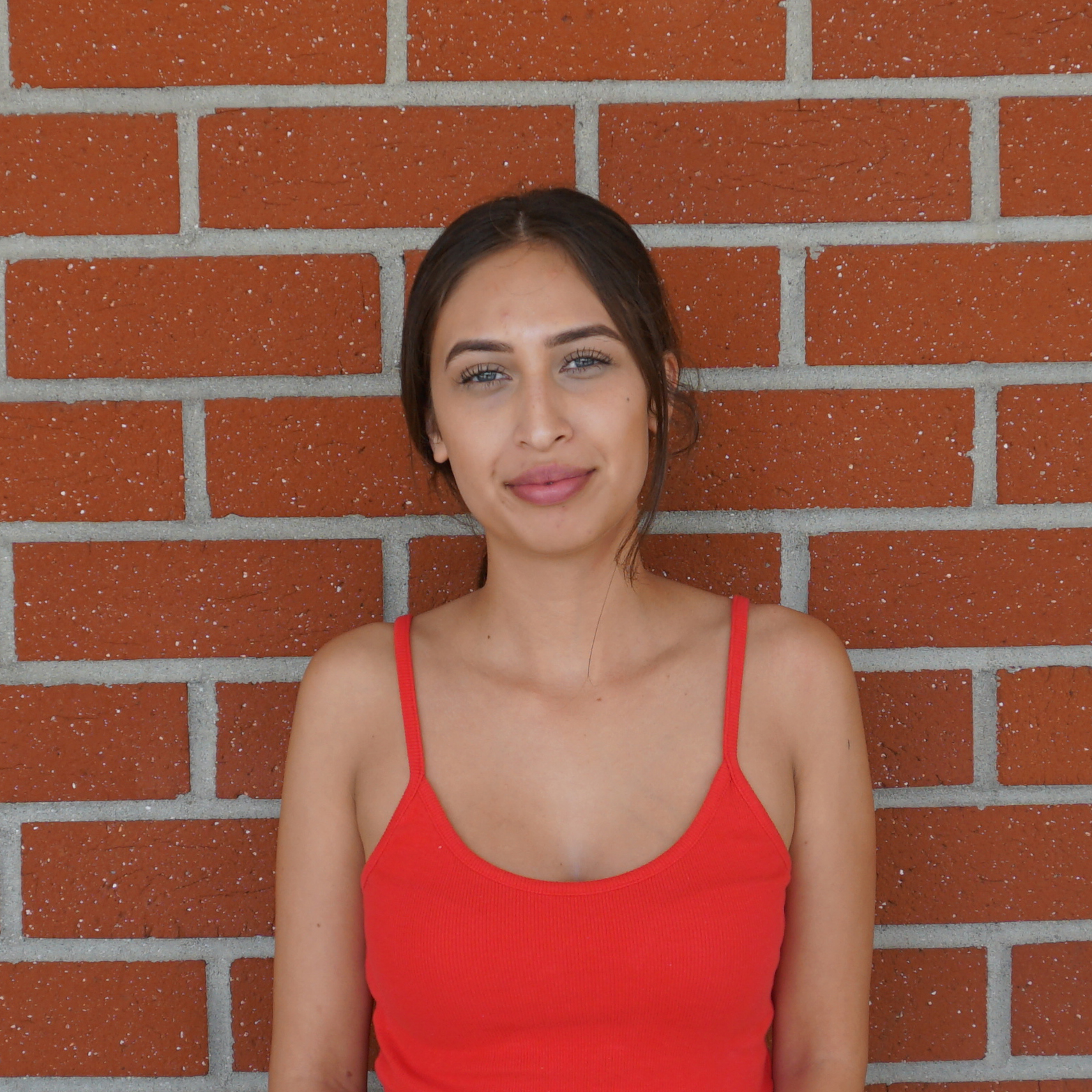 Jacquelyn Moreno, Author
Jacquelyn Moreno is a beat editor covering the art scene for SAC.Media. She is also a senior staff writer for Substance Magazine.