Given Space Without Occupying It
At the Hauser & Wirth Gallery in the Arts District of Downtown LA, there are multiple exhibitions featuring artists from around the world. One gallery amongst the rest occupies three different areas of the indoor and outdoor presentation that features Alexander Calder, who was an abstract sculptor that uses steel, paint, rods, and wire.
Calder was one of the most influential artists of the 20th century for his invention of the three dimensional mobile, stabiles, and standing mobiles. In the gallery are Calder's variety of small models called maquettes and large scale mobiles.
These abstract sculptures are in the South Gallery, courtyard, and garden within Hauser and Wirth. Calder's versatility in envisioning steel mobiles have transformed his sculptures into different types of artistic outlets such as carved figures, oil paintings, works on paper, furniture, and jewelry.
Calder's theory of art focused on the existence between form, masses, and gravity. His steel mobiles are tangible enough to subsist within space using his expertise in architecture while coexisting with natural elements around it.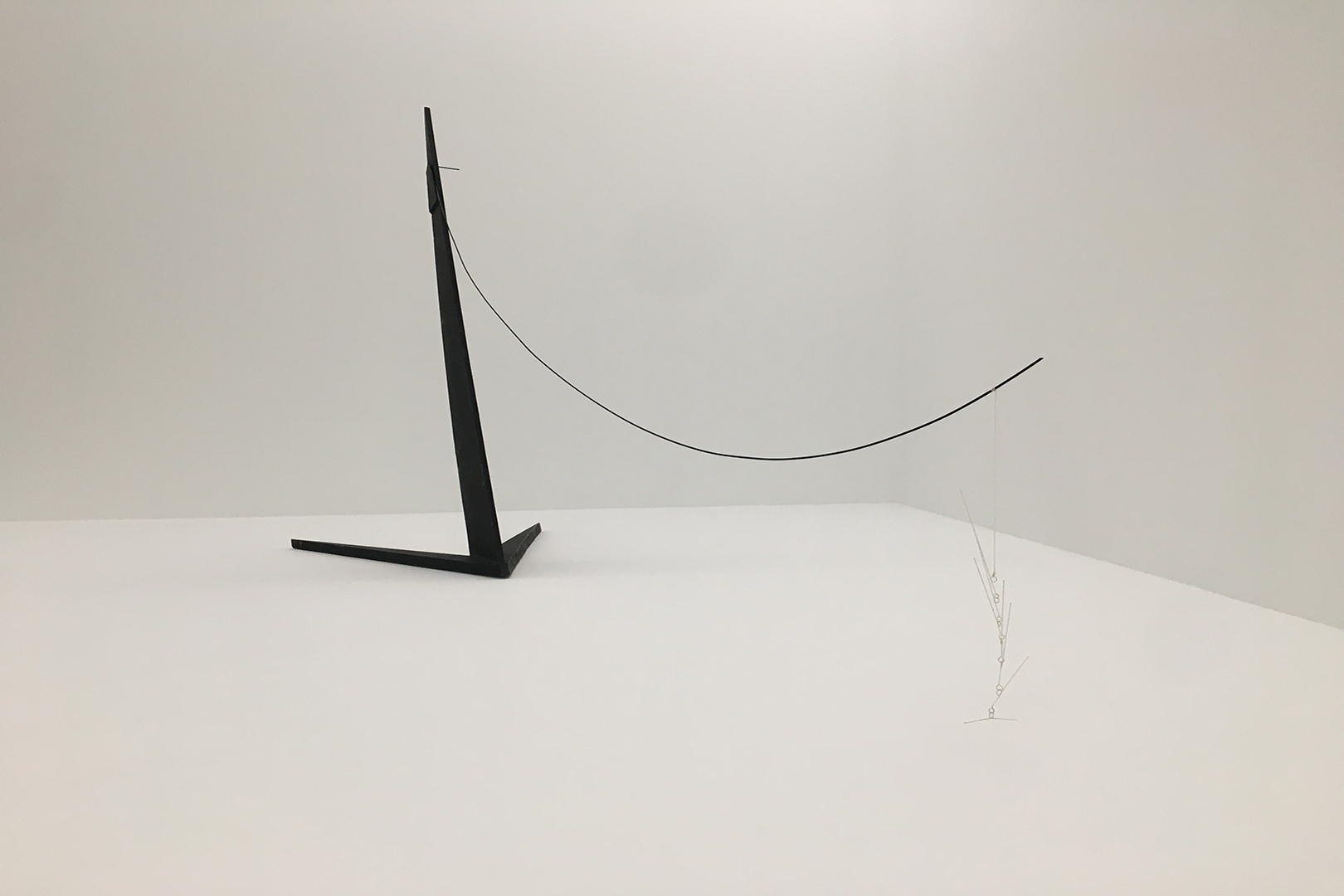 The gallery's name comes from an essay written in the early 1960s by James Jones who viewed Calder's sculptures in France.
"[Calder] is willing to believe equally in a nonspace as well as in space," Jones said.
"Because of this his stabiles, and his mobiles as well, are able to fill a given space without occupying it," he said. "He has taken a given space and, by molding beautiful elements of steel around it, caused it to become non-space."
The 30 different stabiles, mobiles, and standing mobiles in each location in Hauser and Wirth are intricately designed by architect Stephanie Goto who is part of the Calder Foundation. Goto created the platforms and arranged the lighting to exclude shadows and focus on the sculptures.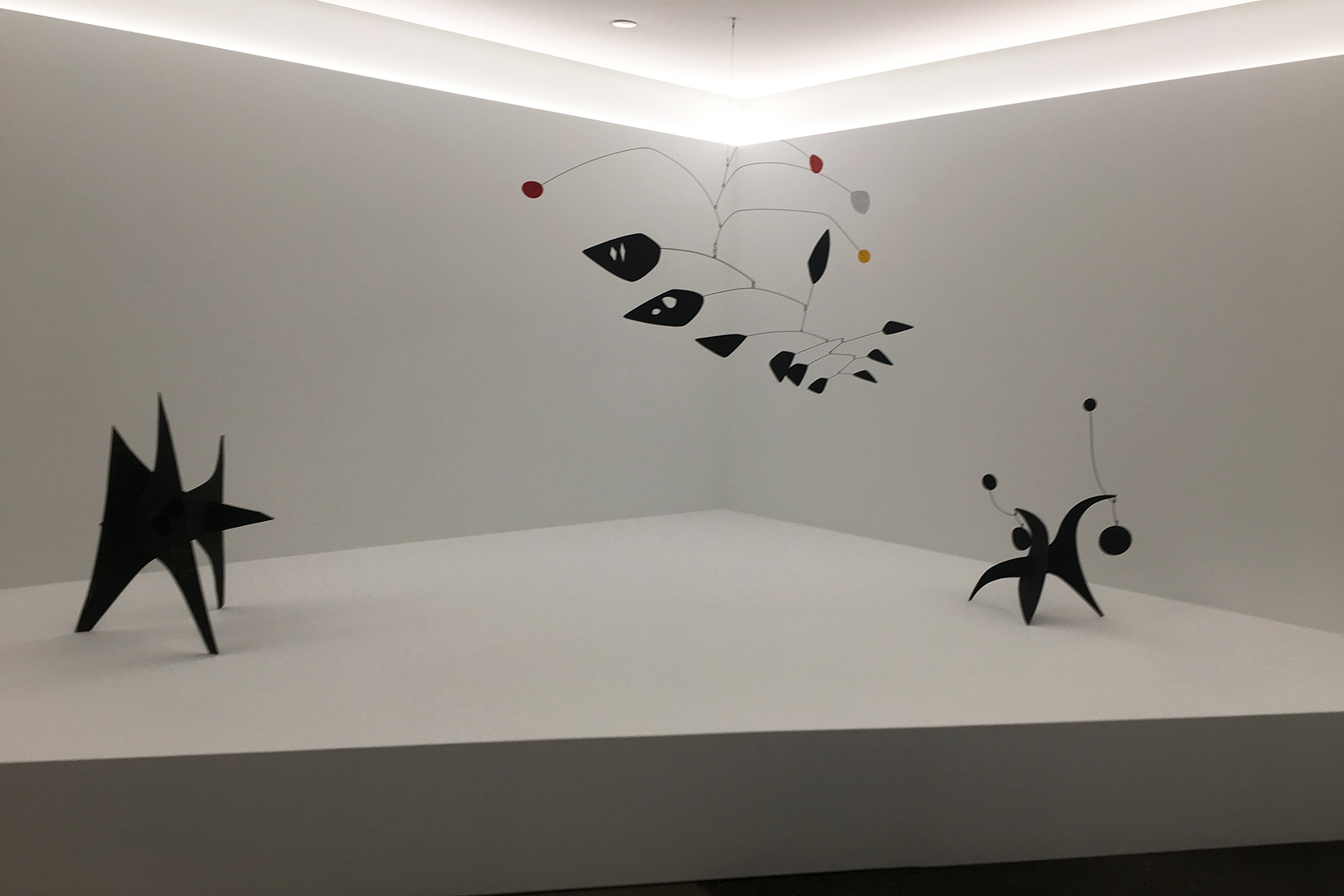 Entering the indoor South Gallery, the entire walls are sterile white. Many of the sculptures are untitled, suggesting that Calder wanted viewers to focus on the essence and form of the sculptures rather than the meaning of a name. The embodiment of the sculptures inside are as if they hold no weight, even though they are made of steel.
The profound mobile that was the basis of modernist sculptures of the 1930s was called "Untitled" and emulates the deep black paint with hints of red, yellow, and white. This mobile is hung from wire and made of steel, but has moderate movement with a slight gust of air.
In his later artwork, he created a large mobile called "3 Segments." This mobile encompasses Calder's naturalistic use of gravity, space, steel, wire, and paint.This large scale mobile hangs from the top of the ceiling with three unison patterns of circles and severed ovals creating the illusion of fading away. The entire mobile is connected with exactly three rods and patterns connecting the entire piece.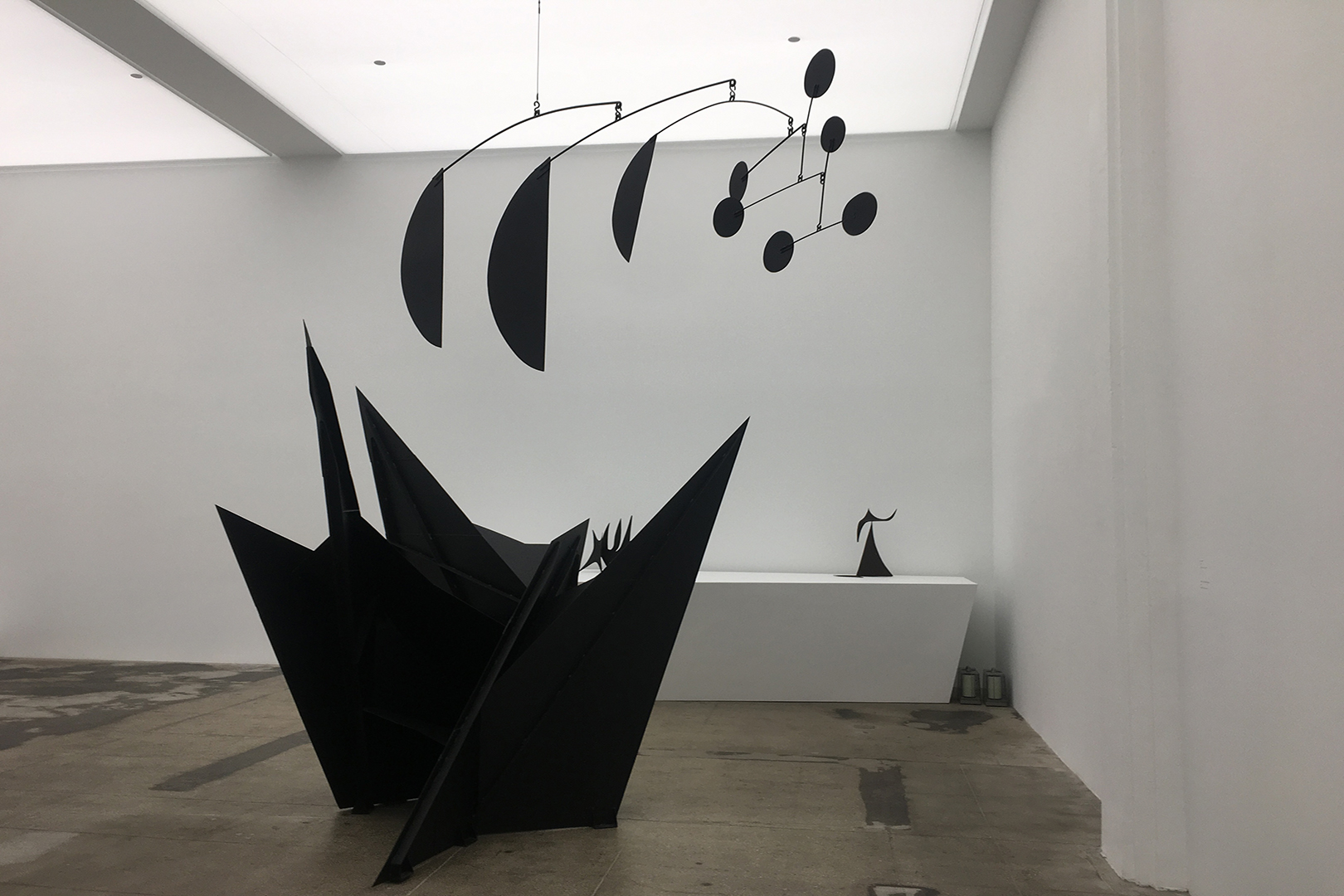 In some instances, some of the manequettes were used as templates for his large scale sculptures such as "4 Planes in Space" and "The Tall One." In the courtyard of the gallery stands over 20 feet tall is the mobile "Feuille d'arbre."
During the 1930s, Calder's lived in Roxbury, Connecticut with a mass amount of land inspiring him to create outdoor sculptures. With these large scales mobiles, Calder was able to fulfilled his theory of art using gravity and the natural environment around him.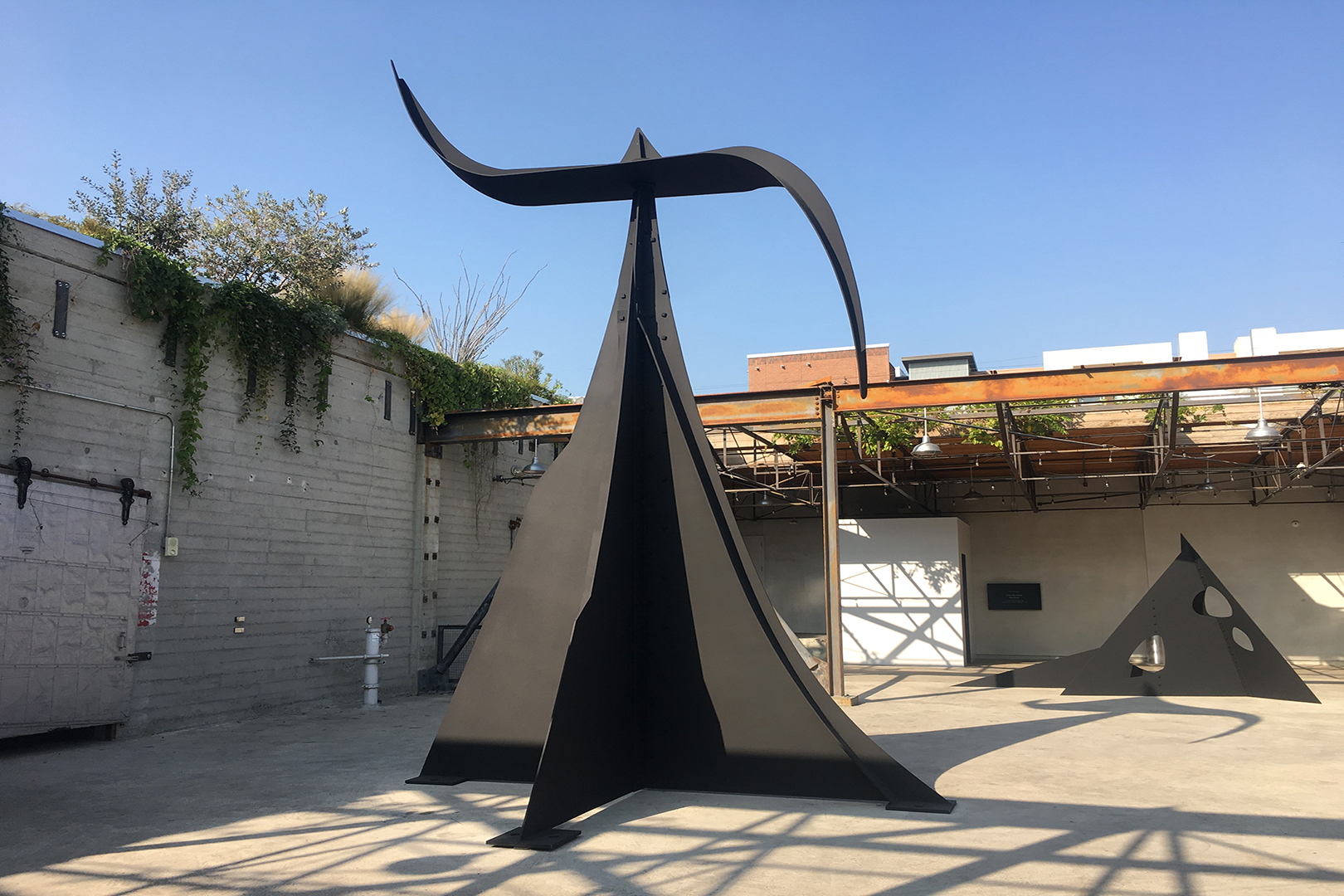 Calder's gallery is opened daily at Hauser & Wirth Los Angeles Tuesday-Sunday from 11 a.m.-6 p.m. until January 6 2019.
Leave a Comment
About the Writer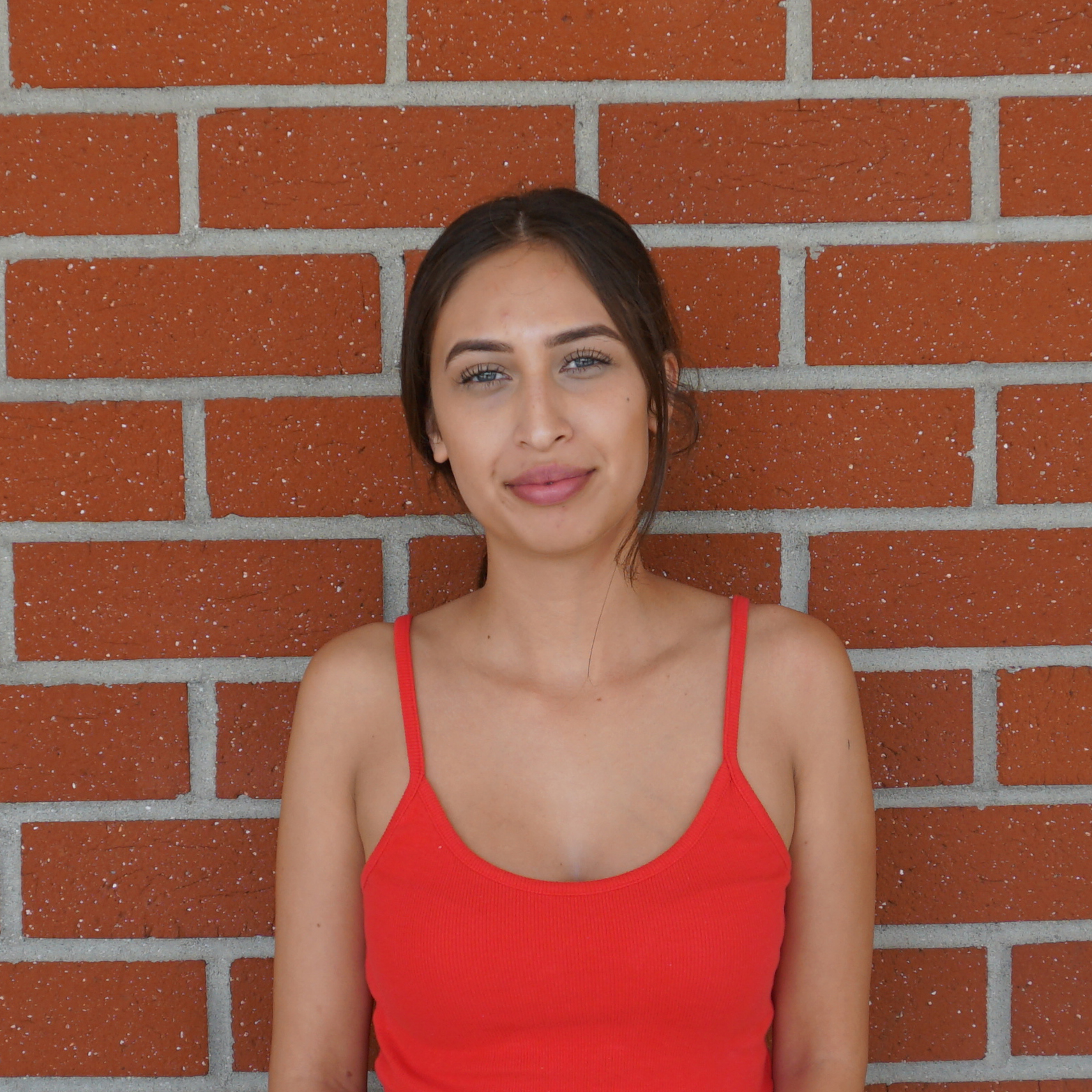 Jacquelyn Moreno, Author
Jacquelyn Moreno is a beat editor covering the art scene for SAC.Media. She is also a senior staff writer for Substance Magazine.