Flenniken Makes His Mark
The Mt. SAC football team was on a roll to start the season. Their record was 4-1 and they scored at least 43 points in every single one of their wins, then things went downhill. The team lost their next three games, with turnovers being a big issue.
"We just had a lot of turnovers.  There were a lot of close games," Dylan Flenniken said of the team's struggles down the stretch. "I don't think that any team really beat us straight up, we more beat ourselves. I would say we got a little too confident with the good start that we had."
Now at 4-4, with their starting QB injured and needing a spark, the team turned to Flenniken, who had been the third-string quarterback for much of the season. He would deliver a thrilling overtime win in his first start and then made the last game interesting after being down by as much as 27 points. His ups and downs mirrored those that the team went through for most of the season.
It can be tough knowing that you are a third-stringer, the backup to the backup. "It was kind of hard to stay motivated, stay focused," Flenniken said. "I was working out every day from February until the season when it looked like I was going to get little, if any playing time. I just stayed focused and kept working hard. I was acting like the next game would be next opportunity, and eventually that did happen. I ended up getting my chance."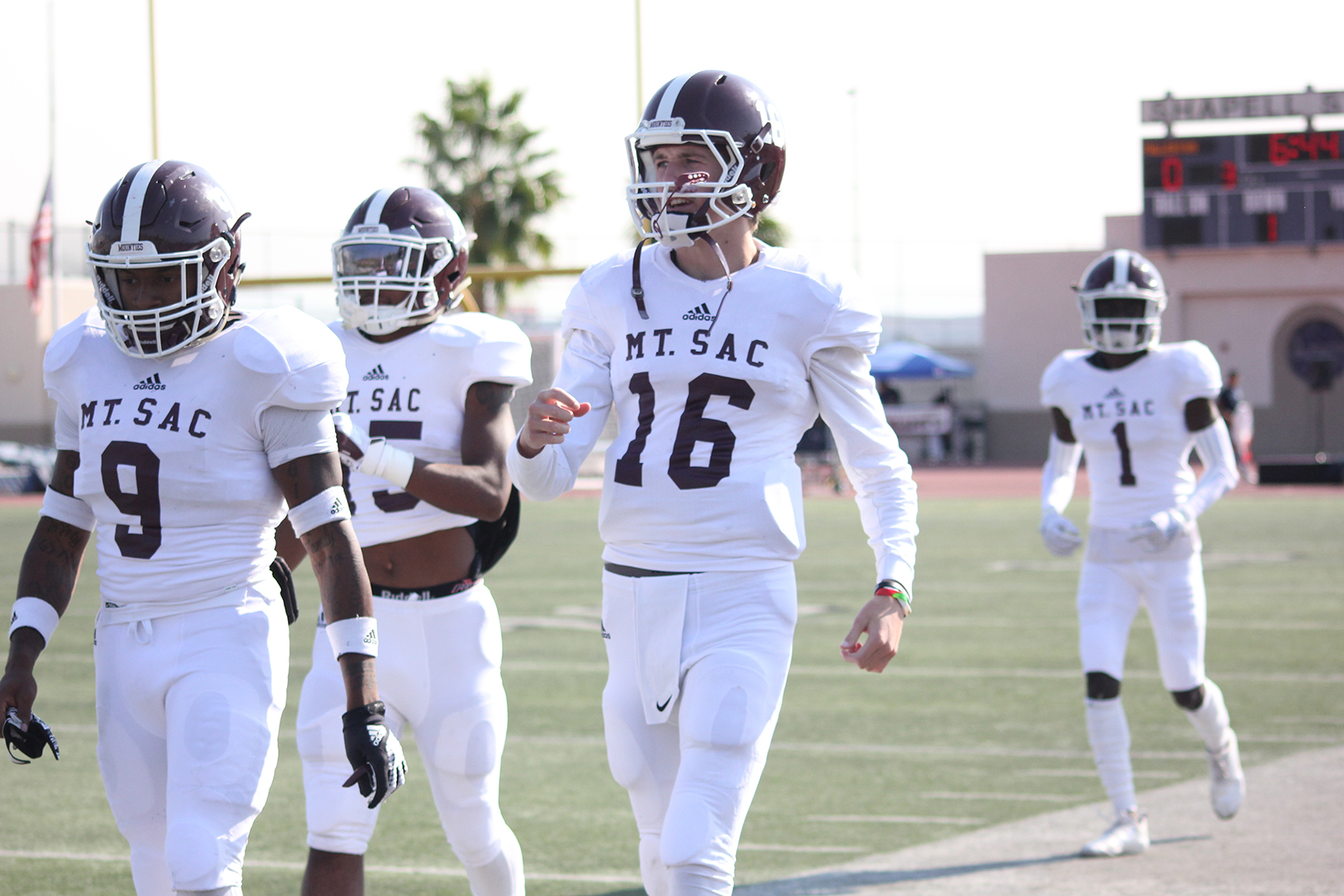 He would take advantage of the opportunity against San Diego Mesa. He was an efficient 21 of 29 passing, with 222 yards and three touchdowns. He also ran it 14 times for 39 yards and two more scores.  A five touchdown game will certainly turn heads. In the final game of the season, he rallied the team as much as he could against one of the best teams in the nation to get back in it and made it far closer than it seemed.  He was 26 of 41 for 352 yards, two touchdowns and three interceptions. He carried it 15 times for 28 yards and two more touchdowns.
"I feel like I overperformed to my expectations. I'm always confident in myself that I'm going to perform well," Flenniken said about his performance. "Especially against Fullerton, one of the nation's best teams in only my second start, I feel like I did well. Even though I did have three interceptions, which is a big deal, I feel like I was able to extend plays with my feet and be accurate with the ball. I feel like I can work on my arm strength and making better decisions on those picks."
Flenniken never felt like giving up when he was so behind on the depth chart at the beginning of the season. He is not the kind of person to just give up and quit. He hopes that he can start next season as the starter and has future goals in football as well. He cares first and foremost about his education. "My goal is to get my school paid for to take the burden off myself and my family from paying college tuition," Flenniken said.
If football does not work out for him, he wants to get involved somewhere in the business. He just wants to keep working as hard as he can; all he can control is how hard he works and see where that takes him.
Leave a Comment