See Who Your Next Chief Might Be
Three candidates vying to become the next police chief of Mt. SAC spoke with Interim Police Chief Michael C. Williams during an informational forum.
The Nov. 28 forum served to not only inform the community, but was called a part of the selection process by Mt. SAC President William "Bill" Scroggins.
Scroggins added that 46 questions were sent in advance by staff and faculty, but only 10 of them were chosen to avoid overlap. An additional 9 to 10 were randomly selected from questions provided 45 minutes before the forum begun.
These 20 questions were split into their respective parts for 20 minutes each. An additional five minutes were provided for closing statements, giving each candidate 45 minutes.
Current Deputy Chief of Mt. SAC's Police and Campus Safety Robert Wren, former Fullerton Police Chief David Hendricks, and former Ontario Police Chief Eric Hopley were the three candidates who spoke.
Wren was the first candidate to be questioned at the forum, and the main theme of his initial responses involved professionalism.
"But I do believe that professionalism is the key," Wren said. "In every interaction, if you maintain professionalism, then there shouldn't be – that will go a long way to reducing any kind of fear of law enforcement."
He went on to discuss social media as a barrier to good policing, because it often depicts officers in a negative light.
"Professionalism, training, being open, and I think one thing in this question is acknowledging law enforcement has failed in the past. Law enforcement is not perfect, and there's been some ugly incidents in our history," Wren added.
Following Wren was Hendricks, and his responses mostly focused on communication.
Hendrix said that fear of law enforcement is not unique to students, and a lot of it comes down to empathy.
"That goes both ways. Police officers need to be able to put themselves in someone else's shoes. While you as a police officer may know that everything you're doing is right, it's all above board, you have absolute legal authority to do what you're doing," he said.
Hendricks also said that there has to be an effort to understand where the other person is coming from, as the officers do not know the experiences that individual had with law enforcement or just growing up.
"So as police, I think that if we are able to pause, slow down and communicate, that's a big thing for me, why you're doing what you're doing, answer any questions, and just take a few more minutes, and that's generally all it takes is a few more minutes to explain where you're coming from, and then kind of get some of that information out from the person that you're talking to. It goes a long way to alleviate that stuff," he added.
He then explained that training goes both ways as well.
"There are things that we can do to equip and train students faculty and staff and anybody else why we do what we do and kind of get around some of that stuff before it ever happens."
Hopley went last, and most of his responses were community centered.
"Your ultimate goal is for the police department to mirror the community or the campus they serve, Hopley said. "They shouldn't be looking at each other and not understanding."
His community based policing ideas also focused on communication, and he said he supported an oversight committee.
"I think this is a huge opportunity. There's numerous committees here, I think a student advisory committee to the police chief, the police department and extending that communication and dialogue because they might be thinking of something we are not even thinking of. They might have a good idea about it. So [we should be] opening that dialogue to have a committee like that."
The trio also answered prepared questions regarding unconscious racial bias and racial profiling, use of force, the creation of a potential oversight body and their views regarding shared governance.
They also answered randomly selected questions with topics ranging from recent deaths caused by officers in the news, appropriate use of force, POST certification, and how on campus officers handle immigration status and detainment.
Of these issues, Wren's comments on unconscious racial bias and racial profiling at the forum were noteworthy.
In the past, he made comments that caught media attention when stating that social media has portrayed a skewed perspective of events involving police.
"I know from 31 years of doing this that [racial profiling] doesn't exist," Wren said in an interview with SAC.Media reporters Lauren Sheer and Joseph Harvey. "Police brutality is an absolute myth–a complete utter, debunked myth."
The article that broke this news went on to state that Wren clarified that in the past it may have been different, but not today. Other publications including the San Gabriel Valley Tribune also picked up the story.
As for these comments, they were made at the same time Mt. SAC had its first push to become an armed police.
While this was still a concern at the forum, most questions asked at the forum dealt with racial profiling. At one of the two town halls on Nov. 29, he had this to say about the comment: "That is a statement I made to a journalism student, that is on me."
He also responded to another question on the statement by adding that "on this campus only 11 percent of the campus is white. So on profiling minorities on this campus whites are minorities."
This was similar to another point Wren made in the interview with Harvey and Sheer.
"Here's the question because [Scheer] you obviously don't have a skin tone issue or are not dressed differently but you would be concerned about having a police officer hassling you on campus as opposed to some other place, do you honestly think that that's an issue?" Wren said during the interview. "[Mt.SAC's] 14 percent Caucasian, so [Scheer] you are a minority at Mt. SAC, right, and [Harvey] you're half a minority, right, I'm a minority here," he later added.
One month later, at a student public forum on Dec. 11 of last year, Scroggins clarified that Wren had been disciplined as per the college's policy.
"Deputy Chief Wren was disciplined, he did not represent the college, he spoke to the media off message," Scroggins said. "He'll have the opportunity to grow and learn."
"Going forward, that will not be acceptable," he added.
Scroggins had even said that Deputy Chief Wren was not considered for the interim chief position when they selected Williams out of retirement.
"[Wren's] good at what he does, training, running the shifts of the officers, but he doesn't do that kind of work and was not considered for that position," Scroggins said.
His candidacy surprised many considering his prior comments, but his comments at this forum didn't shed any light on that side of his past.
In regards to a question asking how to combat the effect of unconscious racial bias, Wren had this to say:
"Well, I've learned a lot about this over the past year. I've had – – this term came up, unconscious racial bias, and my initial reaction was well if it's unconscious I don't know how that influences you. So I researched it and I continue. I wrote this thing down to make sure I remembered, the center for policing equity was the website I found"
He then went on to explain some websites are positive and others are negative and he tried to find something in the middle.
"To research it, the one thing I learned from reading articles related to this in Psychology Today and a bunch of other things that I've read is: there is no silver bullet to fix this. From the time we're born we start developing biases. So the goal is to not allow that to impact how you do your job."
He then said it goes back to policies and training, adding that policies need to be made to deal with when things might go wrong. Wren then cited the Las Vegas Metro Police Department's policy to not allow any officer pursuing on foot to handcuff a suspect to minimize unnecessary force.
The other question related to racial bias asked if the candidates agreed with the assessment that the two recent shootings of lawfully armed black men demonstrates real time racial bias.
"The one that just happened was following a mall shooting, and there was chaos and there were two people who got shot. The person who the police shot had a firearm. So I think we've gone through this a number of times where it just happened. It was a Black Friday sales frenzy. So I think it's just way too early to pass judgement on that case, the investigation is not even close to being done. The other one I don't know by name," Wren said.
"I know again from studying, because I've been studying this my whole career, with extra concentration this last year or so, the statistics don't support that. But the perception is there, so it's the job of law enforcement to address that perception. The way to do that is to be completely honest and to wait for the investigation to be completed. They [Law Enforcement] got out and released information initially that was incorrect, and they had to backtrack it. So you have to control the release of information and I think you have to wait for the investigation to be completed."
Hendricks took the second question down a different route.
"When you are able to understand what a police officer does, what information is going through a police officer's mind, the windows of time in which he or she has to make a decision, there's a lot of things that come into play there."
He then went on to address the shooting of unarmed people. Even though it was not in the question, he said he wanted to address it.
"They're legally justified they're within the policy, all of that is above board. I know it's tough to take, but that's where the empathy comes in. That's where training, not just of the police officers, but of the community as well," Hendricks said.
He then continued after saying that community members performed terribly in simulations, as he said they should.
"I don't know that them being shot indicates a racial bias," he added. "If you have a CCW and you tell somebody you have a gun, and I have people tell me that 'I have a gun on me,' you don't want them to move. You want them to do exactly what you tell them, but if he reaches in his back pocket to show the CCW permit he's probably going to get shot."
Hopley also had different views on the subject.
"One thing we started looking at in Ontario, especially being 70 percent Hispanic, was how do we, the police department, look compared to the community," he said. "We started really identifying the bilingual speaking officers that we had. And really enforcing them getting the training because they get a little extra incentive pay for being bilingual. We were communicating with the community even better after we started implementing these programs."
Hopley also spoke of community outreach, and how he recruited cadets at Chaffey College. He had college students work 20 hours in their environment, and eventually the cadets became police officers.
"It's important to try to mirror the community you serve," he added.
The Mt. SAC community has been having concerns about the police force on campus and public safety's role on campus.
Students have also their own thoughts about the campus' move to becoming armed, considering the concerns of racial profiling, unconscious or not.
"How do you serves the needs of a community that is diverse, knowing what's going on in society with youth with guns and killings done by police," one student said during a break at the forum. "I mean it just scares everybody and the students worry about that too."
Students have shown concern about who will become the next police chief, and following this forum will be background investigations.
"The background investigations are part of the interview process, and that will take place for all three of the candidates that you hear today prior to the final interview committee," Scroggins said.
To get your voice heard in the process, there is a feedback forum. All responses are due in written or digital form by 3 p.m. on Monday, Dec. 3.
Leave a Comment
About the Writer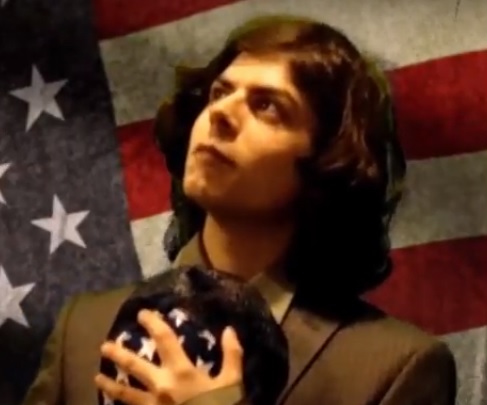 Joshua Sanchez
Joshua Sanchez is the former Editor in Chief and News Editor of SAC.Media. He was previously the managing editor of LAHS' student newspaper,
The Conqueror
. A portfolio of his reporting work can be found at
jdjoshsan.wordpress.com.