Four years older than the BKK landfill, the Quemetco Inc. battery recycling plant is also regulated by the California Department of Toxic Substances Control.
Located northeast of the intersection between Salt Lake Avenue and Seventh Avenue is the 59 year plant, and on Dec. 18 residents gathered in the Hacienda Heights Community Center to voice concerns and hear about the most recent updates to the situation.
The facility processes 600 tons of used lead-acid batteries and it operates a secondary lead smelting facility. This facility is required to comply with Resource Conservation and Recovery Act Regulations and must investigate releases of hazardous waste and take action.
As such, DTSC has worked with Quemetco to conduct sampling. In 1991, they collected 42 surface soil samples off-site and recommended an additional investigation. They also made a referral to the Los Angeles County at the time.
In 2004, there was an on-site investigation with interim remedial measures, limited soil removal and capping of impacted areas.
Further investigation in 2012 revealed elevated concentrations of lead around the facility and Emergency Removal Action was conducted in 2013.
In 2016, Quemetco underwent a perimeter investigation within a quarter mile of the plant to evaluate impacts to soil and sediment from their operations.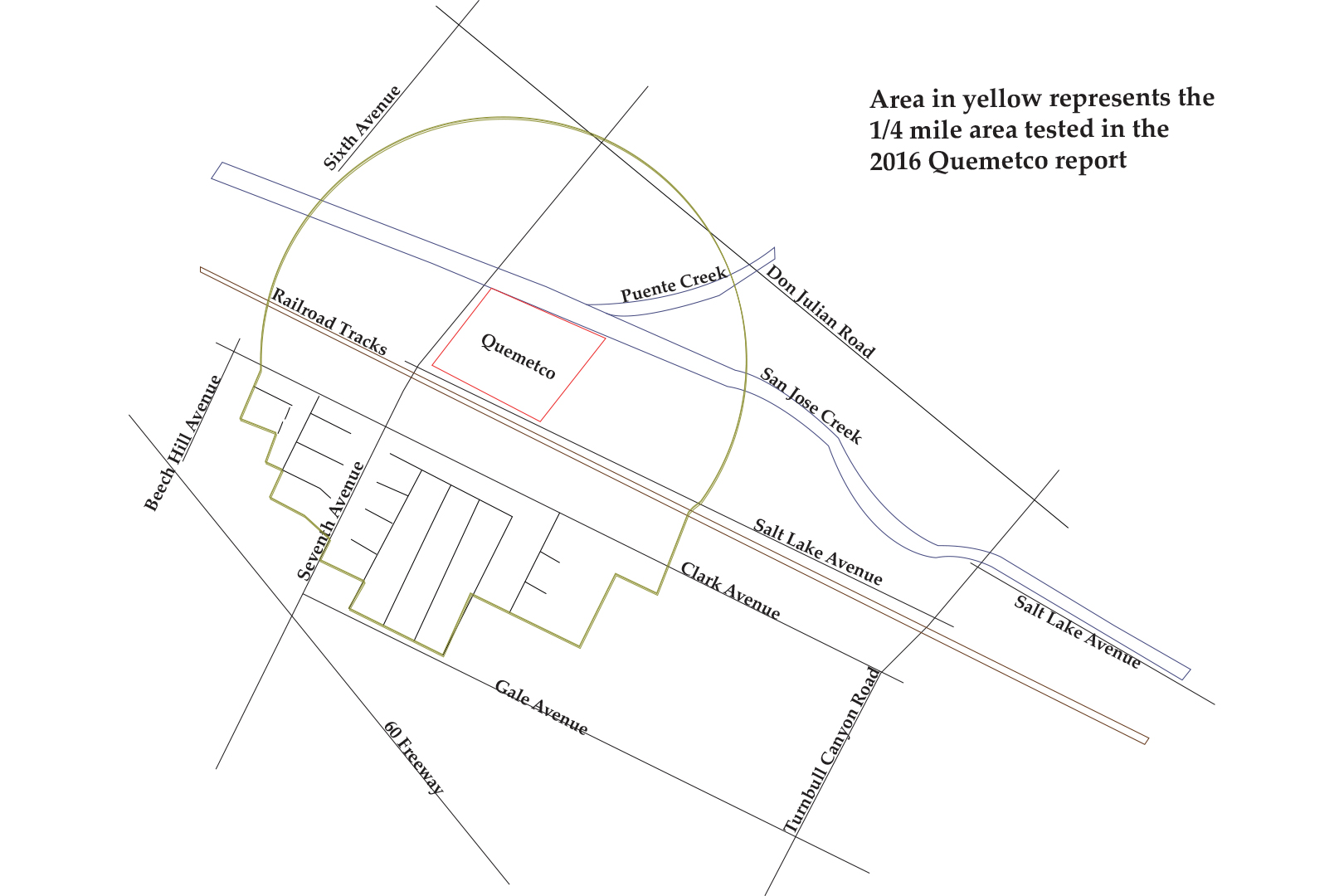 Samples were collected every 100 feet along major and non residential streets including the two creeks; every 50 feet along residential streets; in 25 storm-water catch basins; 27 industrial properties; 132 of 368 residential properties, a roughly 36 percent sampling.
The report led Quemetco to assert no further action was warranted beyond the quarter mile radius, that they did not cause contamination, that further investigation is not necessary, and that sample results should focus on ambient areas.
The DTSC disagreed.
The DTSC said that sampling 36 percent of the area was insufficient and that lead concentrations were sampled higher than background concentrations at certain residential properties.
The DTSC also said that air modeling indicates Quemetco's emissions may have led deposited up to 1.6 miles from the facility.
As a result of their findings, the DTSC ordered Quemetco to investigate further.
Two Los Angeles County supervisors also made statements regarding Quemetco, First District Supervisor Hilda Solis and Fourth District Supervisor Janice Hahn.
Solis statement reads in part: "I support all efforts to force Quemetco to disclose their operations to the public as soon as possible, and immediately clean up all contamination it has caused. No expansion of their operations should be considered until these serious violations of state law and public trust are remedied."
Hahn's statement also reads in part: "Since Quemetco proposed expanding their operations, I have written multiple times to both the DTSC and SCAQMD and would like to reiterate my request that Quemetco's proposed expansion be denied."
Further news releases by the DTSC can be found on their website, including the Nov. 1 release where DTSC filed a civil complaint against Quemetco.
Another DTSC news release was presented the day before the meeting. The latest news release on Dec. 17 announces the DTSC ordered Quemetco to expand soil sampling up to 1.6 miles away and to clean up the areas near its facility.
Updates may follow regarding the investigations.