You Don't Half-Ass It. It's Art
Malik Davis' journey through music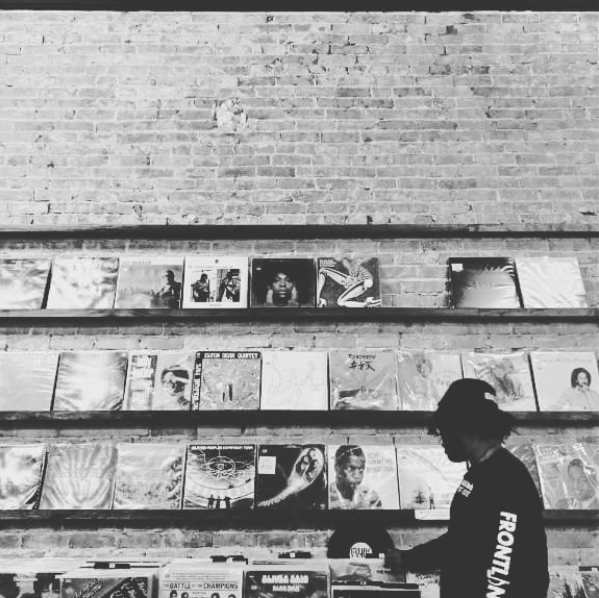 The teacher pulls down the screen that hung above the board, then turns around and walks to the back of the room. The class was about to watch a movie, so the teacher needed to turn off the lights. Malik Davis sat in his seat, and waited to hear the joke that his classmates made every time the teacher turned off the lights. It would be any second now. Click! Just then, he heard one of his classmates say, "Oh! Where did Malik go?" Everyone in the class started to giggle. Davis was the only black kid in his seventh grade class. He sunk down in his seat a little more trying not to pay attention to the same offensive jokes they sent his way.
Things were not much better at home. On a normal day, Davis and his brother watched their mother walk out of the house leaving them and their father. They did not know where she was going, or why she believed the lies that seemed to consume her.
All they knew is that she was gone.
According to Davis, his mother has schizophrenia. In her mind she believed that her husband was having an affair behind her back. What was worse was that she also believed that her two sons knew about it, but that was not the truth.
"Rather than being upset or spiteful about it, I directed all of that energy inward," Davis said.
Later, Davis said that he himself was going through some serious episodes of schizophrenia during his high school years. The only thing that seemed to get him through everything was music. During social settings or some party, if there's an instrument somewhere in the house, Davis would play it. With him naturally gravitated to music, it was not long before Davis started creating music and booking gigs of his own. As far as creating music, Davis draws inspiration from many different artists such as The Gorillas, Foster the People, Jay Cole, Earl Sweatshirt, and Miles Davis. He said he draws in inspiration just like how Thanos draws his power from the infinity gauntlet from the movie "Avengers: Infinity War." Each artist was like each stone. No matter how different, they inspire him.
"[When creating music] I will go in and I will think, 'What kind of vibe am I going for?' Like, maybe I want to do indie-rock, or jazz, or maybe I can do something a little more hip-hoppy," Davis said. "Then I will toy around with base lines or drum loops. Usually once I found one thing that I like it kind of just builds on from there."
The end goal, for Davis, is to eventually build a platform for himself with the power of music to do some humanitarian work. Davis said he would eventually want to build a homeless rehabilitation center in Los Angeles if he were to get famous.
Through it all, Davis said that his biggest supporter, for everything he does, is his father. "No matter what, he has been the biggest supporter. Every little performance I had, he was always there." From the time he was young to now, Davis has spent most of his life on stage. Where Davis is the most comfortable, the most in his element, where nothing can faze him, is when he is on stage.
Room ELVN, the team that Davis is apart of, will be releasing music very soon that will be available on all platforms. To listen in on some of Malik Davis' music, go to SoundCloud.com and search for the username, Black_Lotus_Clan.
Leave a Comment