When most of us were young, a staple in our childhood was going to Chuck E. Cheese and biting into slices of pizza as we play all of the arcade games and hang around family and friends. Now being older, I've been wishing and praying to the pizza gods that I could just walk into a pizza place and relive the same memories I had when I was younger. Fortunately, all of my prayers have been answer, but in the best possible way.
In Downtown Long Beach, a 21 and over pizza parlor and bar called The 4th Horseman sits in the middle of a block painted in all black. Upon entering, old school arcade games wait to be played with while a neon sign that says "Eat Beer Drink Pizza" greets guests. The dark atmosphere is very present in the restaurant as posters of various monsters and skeletons surround the walls.
With the macabre vibe in the parlor, the menu and names of the pizzas are no different. As their meatiest pizza being named Death to Piggy and their pepperoni pizza being named Slasher, you know that these pizzas are going to be interesting. Besides their meaty pizzas, they also have a vegan-friendly pizza called Frailty that can have vegan cheese and sausage crumbles for an extra cost. Having tried the pizzas, I can honestly say that they definitely exceed my expectations, leaving me wanting another slice.
Everything on the menu follows the "never frozen, always fresh" ideology with everything being homemade in the kitchen, from their sauces and meatballs that top the pizzas, to the salad ingredients coming from Farm Lot 59, a local, urban farm in Long Beach. Besides the food, they also carry a numerous amount of beer and wine, promising to find a perfect fit to anyone that walks into the parlor.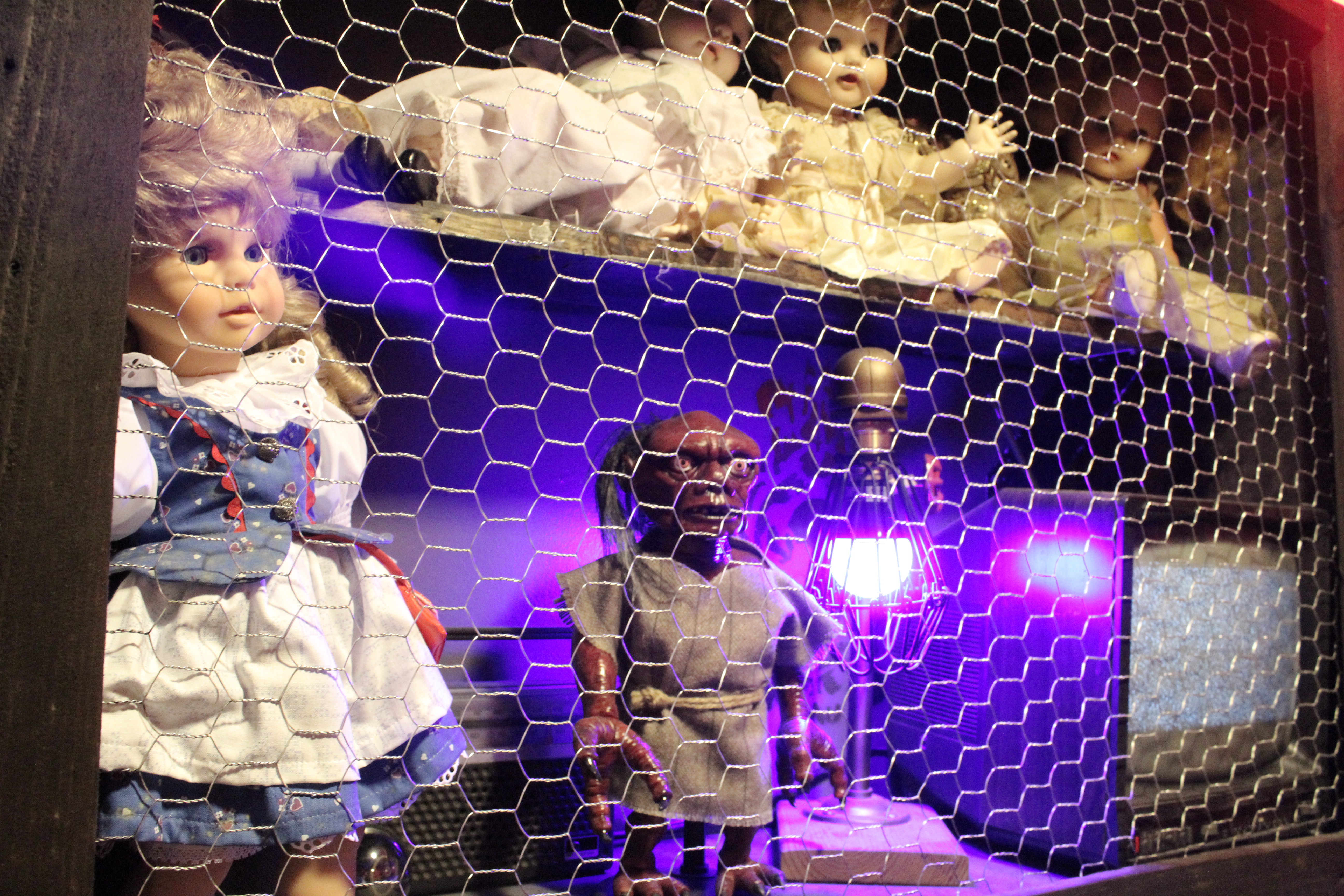 There is always something interesting to look at in the parlor-from this creepy lamp made from a doll head, to the bathroom that is painted a dark purple color with dolls and a static television behind a cage that can give anyone nightmares.
Although The 4th Horseman has been around since November of 2018, they still have yet to have a grand opening, which should be in April or May. With their gain in popularity, the parlor sometimes sells out on Saturday evening, making them need to build a bigger oven that can hold up to three times the amount of pizza their current one holds.
If you are in the Long Beach area, I definitely dare everyone to enter and try their pizza and enjoy what the parlor has to offer.