Not So Foodie Con
L.A.'s Foodie Con may or may not have been a hit
When I think of the word "foodie," the first thing that comes to mind are people that are enthusiasts and love sharing the art of food. On April 6-7, Foodie Con took place in the Magic Box at the Reef in downtown Los Angeles. The event was catered towards those who love sampling different types of food and drink while walking around a convention-esque vibe.
Upon entering the second floor of the Reef, I was greeted with a somber atmosphere and black tote bag. When I turned it around, I noticed that there was no logo tying it to the event at all. The walls were dark gray and the crowds of people were very minimal. The gloomy aesthetic called for a weird, awkward vibe.
In such a big space, there was only three rows that companies occupied. Most stands were giving away small, free samples of their products as people made their way through each row. Surprisingly, there was a lot of vegan options at the convention. An example was a company called Prime Roots, which offered a meatless spicy "tuna" roll made of mushrooms.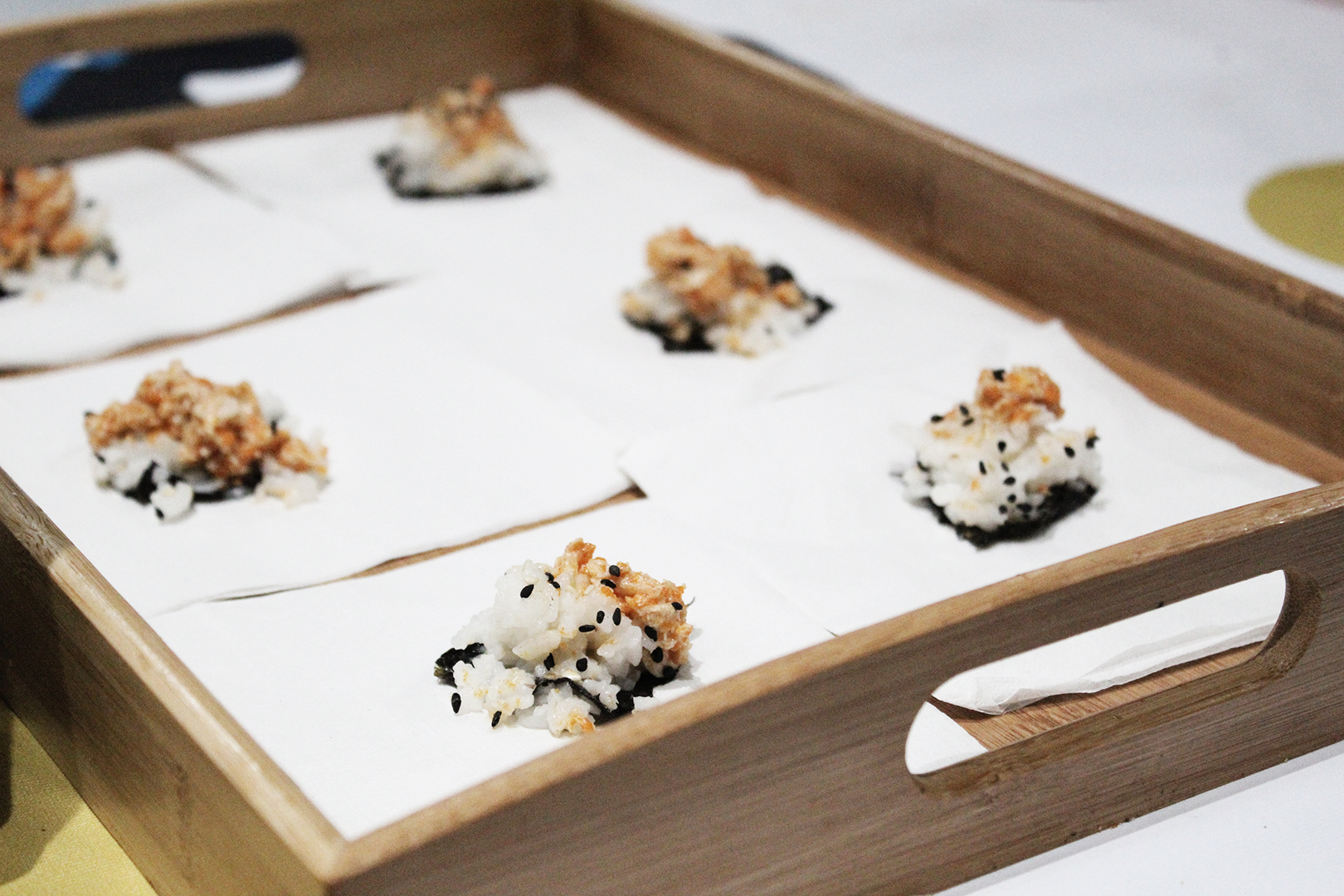 A unique stand that seemed to catch many people's attention was a pickle product. The company, Pickle Licious, took pickles and marinated them in sweet juices such as mango, apple, and cherry lemonade. The pickle was a sweet treat that still retained its original crunch.
Throughout the event, the area with the most livelihood and ambiance was the alcohol sampling section. Having to pay a little more, guests over 21 were able to go into the separate space and taste different types of alcohol. There were people showing their beers, hard liquors, and mixers. Wishing I could walk around the entire convention with a drink in hand, I was restricted to the isolated section while watching people walk by with food.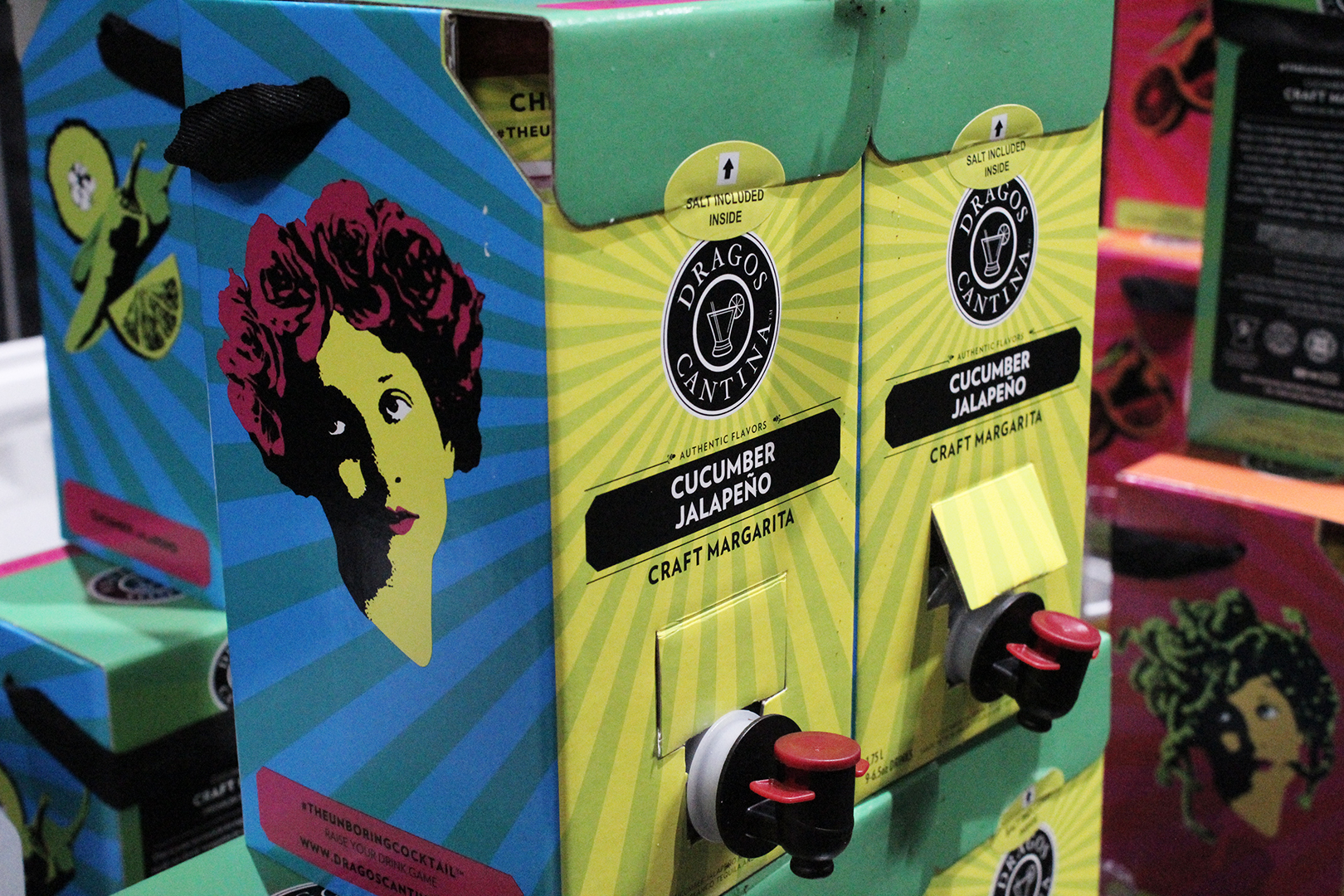 Ironically, although this was a food convention, there were only a small handful of vendors actually selling fresh cooked food. It was very hard to choose which tacos I wanted from the four booths that seemed to sell the same thing (insert sarcasm here).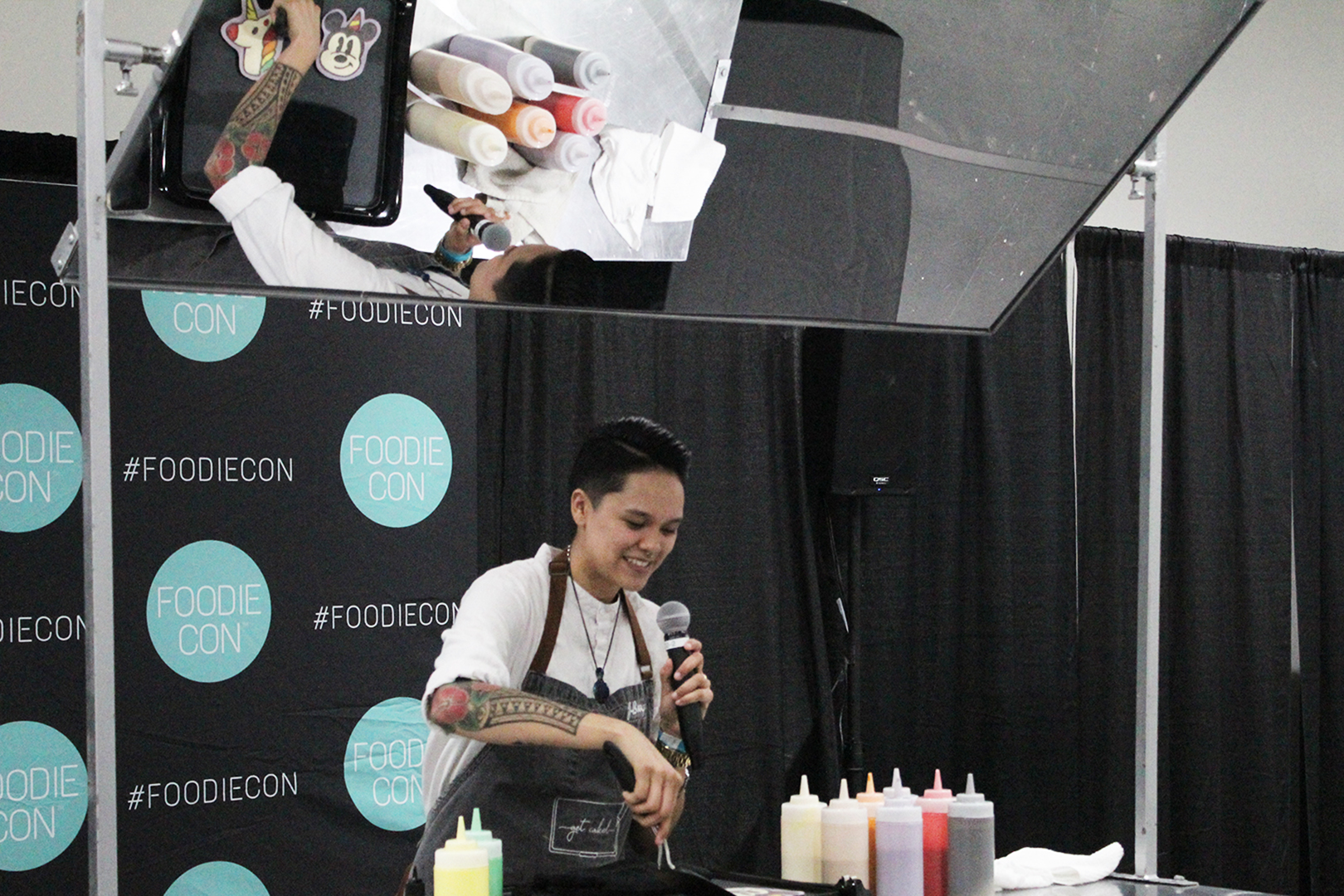 Besides the rows of samples, one of the most annoying encounters at Foodie Con were the "scammers" that were there. They lured us in by a tempting raffle for an all inclusive trip, but made us stay and talked our ears off about attending a meeting that may result in another trip off a list where we can choose from. All in all, I was annoyed.
Something that they had advertised was a silent disco where guests we were given a set of headphones with the power to choose a certain channel of music. The tiny dance area we were confined to was only enough to fit a short amount of people.
A highlight for me was meeting the infamous Peggy Glenn. Glenn is most commonly known as "Granny PottyMouth" and makes Youtube cooking videos that consist of profanity and laughs. Her sweet persona invites people into meeting and talking to her, but her cursing and humor makes people stay.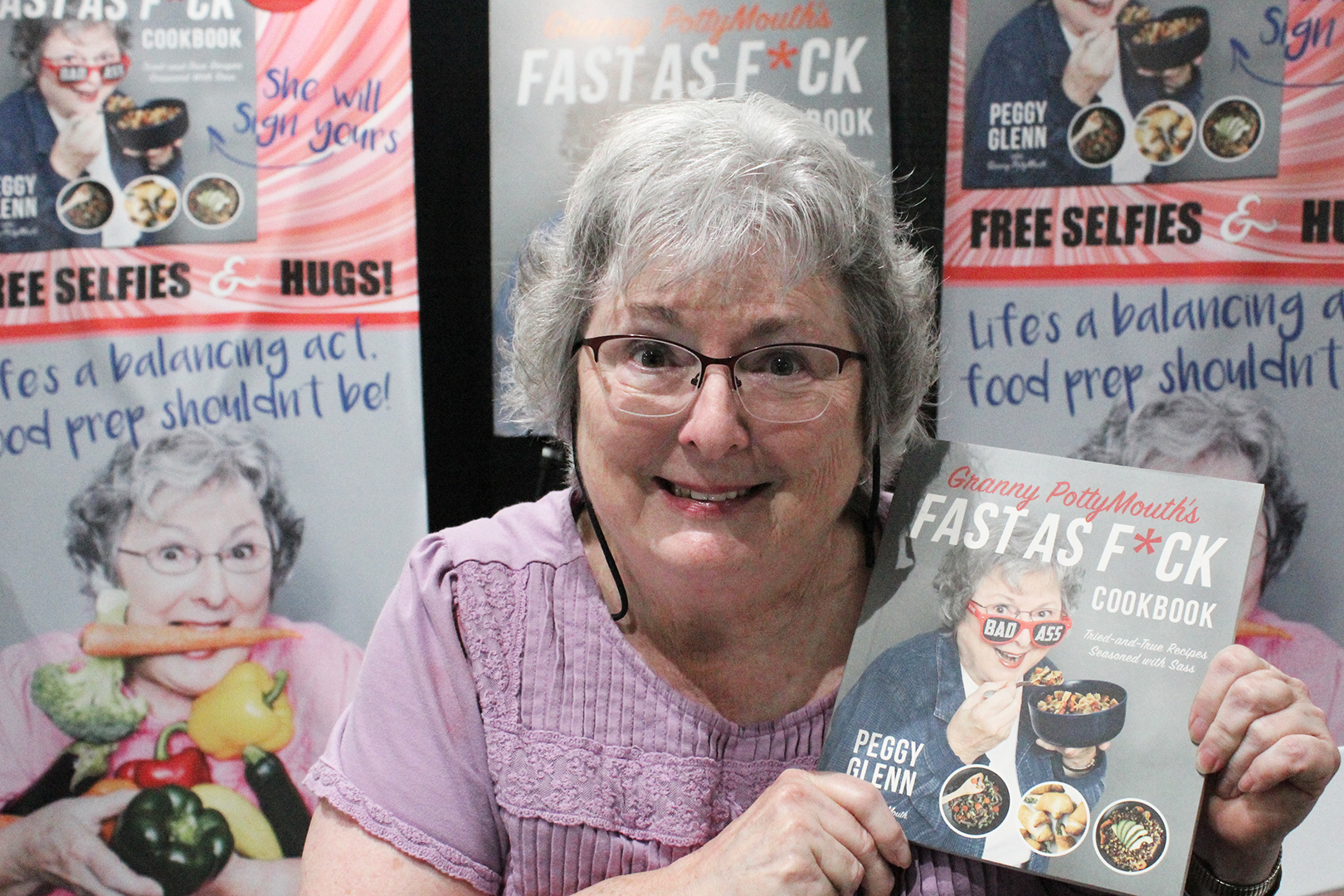 Overall, I have to give this convention a pass. The entire gloomy atmosphere left most of the vendors looking as if they didn't want to be there. I wish there was more interaction and more activities to do with everyone that attended Foodie Con.
Leave a Comment
About the Writer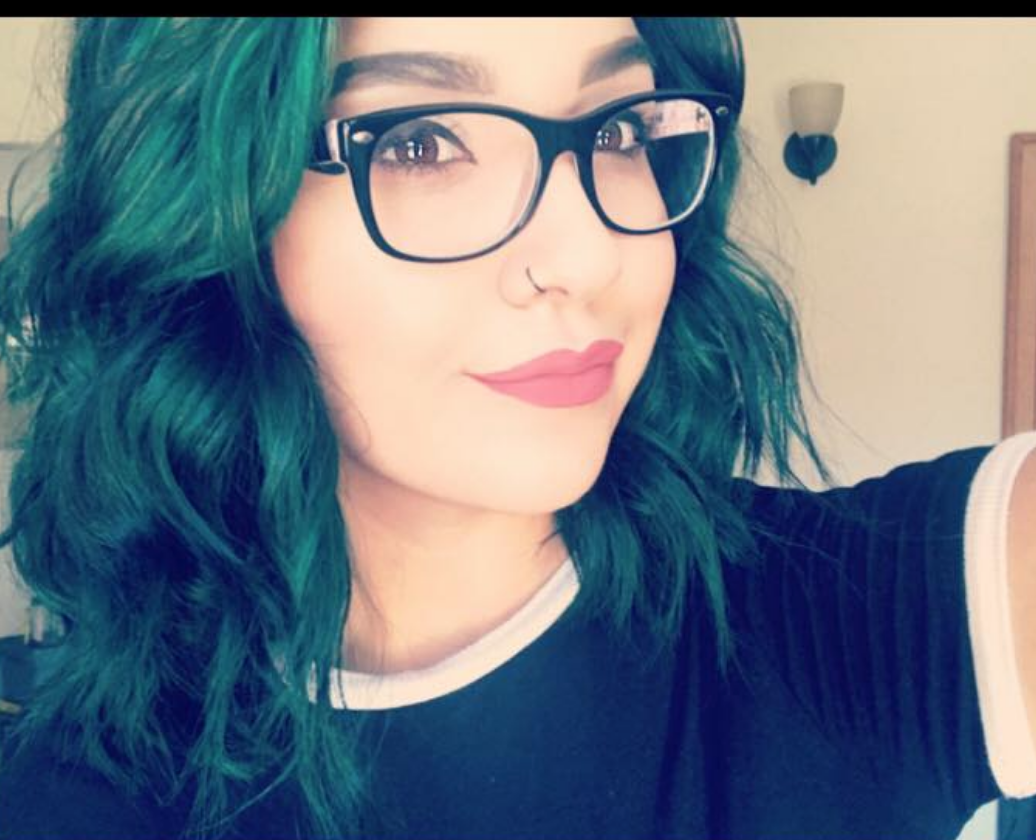 Andy Lizarraga, Author
Andy Lizarraga is the Arts & Entertainment Editor for SAC.Media.