Local Legend Sets Sights on the NFL
How Aaren Vaughns went from JUCO to walk-on to draft prospect
What had been a routine day at a friend's house just working out and playing video games would turn into the opportunity of a lifetime for Aaren Vaughns. The 23-year-old running back had spent the last year out of football in order to finish his associate degree, however he was getting no interest from four-year universities. Just as he was beginning to accept that his playing days may be over, Vaughns' phone rang.
On the other end of the phone was then-Utah State special teams coordinator Mark Tommerdahl, who offered Vaughns a spot on the team as a walk-on. Vaughns immediately thought to himself, "this is my breakthrough, this is it."
All the sleepless nights, all the workouts, everything Vaughns had worked for in his entire life had prepared him for this moment, but it was only the beginning.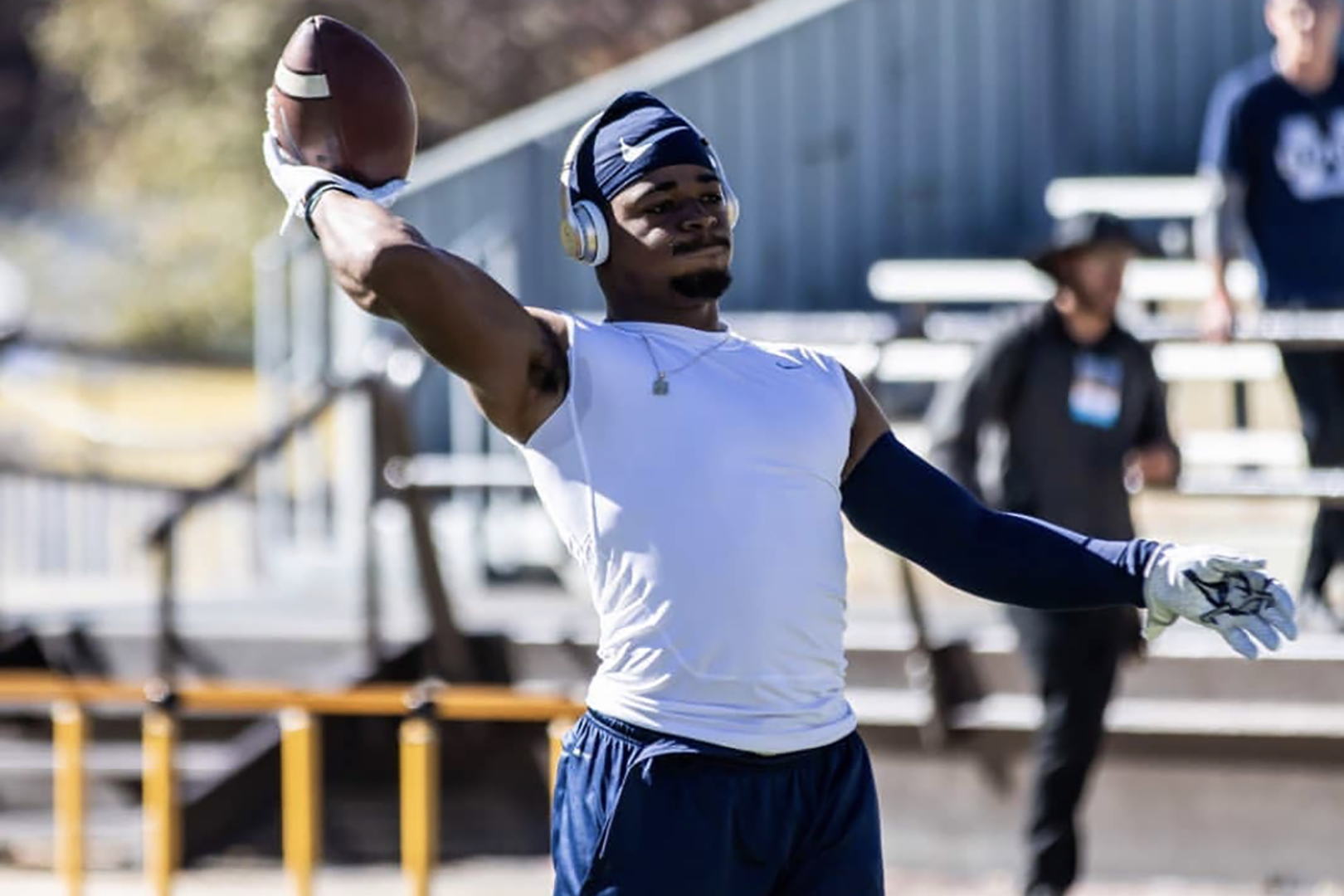 Vaughns was born in Altadena, California as the second of four boys. Growing up he saw many people who were stuck in their own circumstances and unable to make it out, however he always took comfort in that he had a loving home.
All four of the Vaughns brothers play football. Geoffrey, his older brother, was a standout at South Hills High School and Mt. SAC. His younger brothers Tyler and Jonathan currently play at USC and St. John Bosco High School, respectively.
"Growing up with four boys, it's always competition but it's always like you got to get better," Vaughns said on growing up in a competitive household. "You're not going to live up under your older brother's name that's doing great, you got to make a name for yourself so we always taught each other just to keep working."
Vaughns credits his brothers as his support system throughout his career and says that they watch all of each others' games, and after each game they talk on the phone and give feedback on what they did and what they could've done better.
"That's your support system, that's your number one guys right there, that's your go-to," Vaughns said on his brothers. "if they're not supporting you then who, other than the one man upstairs? That's just very special to me and I'm really grateful for that."
Before Vaughns was human highlight reel at Utah State, he was a local legend at Charter Oak High School where he had 66 receptions for 1,171 yards and 10 touchdowns as a junior and rushed for 1,811 yards and 26 touchdowns on 203 carries as a senior.
"It was very special competing with the guys Bryce Bobo, Brian McIntyre, Travis Santiago, Kurt Scoby, a bunch of special guys," Vaughns said, reflecting on his high school days. "Just going out there every day and just winning and forming a brotherhood and keeping the memories with each other, and making new ones until this day. That Charter Oak career was very special to me."
As special as his high school career was to Vaughns, it was just as much to his coaches.
"He was special and his legacy is well intact here," Dominic Farrar, assistant head football coach and athletic director at Charter Oak, said about Vaughns. "I think what we appreciate and what we're grateful for is he's never forgotten where he's from, and there's generations of kids now that he'll still mentor and invest in. I've got young ones that their ultimate goal someday is to be the next AV."
Vaughns made a name for himself in the San Gabriel Valley as a football standout, however the attention did not extend itself into his recruiting. Standing 5 feet, 7 inches tall, Vaughns was often overlooked and underestimated because of his height. Despite the doubts by so many college recruiters, Vaughns remained undeterred by them and was determined to prove them wrong by going to a junior college, and he always had the perfect one for him in mind.
Mt. SAC was a natural fit for him, having grown up around the program and seeing his older brother win championships and bowl games with them. Vaughns knew what it would mean to be a SACDawg, and he embraced every part of it.
"Well, you know he's not the biggest guy," Robert Jastrab, head football coach at Mt. SAC said of his first impression of Vaughns followed by a slight chuckle. "I've been doing this long enough where you can't tell just by looking at somebody what kind of athlete they are, but once he got on the field and I saw what he can do on the football field, I was pleasantly surprised."
Patiently waiting for God to open the doors so I began Gods plans 🙏🏾 #BornToWin pic.twitter.com/Eql6Zb3pim

— Aaren Vaughns (@AVaughns22) March 8, 2017
It didn't take long for him to make an impact as a Mountie as he was a part of the 2014 state championship team during his freshman season, which he helped cap off by returning a punt for a touchdown in that state championship game.
"I could say everybody was one. Nobody was second to nobody, everybody was a whole, it was no odd numbering to it," Vaughns said of his memories of that championship team. "Everybody stuck together, right after practice everybody hanging together and making sure everybody gets their homework done, after that repeat it. Go to practice, see each other, then just attack, compete, compete."
Vaughns contributed to that state championship team as a freshman, however his breakout season at Mt. SAC would be his sophomore season. In 2015, he put up 1,224 all-purpose yards to go along with 10 touchdowns.
Aaren Vaughns is so explosive here's the return just for fun ! @MtSAC_athletics @mtsacfootball #FTSmtsac pic.twitter.com/myxtPK2LhF

— SAC Sidelines (@SACSidelines) November 8, 2015
Despite his success at the junior college level, Vaughns once again had no offers after his sophomore year. He attempted to walk-on to USC and play on the same team as his younger brother, Tyler, however he was not admitted to the university.
Things ended up working out for Vaughns however, as he received the call from Tommerdahl to walk-on at Utah State two weeks after his rejection to USC. He immediately took the offer.
As a walk-on, an athlete does not have a scholarship or a guaranteed spot on the team.
"Being a walk-on, you still do stuff with the team you just gotta earn your decal, earn your stripe on the team, just earn your way into the brotherhood," Vaughns said. "I went through a process where I only had a stripe on my helmet, so in order to take that off I had to do everything right within the codes of the team. That's like not missing meetings with your mentor or counselor meetings, going to class, doing good in practice, and performing. Once you go through that phase & get it de-striped, you get your decals on, and once you get there, it's up to you from then on to earn a scholarship as fast as you can."
Vaughns made the most of his opportunities and made such an impact on the team that he was put on scholarship only eight games into his first season.
He found out during the team's Thanksgiving dinner, where Utah State head coach Matt Wells asked Vaughns to lead the prayer. After the prayer was over, Wells put his arm around Vaughns and announced to him and the team that he had earned a scholarship.
"I was in shock, I was happy," Vaughns said.
Back in 2013 I had vision and made it happen🏁 #ImForeverThankful🙏 pic.twitter.com/B6ZIEkSxew

— Aaren Vaughns (@AVaughns22) November 24, 2017
During his senior season, Vaughns proved to his coaches why he was given that scholarship as he caught the ball 33 times for 581 yards and five touchdowns and also ran for 100 yards on 12 carries. He ranked third on the team in every receiving category, and his 17.6 yards per reception average was third best in the Mountain West Conference and 30th best in the nation.
Vaughns capped off his collegiate career in the 2018 New Mexico Bowl against North Texas with two receiving touchdowns for 109 yards, including a 72-yard reception.
"I was thinking to myself 'last game best game," Vaughns said. "Just like I always think to myself in a workout, 'last rep, best rep.' I knew whenever I was going to get the ball, I was determined to score."
With his college football career behind him, Vaughns now has his sights set on the NFL. He ran a 4.4 40-yard dash at his pro day, and hopes to hear his name called during the NFL Draft this weekend.
Writing my dream.#NFLDraft#AggiesAllTheWay pic.twitter.com/CQUd5DwiPB

— Aaren Vaughns (@AVaughns22) April 22, 2019
"It's a dream come true, just looking back at all the work I've put in," Vaughns said. "I was blessed to have a pro day and produce in front of all those coaches and now to wait and see where I'm going to land. It's just incredible."
His former coaches will also be keeping an eye on the draft this weekend to see where Vaughns ends up.
"I'm proud of all the guys that have been down the road of playing Mt. SAC football and being able to go on and do well at the four-year level and get their degrees, which is number one," Jastrab said. "And for him, if he were to get his name called it's just icing on the cake. He's a great athlete and it's very hard to get drafted, but regardless of whether he gets drafted or not, I think he'll get into a camp and somebody will take a chance on him. He's a great player and he deserves that."
"He's brought us great pride and joy in our program and really even in our community," Farrar said. "He's shown the kids that there's no right way or best way, sometimes you just have to define yourself in what's your way and if you stay the course and you're true to yourself."
Whether or not he gets drafted remains to be been, but one thing is for sure. Aaren Vaughns has made an impact anywhere he's been, he's proven his critics wrong time and time again every step of the way. Would you really bet against him at this point?
Leave a Comment