Softball Shows Cerritos No Mercy, Takes Game One in Five Innings
Mounties dominate in playoff opener
The number-one seed Mt. SAC Mounties opened the CCCAA playoffs by hosting the Cerritos College Falcons in the first of a three game series. The Mounties showed exactly why they are ranked as the number two team in the state in a 10-1 domination of the Falcons that resulted in the mercy rule being called in five innings.
On the mound for the Mounties was the CCCAA pitcher of the year, Briana Wheeler. Wheeler set the tone of domination that would be key for the Mounties in this game, allowing two hits in 4.2 innings pitched and striking out seven batters.
"It all started with pre-game," Wheeler said on the team's dominant performance. "We were just very loose, enjoying our music, dancing and all that. We were just full of energy today."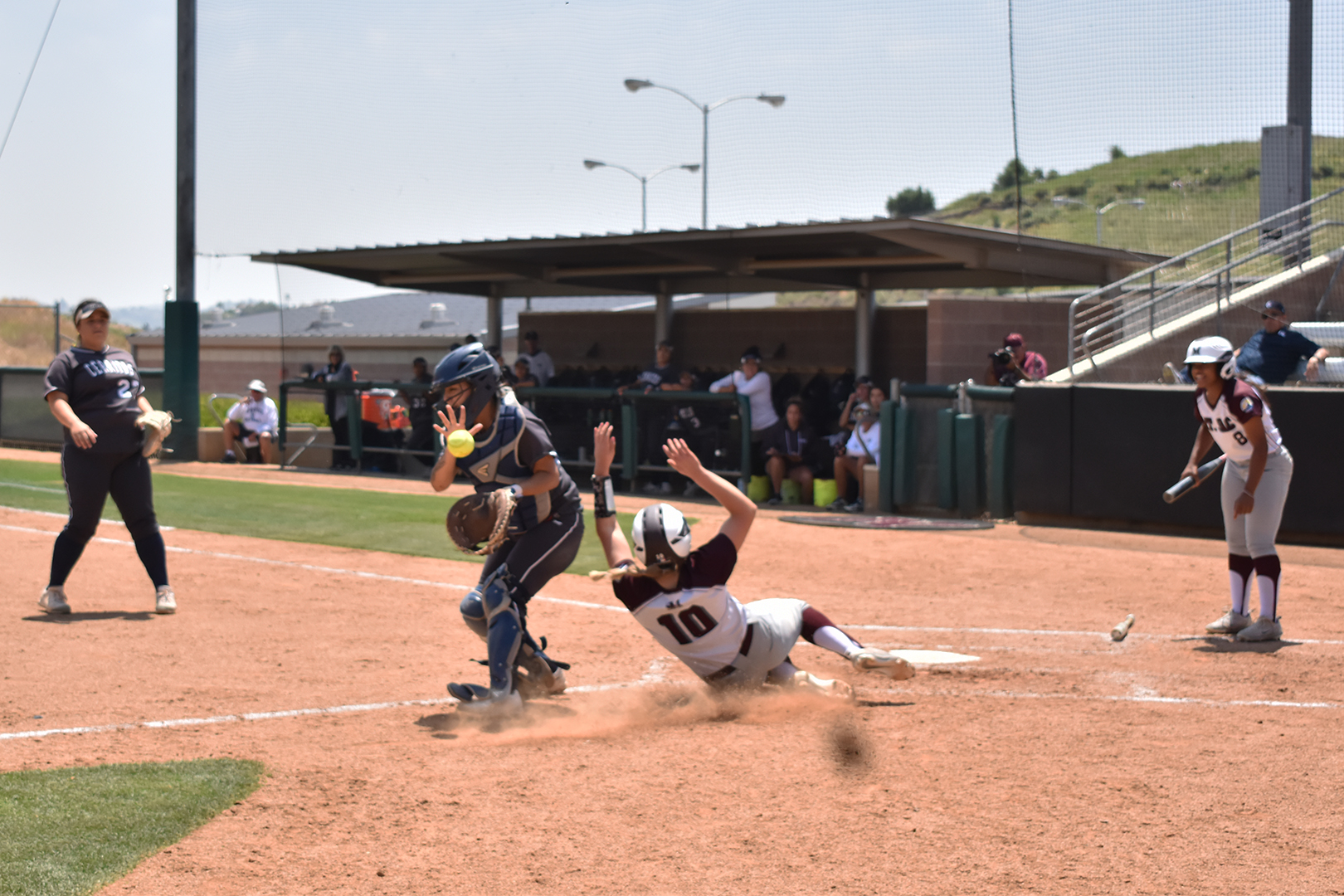 Jessika Trujillo started things off on offense by hitting a two-run home run in the bottom of the first inning.
The floodgates would really open for the Mounties offense in the third inning, as Mt. SAC would score seven runs off a Vicky Gutierrez single, a Trujillo single that would bring in two, and a three-run home run from Charleen Macias.
Wheeler ended things in the bottom of the fifth by forcing Cerritos' Kayla Hernandez into a line drive double play at third base. The mercy rule would then go into effect, giving the Mounties a 10-1 victory over the Falcons in game one.
"Just attacking hard, one pitch at a time," Wheeler said. "Just staying focused instead of looking past and like you said, when you're ranked higher you tend to let your foot off the brake and that's one thing we didn't do."
Mt. SAC looks to close out the series in game two tomorrow at home.
"Nothing changes just because it's playoffs, yes it's another game but it's the same game," Ruby Rojas, head softball coach, said. "It's seven innings, obviously we played five today, it's 21 outs, you still have to score to win. The girls want this and they want another championship, so it starts now."
Leave a Comment