Clean Cuts in Virgil Village
Vinny's Barber Shop betters the community, one fresh cut at a time
Walk down Virgil Avenue and you will see murals painted on garage doors and storefronts. Under a canopy of pink flowers on the corner of Normal Avenue, you will soon hear the electric buzz of barber shears mixed with the murmur of quiet conversation. Nestled between a tire shop and a carnicería is Vinny's Barbershop.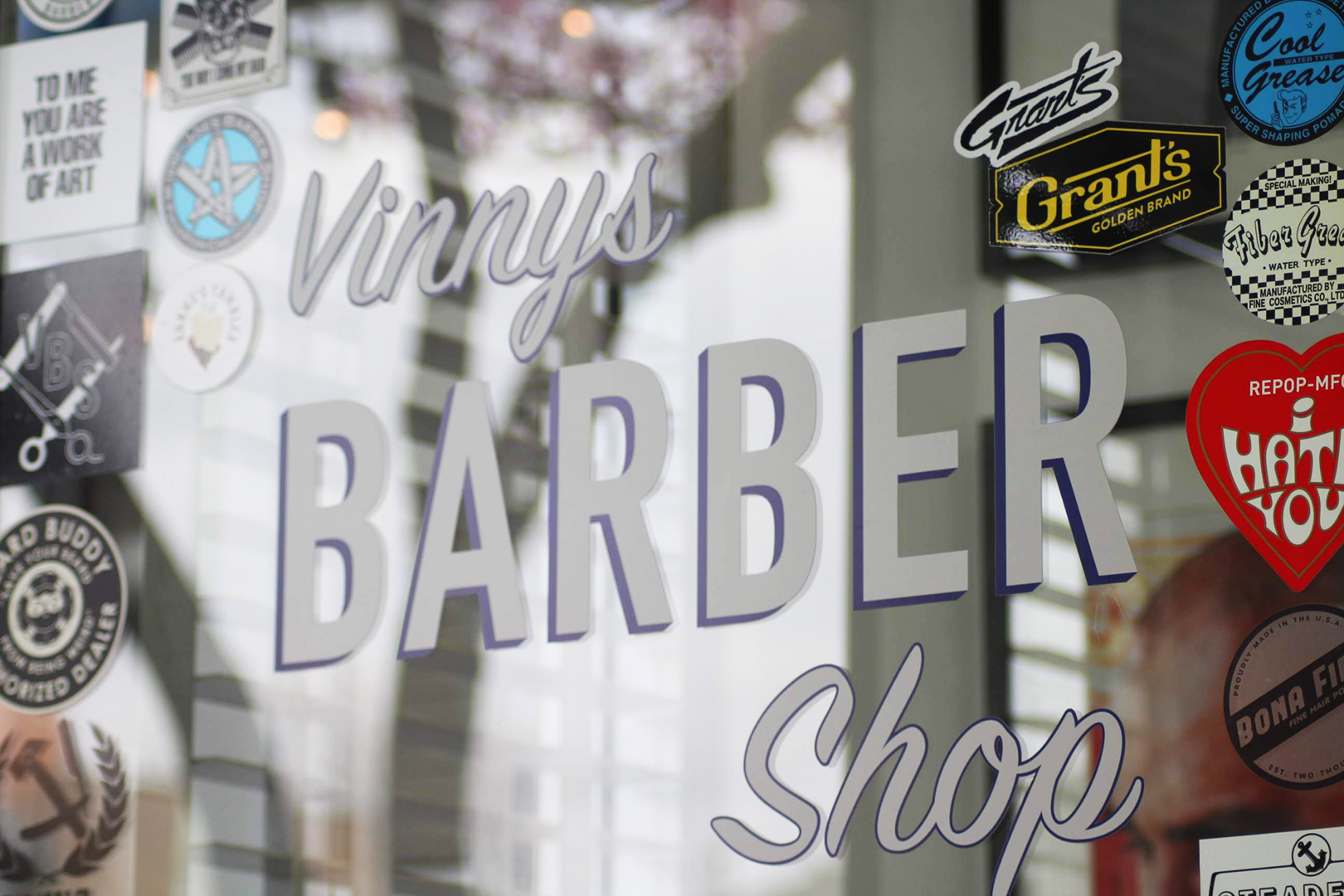 You'll hear the smooth Latin jazz, blues and oldies music fade into the background noise; the snipping of scissors; and the spray from a spray bottle. The air is filled with fresh scents of barbicide, shaving cream, pomades: Suavecito, Bona Fide, Murray's.
Manning the clippers you'll find 10 barbers in neat, black smocks with golden buttons and the gold trimmed logo of the barber shop on their breast pockets.
To Omar Romero, 35, owner of Vinny's for six years, general togetherness and keeping the community safe is important. Romero said that in an effort to improve the community, Vinny's cuts neighborhood kids' hair for free.
"[We cut their hair for free] so they can feel safe, they can have a place to go to, to kind of just hang out, to feel at home, to feel safe," he said. "For us, it's important that everybody's happy around this area."
Romero wants his barber shop to work toward dismantling the idea that Latino-based neighborhoods are dangerous communities.
"I'd like to believe that it welcomes different types of people to walk into this area and see potential in this community," he said. "This is the type of business that allows many types of people from different walks of life to see what the community is about, how it's not really that dangerous, and just because it looks a certain way, doesn't mean it has to be that way," he said.
Vinny's has also helped to organize the community to make changes in the past. According to Fabian Ortiz, 43, an apprentice barber, Vinny's played a part in making sure the area had bike lanes.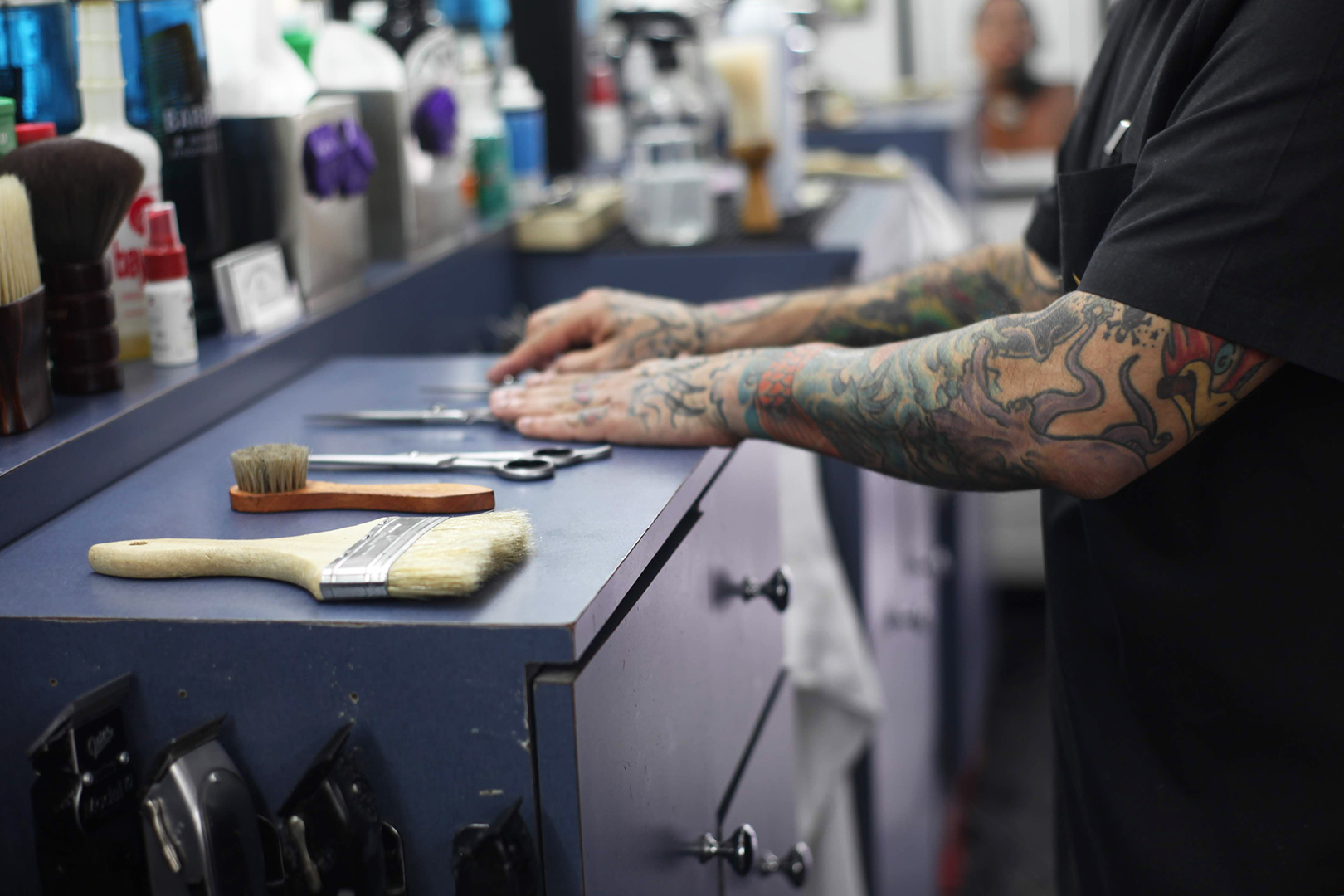 "Before we lobbied for that, there was no bike lane, and now it's kind of like a big thing in the area that they have a bike lane for bicycle riders," Ortiz said. The community didn't like that at four o'clock, it was an anti-gridlock zone, and cars were racing down the street. "It was just too much," Romero said. He said that it was very important that families in the area could grow up and have a happy life there.
Ortiz said that many of the barbers do not come from money and understand the struggle of living off of a low income and not being able to afford a haircut from anyone but your mom or your sister. Ortiz said that by providing free services to the community, the shop shows that they're not here to just make money. "We want to contribute and be a part of the community," he said.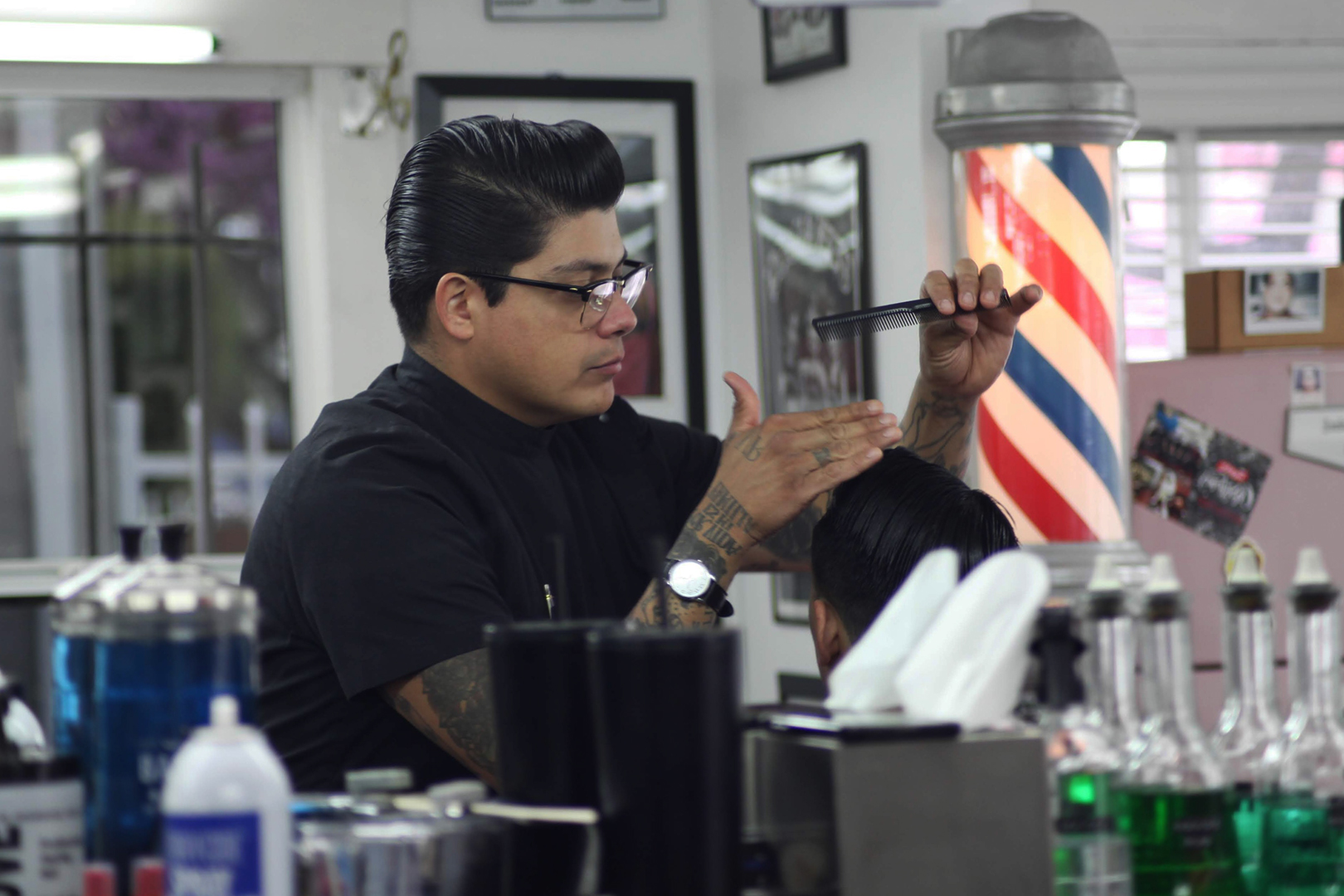 Mostly serving the community surrounding the barber shop, Virgil Village, Vinny's customers also come from Echo Park, Silverlake, Century City and West Hollywood.
Trent Bruce, 29, has been coming to the barber shop for three years, since some of the people he used to work with in Los Angeles told him about Vinny's. He used to work in West Hollywood, but now lives in Culver City, which is much farther away. Bruce prefers Vinny's because it's the traditional men's cut, with a good atmosphere and better barbers. He said that what keeps bringing him back is "the quality here and the guys here. They're fucking great. It's a no B.S. Environment. No one's trying to be someone that he's not, so you can just come here and be yourself," Bruce said.
Ortiz said that Vinny's is simply a neighborhood barber shop.
"We're not out there classifying ourselves as a, 'traditional old-school barber shop'. It's just a barber shop. It just so happens that we all enjoy the old-school vibe of the traditional barber shop we all grew up at." He added, "Where guys can kind of hang out, where families and people from the neighborhood can come in and just feel welcomed," he said.
The scents, sounds and barbers of Vinny's that come together on the corner are easy to drive past on the average afternoon, along with the whole community in Virgil Village. Sit in the chair of a barber with tattoos up and down his arms and you'll see that, that isn't all Vinny's is about. It's just your traditional neighborhood barber shop.
Vinny's is located at 852 N. Virgil Ave. in Hollywood, and can be found on Instagram.
Leave a Comment