Aside From Healthcare, Board Recognizes Student Achievement
Forensics, swim, HOSA students recognized before the board while MakerSpace requests funding
While the faculty's protest of the potential change of healthcare benefits was at the forefront of minds, the board also recognized substantial Mt. SAC student achievements and heard a request for funding from the Mountie Makerspace.
Mt. SAC Forensics captured the State Championship for the first time in 20 years, winning a total of 26 awards in various speech and debate events.
Helmed by communication professors Roger Willis-Raymondo, Thuy Pham, and Jasmine McLeod, the team proceeded to take the national championship just a few weeks after.
Forensics team member Edwin Ramirez also qualified for the Interstate Oratory, which is open to only two students from every state.
"He's only the second student to qualify from Mt. SAC, the first student to make it to elimination rounds, and this year, was the only community college student and the only Californian to make it to elimination rounds at the oldest speech tournament in the country," Willis said.
Grace Kim, a member of the Forensics team, will be transferring to University of California, Irvine in the fall. She had warm regards for the board in her statement.
"Thank you guys for your institutional support, and we're proud to have been able to represent Mt. SAC," Kim said.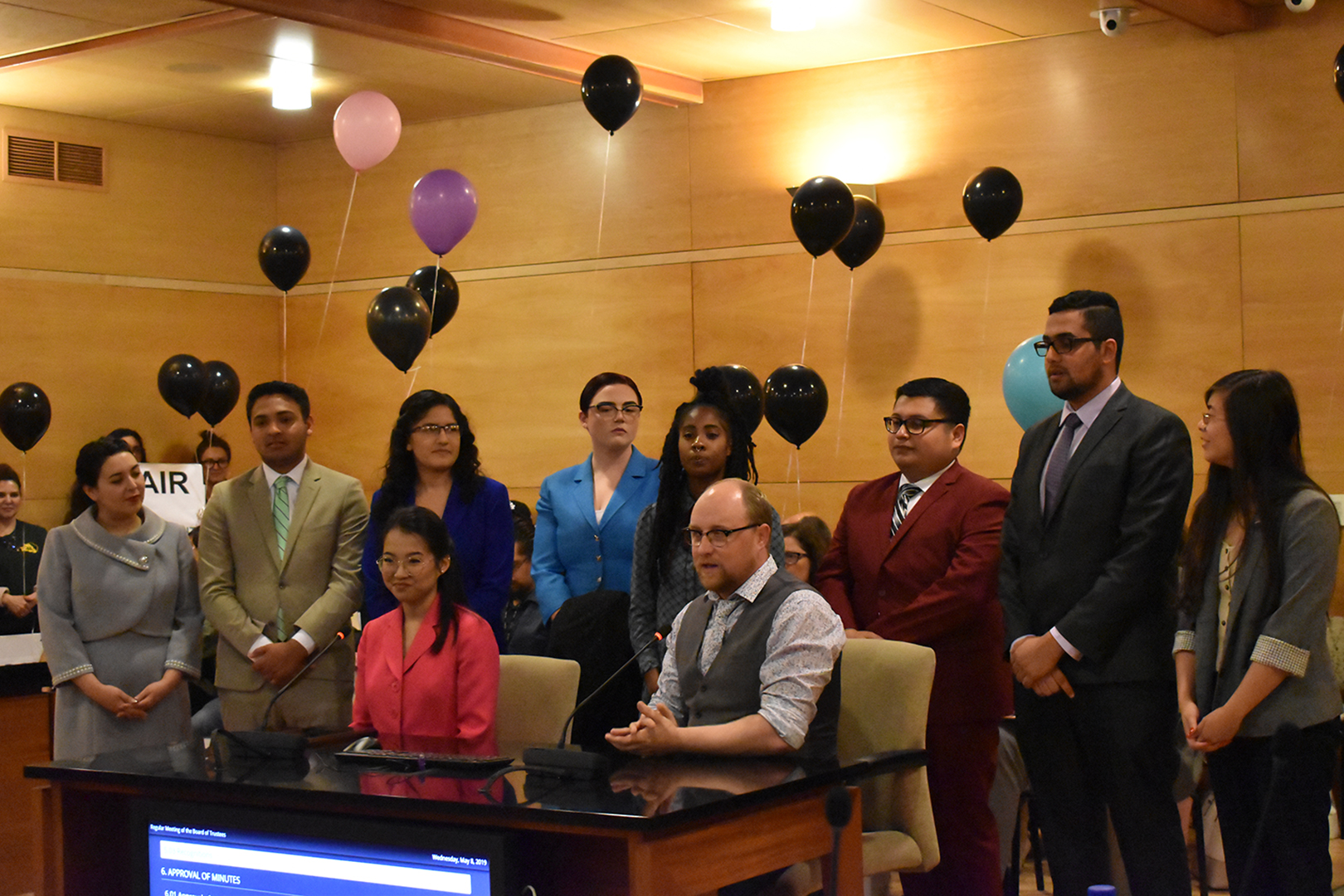 Mt. SAC's Health Occupations Students of America also went home successful.
HOSA won 19 medals at the State Leadership Conference and their leaders, psychiatry professors Mary-Ellen Reyes and Jill McGraw, were honored at the event.
The HOSA team took home 12 golds, six silvers and a bronze and will have the medal winners advance to the International Leadership Conference. At the ILC, these 11 students will compete against 13,000 other students.
Six of the 11 team members were present, and each spoke appreciatively of their experience, with two describing it as "life-changing."
Swim also took home a title.
Jason Harary of the Mt. SAC Men's Swim Team was also recognized for being named the Scholar Athlete of the Year by the National Alliance of Two Year College Athletic Administrators.
Harary is a 17-time All-American defending state champion in the 400-yard individual medley and a business major who currently holds a 3.82 GPA.
He plans to transfer to Indiana University-Purdue University-Indianapolis (IUPUI), where he will major in tourism, conventions and event management, but Harary will be formally honored at the NATYCAA's Annual Convention in Orlando, Florida in June.
Aside from students, retiring faculty also had a few things to celebrate.
Retirees received Certificates of Service and the faculty members at this meeting had a combined total of 228 years of service.
During recognition, Bob Studard, a sign language and interpreting professor, reflected on his time at Mt. SAC.
"Wow, 33 years can you believe it? I gotta pinch myself," Stuard said.
The excited retiree fondly spoke of his history with the community college system, from his days as a student to working at Mt. SAC and building the Sign Language and Interpreting Program.
Studard spoke of the ongoing support that he has felt from the college during his lengthy career. Although this particular chapter is closing for Studard, he is not leaving Mt. SAC quite yet. He is currently taking Spanish III and is looking to take up guitar lessons.
MakerSpace project manager Mala Arthur, alongside a few students, told the board about the unique benefits and accomplishments of their collaborative workspace.
"Our MakerSpace is not the average Makerspace, we are seen as a model to emulate by many other community colleges and even our local four-year colleges," Arthur said.
The Mountie Makerspace is a workshop available to students, faculty, and community members that affords people the opportunity to work on projects and share knowledge and resources.
Many clubs and programs at Mt. SAC utilize the space.
Mt. SAC Experimental Rocket Team co-president Michael Menendez spoke about how his team successfully launched a rocket more than 11,000 feet in preparation for an upcoming competition because of the MakerSpace.
"None of this would have been possible without the availability and resources that the MakerSpace provided," Menendez said.
The program's current state grant ends May 31 and Arthur requested the space be considered for short-term funding in the interim of finding long term funding for further sustainability.
The Mountie Makerspace is funded from California Community College Chancellor's Office and is part of a statewide effort to development community makerspace programs.
These good things were represented by lighter balloons in the protest.
Leave a Comment