The Secret to Finding the Cheapest Flight
Insider tips on how to predict and select cheap airfares
The most expensive part of traveling is the airfare. I think we have all heard "book your flights on Tuesdays at 3 p.m." or "book months in advance for the best price," those two recommendations are far from the truth.
Studying flight calendars is the only viable method I use to predict prices. By reviewing calendars, it is possible to predict when airfares will be low and ensure you are getting the best price.
I like using the Google flight calendars because of its simplicity and the fact that it scans through several airlines. Google Flights has worked for me time and time again.
Here are some tips on how to use Google flights and how to predict the prices. If you already understand Google Flights, feel free to skip down to the predictions.
How to use Google Flights
First, Google "flights to Barcelona"
You will get a similar search result as this one here. After the ads, there will be a link to Google Flights. Go ahead and click on that.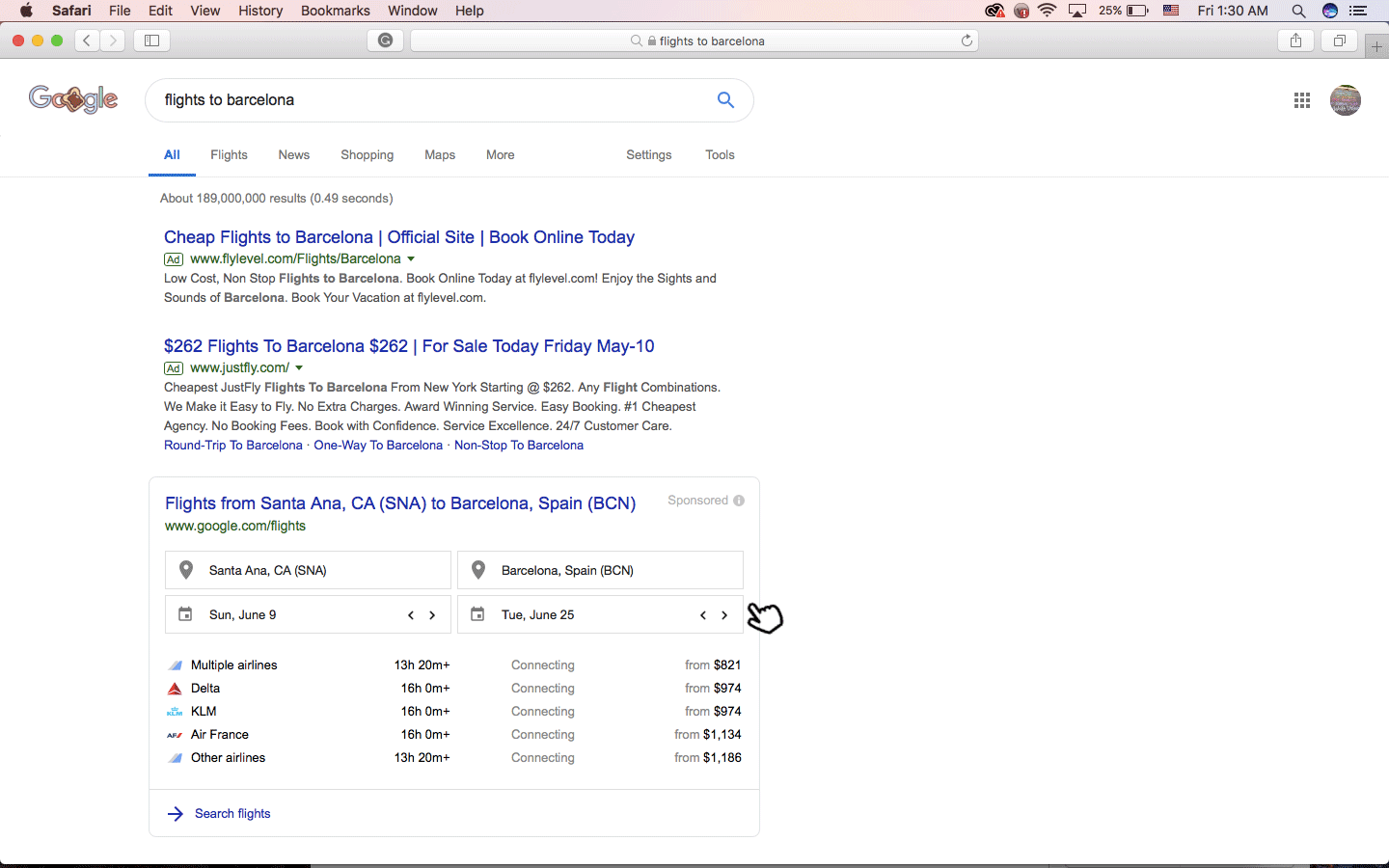 Choose your departure airport
Larger airports tend to be cheaper. I find that in southern California, LAX is the cheapest airport to fly out from. However, there are times when Ontario International Airport or even McCarran International Airport, located in Las Vegas, have cheaper flights. Taking into account flight prices, parking fees, travel time and expenses to the airport, select the airport that best suits you. I suggest doing multiple searches from different airports to find the cheapest one.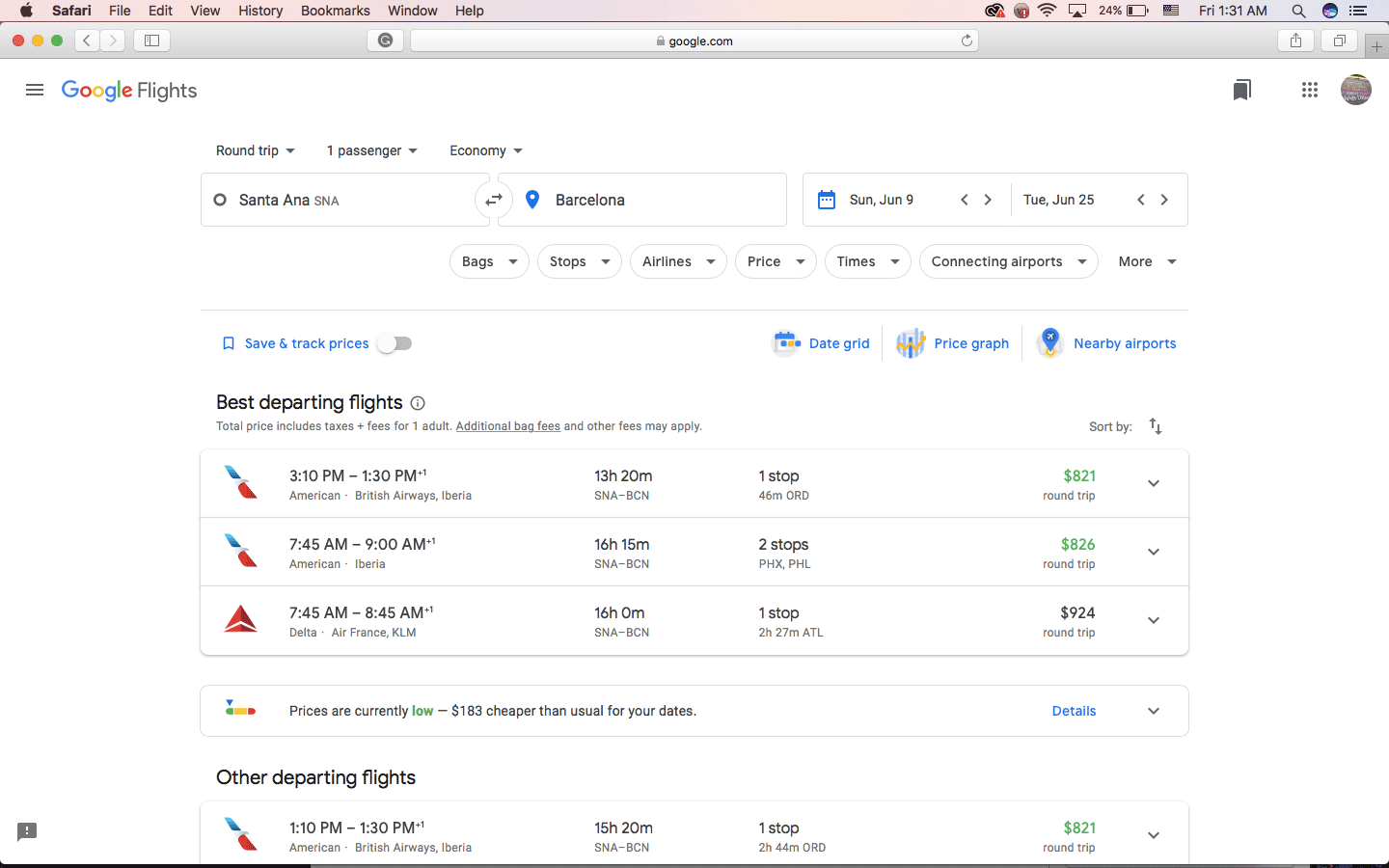 Click the calendar icon
When you click the calendar icon, calendars with several dates and values are listed.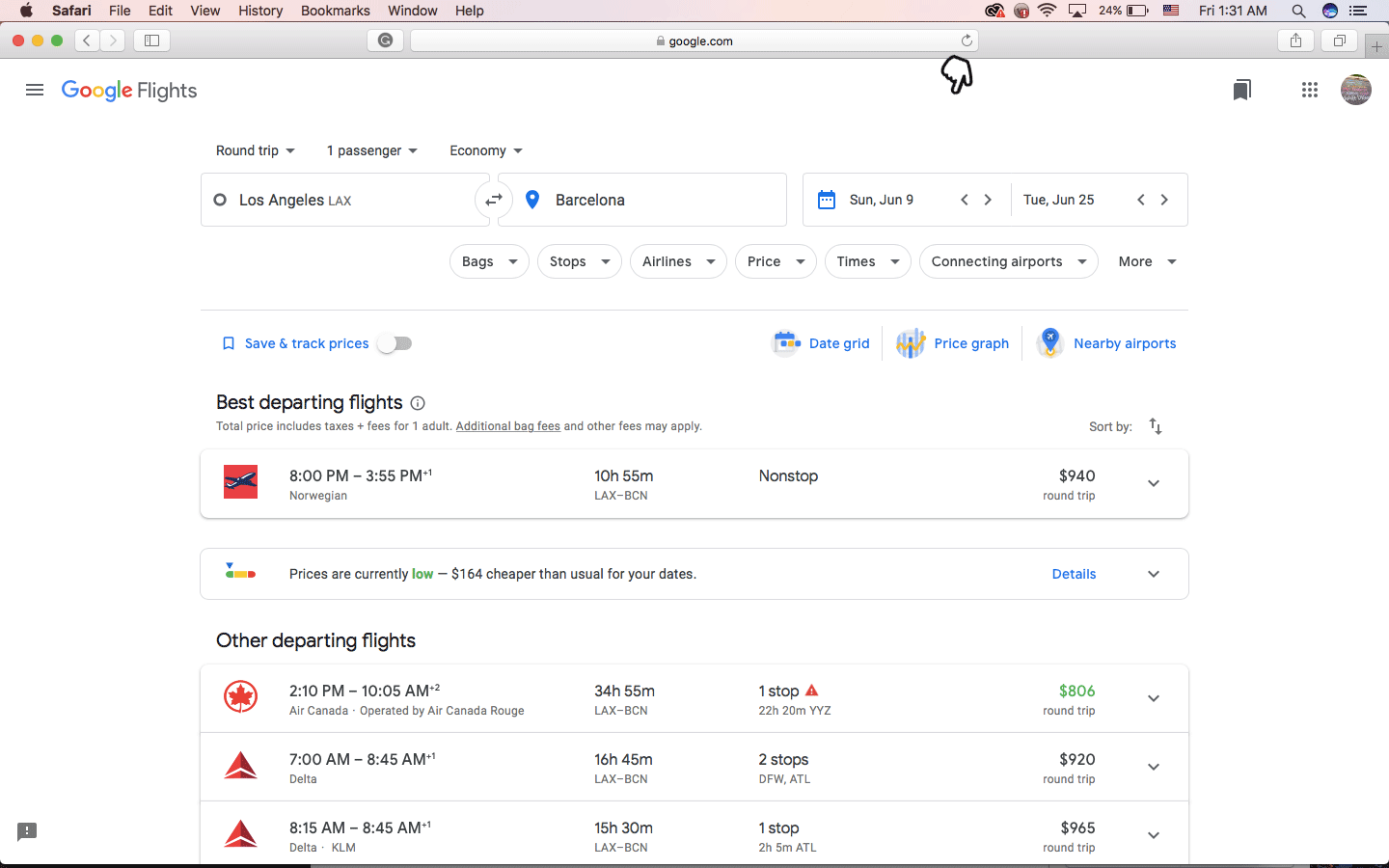 Click reset to look at a blank calendar
Looking at a blank calendar, every date has a price attached to it. This is the price of a round trip ticket for a certain amount of days. The amount of days can be adjusted down at the bottom.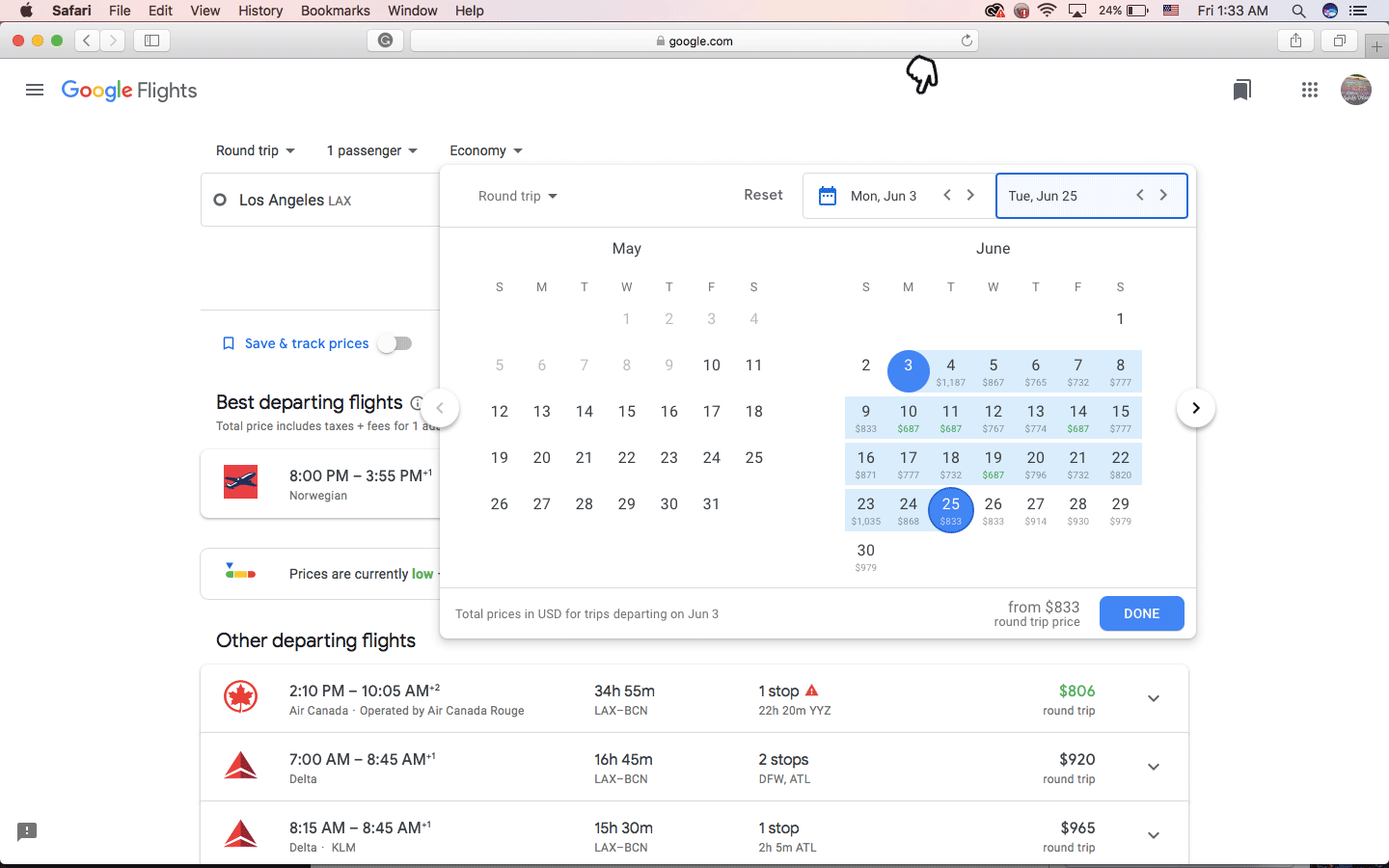 Green means good deal
Any day with with a green price is a good deal. These are the ideal days to start your trip. Here's an example.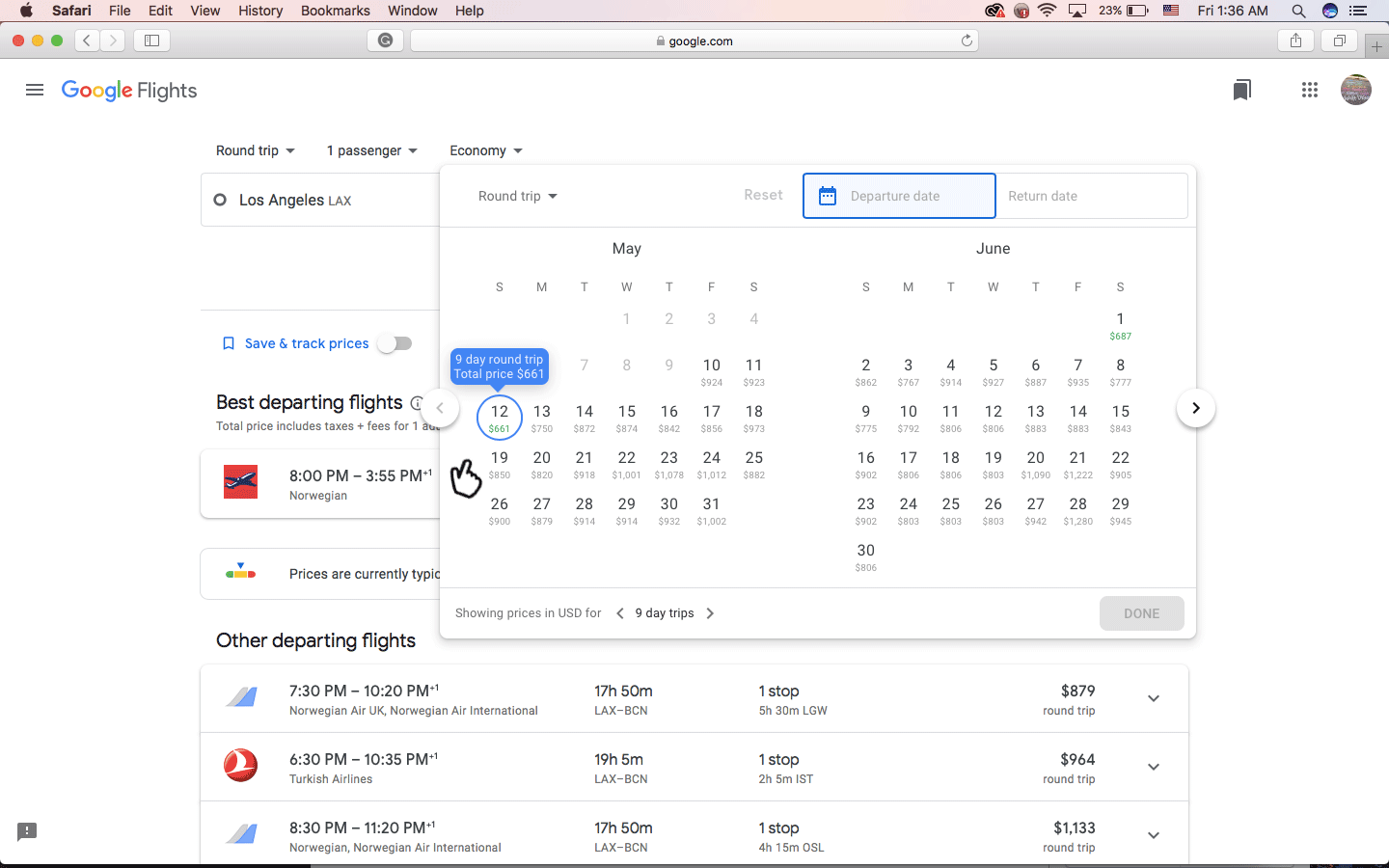 Select the start date
Then select your return date
Whichever date you select, the associated price to that date will be the price of your airline. Again, the green prices are the good deals.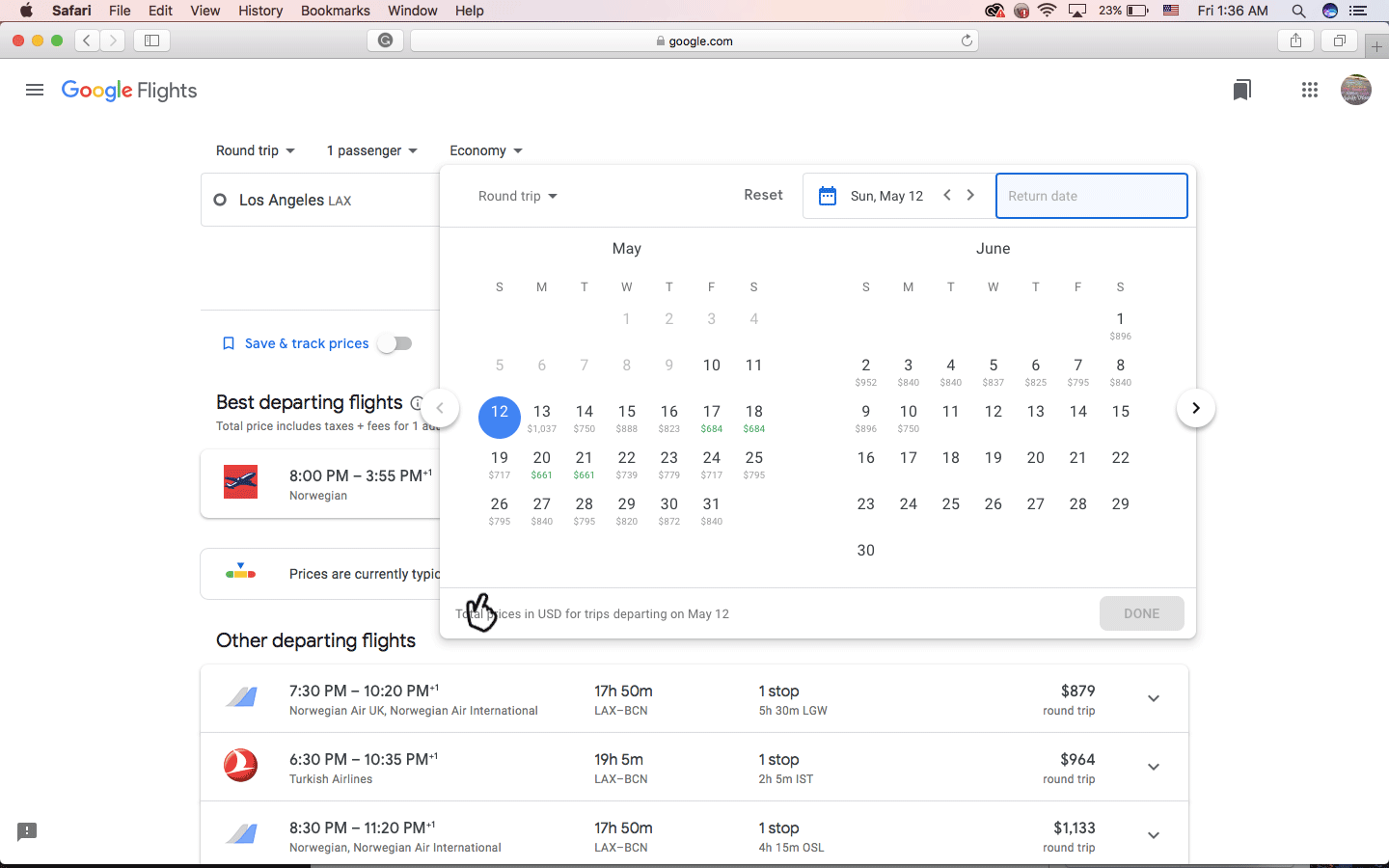 Press done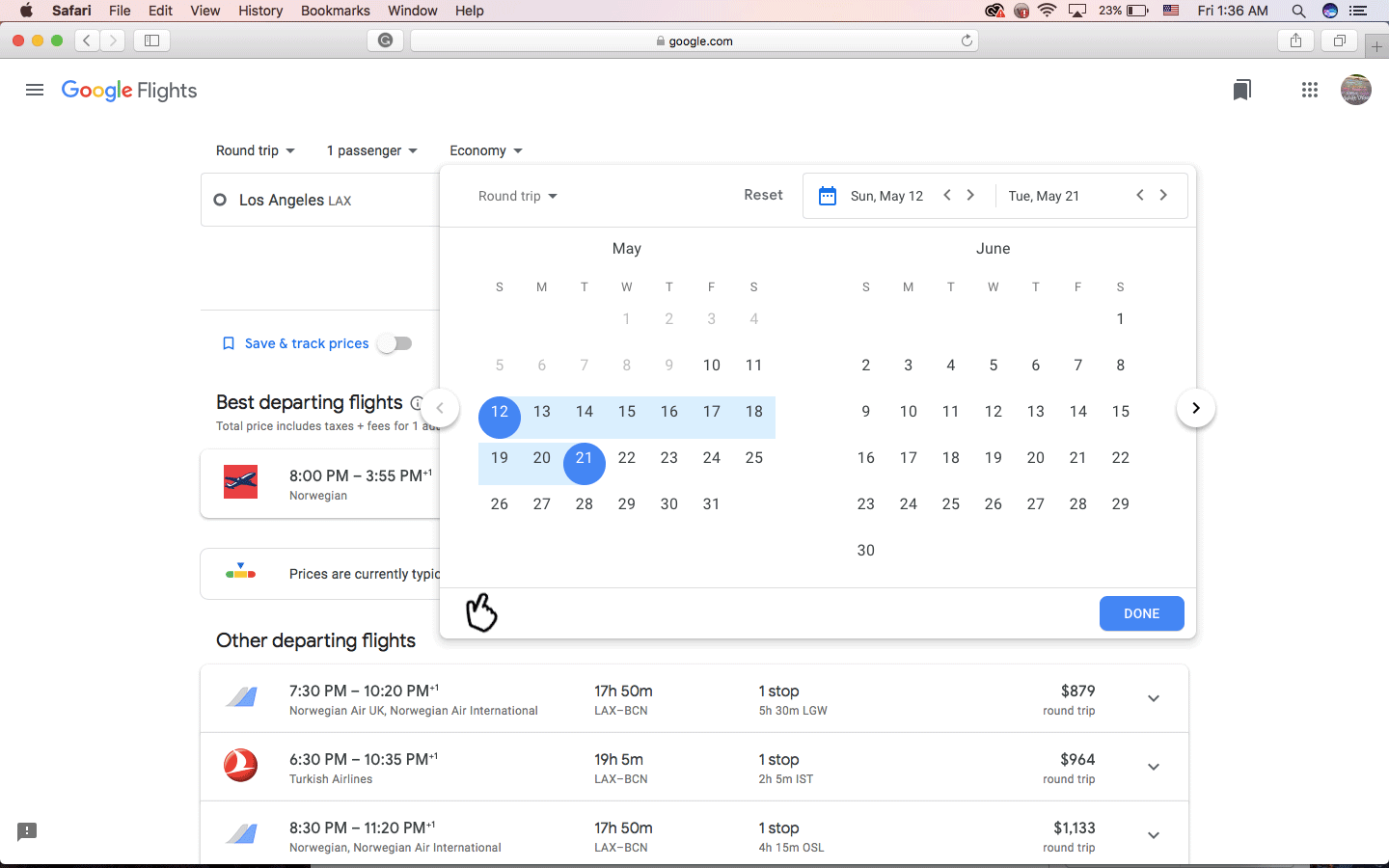 Select a departure flight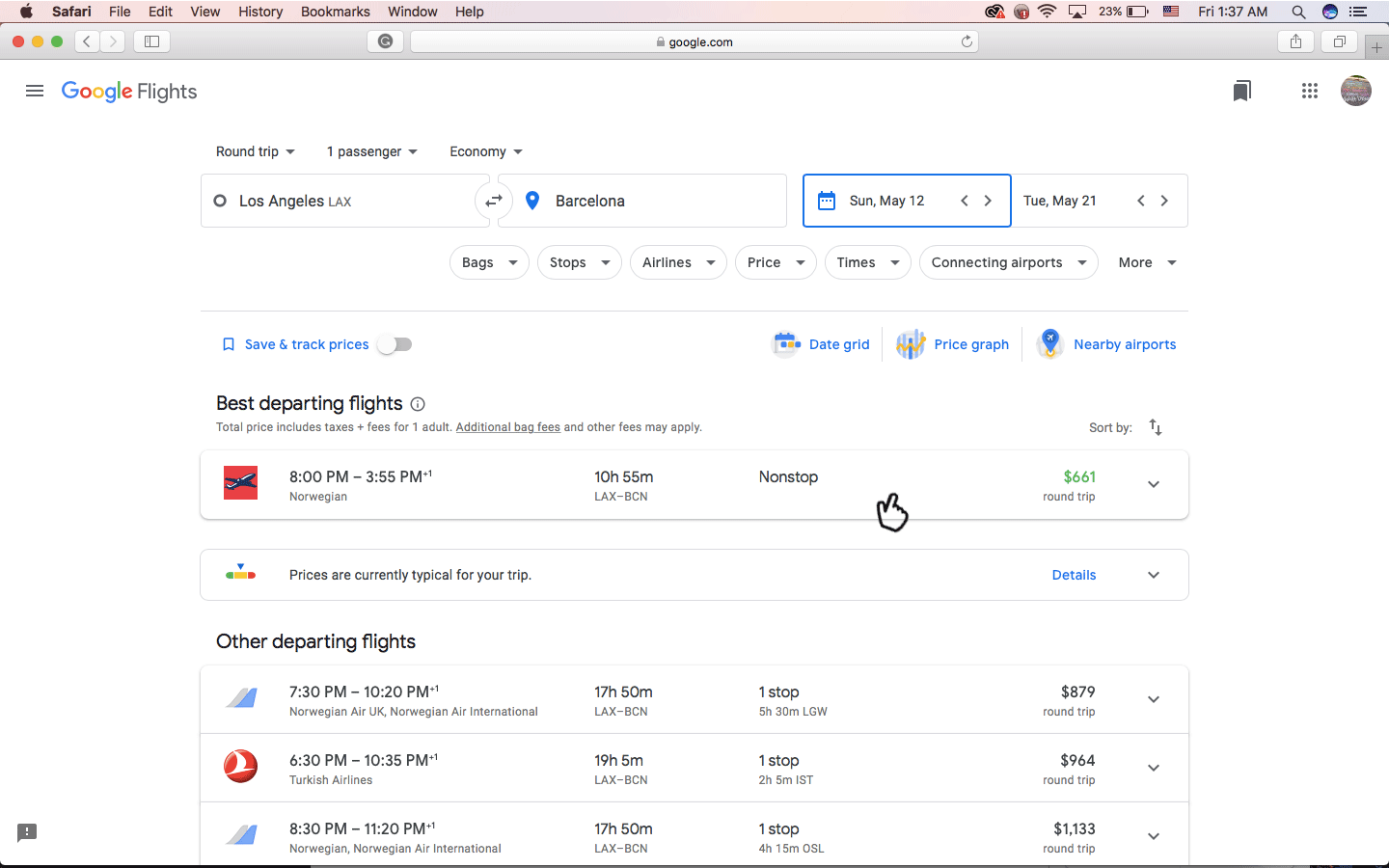 And then a return flight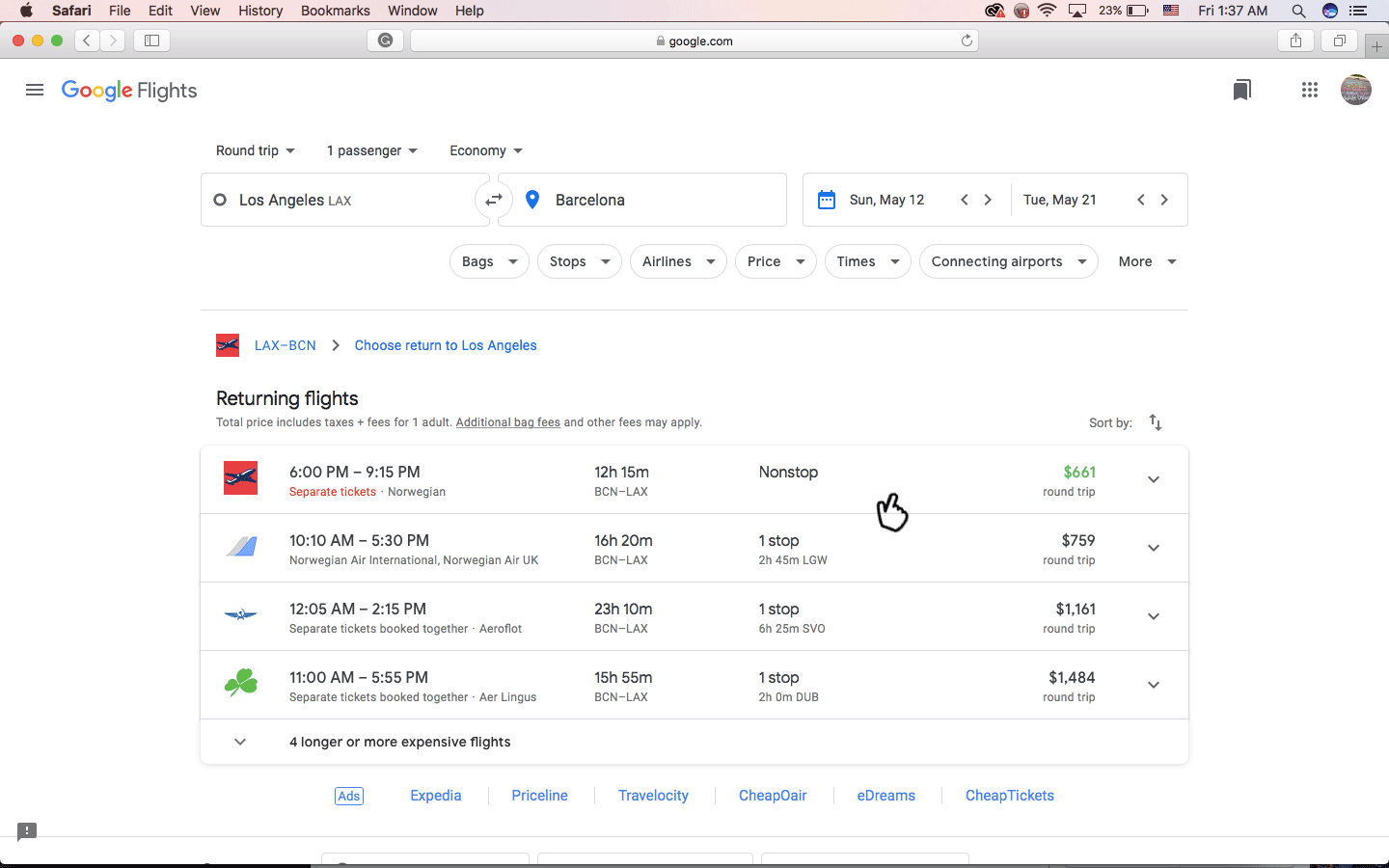 Book your flight
Google Flights will provide you with various websites to book your flight. I always just select the cheapest booking site.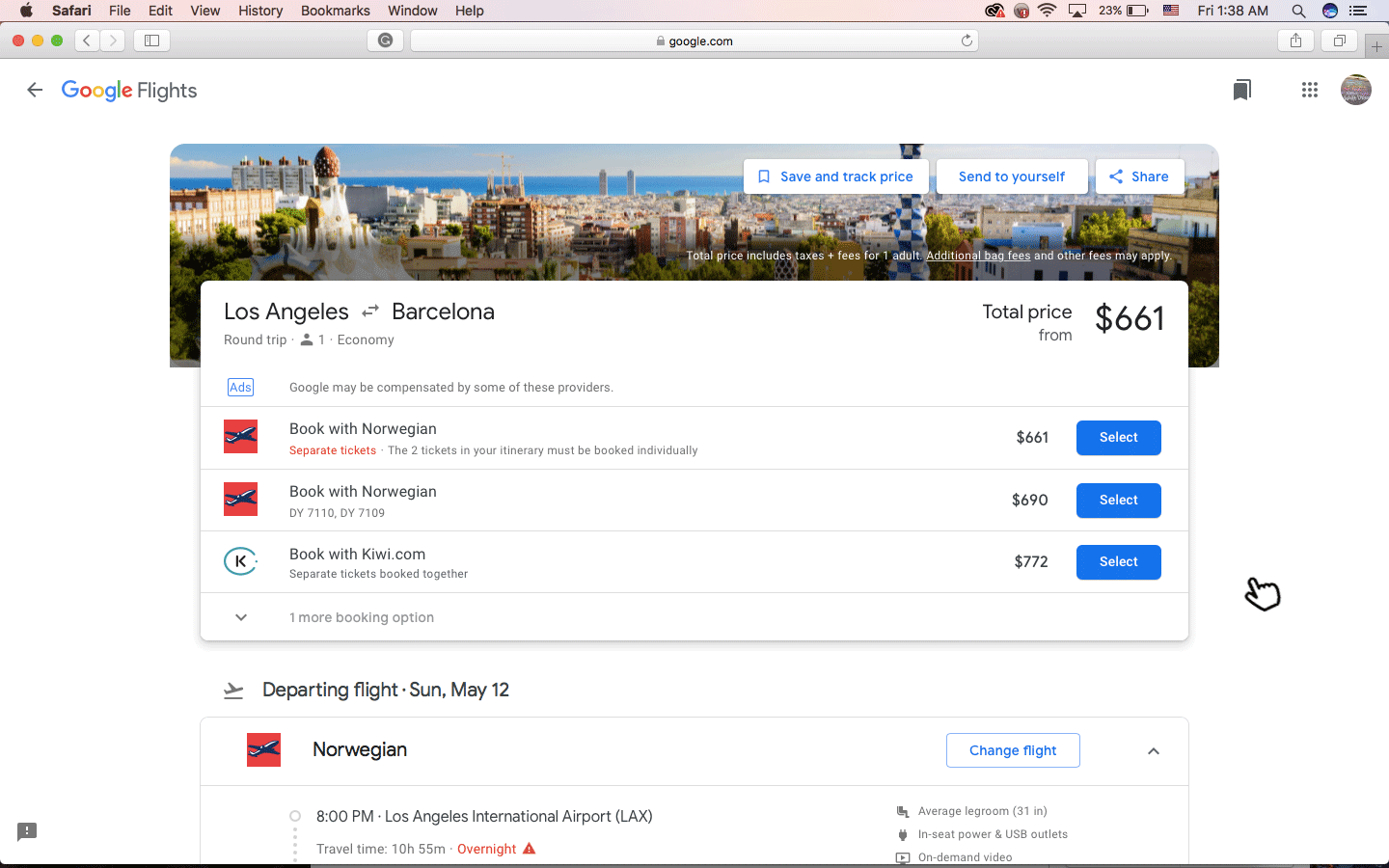 Additional Tips
How to predict prices
Flight prices tend to shift consistently, meaning the prices available today will shift one week down and be available in one week.
For example, this green deal will likely shift down to next Monday if we were to check in one week.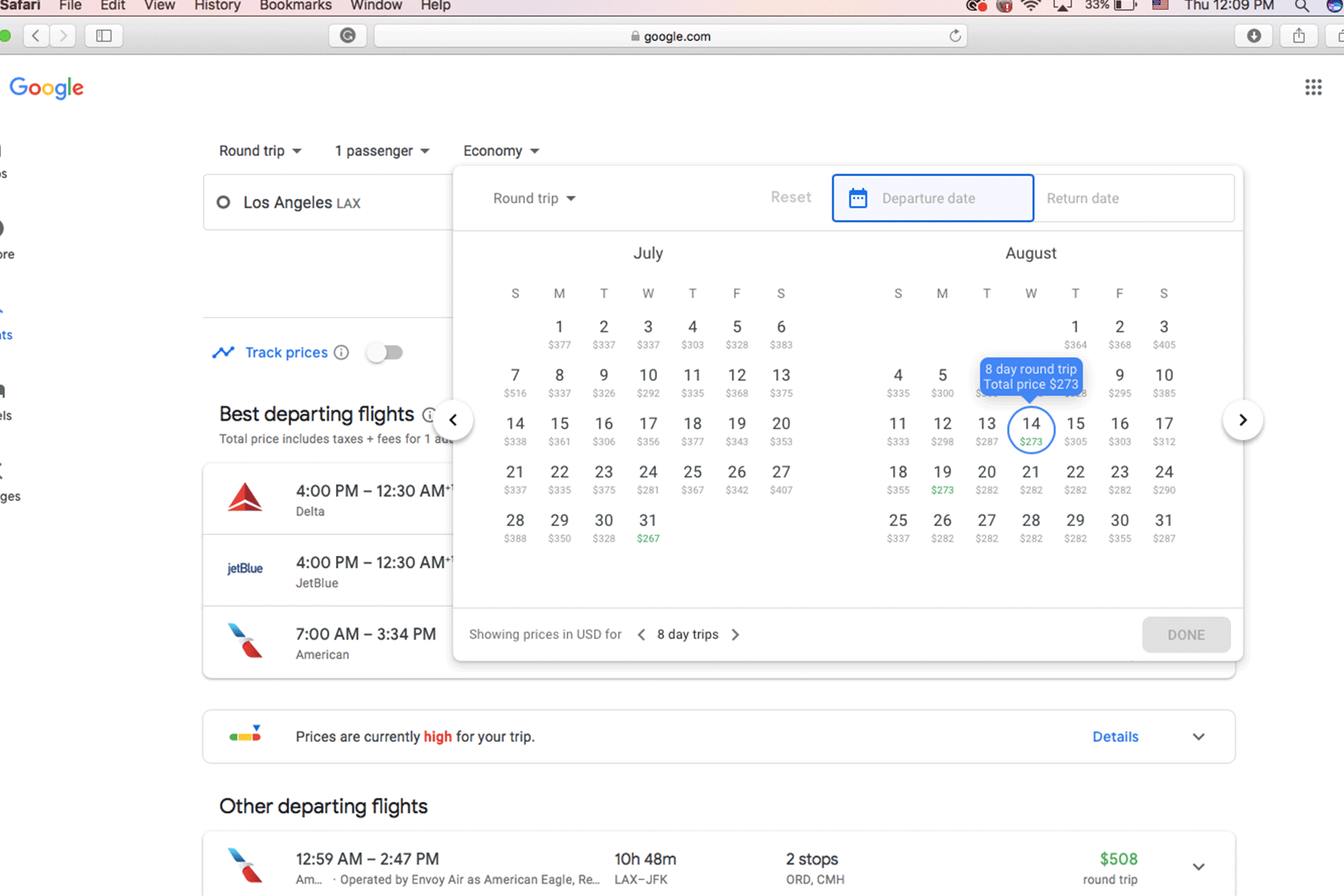 Using this method of seeing when these green deals will shift down to the dates you'd like to fly can help you predict the best time to book.
Keep in mind that these are estimations, which . Which means if you think it's best to book your flight in eight weeks, start checking at around six or seven.
It is also important to note that prices will be generally be higher during certain times of the year. This includes holidays, summer, spring break, etc. Green deals will still shift down to these high demand dates and have a reduced price. However, the reduced amount will likely be less than green deals on low demand dates.
Lastly, last minute flights will always be more expensive and they tend to fluctuate inconsistently. If you are booking a flight within one to two weeks, it is best to book as soon as possible.
I hope this can help you understand how flight prices move and help you book an excellent deal.
Leave a Comment
About the Writer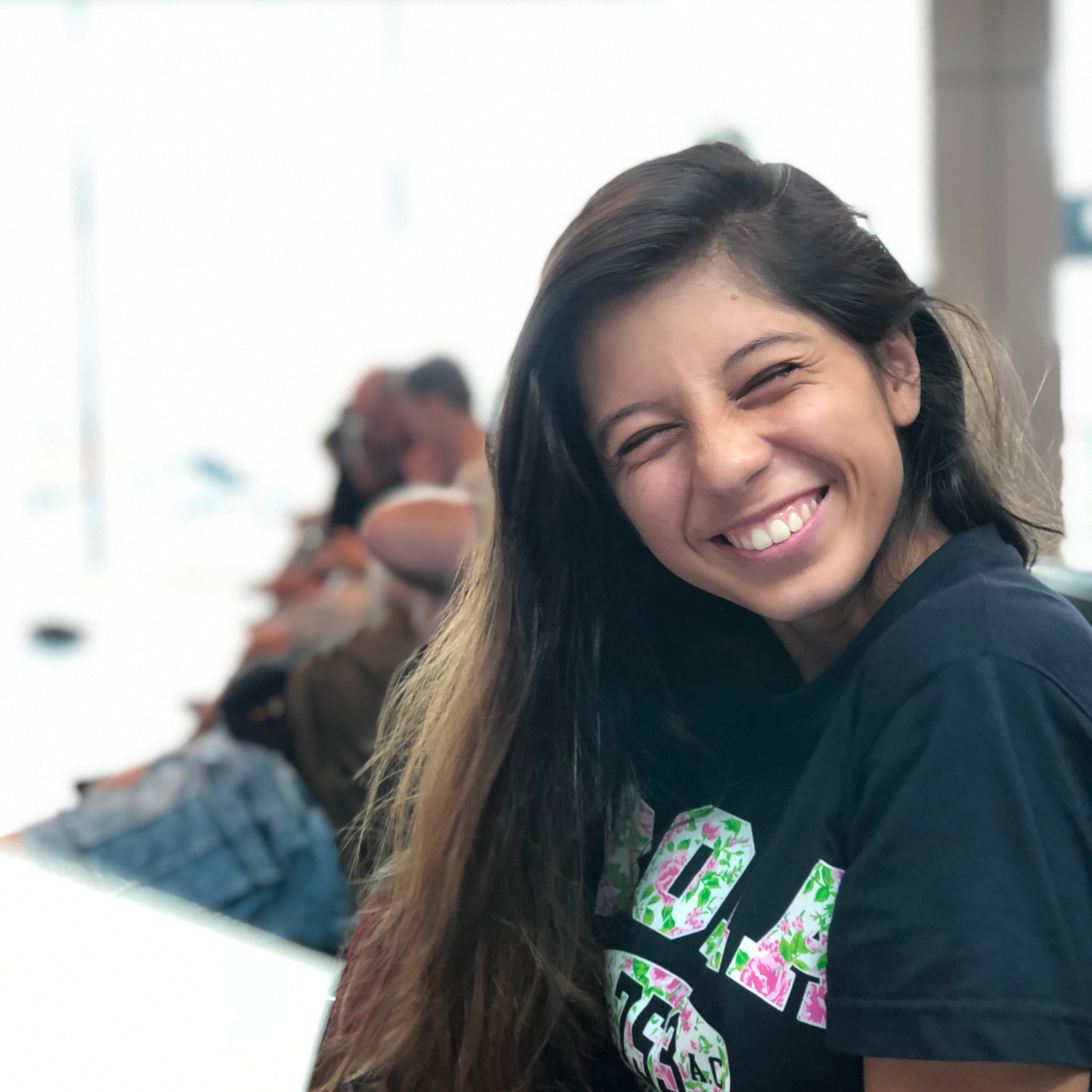 Kassandra Ruiz, Author
Kassandra Ruiz is a staff writer for SAC.Media