After playing as a running back for the Pittsburgh Steelers as number 21 in 1990, Pasadena native Richard Bell found a passion in police work and has served local communities in California since 1995.
On July 2, Bell scored the second touchdown of his career by being officially named West Covina's police chief.
Bell first worked in the patrol division in the San Marino Police Department before joining the West Covina Police Department in 1999.
He started as a police officer and has served as a school resource officer, explorer adviser, field training officer and corporal. In 2004, Bell worked in the detective bureau and he was promoted to sergeant two years later.
Bell was then promoted to lieutenant in 2010 where he worked in the detective bureau alongside patrol, professional standards and administrative sections. Three years later, he was promoted to captain and assigned the investigative support and services division alongside the administrative division.
With over 20 years of experience, his leadership style was praised by council and residents at the meeting.
Three commissioners spoke before the council in support of Bell: Herb Redholtz of planning, Sue Augino of human resources and Phil Kaufman community and senior services.
"He understands the issues," Redholtz said. "He's been here 21 years. I think he's the right man for the right job at the right time for this city and I would urge a unanimous vote of this council to appoint him."
Augino explained that Bell had asked to meet with the group she helped start to address homelessness and other issues facing the residents. She added that since the meeting, residents and the officers have collaborated to make a group of 16 people to discuss strategies for solving issues in the city.
"He truly thinks outside the box, and he's moving West Covina into a new direction," Augino said. "He has implemented social media sites to keep our public informed of the police activity and the quality of life in West Covina is truly a priority of chief Bell's."
Kaufman kept his remarks short on Bell.
"I'd like to congratulate the council and city manager in a great selection of Richard Bell as our new permanent police chief," Kaufman said.
Resident Bill Robinson was the only one who spoke against the decision to appoint Bell by suggesting an option that was not on the agenda.
"I think it'd be a good strategy tonight if you reappoint chief Marc Taylor," Robinson said. "To me that was an obvious mistake and miscarriage of justice."
Robinson then added that he felt firing Taylor was a mistake.
"I think you ought to have the courage to correct a mistake and correct a misjudgment in my mind and reappoint Marc Taylor. I don't know what he's going to do or what's going to happen, but I think on balance the city would be better off," Robinson said.
On the other side of the dais, the council was unanimously in favor of his appointment.
Bell's appointment was pulled from the consent calendar in order to allow Bell and the council to say a few words.
When Bell approached the dais, he was greeted with applause and a standing ovation.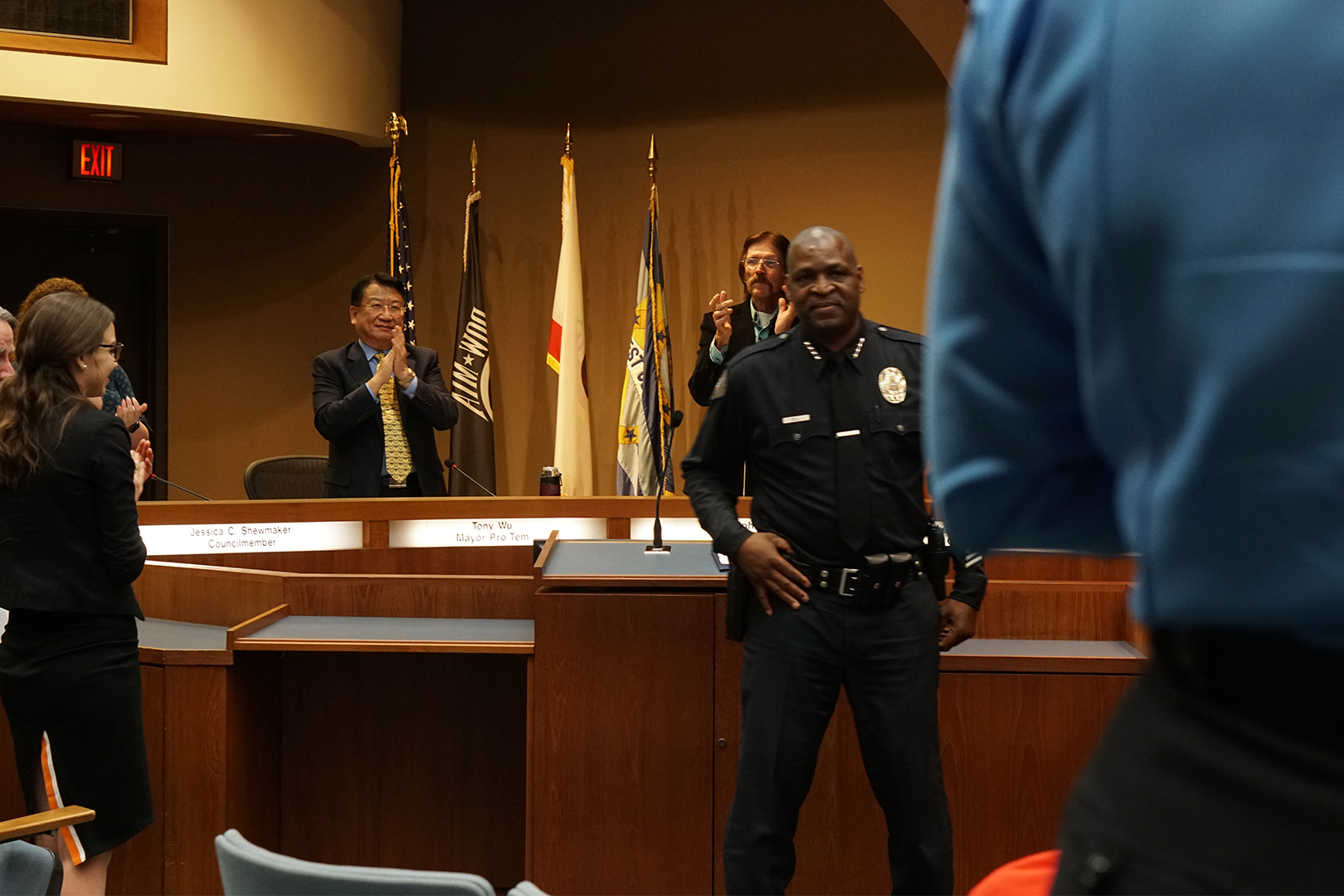 Council member Dario Castellanos, who had pulled the item, told the chambers that he likes Bell's presence and management style.
"I also like his approach with engagement and with the community, especially with hot button issues," Castellanos said. "Bell has been stellar."
Mayor Lloyd Johnson congratulated Bell and said that he knows how the public feels about him and that he has the support of everyone. Johnson described Bell as the right person for the job and said he will do a fantastic job.
Council member Letty Lopez added on to her colleagues' statement and said that rank and file morale has improved and that she appreciates Bell's engagement.
Fellow council member Jessica Shewmaker, who jokingly fought Johnson so that she could make the motion to appoint Bell, spoke about her experiences "growing up" with Bell.
"I was a student at West Covina High when he came in as the SRO, so you could joke that we've grown up together – me to the city council, him to the chief's position," Shewmaker said. "I am very honored to be on the council at this time to make this appointment."
"I've been very impressed with the immediate community outreach that chief Bell engaged in as soon as he was appointed interim," she added before listing out other accomplishments Bell has made in reaching out to the community.
Mayor pro tem Tony Wu said he asked Bell to become chief when he first took the acting role two years ago and said that he is glad to see Bell step up.
"I know you are so proud to be our chief," Wu said. "I'm so glad you took this opportunity."
When it came time to make a motion, Johnson began to move to appoint Bell before Shewmaker said "Who's known him the longest?" and raised her hand enthusiastically.
Shewmaker then made the motion, and the council approved him in a unanimous at once vote of "yes," a departure from their standard roll call vote.
As Johnson welcomed the new chief down, the chief opened with a lighthearted joke.
"I certainly can't thank you enough," Bell said to the chambers. "I guess I can't, at this point, screw it up."
Bell then gave a speech about how the family atmosphere drew him to West Covina, and how a former chief of his spoke highly about the city. He would later go on to say that he is incredibly competitive and that West Covina is the best.
"When you speak of West Covina, you speak of the best. Our SWAT team is the best. I'll put our SWAT team up against anybody in the nation," Bell said. "Our people are the best."
Bell also took this opportunity to answer why he did not become chief sooner.
"I know some people ask me, 'Why didn't you do it before?' It wasn't the right time before, but I'm here to tell you that this time it's the right time and I'm here to serve this community and give you my best," Bell added.
Bell's achievements have also been written about in an article by Dennis Haywood, where Haywood states that the city of Pasadena would take Bell as their chief if West Covina did not want to keep him.
At least to this current West Covina city council – he's a keeper.