¡Que Viva Luis!
Mt. SAC mourns Luis Sanchez: student, brother, and friend beyond all else
Students and faculty who came to know him came to find that he had redefined their definition of a friend forever.
In the early morning of April 20, 2019, Luis Sanchez ended his short battle with leukemia, leaving his family at home and his Mt. SAC family missing the golden soul that had moved them and touched them in such beautiful ways.
A fighter to the very end, Sanchez never quit fighting, whether it be for immigrant rights, his education, or his life.
Sanchez first locked horns with cancer at the age of 15, when doctors discovered a brain tumor which was treated and cured with chemotherapy. Some students believe that this may have left him open to the leukemia he was diagnosed with in the fall of 2018.
But cancer is far from what Sanchez was made up of.
In his time at Mt. SAC, he touched the hearts of all the people who took the time to get to know him.
He got to know many students in his classes and clubs, and he also made good friends with professors and faculty on campus.
Sanchez had to drop his classes to receive treatment, but decided to keep English 1C with Professor and English department chair Gary Enke.
Enke first met Sanchez in 2017 as they protested for DACA together. He remembered how even though Sanchez struggled to walk the hills throughout Los Angeles on the long march, he went along with Enke and the other Mt. SAC students the whole way.
Enke spoke about how he and Sanchez talked often, and how Sanchez represented life for him in that he made the most out of life while he was alive. Even though Sanchez was suffering, because of that he knew not to beat around the bush from day to day.
"It gave him the ability to cut through the bullshit," Enke said. "When he wanted to do something, he said 'Fuck it, I'm just gonna do it!'"
Enke remembered when Sanchez told him in the hospital about how he wanted to go to see a concert in Las Vegas. Even though his mother didn't want him to go, he went anyway on the bus by himself.
"Sanchez didn't have the illusion that we all have that we're going to be around forever."
Enke admired how when he got to know people he didn't "do all the bullshit stuff about being afraid to share with them. He just opens up," Enke added. "When someone does that, it makes the other person open up [too]."
Enke found a friend in Sanchez who wouldn't let anything slow him down or keep him from living while he was alive.
Sagrario Eusebio, a fellow dream student, was one of Sanchez's first friends in college.
She remembered how Sanchez took extra steps to care for his friends. She smiled while she told stories of his humor and how he would keep her and their other friends in check when it came to school and grades.
"I feel so privileged that I was able to meet him," Eusebio said. "[He] left me a new example of what a good friend is." Eusebio said he would sit for hours helping her and her sister with math homework, call at random moments to check on how she was doing, and was just a good friend to her and many of the other students he interacted with.
Paola and Pamela Corona, a pair of sisters in Mt. SAC's DREAM program, were friends of Sanchez.
He was the type of friend that would carry you to success with him.
"Basically if you want to pass [a class], go with him," she added.
He would help you pass your most difficult classes, but Sanchez was also remembered for his hard-headedness. Pamela said that she and Sanchez would argue all the time. "He was very hard-headed, but that's how our relationship was." Paola said that she was always scared to get close to people, but Sanchez was always persistent. Although she wouldn't always message him back, he would always show support for his friends.
Kenya Monroy, a DREAM Program student and friend of Sanchez, remembers him as an exemplary student. Throughout the semester in the anatomy class they attended together, she learned as much from Sanchez as from the class itself. In the beginning she wanted to drop the class, but Sanchez was there to convince her to stay.
"When he saw that I was struggling, he would always be there to help me," Monroy said.
Later when he began to lose his self esteem, saying he was tired, he said he decided he wanted to drop anatomy with her, but then changed his mind and decided to stay in and finish the class.
Jose Tapia, a connection from Minority Male Initiative, remembered how Sanchez was like a brother to him. Tapia met Sanchez through Mt. SAC's Summer Bridge program. Even though Sanchez could be rough to different people, Tapia liked how he was never mean to him.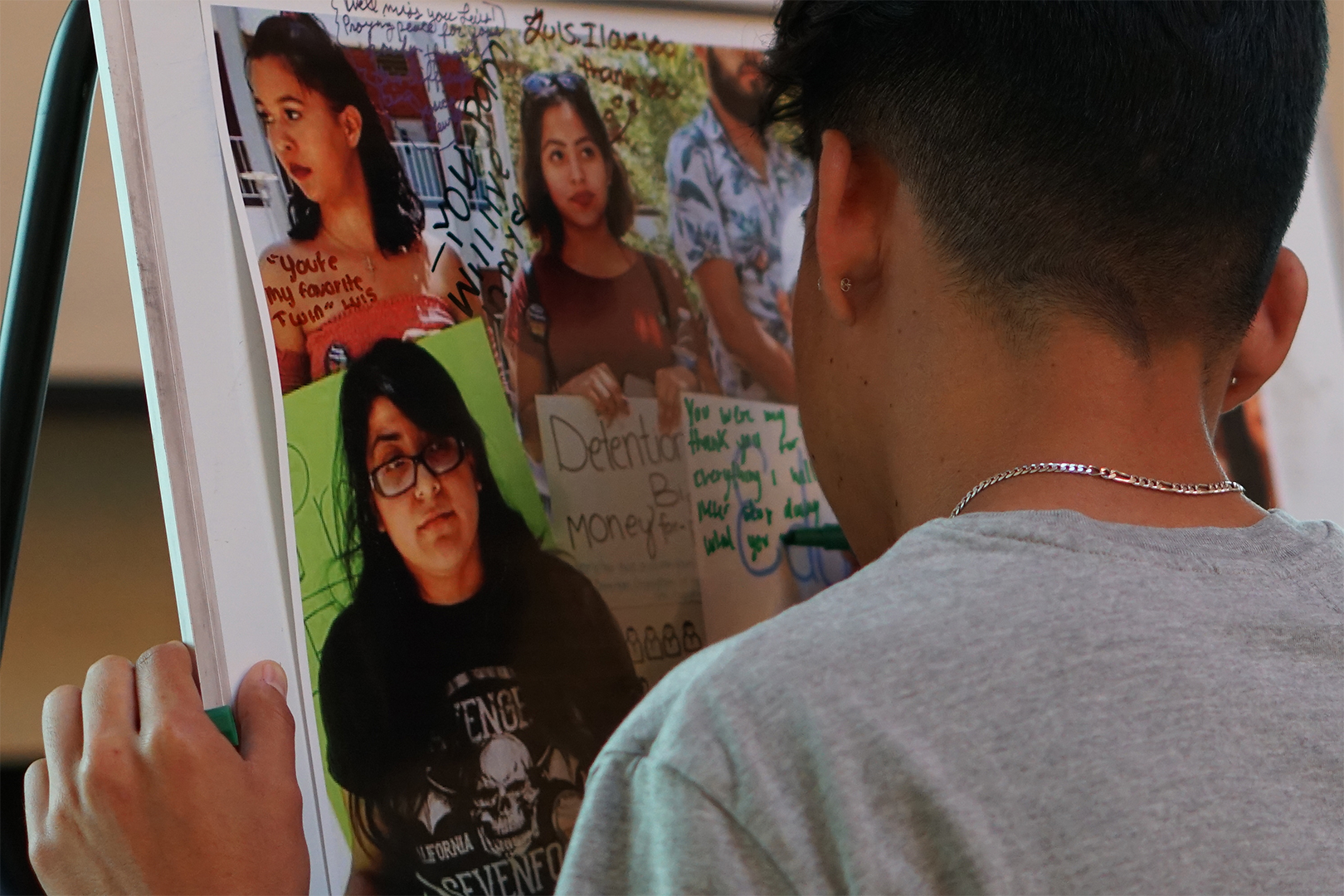 He spoke about a time when they were in class together, and all the students were being loud, causing Sanchez to shout out for everybody to be quiet. Tapia apologized, and Sanchez responded, "'No, not you, [just] everybody else.' It was funny because he [could] just be mean to other people, but not me," Tapia said. "He believed in me when nobody else would."
Each of these students found a friend in Sanchez who moved them in unique ways. Sanchez was a member of the family of people he brought together at Mt. SAC as a significant part of the DREAM Program, Movimiento Estudiantil Chicanx de Aztlán (MEChA) and Improving Dreams Equality Access and Success (IDEAS) clubs.
Sanchez left an impact on campus. Without a doubt, he brought people closer together even after he passed away.
Staff, faculty and a few close friends were notified by Sanchez's family immediately after he passed away.
The DREAM program woke up to an email sent by Student Success and Equity associate dean Eric Lara the Monday after his passing, which delivered the sad update.
Hearing of the loss was tough. Many students almost went through the grieving process alone, but many of the students came together to discuss how they were dealing with Sanchez's passing with Gary Enke, and counselors were provided to deal with the grief.
The small funeral hall held an energy that could only be described as blue. The rows of pews slowly filled up with family as a band from Sanchez's family's church set up their instruments at the front of the hall for the viewing and rosary service on April 29 in Pasadena.
A group of Mt. SAC DREAM Program students arrived at 5 p.m., and together, they made their way to the front of the hall to pay their respects to Sanchez.
Silently, their legs grew stiff, tongues grew heavy as they walked up to the open casket to see their friend. They each felt a frog crawl up their throats; tears welled up in their eyes. Some of them were better at keeping the tears in than others.
After several eternal minutes of tear-stained silence and softly spoken words, they each walked back their isolated spots next to each other in the pews.
By the time the rosary began, the pews were filled to capacity, and the lobby of the funeral home was filled with friends and family of Sanchez, and when the pastor was done praying, the line to the front of the hall and Sanchez's casket went out the door.
It was clear that Sanchez's ability to impact people spread well beyond Mt. SAC.
After people were given enough time to pay their respects, they congregated in the room around the corner that can be found in most funeral homes.
Tables with chairs were laid out and guests were provided with pan dulce, champurrado and stories of Sanchez and his adventures in life.
One of the most memorable stories was one about how Sanchez worked at a pizza shop. At the end of the day, he would bring home leftover pizzas, bread sticks and chicken wings that would have been thrown away had he not taken them.
After his family had taken their share, his mother would say, "Give this food away because I know you'll bring more tomorrow."
Sanchez would then take the leftover food to the homeless at a local park on his bike. One day his bike was stolen, and so when he went that night to deliver his leftovers, he told this to one of the women at the park.
She said, "Don't worry Mijo, we'll handle it." The next day, Sanchez had his bike back, and with brand new brakes.
Stories like this stretched smiles into the teary eyes of Sanchez's family and friends.
On May 1, Mt. SAC clubs marched in Downtown Los Angeles for the International Workers Day parade, a march which Sanchez sadly never got to march at. A bag of pins were handed out while students waited on campus to depart to the march, and in the bag were pink or blue pins that read, "I March for Luis."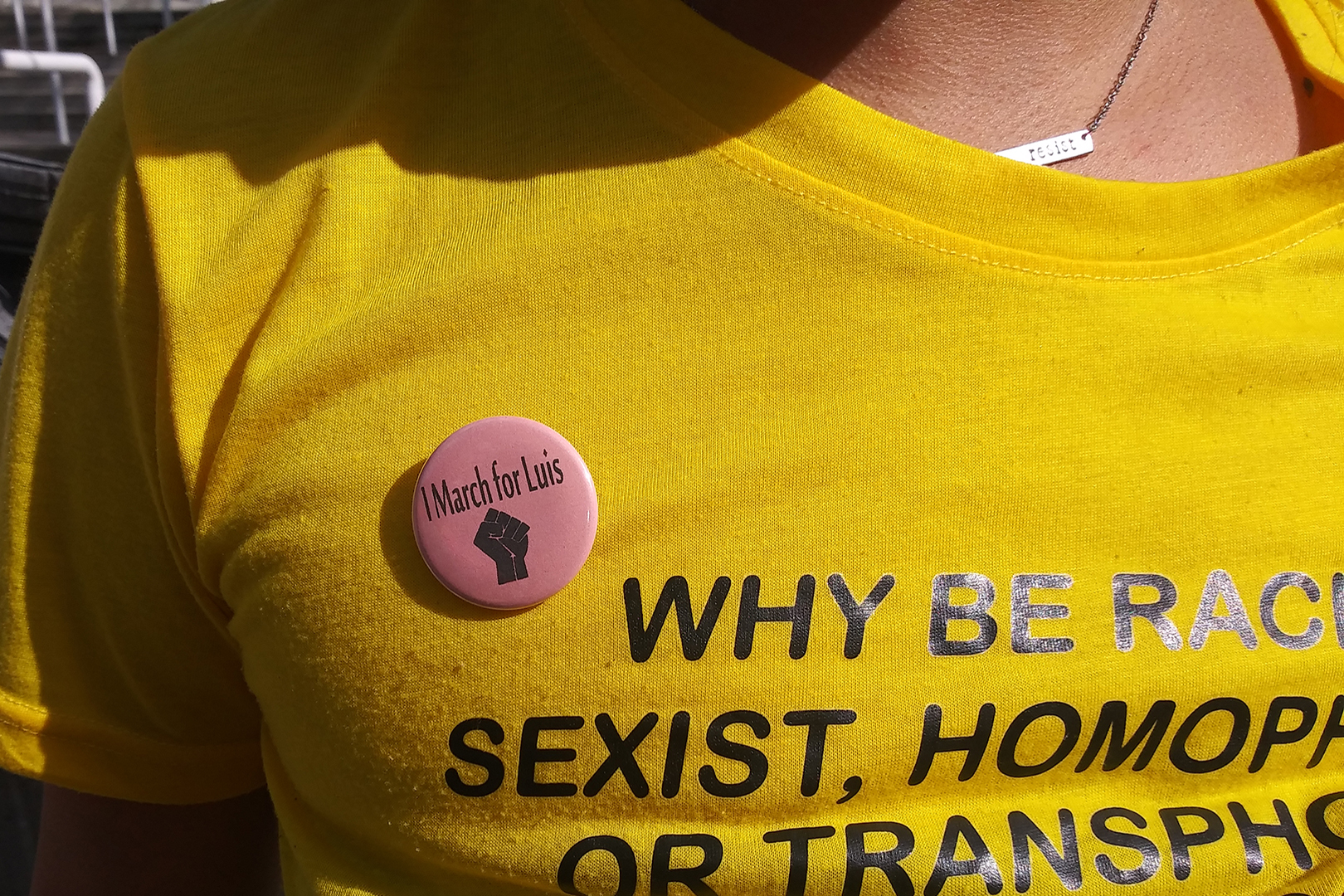 From the left side of the front of the procession, an isolated chant could be heard. Mt. SAC students raised their fists in the air chanting, "¡Que Viva Sanchez!"
On May 15, a young tree was planted in front of the Equity Center in memory of Sanchez, and the next day a ceremony was held dedicating the tree to Sanchez and the impact he left on the people he met and the people who learned about him from his friends.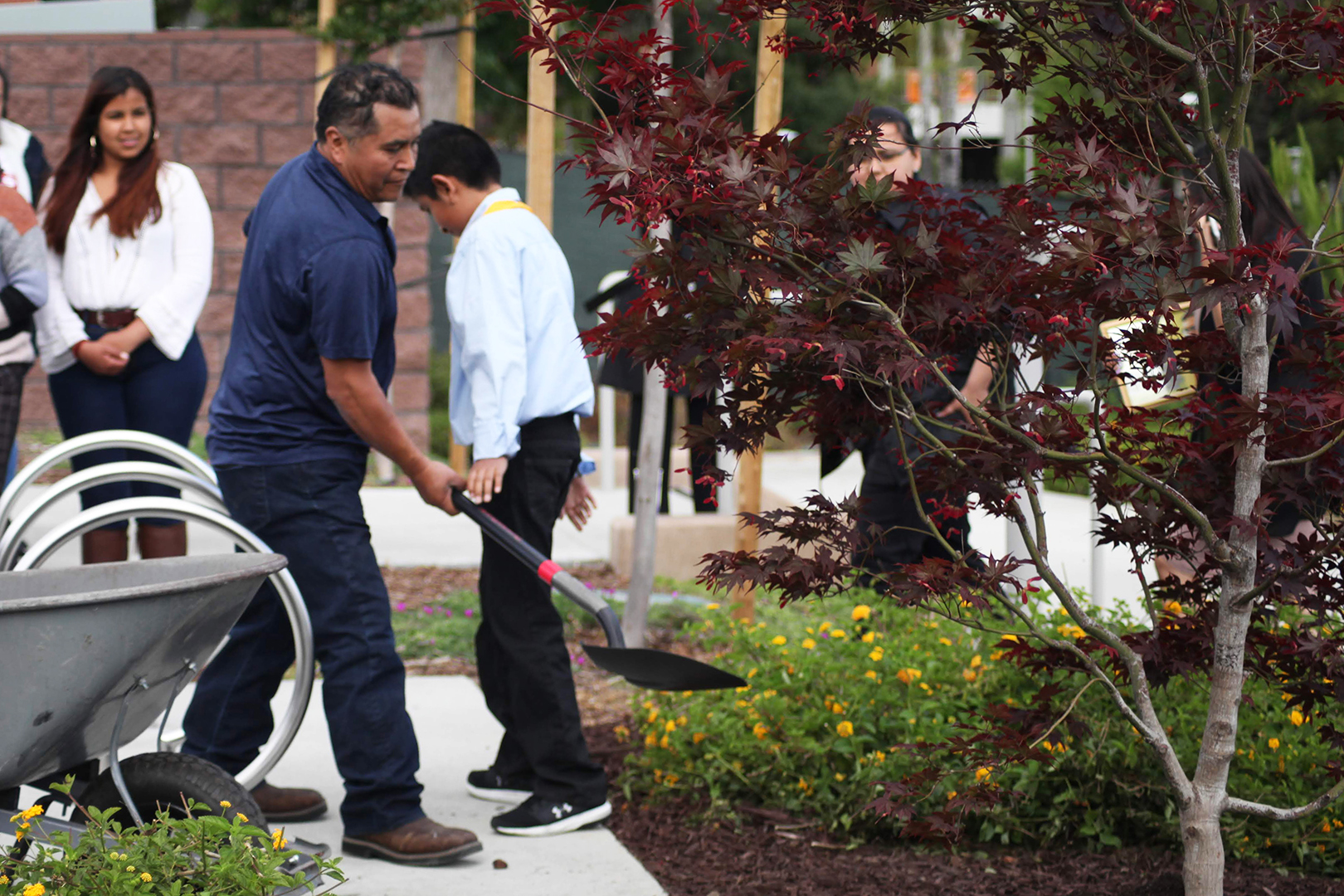 There, Honors program director Heidi Lockhart delivered a short speech before presenting a medal for Honors Certification to Sanchez's family.
Lockhart said that, "Sanchez was a straight A student," and that when students walk past the tree, they should try to live up to the example of determination and persistence set by Sanchez.
Students and faculty spoke at the ceremony before they were allowed to use shovels to spread soil at the base of the tree to complete its planting.
Most memorable was Silver Calzada, Mt. SAC Counselor, who told a story about when he visited Sanchez in the hospital, and fell asleep mid-conversation with him.
"I felt Sanchez shake my arm, and when I woke up, he said, 'Are you falling asleep on me?'" Calzada said that he felt terrible having fallen asleep. "I'm old," he exclaimed. "And then Sanchez points at himself and said, 'You're old? Look at me! I look older than you!'"
Streaks of tears fell off the cheeks of the students and staff gathered around the tree as Calzada's contagious laughter spread throughout the audience.
On April 14, Mt. SAC conferred an Honorary associate's degree to Sanchez. Sanchez was the first in his family to receive a degree. Six days later, Sanchez ended his short battle with leukemia.
Sanchez was an activist, a beautiful friend, an honors student, a DREAM.US Scholarship recipient, and a loved part of the Mt. SAC family. He embodied the spirit, strength and resilience of immigrants and Dream students.
Sanchez is still bringing people together as he was already so good at doing in life.
Que viva Sanchez.
Leave a Comment