The faculty protested the Board of Trustees again at their regularly scheduled meeting on Wednesday, May 8 over the possible move from CalPERS to SISC.
"We are not here because the Faculty Association asked us to be here. We are here because this is close to our hearts," art history professor Sandra Esslinger said before the board.
This time the faculty brought something else close to their chests; small whistles on a string that they used as they chanted.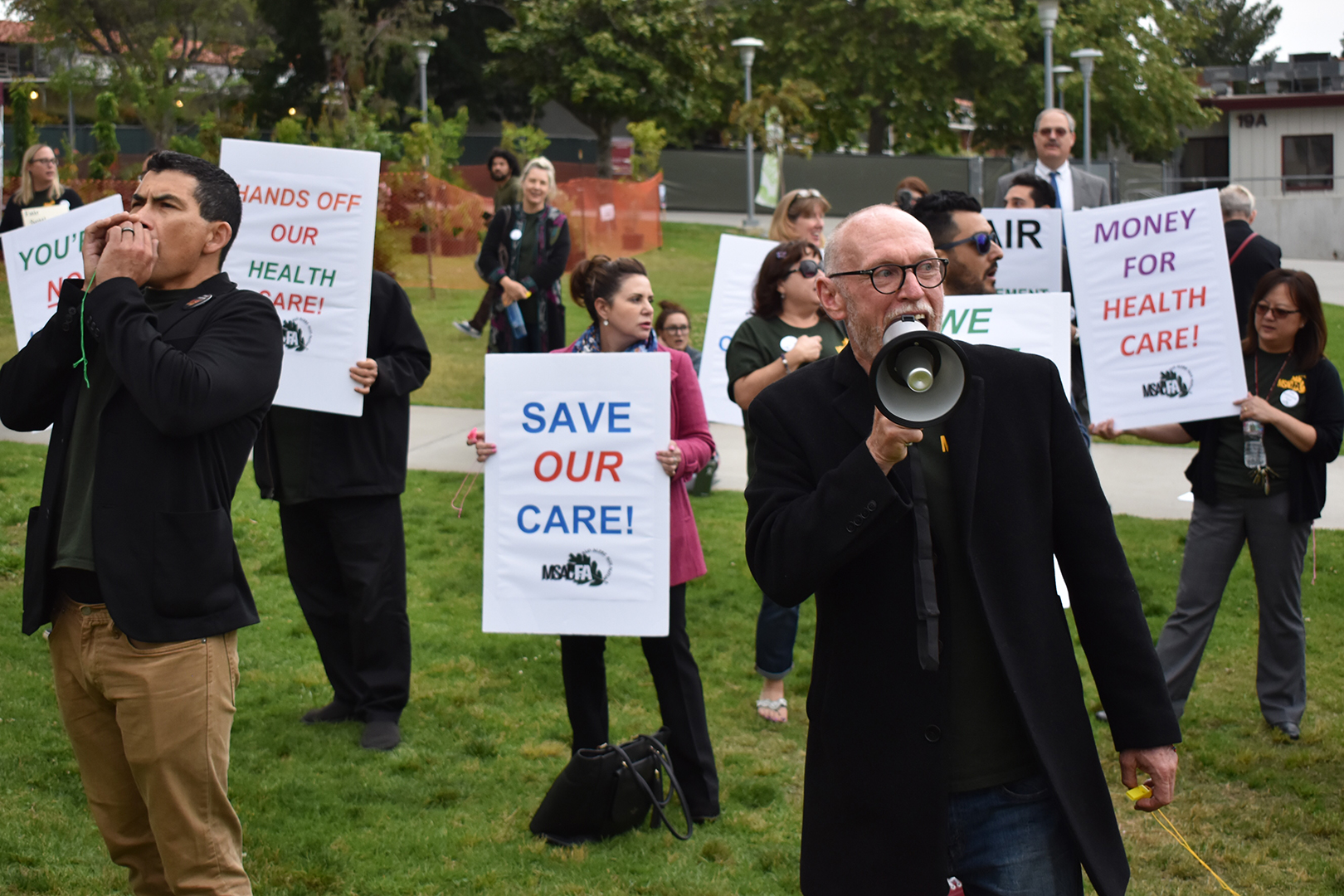 Inside Founder's Hall, student trustee Gabriel Alfaro said that it could have been the air conditioning as it began and later opened the door to find it was far louder outside than in. Alfaro added that he wondered what it would be like for students taking classes in the nearby buildings.
Project manager of the Mountie Makerspace, Mala Arthur, said it sounded like cicadas to her when she first entered Founder's Hall.
The chants continued and the megaphone could be heard when approaching the board's dais.
After these chants, they entered the board room with balloons.
Although plans changed from having each speaker release a balloon after they spoke to having all balloons released after English Professor and Department Chair Gary Enke spoke.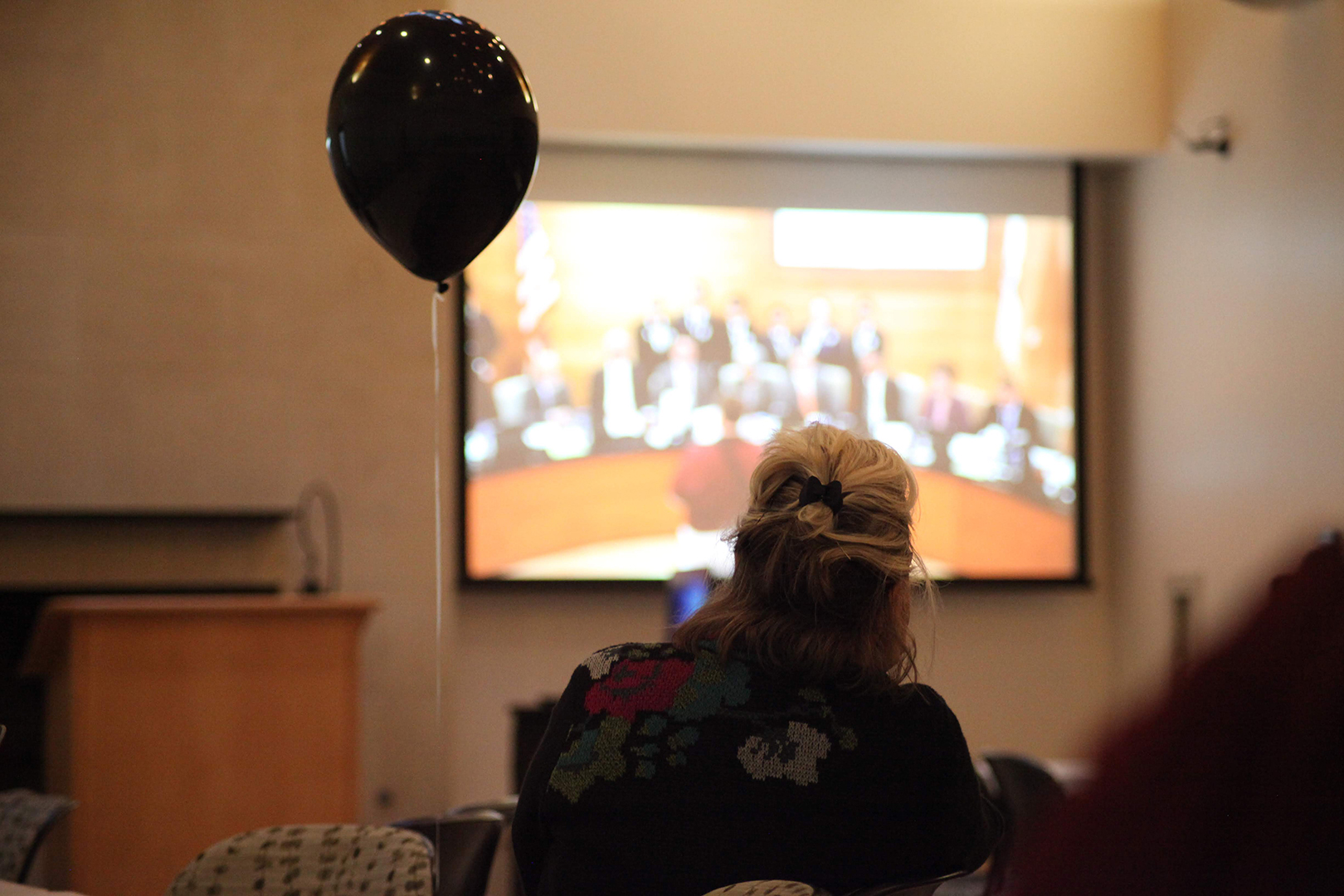 Enke gave tribute to student Luis Sanchez, who recently died from cancer, and explained how students help make faculty great as much as faculty make students great. He also told the board that the faculty's decision to not picket the joint board meeting was a symbol of good faith.
Enke also spoke on how he was not sure everyone would stand down from that protest.
"We faculty, who are organizers ourselves, are not one monolithic organization. We're networks. Once we put out an idea, people work independently, and so I urge you to honor our integrity and our willingness not to embarrass you," Enke said.
The concept behind the balloons was to have them all be black to demonstrate the dark cloud over the relationship between the faculty and the district. This changed to having a few light blue, lavender, pink and yellow balloons added to highlight the other great things going on.
"There is a black cloud and we want to try and find a way to get back to the bright sunshine," Sholars said.
Mt. SAC president William Scroggins then responded to Sholars' second short public comment at the end of Enke's second public comment.
"I'll let you know that promise did originate from an overture from me to Joan. We did discuss that in closed session and we will have a meeting tomorrow. It's not mediation, it's not impasse, just across the table talk about what we think is a possible settlement," Scroggins said. "Say good prayers for us tomorrow."
One of the main sticking points is that 106 faculty members pay out of pocket, which Faculty Association vice president and negotiations lead Joan Sholars said was a low figure compared to the reality.
Out of pocket can come from dental, vision and life insurance which are not always included with medical insurance. Sholars herself has to pay out of pocket for dental and vision.
"I'm paying out of pocket and I'm only a two party," Sholars said. "There's more than one way to answer this problem, the only way we're doing right now is 'hey, leave CalPERS go to a different third party.' There's other ways to do that."
Reference librarian and incoming Faculty Association Vice President Emily Woolery explained her personal out of pocket costs.
"Last year, I paid over $9,000 out of pocket on medical, dental and vision coverage for my sons and myself. Since 2014, I have actually paid over $36,000 to cover our healthcare premiums," Woolery said.
While several are paying out of pocket, others said they feel distrustful of management.
Paralegal Professor Abby Wood, who the board had previously denied an appeal from, said that morale is low and that faculty do not trust the administration.
She closed her public comment with Scroggins' own words when he was the Academic Senate president in 1999.
Sholars left the board to go into closed session with this thought:
"Just leaving CalPERS is not the only way to solve this particular problem."
Following this meeting, the district and the negotiators for the faculty will hold a mediation meeting on May 30 and held a pre-mediation meeting on May 9.