It's Not Just About Abortions
Mt. SAC still provides services amid Planned Parenthood defunding
In the era of "my body, my choice," several women across the country are looking at the news and wondering if that statement still rings true. With options for free reproductive health services up for grabs and protests outside of countless women's health clinics, there are many questions arising around the future of reproductive rights for women. The future of one of the most prominent providers of free healthcare for women, Planned Parenthood, is also up for grabs.
On Aug. 19, Planned Parenthood opted out of Title X, the act that provides clinics with government funding for family planning, leaving behind $60 million of government funding. This comes after President Donald Trump revived the "gag rule" in Title X that was previously suspended by President Bill Clinton. The "gag rule" is one of the five provisions under Title X that prohibits abortion as a method of family planning. As a result, to receive funding, Planned Parenthood would have to no longer engage, promote, advocate or refer women to abortions as a choice for family planning. Each year, there is approximately $260 million provided to clinics under Title X for family planning, and Planned Parenthood used to be provided $60 million.
This means that women's access to reproductive care and services will be limited, with possible delays in appointment times and copays required for treatments that were previously free.
While on a national level this change in funding has repercussions, it also affects local communities such as low-income students and families without healthcare.
Mt. SAC students and staff are among those that might feel the effects of the defunding. One student in particular, 24-year-old journalism major Holly Alvarado, opened up about the reality of her situation and how the current Planned Parenthood defunding could negatively impact her.
"You know, it's really rough to think that as a woman I'm being stripped of my rights," Alvarado said. "Why should a man tell me what I can and can't do? You don't know what it feels like to go through that process of always worrying and doubting about your body. It's ridiculous."
Another concern of veterinary tech major Amanda Rodriguez, 25, is the conversation or lack thereof about women's reproductive care and how Planned Parenthood's unsure future might further silence women in need.
"I've used Planned Parenthood services before and that helped me out tremendously, especially for people who don't have insurance or are young and scared. Most of the time it is younger people who don't know where to go and don't understand the health care system," Rodriguez said. "Education really matters. That's a safe space for lots of people, I viewed it as a safe space for me when I was younger."
Education about women's health through cost-effective means is one of Planned Parenthood's hallmark qualities. A major concern is what will happen to regular patients in rural areas and low-income communities. A large portion of their clientele already have a difficult time getting to appointments because of distance or transportation. With a possible increase in appointment delays and wait times for walk-ins, there's a chance the underprivileged will be less likely to receive proper affordable treatment, less likely to receive information on sexual health and less likely to use safe practices for things such as abortions.
Alexis McGill Johnson, the acting president and CEO of Planned Parenthood, voiced her concerns about how communities statewide will be affected, but refuses to stop abortion services. Johnson issued the following statement on the Planned Parenthood website:
"We will not be bullied into withholding abortion information from our patients. Our patients deserve to make their own health care decisions, not to be forced to have Donald Trump or Mike Pence make those decisions for them."
Although Planned Parenthood does provide abortions, according to their 2017-2018 annual report, only 3.5 percent of their medical surveys are abortion related.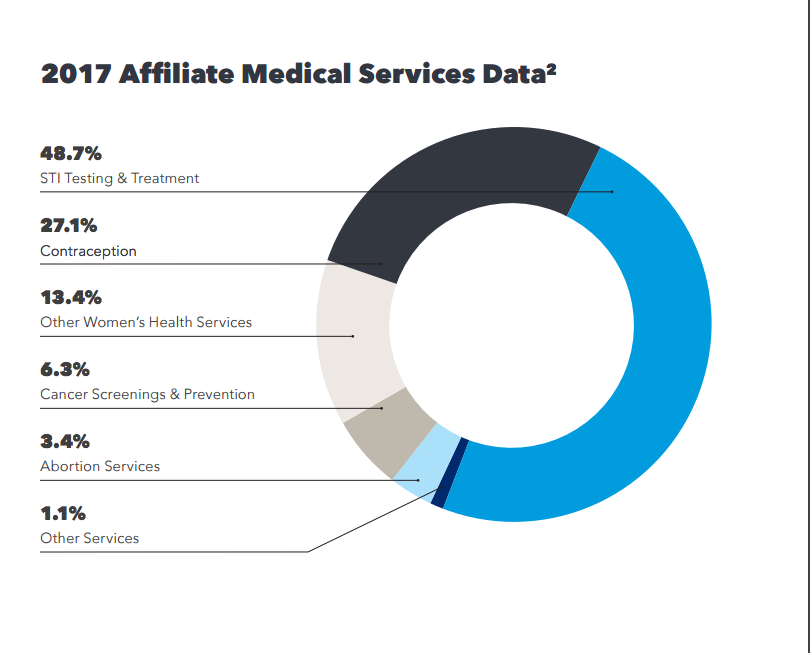 Despite the unsure future of Planned Parenthood, at Mt. San Antonio College, there are still healthcare opportunities for students.
The campus Student Health Center provides services such as routine gynecological and testicular examination, sexually transmitted infection screenings, pregnancy tests, birth control pills, emergency contraception and condoms. They also provide referrals for abortions and adoptions.
For further information on services, contact the Student Health Center by phone at (909) 274-4400.
Leave a Comment