On Oct. 14, Mt. SAC's MEChA collaborated with AIM, NAISA and EAGLE to celebrate Indigenous People's Day. The Mt. SAC community came together to celebrate and raise awareness of a day that was once celebrated as Columbus Day. After Mt. SAC renamed the holiday from Columbus Day to Indigenous People's Day, celebrating in front of the Indigenous People of the World fountain at Mt. SAC has now become a tradition.
In an effort to raise awareness and honor the indigenous people, MEChA and its contributors set up booths and invited the community to learn more about the holiday. The event kicked off with an opening ceremony by indigenous community members. Attendees circled around them while they sang their welcoming song and passed around smoldering sage for attendees to smudge themselves and rid of negative energy.
A lot of knowledge was shared throughout the day. Dee Dee Manzanares Ybarra, tribal chair for the Ohlone Tribe, remembered how different her childhood was compared to other children.
"It was shameful to be an Indian. You felt you had to hide. Even the food we took in our lunch bags we had to hide to eat because we didn't even eat the same kind of food that the other kids did," Ybarra said.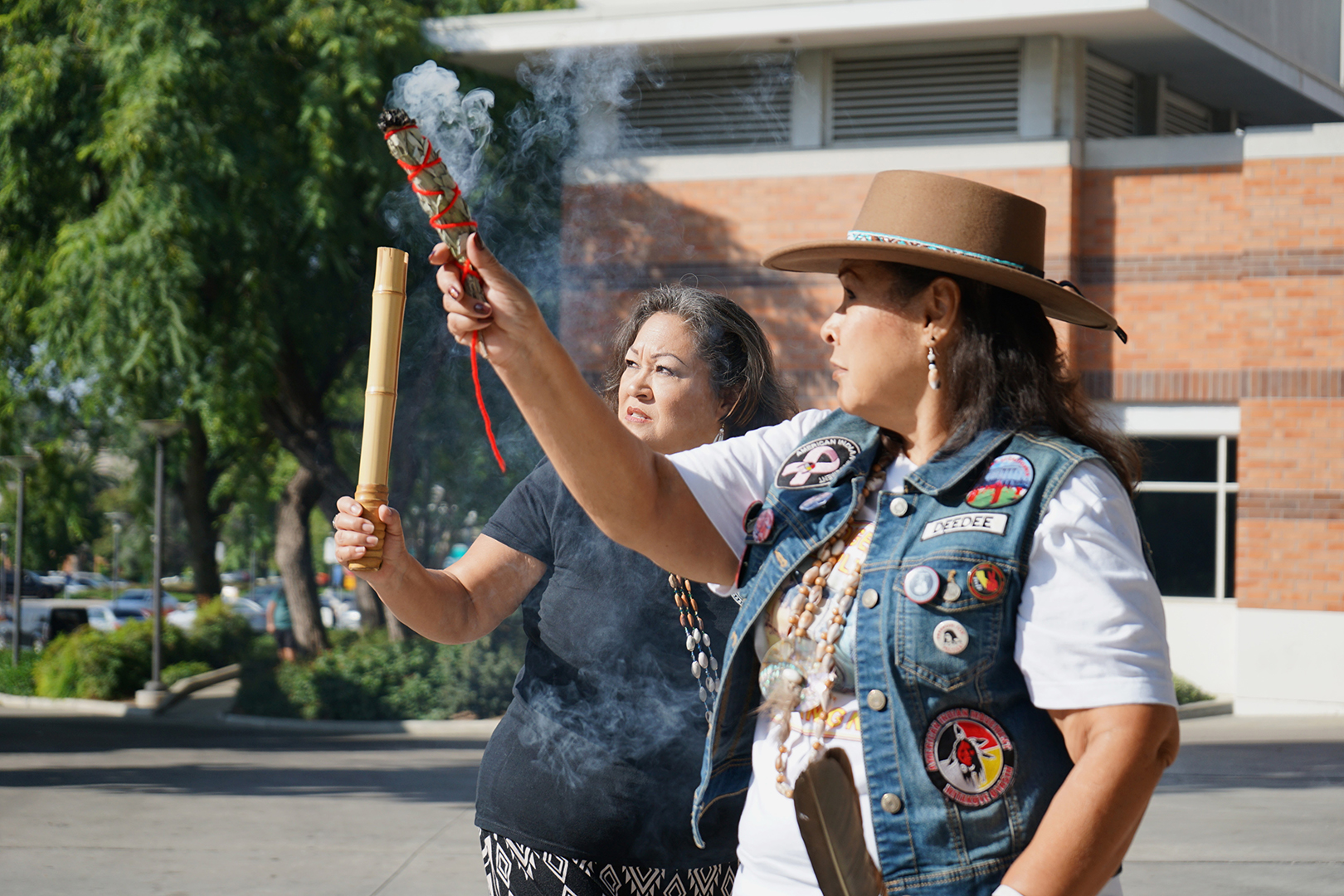 She added that the shift from Columbus Day to Indigenous People's Day has made a positive impact on their life, but there is still work to be done.
"It was very hard, and they made you feel less of a person," Manzanares Ybarra added. "But now we're standing up. We're coming back. It's gotten better but there's still a lot of obstacles, loops to jump through."
The celebration continued with the performance of La Danza Azteca Toyaacan, a traditional dance group from La Puente. They brought the community together and taught everyone their traditional dance, uniting people from different backgrounds. They all joined hands and danced around the fountain.
Michelle Nieto Torres, a dancer with La Danza Azteca Toyaacan, said that although every performance is sacred, performing on Indigenous People's Day is extra special to her.
"We are showcasing our existence and that we were never discovered, we were invaded," Nieto Torres said. "For me it's something really close to my heart that I'm doing it to change that narrative."
The Mt. SAC community continued celebrating Indigenous People's Day by sharing stories about their ancestors, traditions, dances and songs. After working hard to shift the narrative and rename the holiday, this celebration has now become a yearly tradition for the Mt. SAC community.