Recap: Mounties Soar Over Falcons
The 42-24 final makes 3-0 in conference play
The Mt. SAC (6-2, 3-0) football program remains on top of the CCCAA North Central Division after defeating Cerritos College (4-4, 1-2) in a conference showdown 42-24. The score line does little to reflect the power that Mt. SAC had over the game all four quarters. The halftime score was 30-3, and the final score line can be credited to Mt. SAC resting some starters in the second half.
Cerritos was able to put up a few touchdowns late in the game, but the result was already decided by that time. Mt. SAC ended the game with a 96-yard interception return for a touchdown as time ran out to give the Mounties their fifth road win of the season.
The Mt. SAC offense was able to score quickly as they put up points on the first drive of the game. The drive lasted less than four minutes and was capped off with a 14-yard toss and catch, by Mountie quarterback Zach Rangel to wide receiver Sean Bowden. Bowden was able to beat the Falcons' single man coverage on a fade route, and he twisted his body midair after making the catch to get the ball across the goal line.
"Anytime I see one-on-one coverage I always try to let Zach know. I believe I'm better than the guy in front of me always, so it's always a mismatch. I've always been good at beating man coverage," Bowden said.
Rangel had another solid outing for the Mounties, completing 17 of 22 passes, throwing for 250 yards, two touchdowns and one interception. Rangel carved up the Falcons secondary for big yardage with relative ease. Nine of his throws were completed for 10 yards or more, and the net average gain on passing plays against Cerritos was 11.3 yards per pass play.
Mt. SAC head coach Bob Jastrab spoke to SAC.Media and shared thoughts on Rangel's performance.
"He's been really playing well, giving us opportunities to score on the long pass. The touchdown before halftime that was big," Jastrab said.
One of Rangel's big completions in the game was a rainbow pass that seemed to hang in the air forever before coming down into the hands of wide receiver Sean Bowden for a touchdown just before halftime.
"It felt like catching a punt," Bowden said. "Coach Cam called our favorite deep play. And I was able to run by coverage and catch the ball."
The 51-yard reception by Bowden was his second TD grab of the game, and he ended the game with 117-yards receiving on five receptions.
Along with Rangel and Bowden, Mt. SAC running back Rachaad White had a strong outing with another one of his trademark performances, rushing for 142 yards and a pair of touchdowns on 12 carries. White set the tone early on Mt. SAC's first play from scrimmage with a 39-yard run, which would be White's longest run for the day. White might have topped 200 yards, but his touches were limited in the second half to keep him fresh for Mt. SAC's last two games of the season, as well as the playoffs.
Jastrab said, "We had a good lead, and we wanted to give guys an opportunity to stay healthy."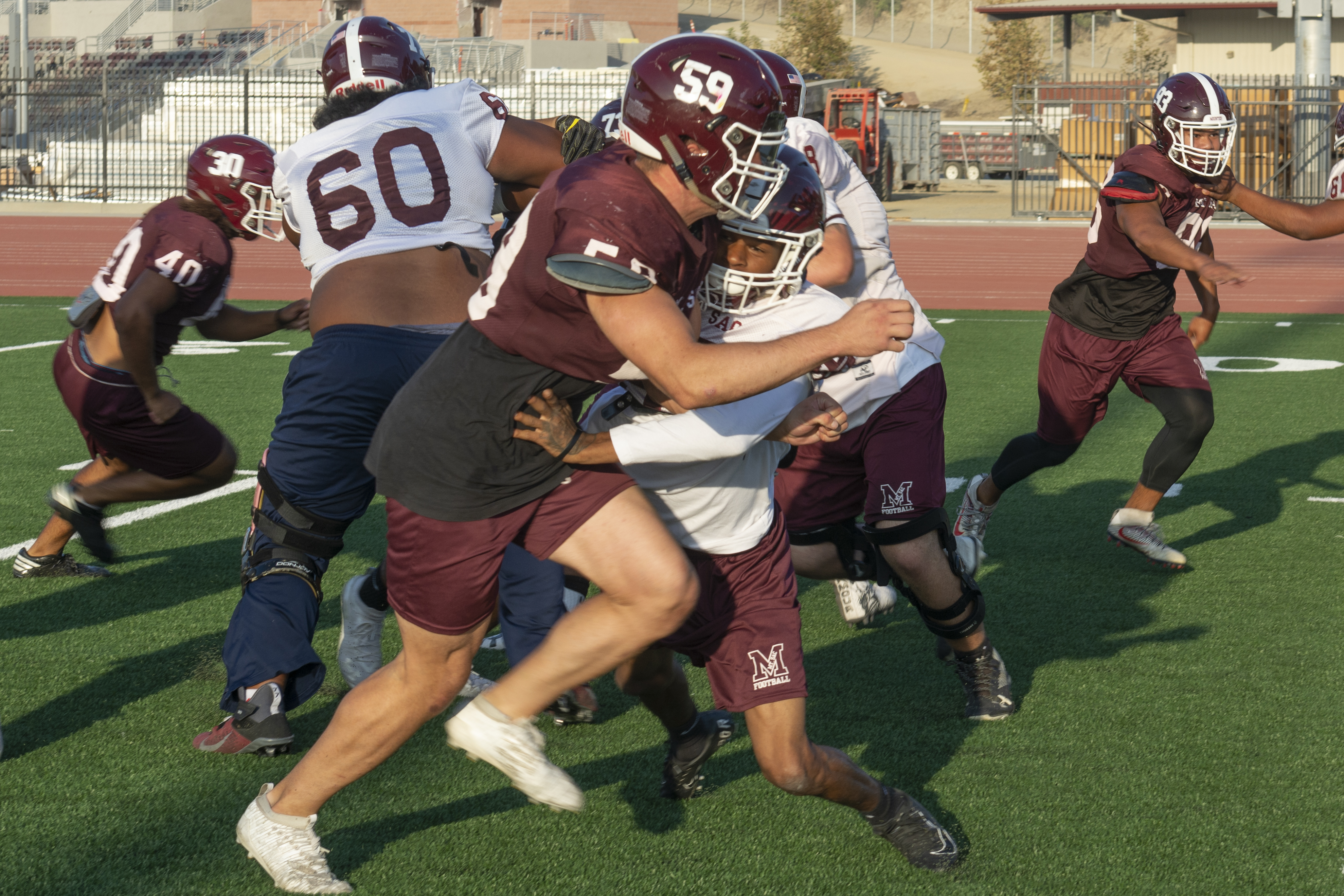 The Falcons offense was held to three points for the majority of the game, but with 10 seconds left in the third quarter, they scored their first touchdown to bring the score to 30-10. With the result somewhat decided at halftime, Mt. SAC had pulled a few starters to give some playing time to members of their second and third units. Mt. SAC running back Dominique Redden took advantage of his opportunity and scored a touchdown on a six-yard rush, to give the Mounties a 36-10 lead with 11 minutes left in the fourth.
Jastrab said, "That just shows you when you're second or third team, you got to be ready to play because now you have your opportunity to shine."
With the game winding down, Cerritos was able to score two unanswered touchdowns in the fourth quarter to lessen the gap to two possessions. With less than a minute left in the game and the score 36-24, the Falcons were inside the Mounties 20-yard line and were knocking on the door for a third unanswered touchdown.
That was when sophomore safety Levon Barnett decided to put his stamp on the game by jumping his receiver's route, intercepting Falcons quarterback TJ McMahon's pass. Barnett ran it back 96 yards for a touchdown as time expired to close out the Mt. SAC win in style.
"As soon as I caught the ball, I knew I was going to try and return it for a touchdown," Barnett said.
While Barnett was running down the sideline on the 96-yard return, Jastrab was yelling instructions for him to get down instead.
"We wanted him to get down because we didn't want to get anyone else hurt," Jastrab said.
However, after the Falcons had just tried to score on Mt. SAC's defense, Barnett wanted to make a statement.
"They were trying to score on us, so that was my answer for their entire team, that we are the better team," Barnett said. "I did hear Coach Jastrab and Coach Rod yelling get down but I saw it as an opportunity to score because defensively, we hadn't scored a touchdown until I scored."
The 42-24 victory over Cerritos gives Mt. SAC a three-game win streak and helps retain their place at the top of the North Central Division. The Mounties are now 3-0 in conference play and will host conference opponents San Diego Mesa (5-3, 1-2) Nov. 9 at Covina District Field in their next game. The match-up against San Diego Mesa will be the second to last game of the regular season. Mt. SAC will be looking to end the season strong so they can head into the playoffs with some positive momentum.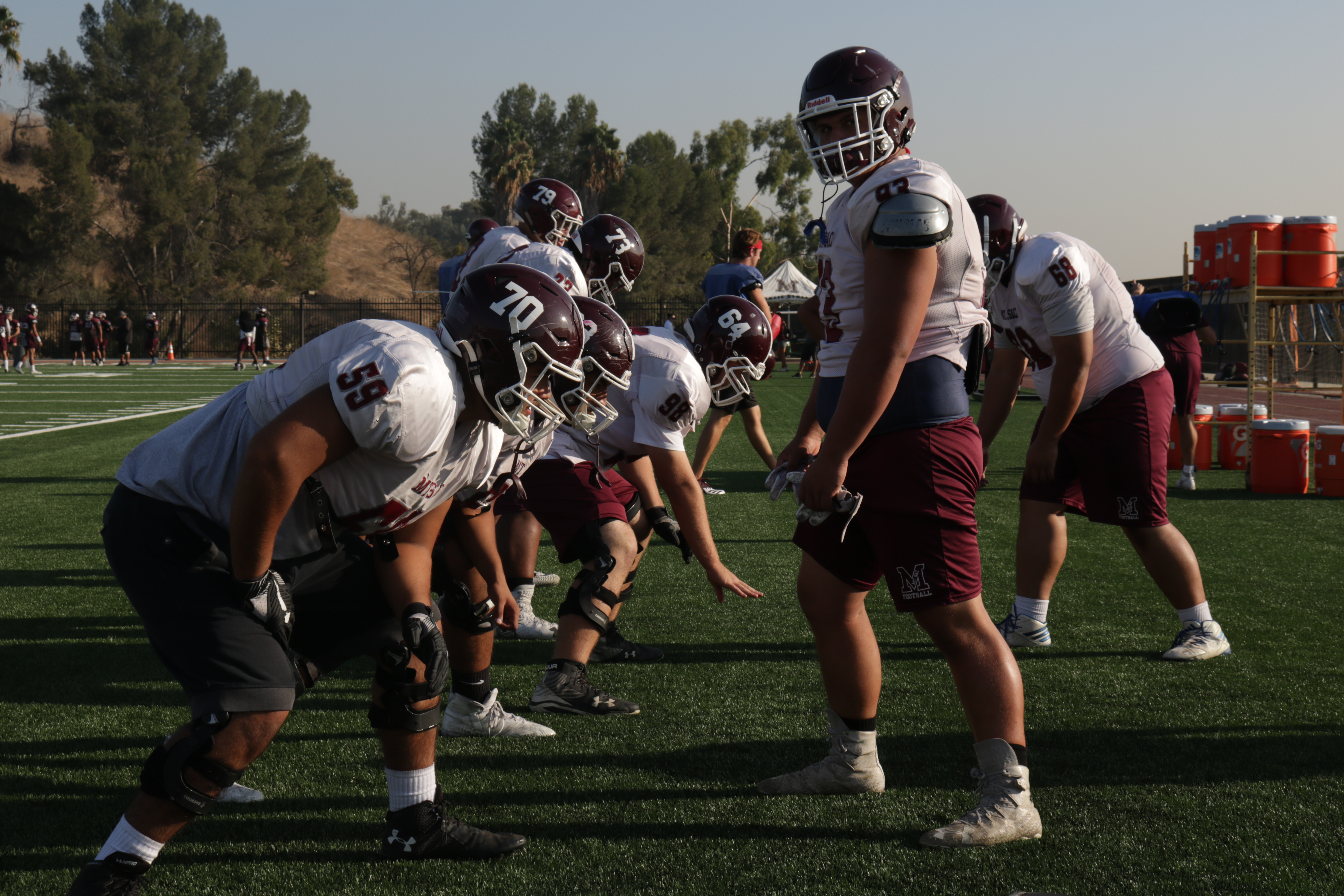 Leave a Comment
About the Writer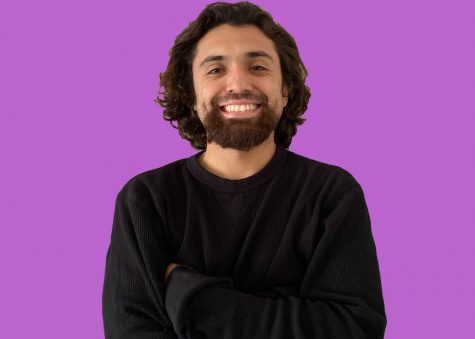 Jesse Espitia, Staff Reporter
Jesse Espitia is the former sports editor of SAC.Media. He has traveled the world to cover soccer or what he calls "futbol." He also covers other sports, politics, local/international news, pop culture and crime.