Students March As DACA Faces Supreme Court
Mt. SAC students joined the Cal Poly Pomona march in support of undocumented students
Large red banners that read "Fight 4 DACA" were carried around the campus while students from Mt. SAC and Cal Poly Pomona chanted and marched for the rights of undocumented students. The march started at the Bronco Dreamers Resource Center and continued throughout the campus until attendees reached the University Plaza on Nov. 12.
DACA, which stands for Deferred Action for Childhood Arrivals, is a program that allows undocumented immigrants who were brought to the U.S. as children to live and work here legally without the constant fear of deportation.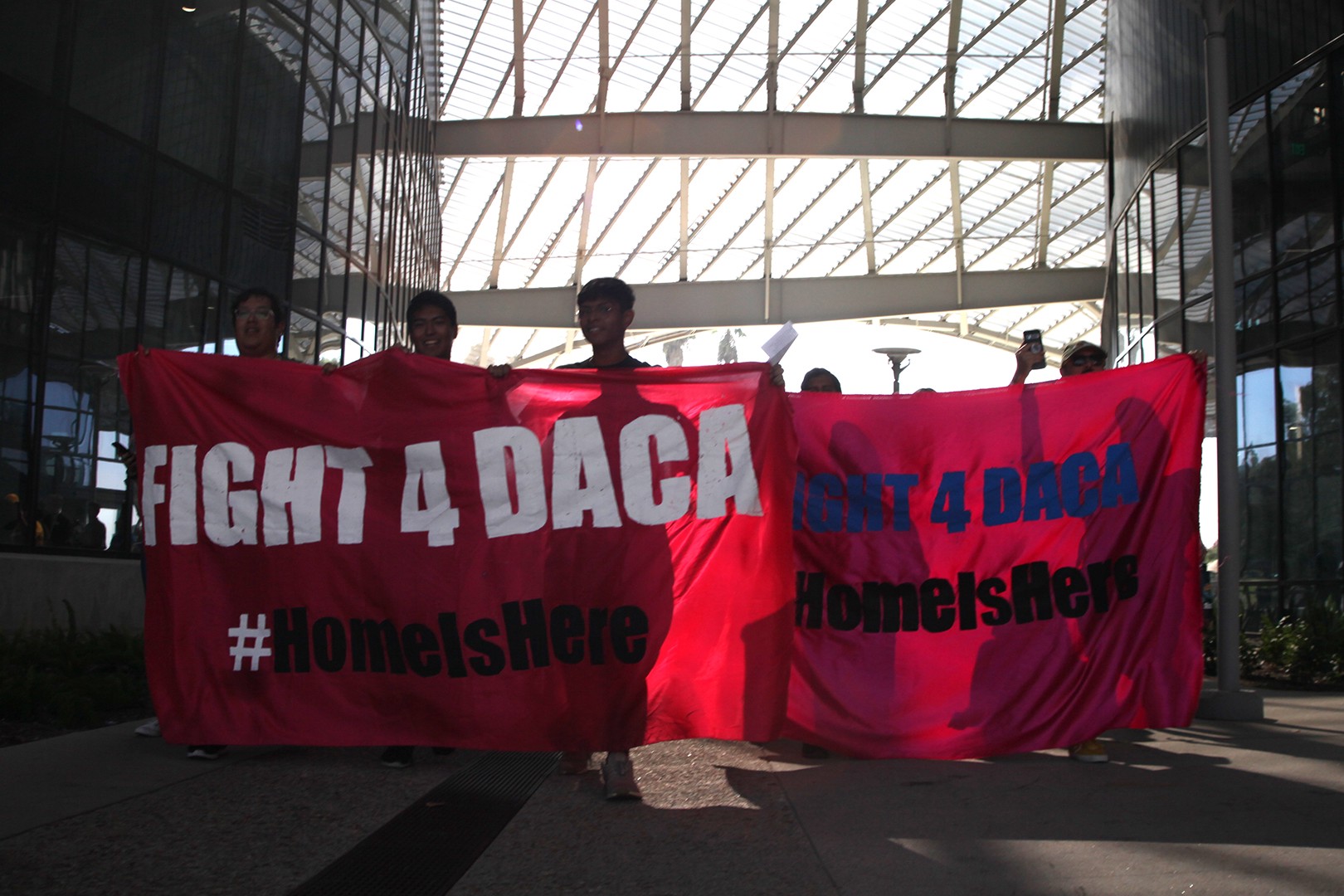 With megaphones in hand, organizers led marchers in rhythmic chants in both English and Spanish. Lively voices echoed through the halls of the campus and hand-painted signs were held high for bystanders to see.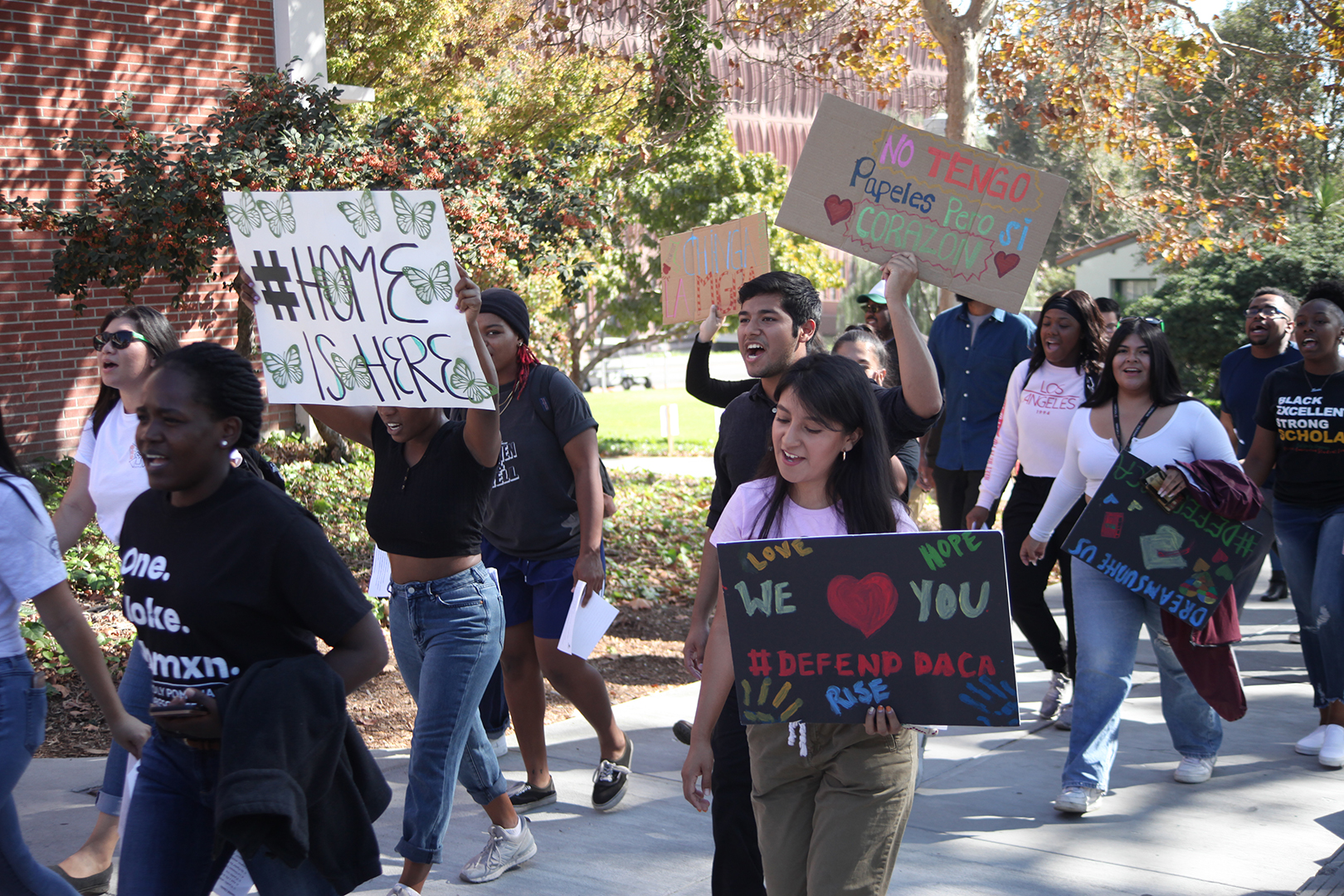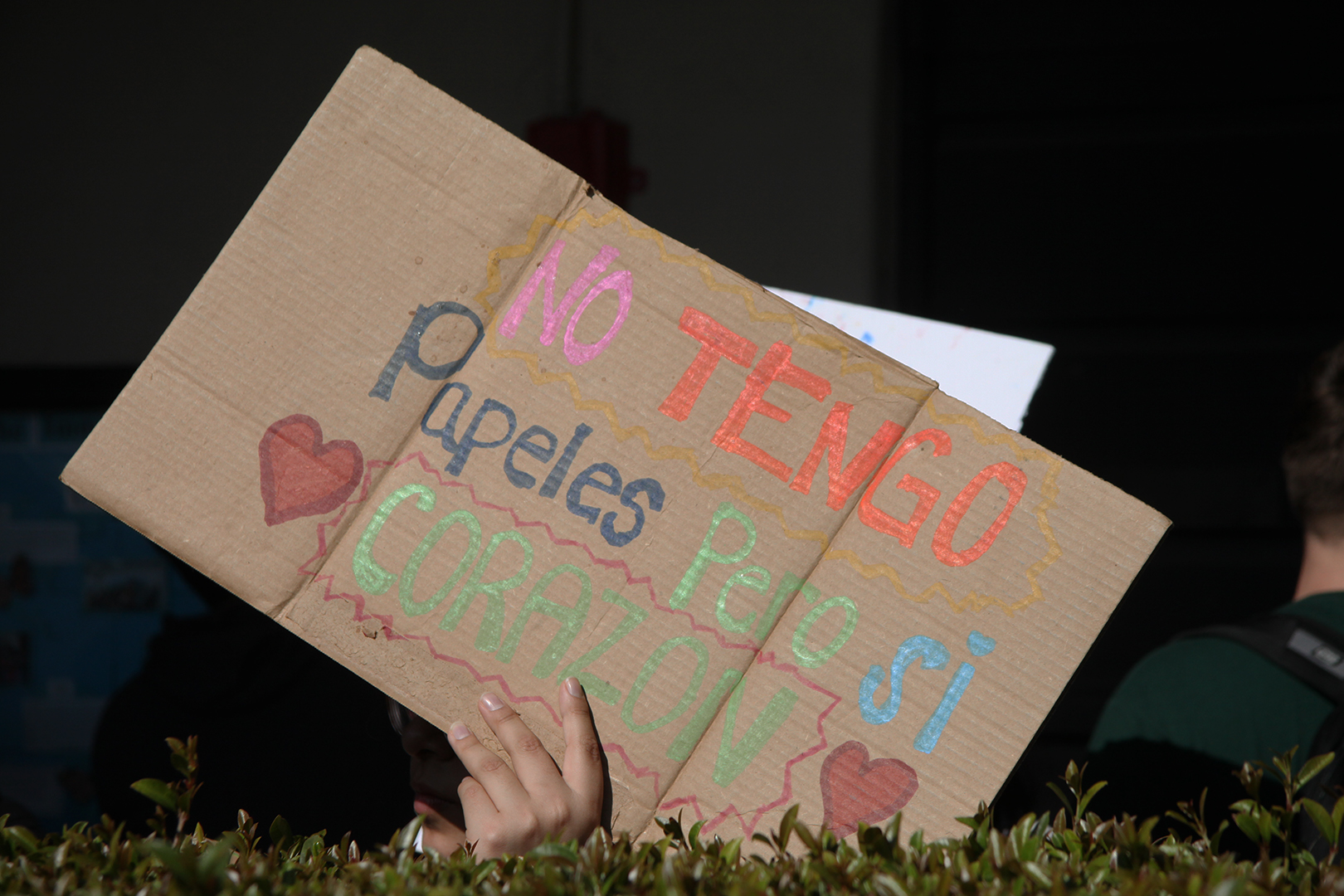 Both colleges joined to march in solidarity and support of the DACA program and the undocumented and mixed status families it covers.
On this day throughout the country, thousands of high school and college students organized staged walkouts to declare that DACA recipients are "here to stay" as the legal status of nearly 700,000 undocumented immigrants who entered the United States as children is at stake.
Chants soon began.
"Hope is here"
"Home is here"
"We're fired up, can't take it no more"
"The people united will never be divided"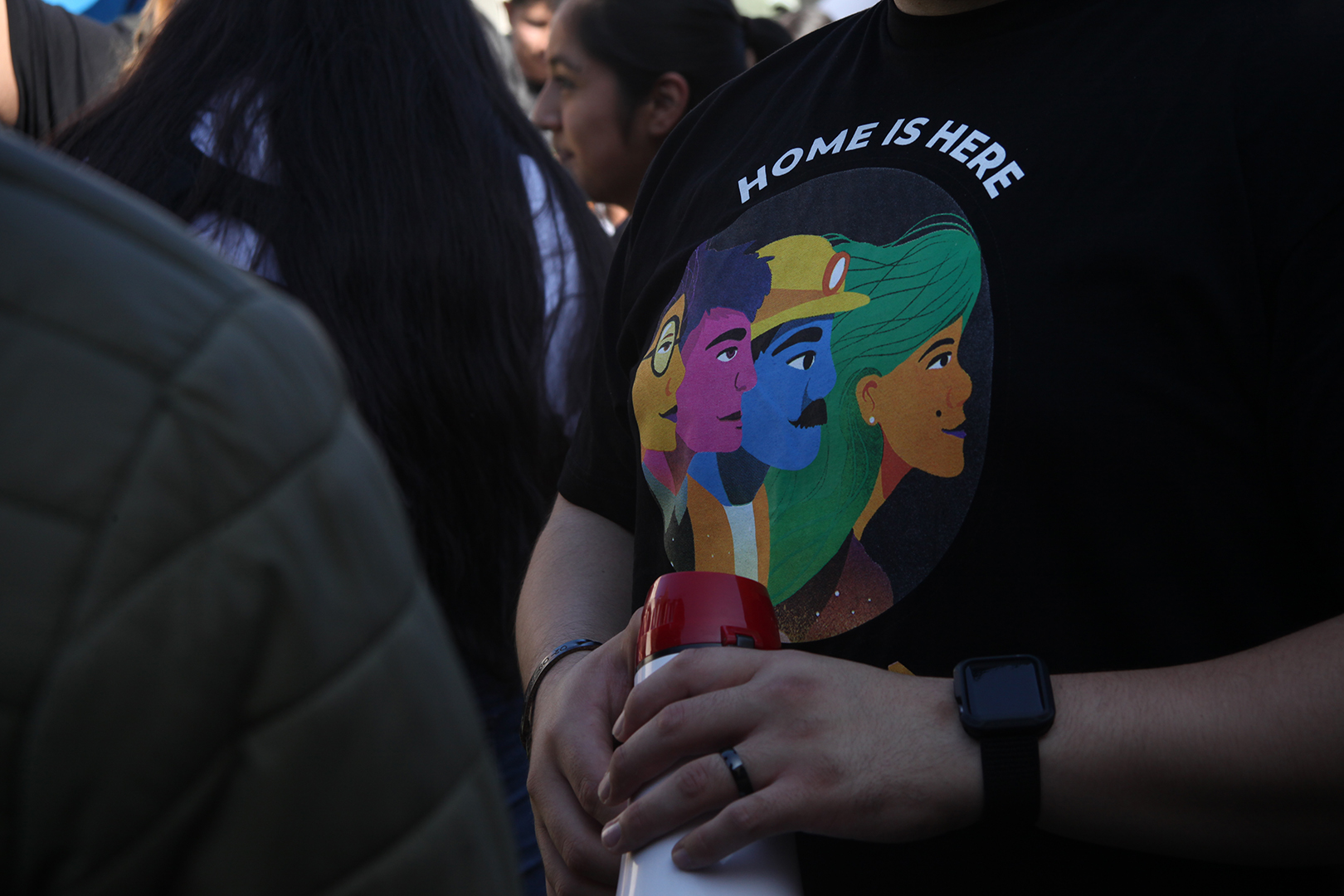 Some students of Mt. SAC decided to host an I.D.E.A.S. club meeting after the rally to talk about what DACA means to them.
"I always felt like I was alone, and that maybe there weren't many supporters here at school or in the country, but hearing them talk and hearing about the many schools doing walk outs gave me a sense of pride," I.D.E.A.S. club member Edgar Montanez said. "There are other people who believe in this cause."
I.D.E.A.S. club members also gave helpful tips on how to support the undocumented community during the DACA hearing, and club leaders highlighted important tips and gave a brief history on DACA during their powerpoint presentation.
"It made me really happy to see that there's people out there supporting undocumented students. Sometimes they feel like they're alone," Montanez added.
In the road to pass legislation for undocumented students, President Barack Obama faced intense pressure from the Latinx community in 2012. People had witnessed mass deportations and changes made to immigration policies during the first three years of his first term, and young students from immigrant backgrounds began campaigns, sit-ins and hunger strikes to demand change.
During this time, Congress also failed to pass the DREAM Act, an act that would have granted legal status to young immigrants who arrived to this country as children. While DREAM did not pass, Obama's administration created the DACA program in 2012, and it has lasted for around seven years.
The program has granted young immigrants deferred action and delayed their deportation as long as certain requirements were met. Program recipients can obtain Social Security numbers, work permits and driver's licenses, along with having to pay taxes. Since then, DACA has been a lifeline for hundreds of thousands of immigrants across the county.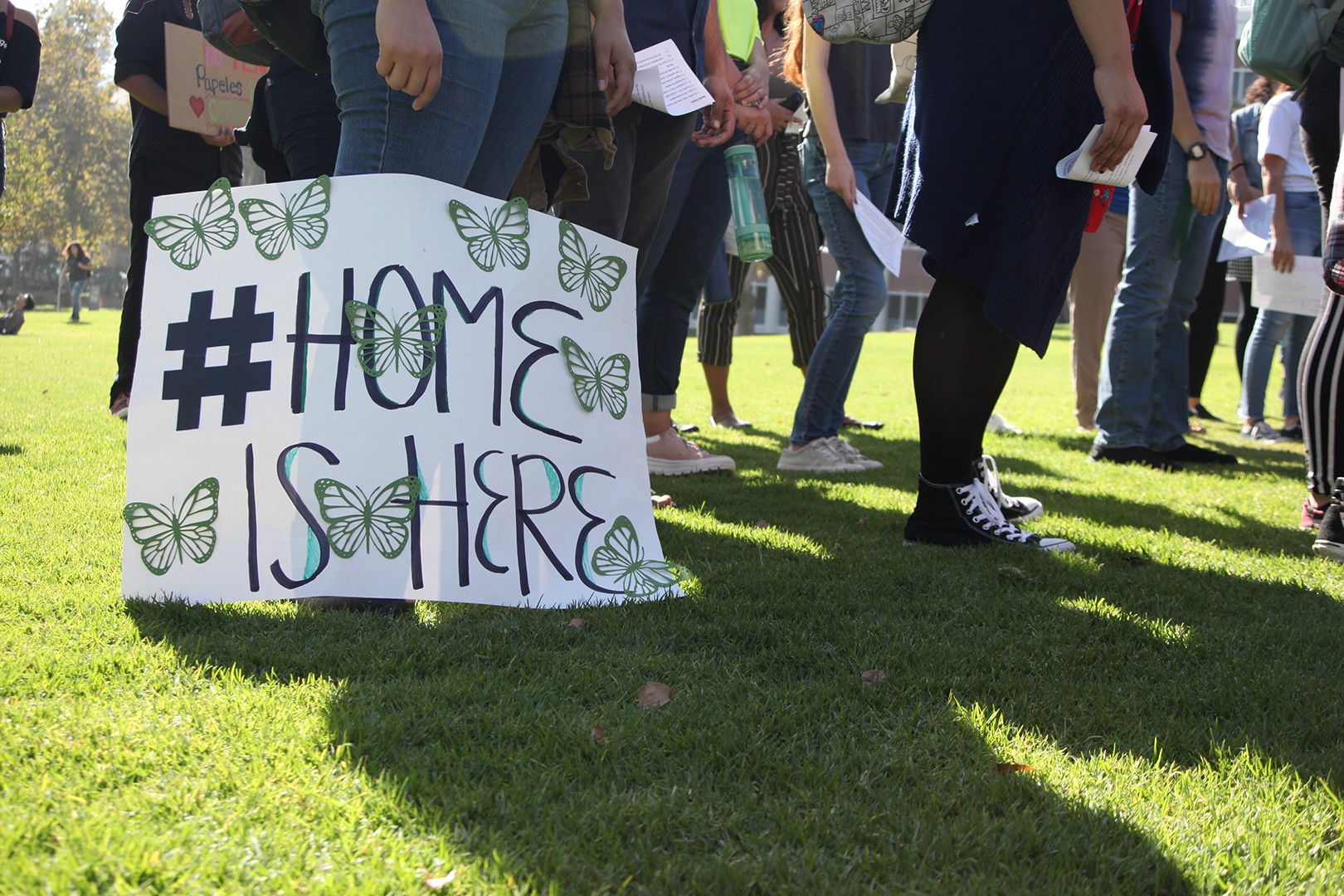 The concerns today are over President Donald Trump's plan to terminate DACA. Trump has ordered his administration to stop renewing work permits for DACA recipients, but his order was blocked, and lower courts have kept the program alive for two years since the September announcement.
The Department of Justice has attempted to bring DACA before the Supreme Court twice before, but the court has now agreed to consider the government's appeal. Undocumented students now wait for a future decision on the matter.
Undocumented photojournalism major Luis Olguin spoke candidly about living with the likelihood that the program could be removed.
He said, "If DACA gets removed, I will not be able to have a work permit and go to school."
Olguin spends $500 a year. It costs him $300 to renew his status, $100 for the lawyer to do the paperwork and another $100 for the office handling the paperwork.
Because the court has yet to announce their decision about DACA, he said, "Just to be realistic, I'm shitting bricks."
Leave a Comment