Discovering Our Roots
The theatrical makeup department connects through tribal assignment
As humans, we go our whole lives looking for our tribe. We are wired for connection, to connect with a person or a group of people who share similar interests. The type of people you can be comfortable around and share your successes and struggles. Tucked away in the dressing rooms of the theater building, the students of THTR 16, Theatrical Makeup, bonded and connected over a unique class assignment entitled "My Ancient Tribe."
Students were tasked to look into their ancient heritage and culture, draw a design for makeup concept and apply the techniques on themselves. The assignment options were to choose one of three applications, which included tribal makeup, ancient tribal symbols or tribal tattoo application. The assignment motivated the students to reflect on their cultural origins and stimulated conversation among their families and their peers.
The class, led by Costume and Makeup professor, Beckette Ogden, is an introduction to the theory and practice of makeup for the stage. Emphasis is placed on the design and application of different makeup techniques. There are several makeup application exercises throughout the semester, but Ogden describes the tribal assignment as one of her favorites. This practice has been apart of her course syllabus for several years – for significant reasons.
"You should know where you come from, who your people are and what's influencing you," Ogden said.
She believes that in order to design a concept for the present or the future, we should always look to the past.
"On many levels – as a designer – we always look to the past. Whenever I have to do something that's supposed to represent the future, I always go back in time to the culture," Ogden added.
The students gathered around the vanity mirrors of the dressing room, carefully applying the details of their tribal paint and connecting and embodying with the spirit of their ancestors. For many of the students, it helped them to look further into their heritage and reflect on the advancements of the human race.
"The students seem to like it. They're talking about their culture and the ancient rituals their cultures used to do in the past and how far we have come," Ogden said.
"When you are designing for makeup, it helps to understand the shape of your face. [To understand] where does your nose come? Where does your skin color come from?" Ogden added.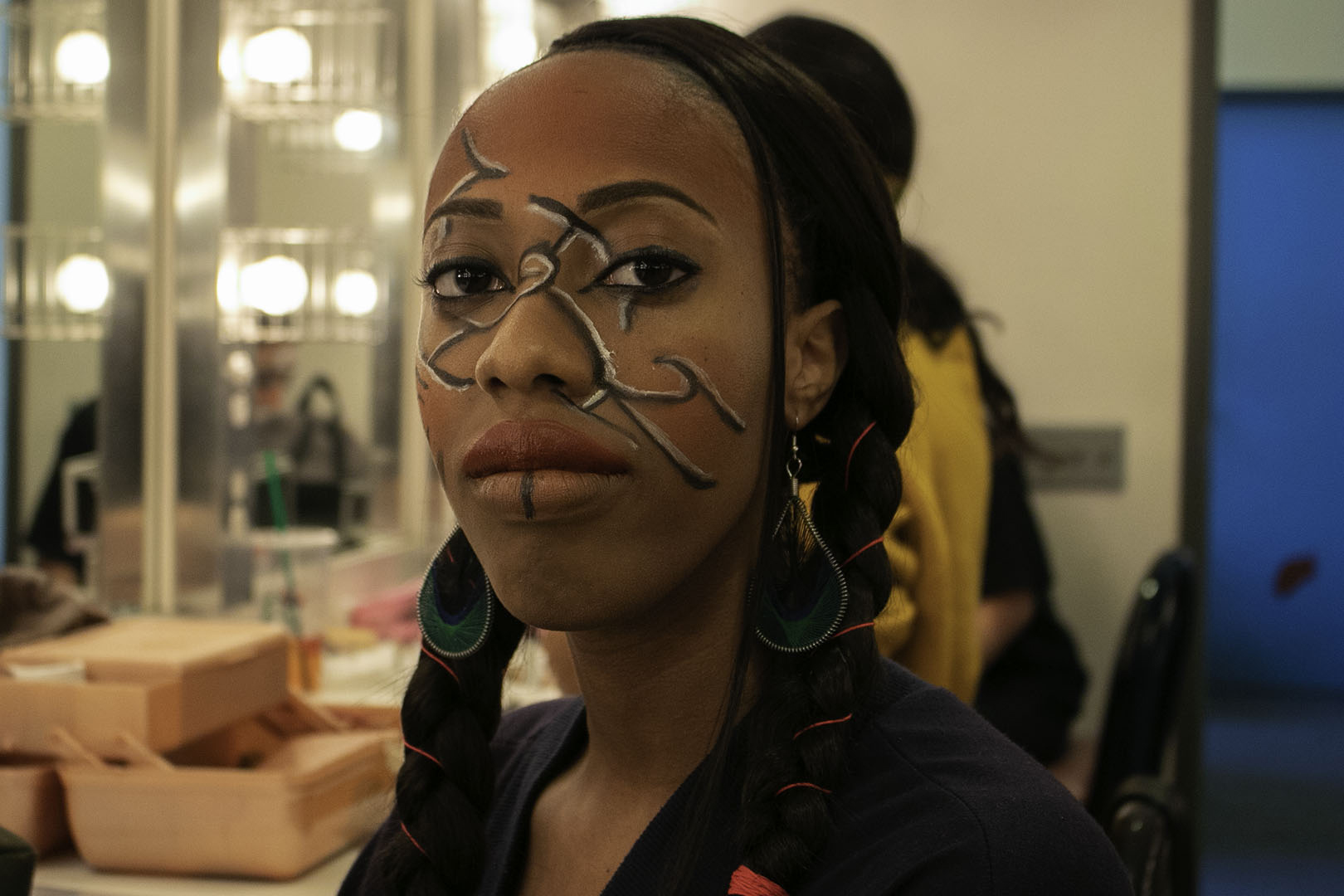 Jasmine Horn, 24, a theater major, recently found her heritage. A couple years after the passing of her grandmother, Horn's family found out that they are part Blackfoot Indian.
"It's really cool to find out that I'm [made of] different cultures," Horn said.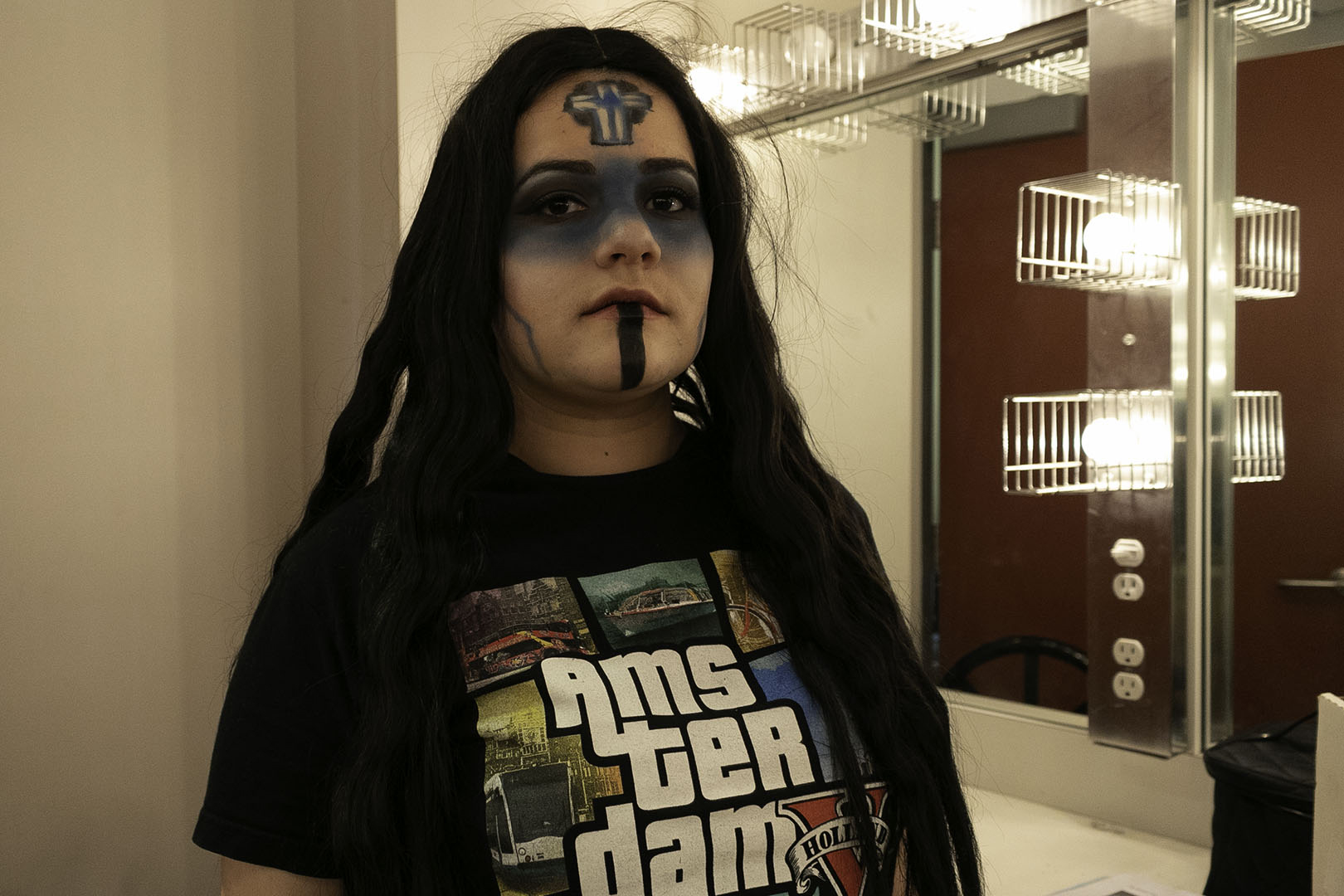 Elizabeth Chavez, 20, a theater major, described the exercise with excitement.
"I feel really good. I had a lot of fun putting it together, and I think it came out really great," Chavez said.
For this assignment, she has connected with her Celtic roots.
"The Celts actually took over Spain and Portugal at some point, and that's where my heritage is based from," Chavez said. "It's more specifically called the Celtiberians, so I did a Celtic warrior-type look – [that's] off to battle."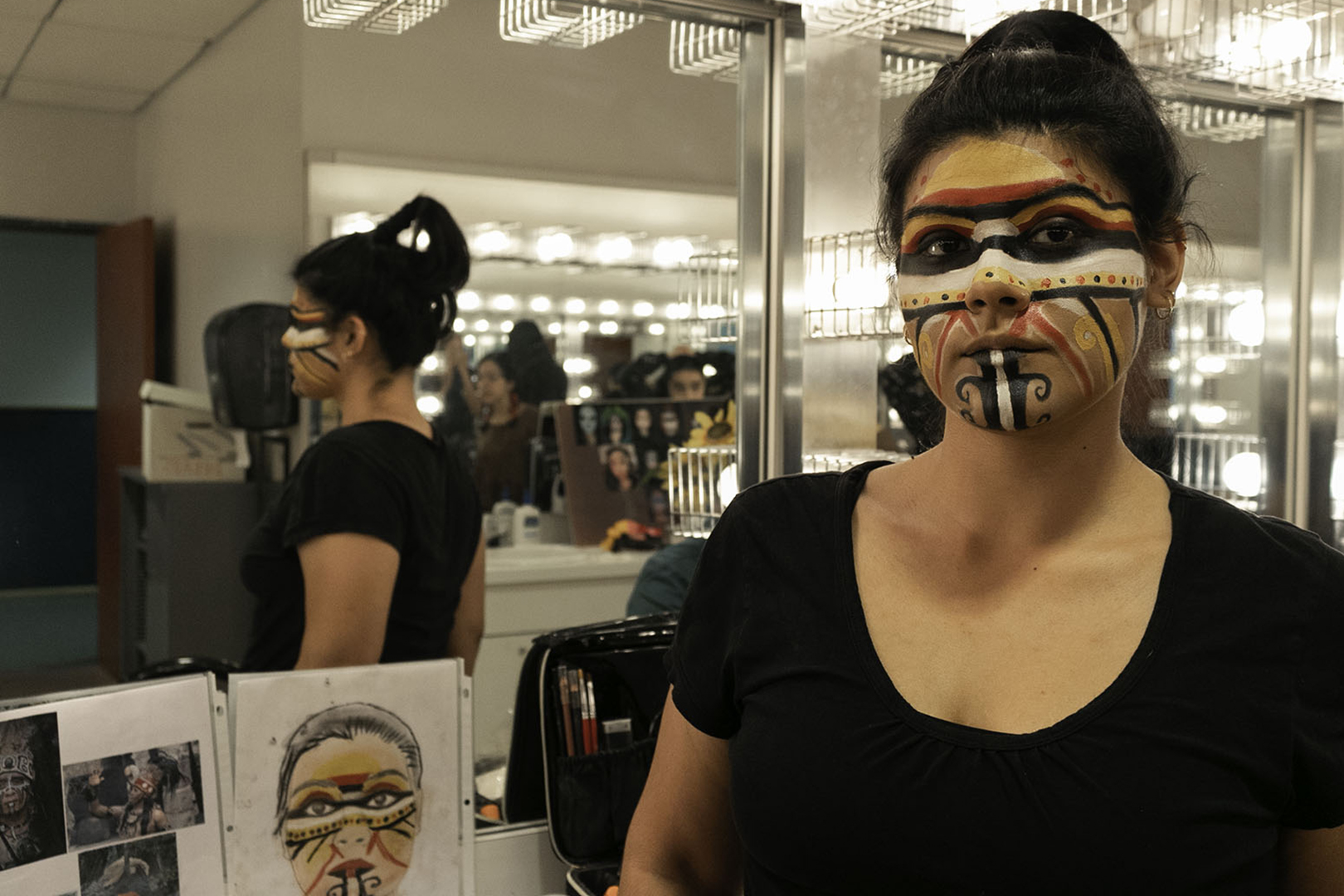 Alexandra Sanchez, 29, technical theater major, chose to represent the Mayan culture. She researched Mayan colors to understand their meaning.
"They represent a different [cardinal] direction and have different meanings. Like yellow represents the earth, and red represents passion," Sanchez said. She agreed that the assignment was a way to connect with the heritage she knows.
"I sometimes feel like I'm very bereft of my culture. I don't even speak Spanish. I'm Salvadorian … I don't really dive deep into my culture much, so it's nice to know that's where I come from," Sanchez added. "I really want to do that 23andMe thing."
Many of the students looked to their families to shed light on their cultural history.
"It starts a conversation with parents and grandparents to ask 'What are my roots?'" Ogden said.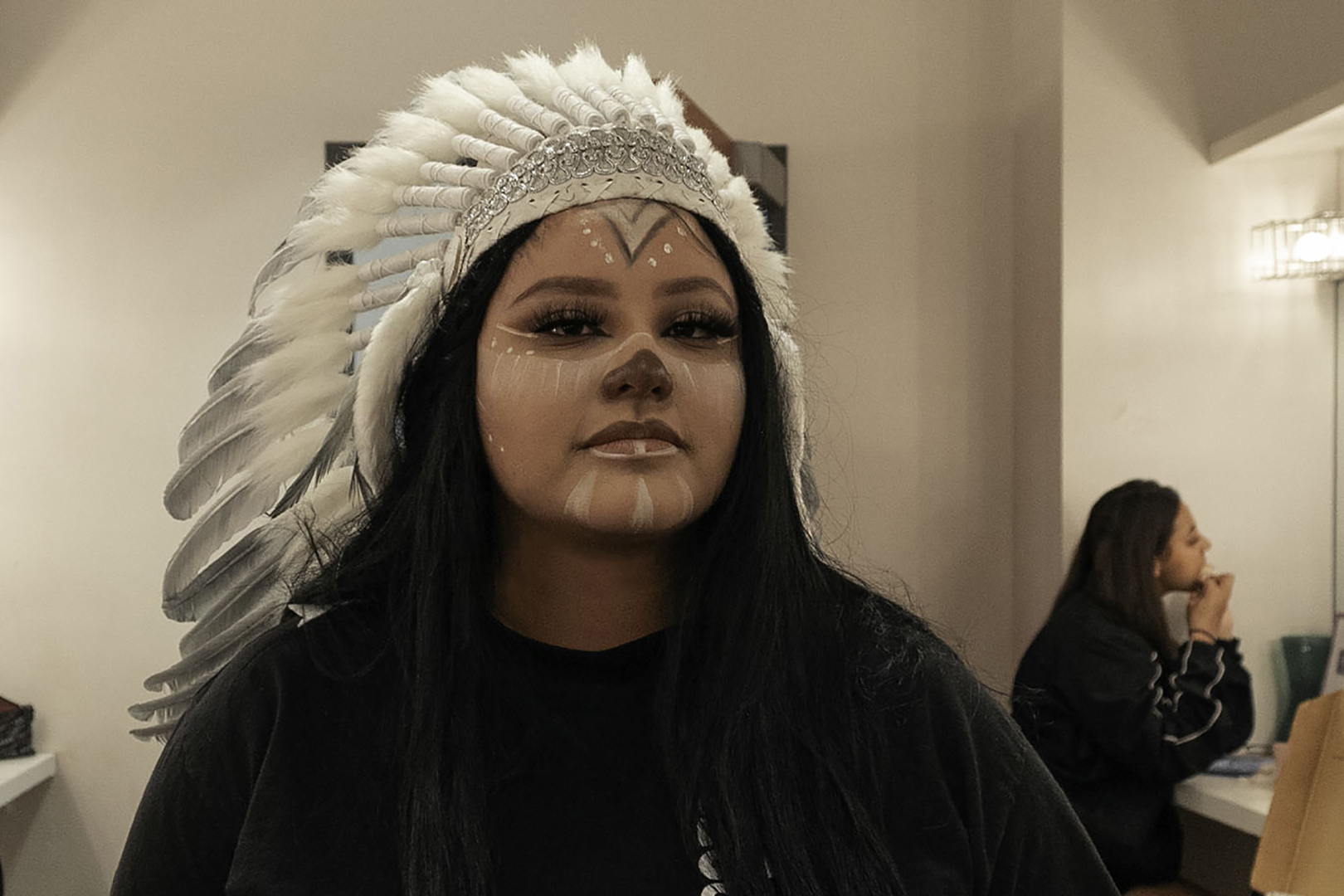 "Here in America, we are a melting pot of many cultures. A lot of times, when you are looking in the mirror, you are not really sure where you fit in; you just choose a tribe that you identify with," Ogden said.
Lauren Scott, 22, a psychology and theater major, doesn't know her specific ancestry but found inspiration from "Black Panther" and the fictional land of Wakanda. She tried to match the colors and style of the makeup featured in the movie.
"I really love it, I have a 23andMe kit and [the assignment] is making me want to see what I am, officially," Scott said. She was happy with her look and has already posted the pics on social media.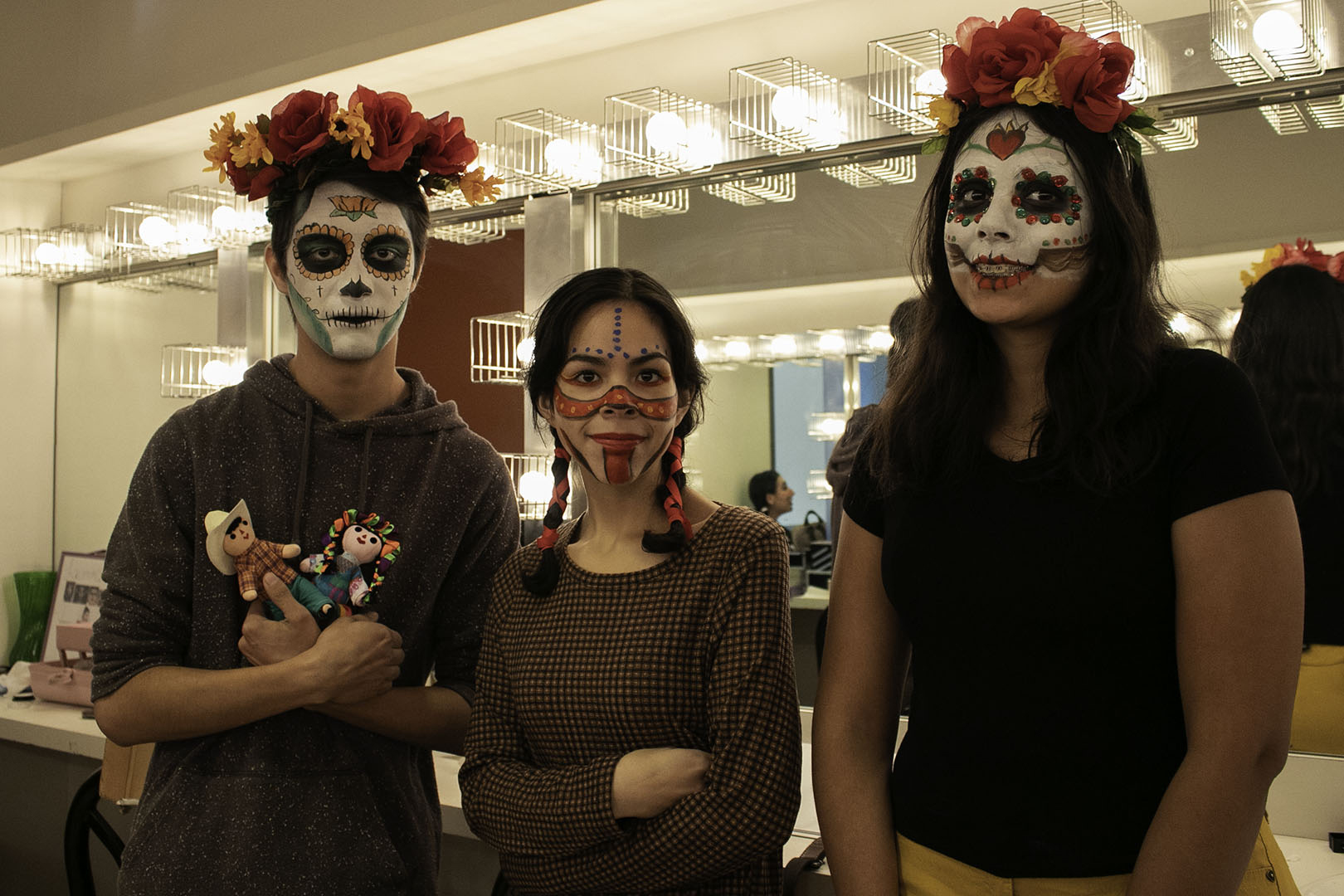 The students in the theatrical makeup department shared a connection through this project. Ogden is happy with the outcome of the assignment.
She added, "It's super fun … it's just absolutely fascinating. You feel connected somehow, and everyone shares in it, how we are different, but how we are all the same."
Leave a Comment