Traditional Celebration Honors The Fallen
MEChA organizes Dia De Los Muertos celebration, despite delays
Colorful paper flowers, vibrant sugar skulls and flameless LED tea lights were lit along the walkway, leading students to the Dia De Los Muertos celebration on campus in front of the Sophia B. Clarke Theater in the Recital Hall courtyard. The colorful lights from the fountain added to the vibrant displays and rhythmic music being played from a distance.
The Dia De Los Muertos celebration organized by Mt. SAC MEChA took place on Nov. 21 and is celebrated yearly on campus with organized events to honor the traditional holiday. Events like this often require months of planning and involve lengthy paperwork to be approved by the administration in order to be hosted on campus.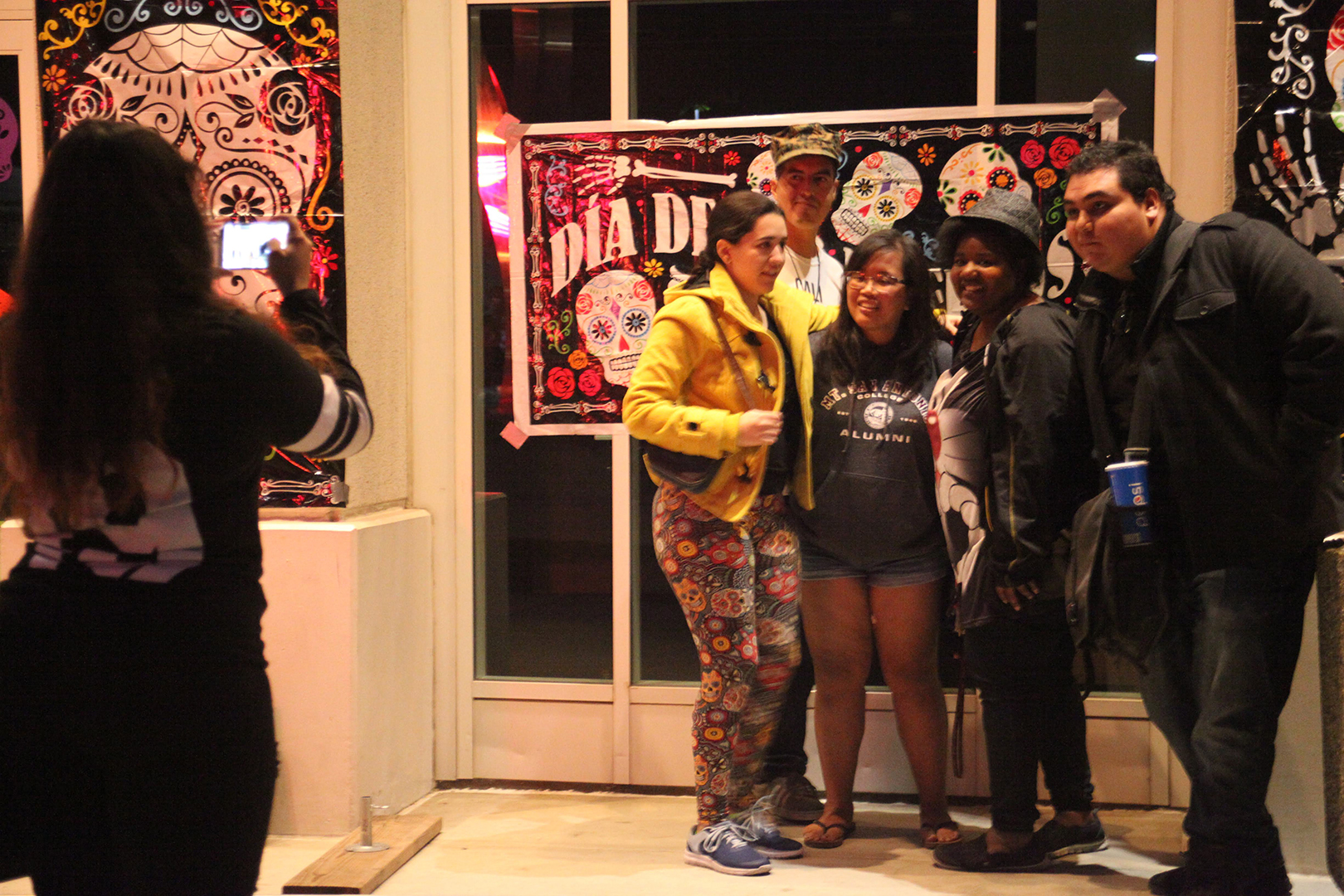 MEChA Co-Chair Rita Villarino Uribe explained the reason behind why the celebration on campus was delayed.
"This is our fourth or fifth year that we've had it, but it's kind of hard because every year we have people transferring and we usually have different officers," Uribe said. "The main issue was the paperwork that took a while."
The original day to celebrate Dia De Los Muertos on campus was on Nov. 14, but Uribe was contacted by an ACES Program member about an opportunity to collaborate with other groups to put on a play called "La Victima" on Nov. 21.
In order to include the play, the event was pushed back another week so the Latino Theater Company, UCLA's School of Theater Film and TV, East Los Angeles College's Theater Arts Department and Mt. SAC could collaborate.
"She got it for that day and suggested we put it together," Uribe added. "It can be this whole cultural night type of event, so that's why we pushed it back."
For this event, MEChA visited different campuses such as Cal Poly Pomona and Cal State Fullerton. Last year, they visited the University of California Irvine and were gifted the leftover Dia De Los Muertos decorations. By waiting to celebrate, MEChA was able to receive altars, picture frames and flowers to be reused for this event.
"It's always hard because we're students at the same time trying to do an event, go to school and get good grades," Uribe said. "That's why the celebration was late."
Dia De Los Muertos is a two day celebration that begins on Nov. 1 and ends Nov. 2 each year, and it is dedicated to honoring loved ones who have passed away. Children who have passed away come back to visit as angelitos on the first day, followed by adults on the following day.
Families welcome back the soul of their deceased loved ones for a brief reunion, and altars or ofrendas are set up decorated with marigold flowers, sugar skulls, photos of the deceased, candles and food. These offerings are often a combination of the deceased person's favorite things, and it is believed that if the altar is decorated in such a way, it will help the spirits find their altar. Dia De Los Muertos originated in Mexico, but is widely celebrated in many countries throughout Latin America and has made its way to the U.S.
A beautiful community altar was centered in front of the fountain and consisted of a vibrant Mexican serape blanket with marigold flowers, Mexican pan dulce, flameless candles and a variety of different foods and drinks. Frames with photos of deceased icons such as Martin Luther King Jr., Malcom X, Juan Gabriel, Che Guevara and other recognizable faces were placed on the colorful altar.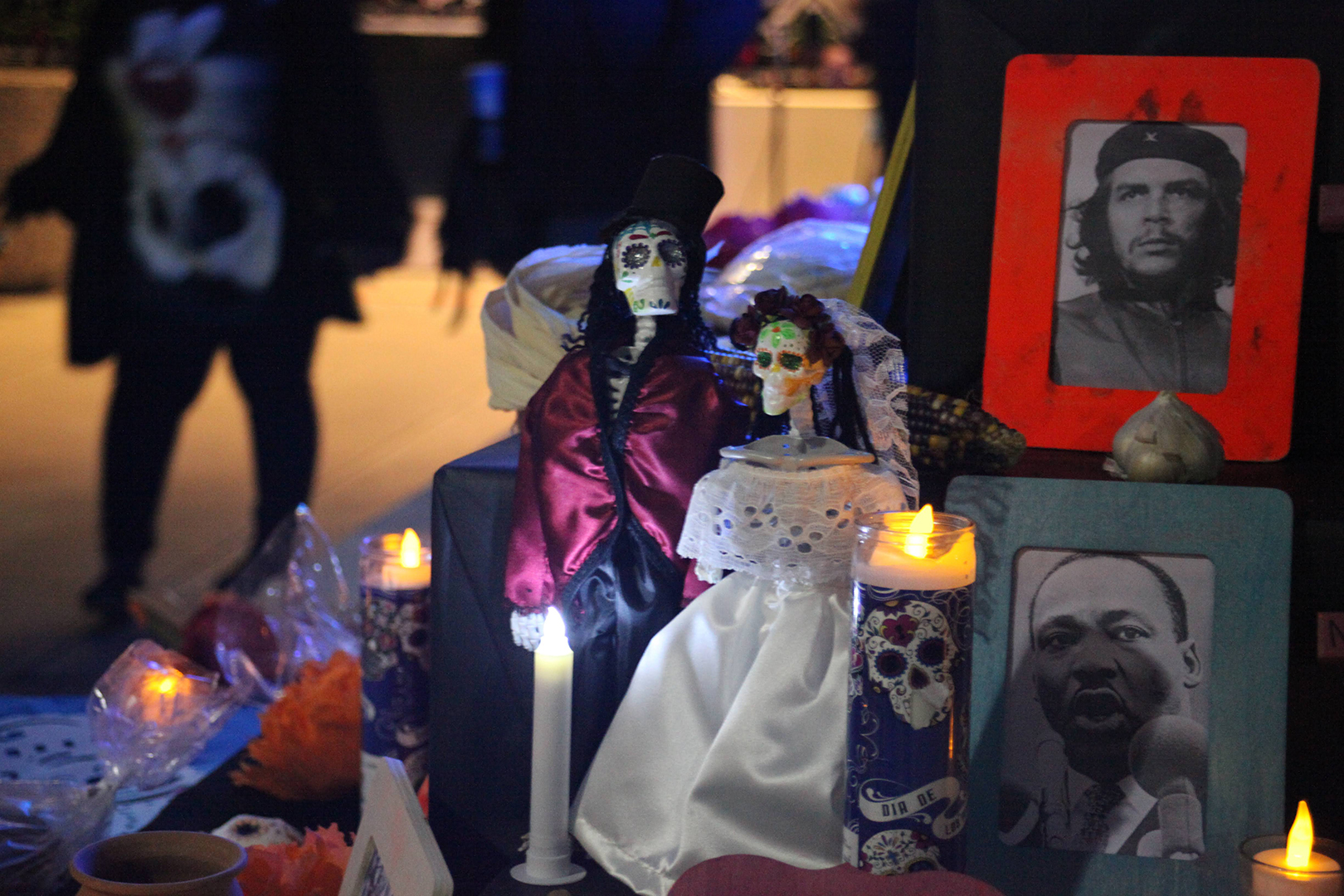 A second altar honored transgender people who were victims of mass shootings or intentionally murdered. Photos and quotes written by close family members and friends were displayed, and students respectfully visited both altars during the celebration.
Tables with skull decorations and colorful flowers lined the walkway as event members encouraged students to visit the community altar and two optional booths in order to get free food. Each booth a student visited gave information on the club and upcoming events, as the Mt. SAC Bridge Program, ACES Program and I.D.E.A.S all joined this event.
The aroma of carne asada, al pastor, chicken and soyrizo tacos filled the air as a long line stretched throughout the quad of students awaiting to eat tacos with beans and rice. The traditional dish included some agua fresca, and students had a choice of either horchata or pineapple agua fresca that sat inside large vitrolero plastic water containers.
"I heard about the event from a few classmates that are part of MEChA," criminal justice major Destiny Ross said. "I think it's a wonderful event, everything is beautiful."
La Danza Azteca Toyaacan also performed a danza in honor of the event, while students and staff watched in amazement.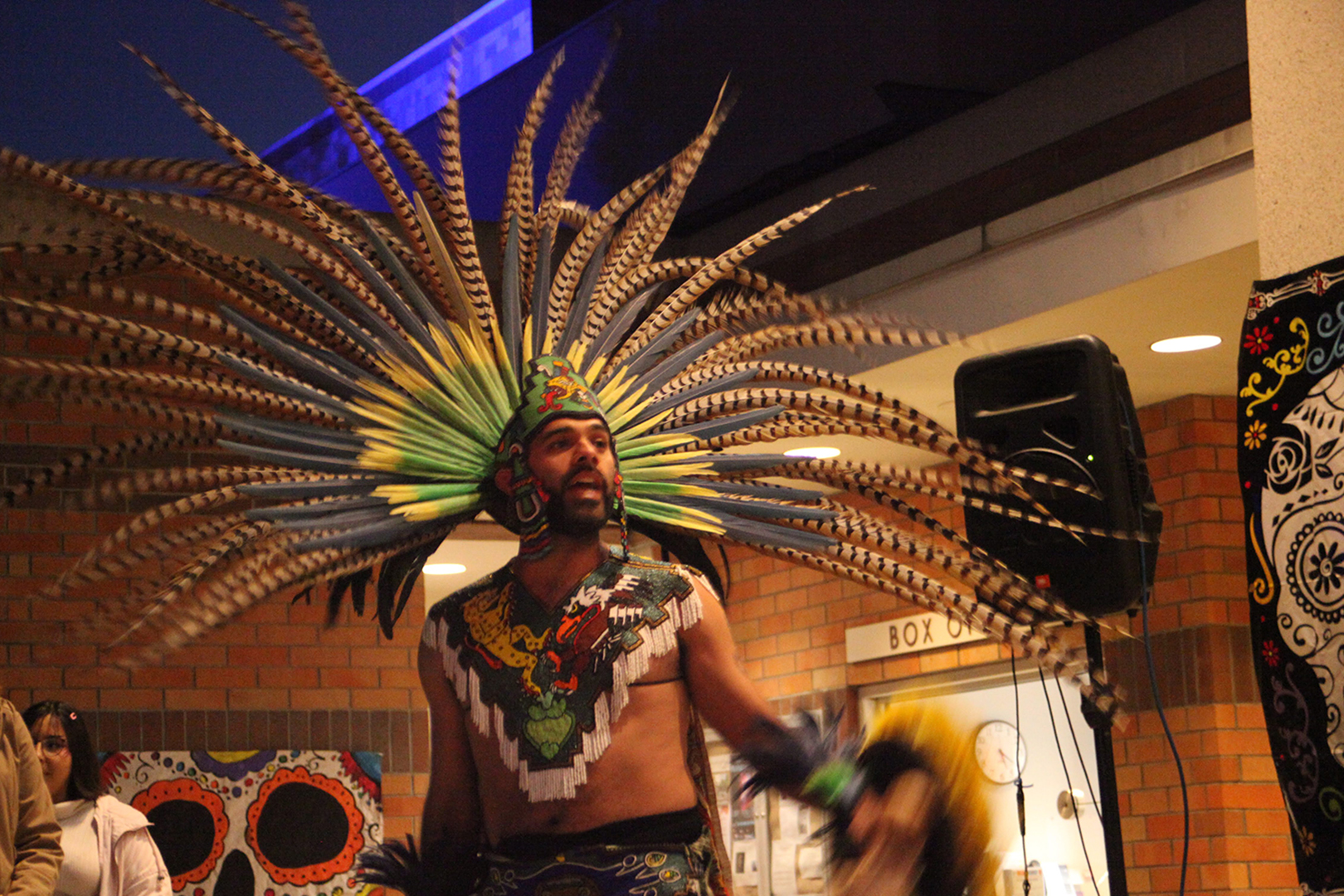 "We've been coming out here for almost eight years," dancer Angel Urquieta said. "We've been doing the danza azteca for Indigenous People's Day, Dia De Los Muertos and other events."
As the night progressed, students and staff took to the dance floors and celebrated well into the late evening. Students were also encouraged to sign up to read poetry, sing or speak on anything they desired. Many students took the stage and played songs honoring friends and family who have passed.
"It think it's nice, it's very cultural based and open to the community," nursing student Marisela Velazquez said. "As a Latina, I see this as a way to educate those who are not familiar with Dia De Los Muertos."
A pair of dirt jeans were laid out on the floor; a white T-shirt covered in mud, an almost unrecognizable baby's bib and half empty gallons of water were displayed alongside the clothes.
Pilar Balbuena, inter-club council representative for I.D.E.A.S stood next to her booth, explaining the meaning behind their altar and props they used. This altar was made to symbolize all the people who have lost their lives crossing the Mexican border into the U.S.
As students walked up to the booth, Balbuena showed a few posters made by I.D.E.A.S members.
"Here we have people who tried to cross the border and their family never heard back from them," Balbuena said. "They only found their IDs; that's how they found out about them being missing."
The club made sure to honor not only those who died during their journey to cross the border or those who died in the custody of ICE, but all people in their celebration of the dead.
Leave a Comment