"Lonely Alone" Reminds Us We Are Not Alone
12th annual student show takes on heavy topics that reflect Mt. SAC's student body
"Lonely Alone," the 12th annual student show, draws a close connection to the prevalent issues that concern most — if not all — of Mt. SAC's student body. In a case of art imitating life, the plays handle heavy topics through relatable situations and dialogue. It's a show for the students, by the students.
"Lonely Alone," led by production coordinator Kirin McCrory, professor of theater, will run from Dec. 5-8 at the Studio Theater of building 2. The show features short plays from student writers, directors, set designers and actors.
At the end of each semester, the students of the theatrical playwriting class are allowed to submit their stories for the annual student play. Submissions are handed over to McCrory, who reads the scripts and selects which plays will get produced. McCrory, who is also a playwright as well, has led the student productions for the past three years.
"There's something nice about the rawness of student work, so I try not to clean them up too much," McCrory said.
According to McCrory, there are three components needed to produce a student play. The script must have a message that is clear with a significant meaning. Second, the dialogue should flow and carry the message correctly.
"Unlike film, you can't create visuals as easily … the words are super important," McCrory adds.
Lastly, the plotline must be functional, and can be well executed.
"Plot points are like dominoes … one thing leads to another," McCrory said.
During the selection process, McCrory looks for a common theme when determining which plays will get produced. It's essential to have a central concept that leads one play into the next. This year's theme is "Lonely Alone." From there, the selection process begins for directors, cast members and set designers.
The one-act show consists of six plays averaging in 10 minutes each that range from topics of depression, anxiety, abuse and social acceptance.
"I'm very excited about this year's student shows. Most of them are about mental health issues or issues that affect young people. Whether they're funny or whether they're serious … [the shows] feel very relevant to the student body and to college kids right now," McCrory added. "That to me is when theater is at its best, is when it really hits the sort of zeitgeist for what people are talking about right now."
"Ok. Cupid" written by Boi Amador, directed by Joshua Bloch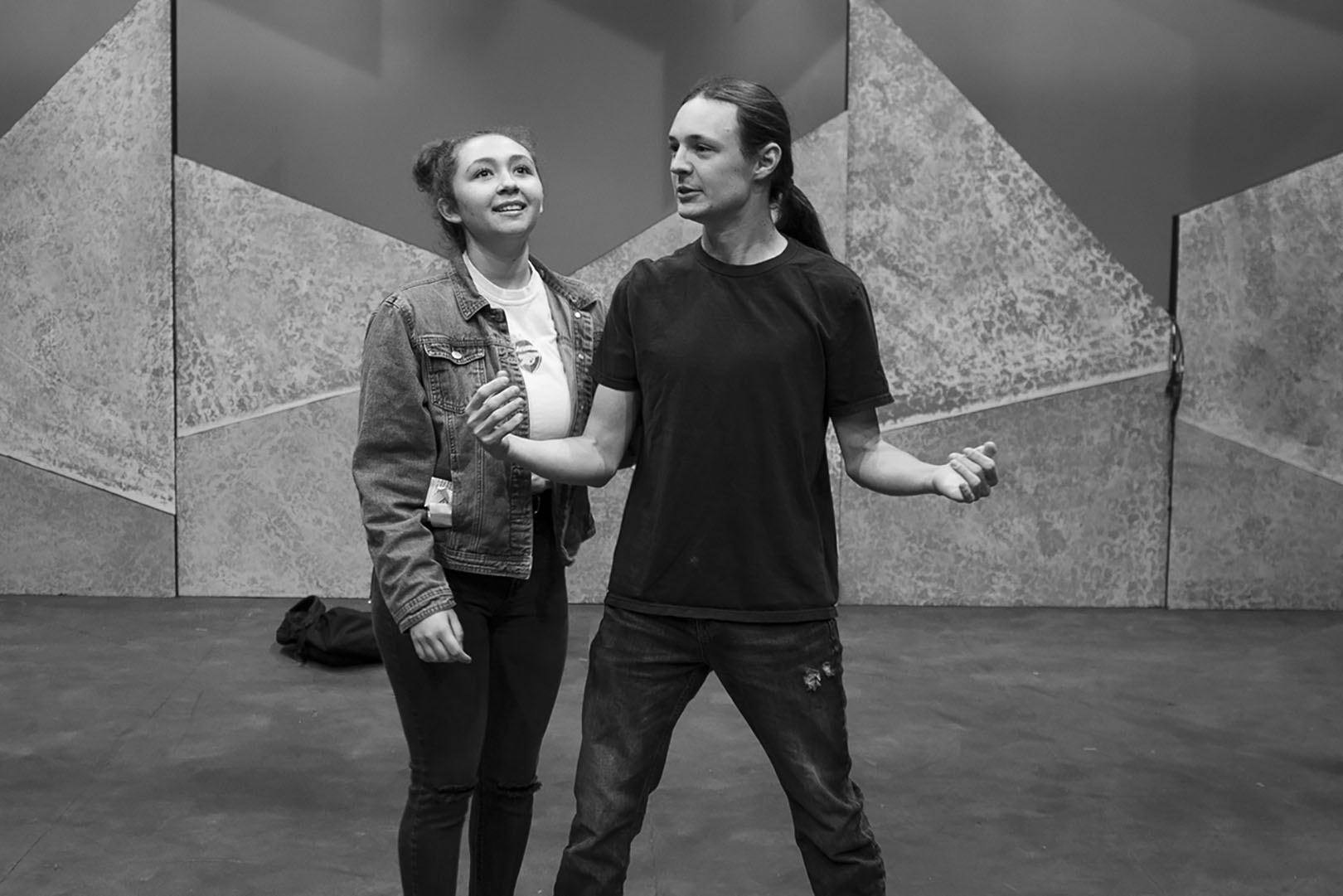 The synopsis for "Ok. Cupid" is described as "a girl who really wants a guy, but to what extent will she go to get him? Is it everything that she really wants?"
The play stars Malia Haines as Sarah, an average teenage girl who longs after her longtime crush Tristan. Cupid, played by Ryan Lightfoot, is a fiendish "dude" in a diaper that has red skin and angel wings who comes along and presents Sarah with an offer that she can't refuse.
The play is directed by Joshua Bloch, 21, theater major, who is stepping up to the role of director for the first time. Bloch can usually be found on the other side of the stage acting. He wanted to challenge himself this year to understand the many aspects of theater production.
Bloch describes the takeaway of the play as a message to "be true to yourself … don't chase after someone that you hope will love you in the end."
"Ok. Cupid" is believed to be lighter in subject, especially compared to the other plays premiering this semester.
"The shows this year are darker in nature, but I think they are important. The first half is like the lighter end of the spectrum, and the second half gets darker," Bloch said. "All the shows are very important, especially in this day and age."
"Weeping Willow" written by Kiara Sangronis, directed by John Paul Pfeffer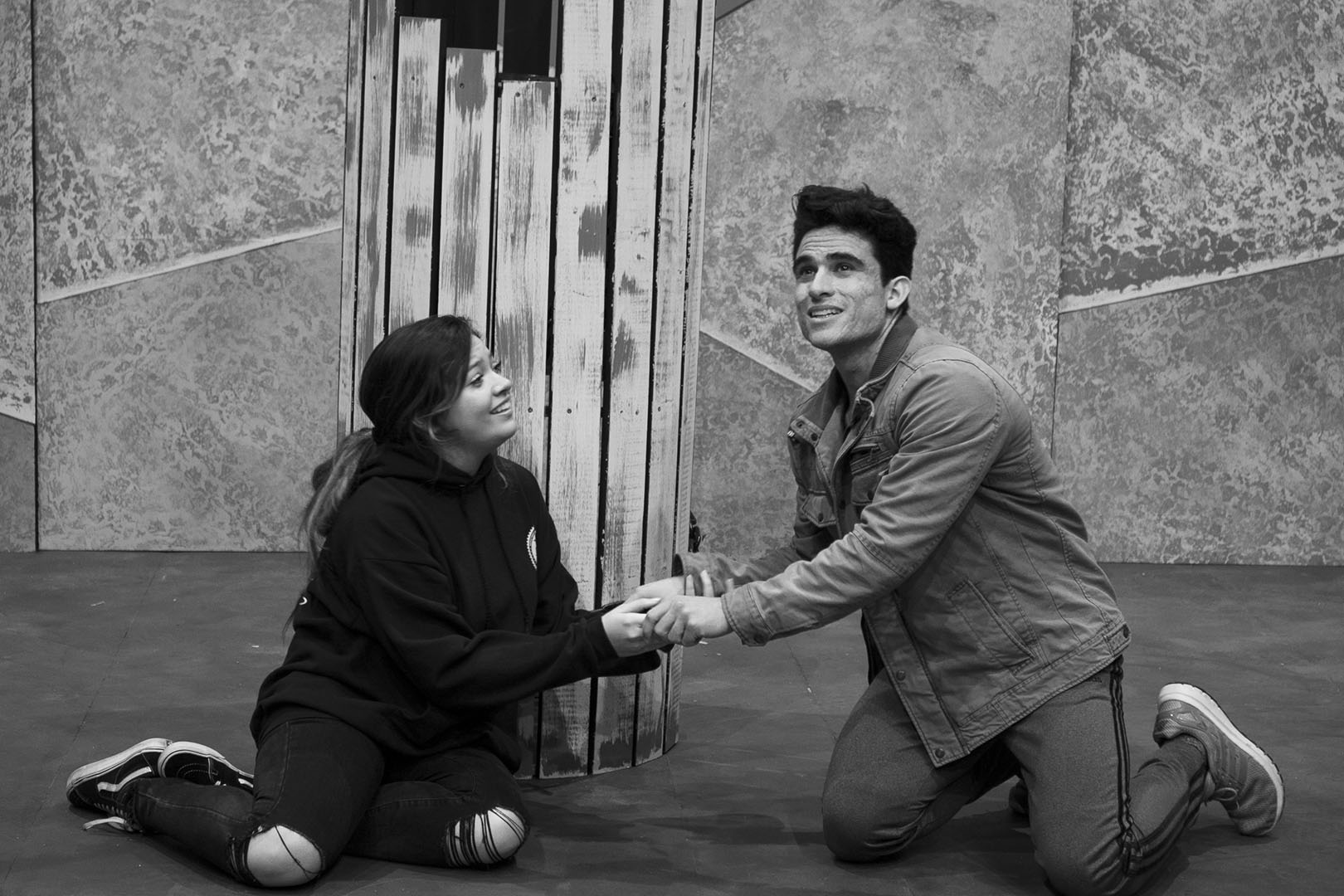 "Weeping Willow" is a dark fairy tale that represents the vicious cycle of an abusive relationship. There are themes throughout the play that include dominance, submissiveness, sacrifice and self-preservation, all of which are told through the abstract concept of magical realism. The cast is comprised of two characters played by Izzy Martinez and Anthony Rodriguez, who are bound to a willow tree.
Kiara Sangronis, 23, English major, is the playwright for "Weeping Willow," and plays double-duty as she is also the director for "Did you Study?"
Sangronis took inspiration from her own personal experience of being in an abusive relationship. She wrote the play a month after what she describes as basically "escaping" the relationship. She needed a cathartic way to tell her story without having to "explain to people" what happened. Sangronis describes herself as a daydreamy-type of person who decided to remove the literal aspect out of the story and add a sense of fantasy to the play.
"The relationship didn't feel real. So it shouldn't have a real platform," Sangronis said.
The play is directed by John Paul Pfeffer, 28, theater major, who has been acting since high school and has taken various theater classes while attending Mt. SAC. Most recently, he took theater direction class and afterwards felt "fully equipped" to try his hand at this new role.
Pfeffer and his actors meet up almost every day during the week.
"They're [Martinez and Rodriguez] troopers, they want to make this play as good as we can possibly make it," Pfeffer said. "Because it has that potential."
Pfeffer hopes that the audience tries to understand both perspectives of the complex characters.
"I hope they understand what both characters are going through and not just the woman or not just the man," Pfeffer said. "I hope they get a balanced perspective of both."
Sangronis hopes the audience sees how the cycle of abuse works and wants to remind people that the ones who abuse have most likely been abused in their lifetime. However, it is crucial to stop the patterns.
"It doesn't mean they're not responsible, it's their responsibility to break it," she said.
"Stuck on Repeat" written by Ashley Jones Durr, directed by Emily Perez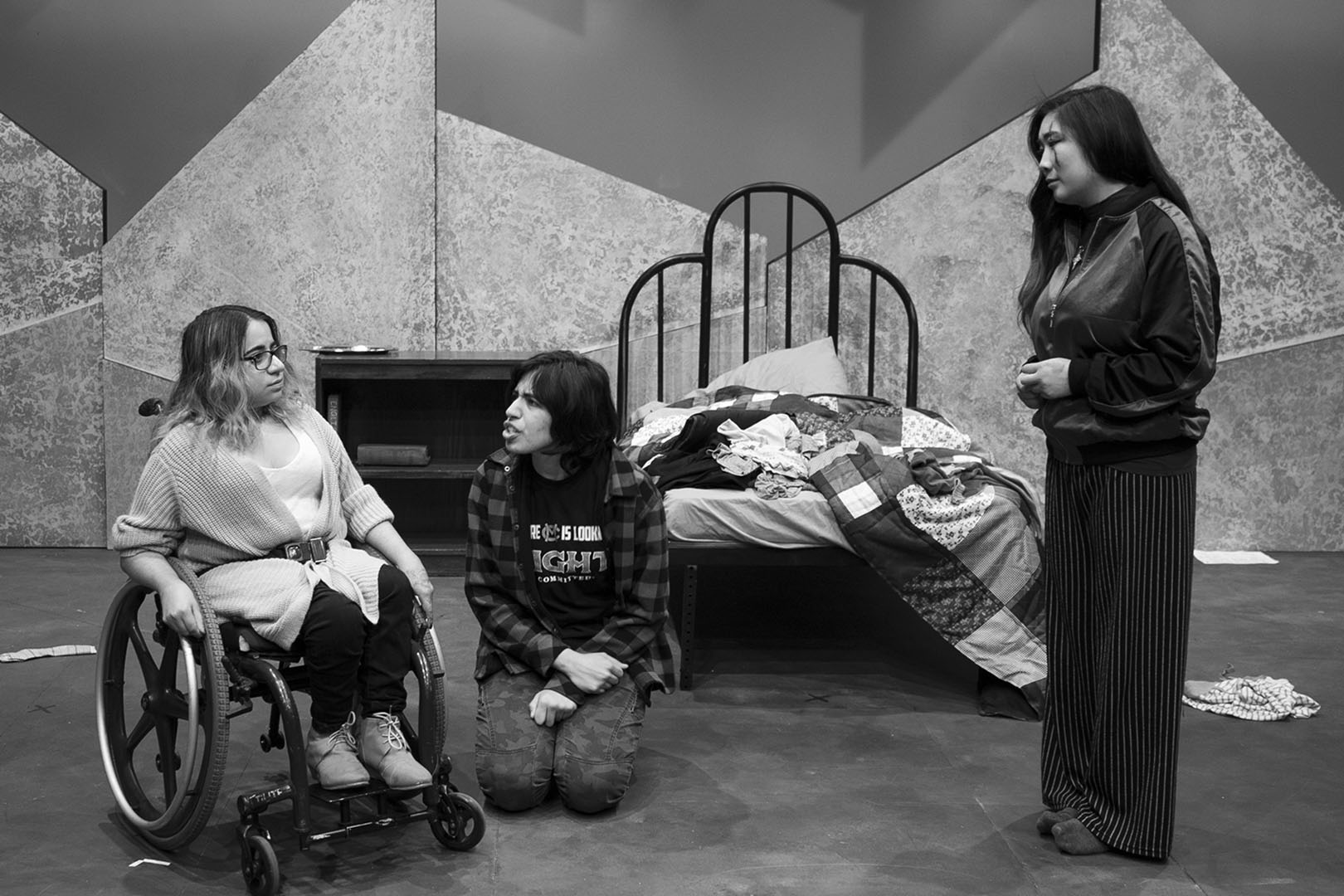 The synopsis for "Stuck on Repeat" is the story of a teenager struggling with OCD, who comes to the realization that she can't deal with it on her own; she requires the help of friends and family to cope with her challenges. The play includes a figurative — yet all too real — character that is labeled "Intrusive Thoughts," played by Julie Valdez. The metaphorical persona plays the antagonist to the main character Elle, played by Isabel Estrada, by screaming, interrupting and interjecting intrusive thoughts in an overpowering and all-consuming way.
The cast is led by director, Emily Perez, 21, theater major with an emphasis on set design, who wrote a play for last year's student production called "Tit for Tat." After taking a directing class with Professor Matthew Burgos, professor of theater, she was drawn to the role of director and decided to try her hand at it for this year's production.
Perez, who struggles with anxiety, believes that the play shows the struggles and hardships of mental illness in a thoughtful and personal way.
"Everyone has intrusive thoughts, and my anxiety and intrusive thoughts are really nasty. Just like [the character] in this play, so it's really important for me to do this play justice," Perez said.
Perez hand-selected the cast based on the character descriptions. She remembers Estrada's audition in which she delivered a sincere monologue that tugged on the heartstrings of Perez.
Perez hopes the audience can relate to the play's message.
"We all think we can handle things alone, but the truth is we can't. We would love to believe that we can handle all of our problems by ourselves, but if you have someone there for you … just bringing awareness to [them] can make a difference. You don't have to do it alone," the director said.
"More" written by Hector Guillen and Michael Martinez, directed by Michael Martinez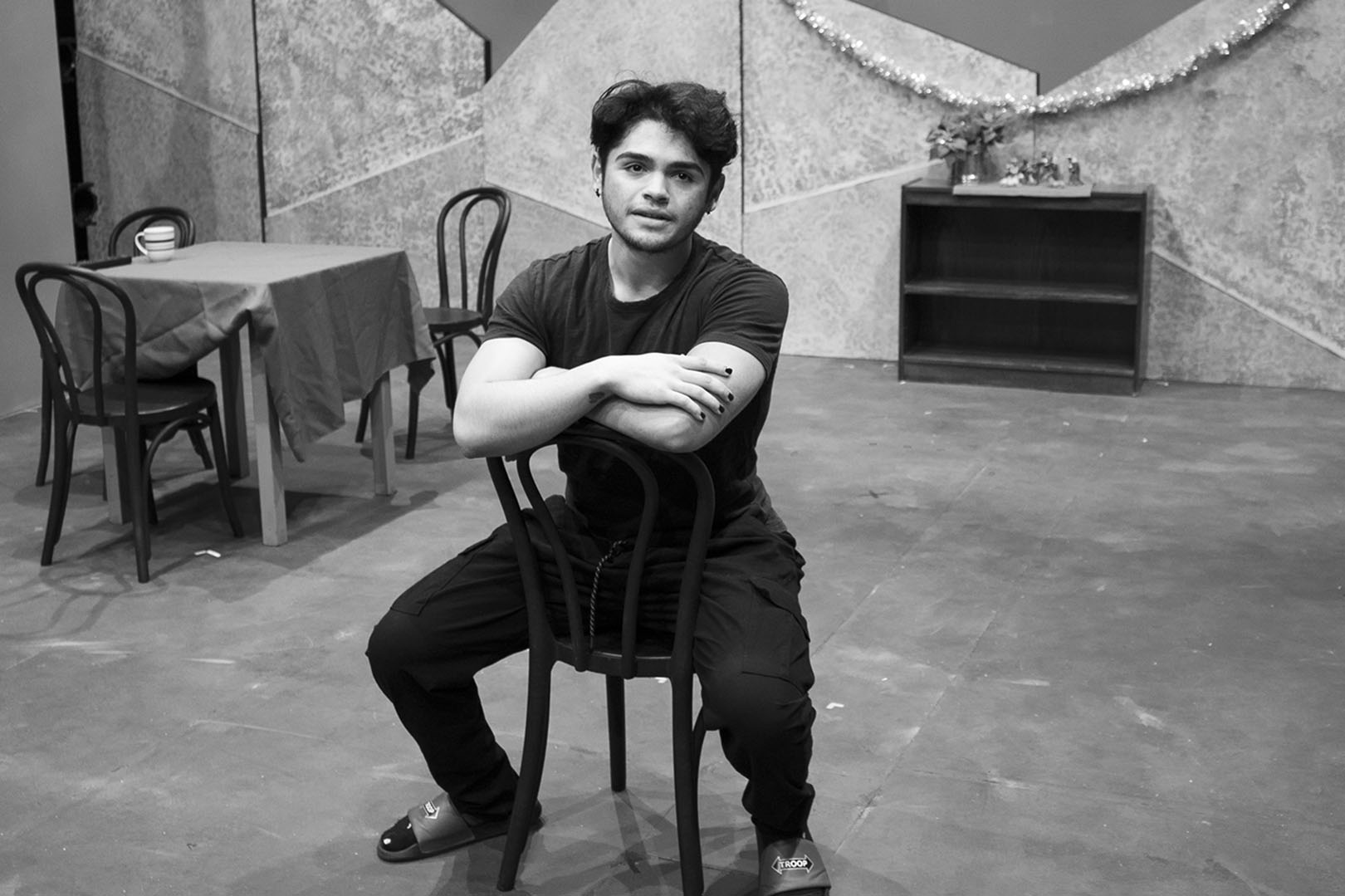 "More" is powerful. The message is sadly realistic, dark and leaves the audience with a sense of hopelessness. It's a story of a young gay man living in a conservative Mexican household with his religious father, who does not accept his lifestyle. In the style of Shakespeare's "Hamlet," the main character, Fabian, played brilliantly by Ezra Perez, speaks directly to the audience, relating thoughts of pain, despair and self-hatred. "More" is intense and provocative compared to the other student plays this year.
Michael Martinez, 21, television production major, is in the process of building his resume while at Mt. SAC as he aspires to be a writer and director someday. Martinez wrote the play "Written" for last year's student productions and ever since has been learning the craft through classes and watching movies from all over the world. The script and the story structure was originated by Hector Guillen, a former Mt. SAC student. Through Guillen's friendship with Martinez, the two revised the story to come up with a realistic depiction of Mexican machismo and family dynamics.
Martinez finds this experience enjoyable and keeps learning new things through each rehearsal. He believes that McCrory has been a pivotal part of his process.
"When I'm stuck, she has the words … if I'm thinking of something, but I can't really say it, she'll say it before I do and she'll say it better than I would," the first-time director said.
"Martinez [co-wrote] it, so he's got the challenge of first, trying to remove himself from the writing of it and put himself in the role of director," McCrory notes. "Michael is also very filmic, so it's been a good challenge for him to think about using the theater appropriately."
The subject matter is dark, and the play's language gets right in the face of the audience, which is the way Martinez and Guillen intended it to be.
"I want everything to be just raw. I want to make authentic dialogue. I write like I speak," Martinez said.
Martinez, who grew up and went to school in east Los Angeles, says he pulls his dialogue from everyday conversations.
"From regular f-bombs to tons of slurs — going back and forth — coming from different types of races, genders, and identifiers," Martinez said. "When I write, I try to make it authentic to real life as possible, and if it means getting down to the nitty-gritty, it does that too."
Martinez's storytelling approach is inspired by the poet Cesar A. Cruz, who said, "Art should comfort the disturbed and disturb the comfortable."
Martinez hopes that people who usually don't see this type of family dynamic get to see how it really is to go through these struggles.
"From Hector, and from me, this is somebody's life. From the fighting to the religious aspects, to the cultural aspects, especially if you have lived in that kind of household, you would see that," Martinez said. "I want for people that don't know that lifestyle to get to see it and see how it's toxic and dangerous."
And for the ones that have gone through it, Martinez hopes they relate and feel connected.
"Surprise Party" written by Sonya Muhammad, directed by Ehvinny Mora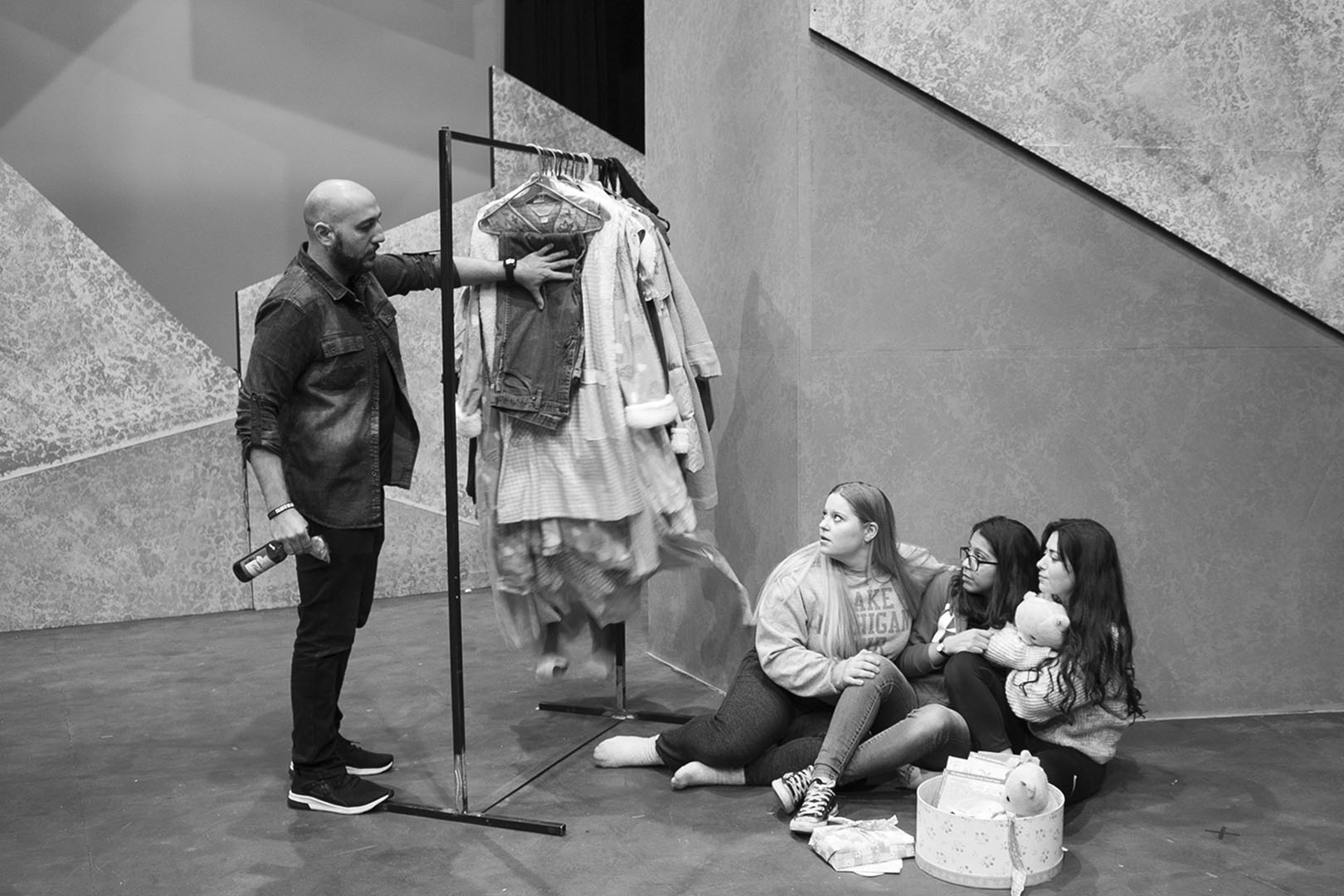 "Surprise Party" is a story of a picture-perfect family who appears to have it all, and through a surprise twist, we see that there is more beyond the surface than meets the eye. The main character, Trina, played by Annette Acevedo, spends most of the play anxiously setting up a surprise for her mother and stepfather, with the help of her younger sibling Sasha, played by Lia Castaneda.
The short play is directed by Ehvinny Mora, 20, theater major, who aspires to be an actress for television and film. Mora has been in the theater her whole life and has even been a part of various viral videos and short films throughout her acting career. She wanted to direct a student play to understand the other side of the stage, as she sees directing to be a considerable challenge.
Mora is amazed and thankful for McCrory's guidance throughout the production.
"It's so nice to have someone who knows exactly what they're doing. But also, she's amazing at letting us do what we think is best and trusting us," Mora said with sincerity.
After reading the script, Mora immediately felt the weight of the story as she knew she had a duty to realistically portray the characters and tell the story with genuine authenticity.
Through Trina's movements and interaction throughout the play, the audience is left guessing what will happen next.
"It's kind of up in the air … as the play progresses, the audience can formulate their own thoughts and suspicions," Mora said.
"I want to leave the audience thinking," Mora added. "I think the best way to leave an impact on people is to shake them up a bit. It's not always about happy endings."
"Did You Study?" written by Lucy Eller, directed by Kiara Sangronis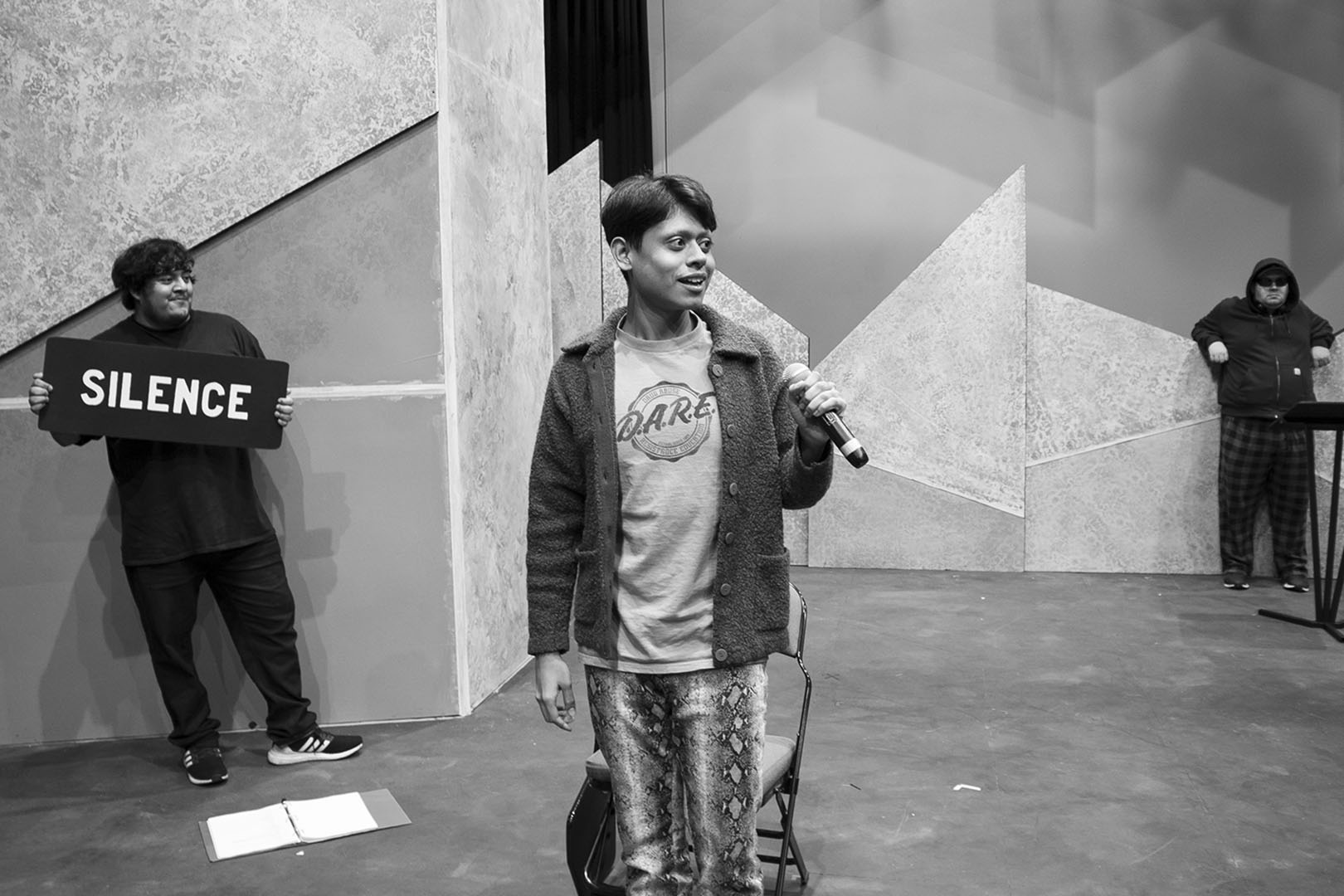 "Did You Study?" is a cleverly designed comedic play set against the backdrop of a game show. The protagonist Hope, played by Christina Su, suffers from ADHD, anxiety and depression. During this game show, Hope is joined by a group of "teammates" that embody the personifications of her mental illnesses. Her team includes Joy, who represents Hope's depression, Serenity, who represents Hope's anxiety and Patience, who represents her ADHD. The play spotlights the chaos of one's mind during intense moments that require keen focus.
The play is directed by Kiara Sangronis, who has been acting since a child. Growing up, she loved being in the spotlight and never thought about doing anything else.
As time went on, she met mentors and professors that taught her that there is more to theater than just acting. Throughout her growth, she found an appreciation in what she was taught and decided that she wanted to do the same in return.
"I want to be what they were for me … I want to be able to help people and make people feel comfortable when their performing," Sangronis said in regards to her role as director. "I just love it. I'm used to being the one on stage, but this somehow feels a little bit bigger."
When she first read the script, she was immediately excited.
"I love comedies! [But] I was a little nervous because … comedies are not easy to do," Sangronis added. "They're fun to do, and when they're done right, it's great."
Despite the comedic elements, Sangronis believes the message of "Did You Study?" to be significant and relevant.
"It's supposed to bring focus on mental disorders and what it actually does to someone and how real it can feel," Sangronis said.
Sangronis hopes that the audience realizes how real it feels to the ones that suffer, and hopefully the play can bring further empathy and compassion to the topic of mental illness.
"People don't just say this to get attention, these are real things that people go through. And just because it's not a bruise on the arm, it doesn't mean it's not an actual pain for someone."
"Lonely Alone" premieres Dec. 5. To purchase tickets or to see additional information, visit the Mt. SAC theater website or the box office.
Leave a Comment